Abstract
A numerical discrete conduit-continuum model is employed to investigate large-scale groundwater abstraction in karst aquifers. The application of large-scale experiments is one approach to deal with the scale problem in hydraulic parameter assessment, caused by significant contrasts of hydraulic parameters in a karst aquifer. Here, conduit drawdown is evaluated by diagnostic plots and by considering the apparent flow dimension. These tools are frequently used for the interpretation of hydraulic borehole tests by analytical solutions. In contrast to existing analytical solutions, a numerical groundwater model allows the incorporation of the effect of complex parameter distributions. The objective is to demonstrate the application of diagnostic plots and flow dimension analysis for a systematic analysis of the effect of different boundary conditions as well as sink/source terms for idealized two-dimensional mixed karst aquifer systems, which ultimately extends existing analytical solutions and, therefore, contributes to the interpretation of measured field data. The analysis is focused on the apparent flow dimension and shows the extension of the cross-sectional flow area for selected models. The results are used to evaluate the large-scale pumping test of the karstified Cent Fonts catchment (Languedoc, France). The inverse calibration of two realistic, but still simplified, catchment models reveals that the apparent flow dimension supplies useful information about the general flow pattern during the Cent Fonts pumping test. The flow dimension after the end of the storage period can be explained by a large contribution of exchange flow resulting in a strong influence of radial flow on regional, i.e., kilometer scale.
Résumé
Un modèle numérique à conduit discrétisé au sein d'un continuum est utilisé pour étudier les prélèvements d'eaux souterraines à grande échelle dans les aquifères karstiques. La réalisation d'expériences à grande échelle est une approche pour traiter le problème d'échelle dans l'évaluation des paramètres hydrauliques, hétérogènes suite aux contrastes importants dans un aquifère karstique. Dans ce cas, le rabattement dans le conduit est évalué à l'aide de graphiques de diagnostic et en considérant la dimension de l'écoulement apparent. Ces outils sont fréquemment utilisés pour l'interprétation des tests hydrauliques en forage à l'aide de solutions analytiques. Contrairement aux solutions analytiques existantes, un modèle numérique d'écoulement d'eaux souterraines permet d'introduire l'effet de la distribution spatiale complexe des paramètres. L'objectif est de démontrer l'application des graphiques de diagnostic et d'analyse de la dimension de l'écoulement pour une analyse systématique de l'effet de différentes conditions aux limites ainsi que des termes source pour des/source pour des systèmes karstiques mixtes idéalisés bidimensionnel, qui permettent d'étendre en fin de compte les solutions analytiques existantes et, par conséquence, contribuer à l'interprétation des données de terrain. L'analyse se concentre sur la dimension de l'écoulement apparent et montre l'extension de la section transversale d'écoulement pour les modèles sélectionnés. Les résultats sont utilisés pour évaluer l'essai de pompage à grande échelle du système karstique des Cent Fonts (Languedoc, France). La calibration inverse de deux modèles réalistes, mais encore simplifiés, révèle que la dimension de l'écoulement apparent fournit des informations utiles concernant le mode d'écoulement général au cours de l'essai de pompage des Cent Fonts. La dimension de l'écoulement après la fin de la période de stockage peut être expliquée par une contribution importante d'écoulement échangé résultant d'une forte influence de l'écoulement radial à l'échelle régionale, c'est-à-dire kilométrique
Resumen
Se emplea un modelo numérico de conducto-continuo discreto para investigar la extracción de agua subterránea a gran escala en acuíferos kársticos. La aplicación de experimentos a gran escala es un enfoque para tratar el problema de escala en la evaluación de parámetros hidráulicos, causado por contrastes significativos en los parámetros hidráulicos en un acuífero kárstico. En este caso, la extracción del conducto se evalúa mediante parcelas de diagnóstico y considerando la dimensión aparente de flujo. Estas herramientas se utilizan frecuentemente para la interpretación de ensayos hidráulicos de pozos mediante soluciones analíticas. A diferencia de las soluciones analíticas existentes, un modelo numérico de agua subterránea permite la incorporación del efecto de distribuciones de parámetros complejos. El objetivo es demostrar la aplicación de parcelas diagnósticas y el análisis dimensional de flujo para un análisis sistemático del efecto de diferentes condiciones de borde así como términos de sumidero/fuente para sistemas idealizados de acuíferos kársticos mixtos bidimensionales, lo que extiende en última instancia las soluciones analíticas existentes y por lo tanto, contribuye a la interpretación de los datos de campo medidos. El análisis se centra en la dimensión de flujo aparente y muestra la extensión del área de flujo transversal para los modelos seleccionados. Los resultados se usan para evaluar los ensayos de bombeo a gran escala de la cuenca kárstica de Cent Fonts (Languedoc, Francia). La calibración inversa de dos modelos realísticos de captación, pero aún simplificados, revela que la dimensión de flujo aparente proporciona información útil sobre el patrón de flujo general durante los ensayos de bombeo de Cent Fonts. La dimensión de flujo después del final del período de almacenamiento puede explicarse por una gran contribución del flujo de intercambio que da como resultado una fuerte influencia del flujo radial en una escala regional, es decir, en una escala de kilómetros.
摘要
采用数值离散通道-连续模型研究岩溶含水层大规模的地下水开采。应用大规模的实验是处理岩溶含水层水力参数重大差别导致的水力参数评价中尺度问题的一种方法。这里,通过诊断图和明显的流维评价了通道水位下降。通过解析解,这些工具常常用于水力钻孔试验的解译。与现有的解析解形成对比,数值地下水模型可以合并复杂参数分布的影响。目的就是展示诊断图和流维分析在不同边界条件影响和汇/源项的系统分析中的应用,理想化二维混合的岩溶含水层系统,这个系统分析最终扩充现有的解析解,从而有助于测量的野外资料的解译。分析集中在明显的流维,显示存在着所选模型截面流面积的扩展。结果用于评价(法国朗格多克省)岩溶化的Cent Fonts流域的大规模抽水试验。两个现实的、但仍然是简化的流域模型的逆校准揭示,在抽水试验期间,明显的流维在有关总的流动形态方面提供了有用的信息。蓄水期终结之后的流维可由大量的交换流解释,大量的交换流导致区域尺度上也就是公里尺度上径向流的强烈影响。.
Resumo
Um modelo numérico discreto do tipo conduto-contínuo é empregado para investigar a retirada de águas subterrâneas em larga escala em aquíferos cársticos. A aplicação de experimentos de larga escala é uma abordagem para lidar com o problema de escala na avaliação de parâmetros hidráulicos, causado pelos contrastes significativos dos parâmetros hidráulicos em um aquífero cárstico. Aqui, o rebaixamento do conduto é avaliado por meio de gráficos de diagnóstico e considerando a dimensão de escoamento aparente. Essas ferramentas são frequentemente usadas para a interpretação de testes hidráulicos de poços por meio de soluções analíticas. Em contraste com as soluções analíticas existentes, um modelo numérico de águas subterrâneas permite a incorporação do efeito das distribuições de parâmetros complexos. O objetivo é demonstrar a aplicação de gráficos de diagnósticos e do escoamento dimensional para uma análise sistemática dos efeitos de diferentes condições de contorno, bem como os termos de sumidouros/fontes para os sistemas aquíferos cársticos mistos e bidimensionais idealizados, os quais em última instância, incorporam as soluções analíticas existentes e, portanto, contribuem para a interpretação dos dados de campo medidos. A análise é focada na dimensão aparente de escoamento e mostra a extensão da área de escoamento transversal para os modelos selecionados. Os resultados são usados para avaliar testes de bombeamento da bacia carstificada Cent Fonts (Languedoc, França). A calibração inversa de dois modelos de bacias realísticos, porém simplificados, relevam que a dimensão aparente do escoamento fornece informações úteis sobre o padrão geral de escoamento durante os testes de bombeamento em Cent Fonts. A dimensão de escoamento após o término do período de armazenamento pode ser explicada pela ampla contribuição da troca de escoamento, resultando em uma forte influência do escoamento radial regional, por exemplo, na escala de quilômetros.
This is a preview of subscription content, log in to check access.
Access options
Buy single article
Instant access to the full article PDF.
US$ 39.95
Price includes VAT for USA
Subscribe to journal
Immediate online access to all issues from 2019. Subscription will auto renew annually.
US$ 99
This is the net price. Taxes to be calculated in checkout.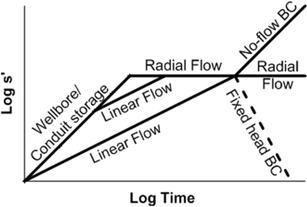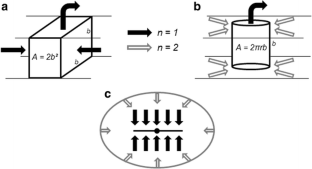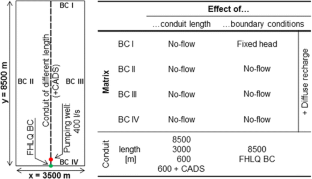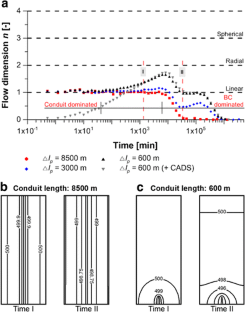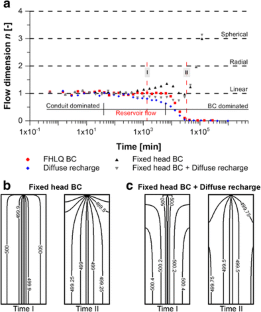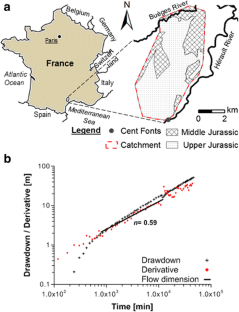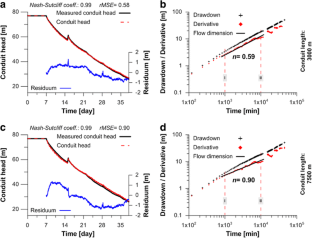 References
Aquilina L, Ladouche B, Dörfliger N (2005) Recharge processes in karstic systems investigated through the correlation of chemical and isotopic composition of rain and spring-waters. Appl Geochem 20:2189–2206. doi:10.1016/j.apgeochem.2005.07.011

Aquilina L, Ladouche B, Dörfliger N (2006) Water storage and transfer in the epikarst of karstic systems during high flow periods. J Hydrol 327:472–485. doi:10.1016/j.jhydrol.2005.11.054

Bailly-Comte V, Martin JB, Jourde H, Screaton EJ, Pistre S, Langston A (2010) Water exchange and pressure transfer between conduits and matrix and their influence on hydrodynamics of two karst aquifers with sinking streams. J Hydrol 386:55–66. doi:10.1016/j.jhydrol.2010.03.005

Bakalowicz M (2015) Karst and karst groundwater resources in the Mediterranean. Environ Earth Sci 74:5–14. doi:10.1007/s12665-015-4239-4

Barenblatt GI, Zheltov IP, Kochina IN (1960) Basic concepts in the theory of seepage of homogeneous liquids in fissured rock. PMM J Appl Math Mech 24(5):1286–1303

Barker JA (1988) A generalized radial flow model for hydraulic tests in fractured rocks. Water Resour Res 24(10):1796–1804

Bauer S, Liedl R, Sauter M (2003) Modeling of karst aquifer genesis: influence of exchange flow. Water Resour Res 39(10):1285–1296. doi:10.1029/2003WR002218

Bauer S, Liedl R, Sauter M (2005) Modeling the influence of epikarst evolution on karst aquifer genesis: a time-variant recharge boundary condition for joint karst-epikarst development. Water Resour Res 41:W09416. doi:10.1029/2004WR003321

Beauheim RL, Roberts RM, Avis JD (2004) Well testing in fractured media: flow dimensions and diagnostic plots. J Hydraul Res 42:69–76

Borghi A, Renard P, Cornaton F (2016) Can one identify karst conduit networks geometry and properties from hydraulic and tracer test data? Adv Water Resour 90:99–115. doi:10.1016/j.advwatres.2016.02.009

Bourdet D (2001) Well test analysis: the use of advanced interpretation models. Elsevier, Amsterdam

Bourdet D, Whittle TM, Douglas AA, Pirard YM (1983) A new set of type curves simplifies well test analysis. World Oil 196:95–106

de Rooij R, Perrochet P, Graham W (2013) From rainfall to spring discharge: coupling conduit flow, subsurface matrix flow and surface flow in karst systems using a discrete–continuum model. Adv Water Resour 61:29–41. doi:10.1016/j.advwatres.2013.08.009

Doe TW (1991) Fractional dimension analysis of constant-pressure well test. In: Proceedings of the 1991 SPE annual technical Conference and Exhibition, Dallas, Texas, SPE paper 22702, Society of Petroleum Eng., Richardson, TX

Doherty J (2015) Calibration and uncertainty analysis for complex environmental models: PEST—complete theory and what it means for modelling the real world. Watermark, Brisbane, Australia

Ehlig-Economides CA, Economides MJ (2000) Formation characterization: well and reservoir testing, chap 2. In: Economides MJ, Nolte KG (eds) Reservoir stimulation, 3rd edn. Wiley, New York

Ehlig-Economides CA, Hegeman P, Vik S (1994) Guidelines simplify well test analysis. Oil Gas J 92:33–40

Ferris JG, Knowles DB, Brown RH, Stallman RW (1962) Theory of aquifer testing. US Geol Surv Water Suppl Pap 1536-E

Geyer T, Birk S, Liedl R, Sauter M (2008) Quantification of temporal distribution of recharge in karst systems from spring hydrographs. J Hydrol 348:452–463. doi:10.1016/j.jhydrol.2007.10.015

Geyer T, Birk S, Reimann T, Dörfliger N, Sauter M (2013) Differentiated characterization of karst aquifers: some contributions. Carbonates Evaporites 28:41–46. doi:10.1007/s13146-013-0150-9

Gringarten AC (1982) Flow-test evaluation of fractured reservoirs. In: Narasimhan TN (ed) Recent trends in hydrogeology. Geol Soc Am Spec Pap 189:237–262

Harbaugh AW (2005) MODFLOW-2005, The U.S. Geological survey modular ground-water model: the ground-water flow process. US Geol Surv Tech Methods 6-A16

Jenkins DN, Prentice JK (1982) Theory for aquifer test analysis in fractured rocks under linear (nonradial) flow conditions. Ground Water 20(1):12–21

Kiraly L (1998) Modelling karst aquifers by the combined discrete channel and continuum approach. Bull d'Hydrogéol 16:77–98

Ladouche B, Dörfliger N, Maréchal J-C, Lachassagne P, Bakalowicz M, Valarie I, Lenoir P (2006) Hydrodynamic behaviour during pumping test and modelling of the Cent Fonts karst system. In: Chery L, de Marsily G (eds) Aquifer systems management: Darcy's legacy in a world of impending water shortage. IAH Selected Papers on Hydrogeology, vol 10, IAH, Goring, UK, pp 303–316

Liedl R, Sauter M, Hückinghaus D, Clemens T, Teutsch G (2003) Simulation of the development of karst aquifers using a coupled continuum pipe flow model. Water Resour Res 39:1057. doi:10.1029/2001WR001206

Maréchal J-C, Ladouche B, Dörflinger N, Lachassagne P (2008) Interpretation of pumping tests in a mixed flow karst system. Water Resour Res 44, W05401. doi:10.1029/2007WR006288

Quinlan JF, Ewers RO (1985) Ground water flow in limestone terranes: strategy rationale and procedure for reliable, efficient monitoring of ground water quality in karst areas. In: Proceedings of the National Symposium and Exposition on Aquifer Restoration and Ground Water Monitoring (5th, Columbus, OH), National Water Well Association, Worthington, OH, pp 197–243

Reimann T, Giese M, Geyer T, Liedl R, Maréchal J-C, Shoemaker WB (2014) Representation of water abstraction from a karst conduit with numerical discrete-continuum models. Hydrol Earth Syst Sci 18:227–241. doi:10.5194/hess-18-227-2014

Renard P, Glenz D, Mejias M (2009) Understanding diagnostic plots for well-test interpretation. Hydrogeol J 17(3):589–600

Roberts RM, Beauheim RL, Domski PS (1999) Interpretation methodology and objectives, chap 6. In: Hydraulic testing of Salado Formation evaporites at the waste isolation pilot plant site. Final report, USDOE, Washington, DC

Sauter M, Kovacs A, Geyer T, Teutsch G (2006) Modellierung der Hydraulik von Karstgrundwasserleitern: eine Übersicht [Modeling the hydraulic system of karst aquifers: an overview]. Grundwasser 11(3):143–153

Schmidt S, Geyer T, Guttman J, Marei A, Ries F, Sauter M (2014) Characterisation and modelling of conduit restricted karst aquifers: example of the Auja spring, Jordan Valley. J Hydrol 511:750–763. doi:10.1016/j.jhydrol.2005.11.054

Shoemaker WB, Kuniansky EL, Birk S, Bauer S, Swain ED (2008) Documentation of a Conduit Flow Process (CFP) for MODFLOW-2005. US Geological Survey Techniques and Methods, book 6, chapt A24, US Geological Survey, Reston, VA

Spane FA Jr, Wurstner SK (1993) A computer program for calculating pressure derivatives for use in hydraulic test analysis. Ground Water 31(5):814–822

Vasseur F (1993) Exploration dans l'Hérault: rétrospective historique des plongées souterraines d'exploration dans le département et secteur limitrophes. Les dossiers CELADON, no. 3 [Exploration in the Hérault department: retrospective history of the underground exploration dives in the neighboring department and section. The dossiers CELADON, no. 3]. Fédération Française de Spéléologie, Lyon, France

Walker DD, Roberts RM (2003) Flow dimensions corresponding to hydrogeological conditions. Water Resour Res 39(12):1349. doi:10.1029/2002WR001511
Acknowledgements
This project was funded by the Deutsche Forschungsgemeinschaft (DFG) under grant Nos. LI 727/11-2 and GE 2173/2-2 and by the BRGM under grant Nos. PDR13D3E91 and PDR14D3E61. The authors thank M. Appold and three anonymous reviewers for constructive comments that significantly improved the manuscript.
About this article
Cite this article
Giese, M., Reimann, T., Liedl, R. et al. Application of the flow dimension concept for numerical drawdown data analyses in mixed-flow karst systems. Hydrogeol J 25, 799–811 (2017). https://doi.org/10.1007/s10040-016-1523-7
Received:

Accepted:

Published:

Issue Date:
Keywords
Karst

Inverse modeling

Pumping test

Flow dimension

France