Abstract
Underground structures have been shown to have a great influence on subsoil resources in urban aquifers. A methodology to assess the actual and the potential state of the groundwater flow in an urban area is proposed. The study develops a three-dimensional modeling approach to understand the cumulative impacts of underground infrastructures on urban groundwater flow, using a case in the city of Lyon (France). All known underground structures were integrated in the numerical model. Several simulations were run: the actual state of groundwater flow, the potential state of groundwater flow (without underground structures), an intermediate state (without impervious structures), and a transient simulation of the actual state of groundwater flow. The results show that underground structures fragment groundwater flow systems leading to a modification of the aquifer regime. For the case studied, the flow systems are shown to be stable over time with a transient simulation. Structures with drainage systems are shown to have a major impact on flow systems. The barrier effect of impervious structures was negligible because of the small hydraulic gradient of the area. The study demonstrates that the definition of a potential urban groundwater flow and the depiction of urban flow systems, which involves understanding the impact of underground structures, are important issues with respect to urban underground planning.
Résumé
Les structures souterraines ont montré avoir une grande influence sur les ressources du sous-sol dans les aquifères urbains. Une méthodologie d'évaluation de l'état actuel et potentiel de l'écoulement des eaux souterraines dans une zone urbaine est proposée. L'étude développe une approche de modélisation en trois dimensions pour comprendre les impacts cumulés des infrastructures souterraines sur les écoulements des eaux souterraines en milieu urbain, en utilisant une étude de cas dans la ville de Lyon (France). Toutes les structures souterraines connues ont été intégrées dans un modèle numérique. Plusieurs simulations ont été effectuées : l'état actuel de l'écoulement d'eaux souterraines, l'état potentiel de l'écoulement d'eaux souterraines (sans structures souterraines), un état intermédiaire (sans structures imperméables) et une simulation en transitoire de l'état actuel des écoulements d'eaux souterraines. Les résultats montrent que les structures souterraines fragmentent les systèmes d'écoulement d'eaux souterraines conduisant à une modification du régime de l'aquifère. Pour le cas étudié, les systèmes d'écoulement sont stables au cours du temps avec une simulation en transitoire. Les structures avec des systèmes de drainage ont un impact majeur sur les systèmes d'écoulement. L'effet de barrière des structures imperméables est négligeable à cause du faible gradient hydraulique de la zone. L'étude démontre que la définition d'un écoulement potentiel d'eaux souterraines en milieu urbain et la représentation des systèmes des flux en milieu urbain, qui impliquent la compréhension de l'impact des structures souterraines, sont des sujets importants en matière de planification urbaine souterraine.
Resumen
Las estructuras del subsuelo han demostrado tener una gran influencia sobre los recursos subterráneos en los acuíferos urbanos. Se propone una metodología para evaluar el estado actual y potencial del flujo de agua subterránea en una zona urbana. El estudio desarrolla un enfoque de modelado tridimensional para entender los impactos acumulativos de las infraestructuras del subsuelo en el flujo de las aguas subterráneas urbanas, usando un caso de la ciudad de Lyon (Francia). Todas las estructuras conocidas del subsuelo fueron integradas en el modelo numérico. Se llevaron a cabo varias simulaciones: el estado actual del flujo de agua subterránea, el estado potencial del flujo de agua subterránea (sin estructuras en el subsuelo), un estado intermedio (sin estructuras impermeables), y una simulación transitoria del estado actual del flujo de agua subterránea. Los resultados muestran que las estructuras en el subsuelo fragmentan los sistemas de flujo del agua subterránea conduciendo a una modificación del régimen del acuífero. Para el caso estudiado, se demuestra que los sistemas de flujo son estables a través del tiempo con una simulación transitoria. Se muestra que las estructuras con sistemas de drenaje tienen un impacto mayor en los sistemas de flujo. El efecto de barrera de las estructuras impermeables fue despreciable debido al pequeño gradiente hidráulico de la zona. El estudio demuestra que la definición de un flujo potencial de agua subterránea urbana y la esquematización de los sistemas de flujo urbano, que implica entender el impacto de las estructuras del subsuelo, son cuestiones importantes con respecto a la planificación de las estructuras del subsuelo urbano.
摘要
地下建筑物显示出对城市含水层下层土壤有很大的影响。本文论述了评价城区地下水流实际和潜在的状态的方法。本研究利用(法国)里昂一个实例开发了三维模拟方法以了解地下建筑对城市地下水流的累积影响。所有已知的地下建筑物都并归到数值模型中。进行了几个模拟 :地下水流的实际状态,地下水流的潜在状态(无地下建筑物),中间状态(没有不透水的建筑物),地下水实际状态的瞬时模拟。结果显示,地下建筑物使地下水流系统四分五裂,致使含水层发生改变。在研究的实例中,水流系统在瞬时模拟中显示随着时间的过去趋于稳定。有排水系统的建筑物显示对水流系统有重要影响。无透水建筑物的屏障效应可以忽略,因为该地区水力梯度太小。研究显示,潜在城市地下水流的定义及城市水流系统的描述涉及到对地下建筑物影响的了解,是城市地下规划的重要课题。
Resumo
Estruturas subterrâneas comprovadamente apresentam uma grande influência sobre os recursos subterrâneos de aquíferos urbanos. Propõe-se neste estudo uma metodologia para avaliar a situação real e potencial do escoamento de água subterrânea em uma área urbana. O estudo desenvolve uma modelagem tridimensional para entender os impactos cumulativos das infraestruturas subterrâneas sobre o escoamento de água subterrânea urbana utilizando-se o caso da cidade de Lyon (França). Todas as estruturas subterrâneas conhecidas foram integradas ao modelo. Foram realizadas diversas simulações: a situação real do escoamento de água subterrânea, a situação potencial do escoamento de água subterrânea (sem estruturas subterrâneas) e uma simulação de transitório da situação real do escoamento de água subterrânea. Os resultados mostram que as estruturas subterrâneas segregam o sistema de escoamento alterando o regime de escoamento do aquífero. O efeito de barreira das estruturas impermeáveis foi desprezível devido ao gradiente hidráulico reduzido na área. O estudo demonstra que a definição de uma situação potencial de escoamento de água subterrânea urbana e o mapeamento do escoamento de sistemas aquíferos urbanos, que envolvem o entendimento do impacto de infraestruturas, são discussões importantes com respeito ao planejamento do ambiente subterrâneo urbano.
Access options
Buy single article
Instant access to the full article PDF.
US$ 39.95
Tax calculation will be finalised during checkout.
Subscribe to journal
Immediate online access to all issues from 2019. Subscription will auto renew annually.
US$ 79
Tax calculation will be finalised during checkout.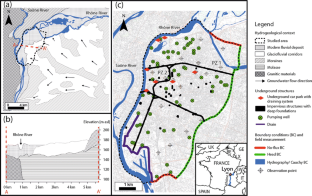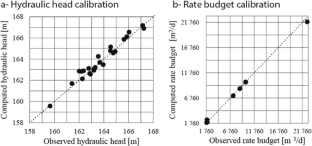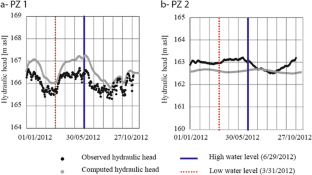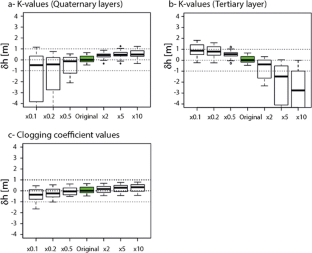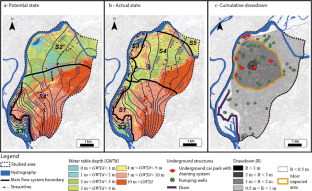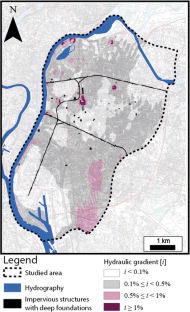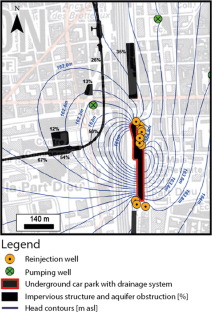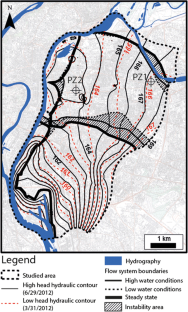 References
Agence de l'eau Rhône Méditerranée Corse (AERMC) (2012) L'eau dans le bassin Rhône-Méditerranée [The water of the Rhone-Mediterranean basin]. Available: http://sierm.eaurmc.fr/telechargement/donnees/CAT_prelevement_2012.zip. Accessed 1 October 2014

Attard G, Winiarski T, Rossier Y, Eisenlohr L (2016) Review: Impact of underground structures on the flow of urban groundwater. Hydrogeol J 24(01):5-19. doi:10.1007/s10040-015-1317-3

Bo Z, Shaojie O, Jianhua Z, Hui S, Geng W, Ming Z (2015) An analysis of previous blackouts in the world: lessons for China's power industry. Renew Sust Energ Rev 42:1151–1163

Bobylev N (2009) Mainstreaming sustainable development into a city's master plan: a case of urban underground space use. Land Use Policy 26:1128–1137

Bonomi T, Bellini R (2003) The tunnel impact on the groundwater level in an urban area: a modelling approach to forecast it. RMZ-Mater Geoenviron 50:45–48

Boreux V, Born J, Lawes MJ (2009) Sharing ecological knowledge: opportunities and barriers to uptake. Biotropica 41:532–534

Boukhemacha MA, Gogu CR, Serpescu I, Gaitanaru D, Bica I (2015) A hydrogeological conceptual approach to study urban groundwater flow in Bucharest city, Romania. Hydrogeol J :1–14

Brenot A, Nicolas J, Chrétien M, Dewandel B, Courtois N, Castagnac C, Bourgine B, Couëffe R Martelet G (2009) Acquisition de connaissances sur la nappe de la molasse du territoire du SAGE de l'Est Lyonnais. Rapport Final [Acquisition of knowledge on the molasse layer of SAGE of l'Est Lyonnais. Final report]. BRGM RP-57474-FR, BRGM, Orleans, France, 220 pp

BRGM (2013) InfoTerre, le visualisateur des données géoscientifiques [InfoTerre, the visualization of geoscience data]. BRGM, Orleans, France. http://infoterre.brgm.fr. Accessed 1 October 2013

Brochet P, Gerbier N (1974) L'évapotranspiration: aspect agrométéorologique, évaluation pratique de l'évapotranspiration potentielle [Evapotranspiration: agro-meteorological aspect, practical assessment of potential evapotranspiration]. Direction Nationale de la Météorologie, Cassablanca, Morocco

Carpenter J, Verhage R (2014) Lyon city profile. Cities 38:57–68

Chae G-T, Yun S-T, Choi B-Y, Yu S-Y, Jo H-Y, Mayer B, Kim Y-J, Le J-Y (2008) Hydrochemistry of urban groundwater, Seoul, Korea: the impact of subway tunnels on groundwater quality. J Contam Hydrol 101:42–52

Collin JJ, Gudefin H, Herve JY, Lienhardt MJ, Rousselot D (1973) Système aquifère de l'est lyonnais (01-38-69). Synthèse des connaissances. Données hydrogéologiques quantifiées [Aquifer system in eastern Lyon (01-38-69): knowledge synthesis—hydrogeological data quantified]. BRGM 73 SGN 199 JAL, BRGM, Orleans, France, 57 pp

Dassargues A (1997) Groundwater modelling to predict the impact of a tunnel on the behaviour of a water table aquifer in urban conditions. In: Chilton J (ed) Groundwater in the urban environment: problems, processes and management. Proc. Of XXVII IAH Congress, Balkema, Rotterdam, The Netherlands, pp 225–230

David L, Elmi S, Féraud J (1979) Carte géologique de Lyon à 1: 50 000 [Geological map at 2: 50 000]. Ministère de l'industrie, BRGM, Orleans, France, 41 pp

Deveughèle M, Zokimila P, Cojean R (2010) Impact of an impervious shallow gallery on groundwater flow. Bull Eng Geol Environ 69:143–152

Diersch HJ (2013) FEFLOW: finite element modeling of flow, mass and heat transport in porous and fractured media. Springer, New York

Ducommun R (2010) Estimation et cartographie de la vulnérabilité des eaux souterraines en milieu urbain [Estimation and mapping of groundwater vulnerability in urban areas]. PhD Thesis, Université de Neuchâtel, Switzerland

Eiswirth M, Wolf L, Hötzl H (2004) Balancing the contaminant input into urban water resources. Environ Geol 46:246–256

Epting J, Huggenberger P (2013) Unraveling the heat island effect observed in urban groundwater bodies: definition of a potential natural state. J Hydrol 501:193–204. doi:10.1016/j.jhydrol.2013.08.002

Epting J, Huggenberger P, Rauber M (2008) Integrated methods and scenario development for urban groundwater management and protection during tunnel road construction: a case study of urban hydrogeology in the city of Basel, Switzerland. Hydrogeol J 16:575–591

Font-Capo J, Pujades E, Vàzquez-Suñé E, Carrera J, Velasco V, Montfort D (2015) Assessment of the barrier effect caused by underground constructions on porous aquifers with low hydraulic gradient: a case study of the metro construction in Barcelona, Spain. Eng Geol 196:238–250

Foster S, Garduno H (2013) Groundwater-resource governance: are governments and stakeholders responding to the challenge? Hydrogeol J 21:317–320

Foster S, Chilton J, Nijsten G-J, Richts A (2013) Groundwater: a global focus on the 'local resource'. Curr Opin Environ Sustain 5:685–695

Franc O (2005) Reconstitution paléo-environnementale à partir du contexte géomorphologique de quatre sites archéologiques de la plaine de l'Est lyonnais (Rhône, France) [Palaeo-environmental reconstruction from the geomorphological context of four archaeological sites on the East-Lyonnais Plain (Rhône, France)]. Quaternaire 16(2):95–105

García-Gil A, Vázquez-Suñe E, Schneider EG, Sánchez-Navarro JÁ, Mateo-Lázaro J (2014) The thermal consequences of river-level variations in an urban groundwater body highly affected by groundwater heat pumps. Sci Total Environ 485:575–587

GrandLyon (2013) Données métropolitaine du Grand Lyon [Data for the metropolis of Grand Lyon]. Métropole de Lyon. http://data.grandlyon.com. Accessed 1 Oct 2013

Gudefin H (1971) Ligne Bellecour Guillotière, Esquisse du profil géologique [Geological profile of the Bellecour Guillotière subway line]. BRGM, Orleans, France, 67 pp

Gudefin H, Rousselot D (1974) Synthèse des études géologiques et hydrogéologiques du BRGM en vue de la création d'un réseau métropolitain dans l'agglomération lyonnaise [Synthesis of geological and hydrogeological studies of BRGM for the creation of a subway in the Lyon area]. BRGM, Orleans, France, 46 pp

Jiao JJ, Wang X-S, Nandy S (2006) Preliminary assessment of the impacts of deep foundations and land reclamation on groundwater flow in a coastal area in Hong Kong, China. Hydrogeol J 14:100–114

Jurado A, López-Serna R, Vázquez-Suné E, Carrera J, Pujades E, Petrovic M, Barceló D (2014) Occurrence of carbamazepine and five metabolites in an urban aquifer. Chemosphere 115:47–53

Lerner DN, Barrett MH (1996) Urban groundwater issues in the United Kingdom. Hydrogeol J 4:80–89

Li H-Q, Parriaux A, Thalmann P, Li X-Z (2013a) An integrated planning concept for the emerging underground urbanism: deep city method, part 1—concept, process and application. Tunn Undergr Space Technol 38:559–568

Li H-Q, Parriaux A, Thalmann P, Li X-Z (2013b) An integrated planning concept for the emerging underground urbanism: deep city method, part 2—case study for resource supply and project valuation. Tunn Undergr Space Technol 38:569–580

Maire P (2011) Etude multidisciplinaire d'un développement durable du sous-sol urbain: aspects socio-économiques, juridiques et de politique urbaine [Multidisciplinary study of sustainable development of the urban underground: socio-economic, legal and urban policy]. PhD Thesis, Ecole Polytechnique Fédérale de Lausanne, France

Mandier P (1984) Le relief de la moyenne vallée du Rhône au Tertiaire et au Quaternaire [The relief of the middle Rhone valley in the Tertiary and Quaternary]. Bull Lab Rhodanien Géomorphol 15–16:27–36

Marinos P, Kavvadas M (1997) Rise of the groundwater table when flow is obstructed by shallow tunnels. Groundwater in the urban area: problems processes and management. 27th Cong. IAH, Nottingham, UK, September 1997, pp 21–27

MEDDE (2015) Géoportail: Le portail des territoires et des citoyens [Geoportal: the portal of territories and citizens]. French Ministry of Ecology, Sustainable Development and Energy. http://www.geoportail.gouv.fr. Accessed 1 Sept 2015

Merrick N, Jewell M (2003) Modelling of the groundwater impact of a sunken urban motorway in Sydney, Australia. RMZ-Mater Geoenviron 50:229–232

Modoni G, Darini G, Spacagna RL, Saroli M, Russo G, Croce P (2013) Spatial analysis of land subsidence induced by groundwater withdrawal. Eng Geol 167:59–71. doi:10.1016/j.enggeo.2013.10.014

Mongereau N (2010) Géologie de Lyon [Lyon Geology]. Communauté urbaine du Grand Lyon, Lyon, France, 160 pp

Nicolas J, Petit V, Thierry P, Besse A, Longet A (2004) Connaissance hydrogéologique du sous-sol de l'agglomération lyonnaise. Rapport d'étape - Phase 1 [Hydrogeological knowledge of the Lyon city underground. Report - Phase 1]. BRGM/RP-53569-FR, BRGM, Orleans, France, 158 pp

NSREA, Norwegian Soil and Rock Engineering Association (1995) Norwegian urban tunneling. NSREA, Trondheim, Norway

Pujades E, Lopez A, Carrera J, Vazquez-Suné E, Jurado A (2012) Barrier effect of underground structures on aquifers. Eng Geol 145–146:41–49

Ricci G, Enrione R, Eusebio A, Crova R (2007) Numerical modelling of the interference between underground structures and aquifers in urban environment: the Turin subway-line. In: Bartak J, Hrdina I, Romancov G, Zlamal D (eds) Underground space: the fourth dimension of metropolises. Taylor and Francis, London pp 1323–1329

Shewchuk JR (2005) Triangle: a two-dimensional quality mesh generator and Delaunay triangulator. Computer Science Division, University of California at Berkeley, Berkeley, CA

Toth J (1963) A theoretical analysis of groundwater flow in small drainage basins. J Geophys Res 68(16):4795–4812

Un-Habitat (2008) State of the world's cities 2008/9: harmonious cities. Earthscan, London

Vazquez-Suné E, Sanchez-Vila X (1999) Groundwater modelling in urban areas as a tool for local authority management: Barcelona case study (Spain). IAHS, Wallingford, UK, pp 65–72

Yoo C, Kim J, Jung H-S (2009) Lessons learned from case histories of tunnelling-induced groundwater drawdown and associated settlement. Proc. World Tunnelling Congress, Budapest, May 2009, pp 12–16

Yoo C, Lee Y, Kim S-H, Kim H-T (2012) Tunnelling-induced ground settlements in a groundwater drawdown environment: a case history. Tunn Undergr Space Technol 29:69–77
Acknowledgements
The authors thank the French Ministry of Ecology, Sustainable Development and Energy for its financial support. They also thank Anne Perrissin of Greater Lyon for data support, Marc Berthier from the ANTEA Group, Alain Lemay from Lyon Parc Auto for the drainage systems data, and Stéphane Gaillot and Mélanie Foucault from the Lyon City Hall. Finally, the authors would also like to thank Aurèle Parriaux and Jean-Michel Tanguy for their relevant comments.
About this article
Cite this article
Attard, G., Rossier, Y., Winiarski, T. et al. Deterministic modelling of the cumulative impacts of underground structures on urban groundwater flow and the definition of a potential state of urban groundwater flow: example of Lyon, France. Hydrogeol J 24, 1213–1229 (2016). https://doi.org/10.1007/s10040-016-1385-z
Received:

Accepted:

Published:

Issue Date:
Keywords
Urban groundwater

Groundwater management

Deterministic modeling

Underground constructions

France