Abstract
Property economics favours the vertical development of cities but flow of groundwater can be affected by the use of underground space in them. This review article presents the state of the art regarding the impact of disturbances caused by underground structures (tunnels, basements of buildings, deep foundations, etc.) on the groundwater flow in urban aquifers. The structures built in the underground levels of urban areas are presented and organised in terms of their impact on flow: obstacle to the flow or disturbance of the groundwater budget of the flow system. These two types of disturbance are described in relation to the structure area and the urban area. The work reviewed shows, on one hand, the individual impacts of different urban underground structures, and on the other, their cumulative impacts on flow, using real case studies. Lastly, the works are placed in perspective regarding the integration of underground structures with the aim of operational management of an urban aquifer. The literature presents deterministic numerical modelling as a tool capable of contributing to this aim, in that it helps to quantify the effect of an underground infrastructure project on groundwater flow, which is crucial for decision-making processes. It can also be an operational decision-aid tool for choosing construction techniques or for formulating strategies to manage the water resource.
Résumé
L'économie du foncier favorise le développement vertical des villes, mais l'écoulement des eaux souterraines peut être affecté par l'utilisation de l'espace souterrain. Cet article présente l'état de l'art en ce qui concerne l'impact et les perturbations causées par les ouvrages souterrains (tunnels, sous-sols de bâtiments, fondations profondes, etc.) sur l'écoulement des eaux souterraines dans les aquifères urbanisés. Les structures construites dans les niveaux souterrains des zones urbaines sont présentées et organisées en fonction de leur incidence sur les écoulements: obstacle à l'écoulement ou perturbation du bilan d'eau souterraine du système d'écoulement. Ces deux types de perturbations sont décrits à l'échelle de l'ouvrage et à l'échelle de l'aire urbaine. La revue des travaux présente, d'une part, les impacts individuels de différentes structures souterraines urbaines, et de l'autre, leurs effets cumulatifs sur les écoulements, à partir d'études de cas réels. Enfin, les travaux sont mis en perspective en ce qui concerne l'intégration des structures souterraines dans le but de la gestion opérationnelle d'un aquifère urbain. La littérature présente la modélisation numérique déterministe comme un outil capable de contribuer à cet objectif, en ce qu'elle permet de quantifier l'effet d'un projet d'infrastructure souterraine sur l'écoulement des eaux souterraines, ce qui est crucial pour les processus de prise de décision. La modélisation numérique peut constituer un outil opérationnel d'aide à la décision pour la sélection de techniques de construction ou pour formuler des stratégies de gestion de la ressource en eau.
Resumen
Las características económicas favorecen el desarrollo vertical de las ciudades pero el flujo del agua subterránea puede ser afectado por el uso del espacio subterráneo en ellas. Este artículo de revisión presenta el estado del arte en relación al impacto de las perturbaciones causadas por las estructuras de subsuelo (túneles, sótanos de edificios, fundaciones profundas, etc.) en el flujo de agua subterránea en los acuíferos de zonas urbanas. Se presentan las estructuras construidas en niveles del subsuelo de las zonas urbanas y se organizan en función de su impacto en el flujo: obstáculo para el flujo o perturbación del balance del agua subterránea en el sistema de flujo. Se describen estos dos tipos de perturbaciones en relación con el área de la estructura y la zona urbana. Los trabajos revisados muestran, por una parte, los impactos individuales de diferentes estructuras del subsuelo urbano, y por otro, su efecto acumulativo sobre el flujo, utilizando estudios de casos reales. Finalmente, las obras se sitúan en perspectiva con respecto a la integración de las estructuras del subsuelo con el objetivo de la gestión operativa de un acuífero urbano. La literatura presenta a la modelización numérica determinística como una herramienta capaz de contribuir a este objetivo, ya que ayuda a cuantificar el efecto de un proyecto de una infraestructura del subsuelo en el flujo de las aguas subterráneas, lo cual es crucial en los procesos de toma de decisiones. También puede ser una herramienta de ayuda en la operación de la elección de las técnicas de construcción o de la formulación de estrategias de la gestión del recurso hídrico.
摘要
产权经济有利于城市的纵向发展,但地下水流可能受到城市地下空间利用的影响。本篇论述文章展示了地下结构(隧道、建筑物地下室及深层地基等)对城区含水层地下水流造成的干扰影响现状。论述了城区地下建造的结构及其对水流的影响:成为水流的障碍或水流系统地下水平衡的干扰因素。描述了与结构区和城区有关的这两种类型的干扰。通过研究实例,论述的工作一方面显示了不同城区地下结构的单个影响,另一方面采用显示了对水流的积累影响。最后,正确安排地下水结构整合方面的工作,目的就是做好城区含水层的运行管理。文献展示了确定性的数值模拟作为工具能有利于实现这个目标,数值模拟有助于定量化地下基础设施对地下水流的影响,这种影响对决策过程至关重要。它还可以成为选择建设技术或指定水资源管理战略的经营决策支持工具。
Resumo
Economia de propriedade favorece o desenvolvimento vertical das cidades, mas o fluxo das águas subterrâneas pode ser afetado pela utilização do espaço subterrâneo. Este artigo apresenta o estado da arte sobre o impacto das perturbações causadas por estruturas subterrâneas (túneis, fundação de edifícios, fundações profundas, etc.) no fluxo das águas subterrâneas em aquíferos urbanos. As estruturas construídas nos níveis subterrâneos de áreas urbanas são apresentadas e organizadas em termos do seu impacto sobre o fluxo: obstáculo ao fluxo ou perturbação do balanço hídrico subterrâneo no sistema de fluxo. Esses dois tipos de perturbação são descritos em relação à área da estrutura e da área urbana. O estudo analisado mostra, por um lado, os impactos individuais de diferentes estruturas subterrâneas urbanas, e, por outro lado, os seus efeitos cumulativos sobre o fluxo, usando estudos de caso real. Por último, as obras são colocadas em perspectiva a respeito da integração das estruturas subterrâneas com o objetivo de gestão operacional de um aquífero urbano. A literatura apresenta modelagem numérica determinística como uma ferramenta capaz de contribuir para este objetivo, na medida em que ajuda a quantificar o efeito de um projeto de infraestruturas subterrâneas no fluxo de águas subterrâneas, o que é crucial para os processos de tomada de decisão. Isso também pode ser uma ferramenta de apoio à decisão operacional para a escolha de técnicas de construção ou para a formulação de estratégias para gerir o recurso hídrico.
Access options
Buy single article
Instant access to the full article PDF.
US$ 39.95
Tax calculation will be finalised during checkout.
Subscribe to journal
Immediate online access to all issues from 2019. Subscription will auto renew annually.
US$ 79
Tax calculation will be finalised during checkout.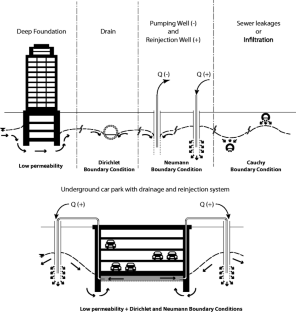 References
AERMC (Agence de l'Eau Rhône Méditerranée Corse) (2011) L'eau dans le bassin Rhône-Méditerranée [The water of the Rhone-Mediterranean Basin]. Available: http://sierm.eaurmc.fr/telechargement/donnees/CAT_prelevement_2011.zip. Accessed 2 January 2015

Attard G, Winiarski T, Rossier Y, Eisenlohr L (2015) Urban underground space management: an approach by indicators for groundwater protection. In: Engineering geology for society and territory, vol 3. Springer International Publishing, Heidelberg, pp 405–408 

Benz SA, Bayer P, Menberg K, Jung S, Blum P (2015) Spatial resolution of anthropogenic heat fluxes into urban aquifers. Sci Total Environ 524–525:427–439. doi:10.1016/j.scitotenv.2015.04.003

Bobylev N (2009) Mainstreaming sustainable development into a city's master plan: a case of urban underground space use. Land Use Policy 26:1128–1137

Bonomi T, Bellini R (2003) The tunnel impact on the groundwater level in an urban area: a modelling approach to forecast it. Mater Geoenviron 50:45–48

Boreux V, Born J, Lawes MJ (2009) Sharing ecological knowledge: opportunities and barriers to uptake. Biotropica 41:532–534

Boukhemacha, MA, Gogu CR, Serpescu I, Gaitanaru D, Bica I (2015) A hydrogeological conceptual approach to study urban groundwater flow in Bucharest City, Romania. Hydrogeol J 23:437–450

Butscher C (2012) Steady-state groundwater inflow into a circular tunnel. Tunn Undergr Space Technol 32:158–167

Cedergren HR (1997) Seepage, drainage, and flow nets. Wiley, New York

Chae G-T, Yun S-T, Choi B-Y, Yu S-Y, Jo H-Y, Mayer B, Kim Y-J, Le J-Y (2008) Hydrochemistry of urban groundwater, Seoul, Korea: the impact of subway tunnels on groundwater quality. J Contam Hydrol 101:42–52

Chen C-H, Liu W-L, Liaw S-L, Yu C-H (2005) Development of a dynamic strategy planning theory and system for sustainable river basin land use management. Sci Total Environ 346:17–37

Dassargues A (1997) Groundwater modelling to predict the impact of a tunnel on the behaviour of a water table aquifer in urban conditions. In: Chilton J (ed) Groundwater in the urban environment: problems, processes and management. Proc. of XXVII IAH Congress, Balkema, Rotterdam, pp 225–230 

Deveughèle M, Cojean R, Marvy J (1983) Interest and difficulties of studying ground water tables in urban area (example of the alluvial ground water table in Paris). Bull Int Assoc Eng Geol 28:213–219

Deveughèle M, Zokimila P, Cojean R (2010) Impact of an impervious shallow gallery on groundwater flow. Bull Eng Geol Environ 69:143–152

Ducommun R (2010) Estimation et cartographie de la vulnérabilité des eaux souterraines en milieu urbain [Estimation and mapping of groundwater vulnerability in urban areas]. PhD Thesis, Université de Neuchâtel, Switzerland

Eiswirth M, Wolf L, Hötzl H (2004) Balancing the contaminant input into urban water resources. Environ Geol 46:246–256

El Tani M (2003) Circular tunnel in a semi-infinite aquifer. Tunn Undergr Space Technol 18:49–55

Epting J, Huggenberger P (2013) Unraveling the heat island effect observed in urban groundwater bodies: definition of a potential natural state. J Hydrol 501:193–204. doi:10.1016/j.jhydrol.2013.08.002

Epting J, Huggenberger P, Rauber M (2008) Integrated methods and scenario development for urban groundwater management and protection during tunnel road construction: a case study of urban hydrogeology in the city of Basel, Switzerland. Hydrogeol J 16:575–591

Font-Capo J, Vazquez-Suné E, Carrera J, Marti D, Carbonell R, Pérez-Estaun A (2011) Groundwater inflow prediction in urban tunneling with a tunnel boring machine (TBM). Eng Geol 121:46–54

Foster S, Garduno H (2013) Groundwater-resource governance: are governments and stakeholders responding to the challenge? Hydrogeol J 21:317–320

Foster S, Chilton J, Nijsten G-J, Richts A (2013) Groundwater: a global focus on the 'local resource'. Curr Opin Environ Sustain 5:685–695

Geotechnical Control Office (GCO) (1982) Mid-levels study, report on geology, hydrology and soil properties. Geotechnical Control Office, Hong Kong

Goel RK, Singh B, Zhao J (2012) Introduction, chapt 1. In: Goel RK, Singh B, Zhao J (eds) Underground infrastructures. Butterworth-Heinemann, Boston, MA

Hanasaki N, Kanae S, Oki T, Masuda K, Motoya K, Shirakawa N, Shen Y, Tanaka K (2008) An integrated model for the assessment of global water resources, part 2: applications and assessments. Hydrol Earth Syst Sci 12:1027–1037

Herbert A, Arthur S, Chillingworth G (2013) Thermal modelling of large-scale exploitation of ground source energy in urban aquifers as a resource management tool. Appl Energy 109:94–103. doi:10.1016/j.apenergy.2013.03.005

Jiao JJ, Wang X-S, Nandy S (2006) Preliminary assessment of the impacts of deep foundations and land reclamation on groundwater flow in a coastal area in Hong Kong, China. Hydrogeol J 14:100–114

Karpf C, Krebs P (2004) Sewers as drainage systems-quantification of groundwater infiltration. In: Proceedings of NOVATECH 2004 "Sustainable Techniques and Strategies in Urban Water Management", vol 2, Lyon, France, June 2004, pp 969–975

Karpf C, Krebs P (2011) Quantification of groundwater infiltration and surface water inflows in urban sewer networks based on a multiple model approach. Water Res 45:3129–3136

Larson KJ, Basagaoglu H, Marino MA (2001) Prediction of optimal safe ground water yield and land subsidence in the Los Banos-Kettleman City area, California, using a calibrated numerical simulation model. J Hydrol 242:79–102

Lerner DN (2002) Identifying and quantifying urban recharge: a review. Hydrogeol J 10:143–152

Lerner DN, Barrett MH (1996) Urban groundwater issues in The United Kingdom. Hydrogeol J 4:80–89

Li H-Q, Parriaux A, Thalmann P, Li X-Z (2013a) An integrated planning concept for the emerging underground urbanism: deep city method, part 1: concept, process and application. Tunn Undergr Space Technol 38:559–568

Li H-Q, Parriaux A, Thalmann P, Li X-Z (2013b) An integrated planning concept for the emerging underground urbanism: deep city method, part 2—case study for resource supply and project valuation. Tunn Undergr Space Technol 38:569–580

Lund JW, Freeston DH, Boyd TL (2011) Direct utilization of geothermal energy 2010 worldwide review. Geothermics 40:159–180. doi:10.1016/j.geothermics.2011.07.004

Maire P (2011) Etude multidisciplinaire d'un développement durable du sous-sol urbain. Aspects socio-économiques, juridiques et de politique urbaine [Multidisciplinary study of sustainable development of urban underground. Socio-economic, legal and urban policy]. PhD Thesis, Ecole Polytechnique Fédérale de Lausanne, France

Marinos P, Kavvadas M (1997) Rise of the groundwater table when flow is obstructed by shallow tunnels. In: Groundwater in the urban area: problems processes and management. 27th Cong. Int. Assoc. Hydrogeologists (IAH), Nottingham, UK, September 1997, pp 21–27

Menberg K, Bayer P, Zosseder K, Rumohr S, Blum P (2013) Subsurface urban heat islands in German cities. Sci Total Environ 442:123–133. doi:10.1016/j.scitotenv.2012.10.043

Merrick N, Jewell M (2003) Modelling of the groundwater impact of a sunken urban motorway in Sydney, Australia. Mater Geoenviron 50:229–232

Modoni G, Darini G, Spacagna RL, Saroli M, Russo G, Croce P (2013) Spatial analysis of land subsidence induced by groundwater withdrawal. Eng Geol 167:59–71. doi:10.1016/j.enggeo.2013.10.014

Morris BL, Lawrence ARL, Chilton PJC, Adams B, Calow RC, Klinck BA (2003) Groundwater and its susceptibility to degradation: a global assessment of the problem and options for management. Early Warning and Assessment Report Series, RS. 03-3. United Nations Environment Programme, Nairobi 

NSREA, Norwegian Soil and Rock Engineering Association (1995) Norwegian urban tunneling. NSREA, Trondheim, Norway

Powers JP (1981) Construction dewatering: a guide to theory and practice. Wiley, New York, 484 pp

Pujades E, Lopez A, Carrera J, Vazquez-Suné E, Jurado A (2012) Barrier effect of underground structures on aquifers. Eng Geol 145–146:41–49

Ricci G, Enrione R, Eusebio A (2007) Numerical modelling of the interference between underground structures and aquifers in urban environment: the Turin subway–Line 1. In: Barták J, Hrdine I, Romancov G, Zlámal D (eds) Underground space. Taylor and Francis, London, pp 1323–1329

Rutsch M, Rieckermann J, Cullmann J, Ellis JB, Vollertsen J, Krebs P (2008) Towards a better understanding of sewer exfiltration. Water Res 42:2385–2394

Schirmer M, Leschik S, Musolff A (2013) Current research in urban hydrogeology: a review. Adv Water Resour 51:280–291

Taniguchi M, Shimada J, Fukuda Y, Yamano M, Onodera S, Kaneko S, Yoshikoshi A (2009) Anthropogenic effects on the subsurface thermal and groundwater environments in Osaka, Japan and Bangkok, Thailand. Sci Total Environ 407:3153–3164. doi:10.1016/j.scitotenv.2008.06.064

Toth J (1963) A theoretical analysis of groundwater flow in small drainage basins. J Geophys Res 68(16):4795–4812

UN-HABITAT (2008) State of the world' cities 2008/9: harmonious cities, Earthscan, London

Vazquez-Suné E, Sanchez-Vila X (1999) Groundwater modelling in urban areas as a tool for local authority management: Barcelona case study (Spain). IAHS Publ. no. 259, IAHS, Wallingford, UK, pp 65–72

Vazquez-Suné E, Sanchez-Vila X, Carrera J (2005) Introductory review of specific factors influencing urban groundwater, an emerging branch of hydrogeology, with reference to Barcelona, Spain. Hydrogeol J 13:522–533

Wada Y, Van Beek LPH, Van Kempen CM, Reckman JWTM, Vasak S, Bierkens MFP (2010) Global depletion of groundwater resources. Geophys Res Lett 37, L20402

Wong IH (2001) Methods of resisting hydrostatic uplift in substructures. Tunn Undergr Space Technol 16:77–86

Yoo C, Kim J, Jung H-S (2009) Lessons learned from case histories of tunnelling-induced groundwater drawdown and associated settlement. Proc. World Tunnelling Congress, Budapest, May 2009, pp 12–16

Yoo C, Lee Y, Kim S-H, Kim H-T (2012) Tunnelling-induced ground settlements in a groundwater drawdown environment: a case history. Tunn Undergr Space Technol 29:69–77

Yoshikoshi A, Adachi I, Taniguchi T, Kagawa Y, Kato M, Yamashita A, Todokoro T, Taniguchi M (2009) Hydro-environmental changes and their influence on the subsurface environment in the context of urban development. Sci Total Environ 407:3105–3111

Zhang C, Chen Z, Yang X (2011) The study about the integrated planning theory of surface and underground urban space. Procedia Eng 21:16–23

Zhu K, Blum P, Ferguson G, Balke KD, Bayer P (2010) The geothermal potential of urban heat islands. Environ Res Lett 5(4):044002
Acknowledgements
The authors thank the Ministère de l'Ecologie, du Développement Durable et de l'Energie (the French Ministry of Ecology, Sustainable Development and Energy) for financial support. Finally, we would like to thank the four anonymous reviewers for their relevant comments and suggestions.
About this article
Cite this article
Attard, G., Winiarski, T., Rossier, Y. et al. Review: Impact of underground structures on the flow of urban groundwater. Hydrogeol J 24, 5–19 (2016). https://doi.org/10.1007/s10040-015-1317-3
Received:

Accepted:

Published:

Issue Date:
Keywords
Urban Groundwater

Groundwater flow

Underground constructions

Barrier effect

Groundwater budget