Abstract
Closed basins are catchments whose drainage networks converge to lakes, salt flats or alluvial plains. Salt flats in the closed basins in arid northern Chile are extremely important ecological niches. The Salar del Huasco, one of these salt flats located in the high plateau (Altiplano), is a Ramsar site located in a national park and is composed of a wetland ecosystem rich in biodiversity. The proper management of the groundwater, which is essential for the wetland function, requires accurate estimates of recharge in the Salar del Huasco basin. This study quantifies the spatio-temporal distribution of the recharge, through combined use of isotopic characterization of the different components of the water cycle and a rainfall-runoff model. The use of both methodologies aids the understanding of hydrological behavior of the basin and enabled estimation of a long-term average recharge of 22 mm/yr (i.e., 15 % of the annual rainfall). Recharge has a high spatial variability, controlled by the geological and hydrometeorological characteristics of the basin, and a high interannual variability, with values ranging from 18 to 26 mm/yr. The isotopic approach allowed not only the definition of the conceptual model used in the hydrological model, but also eliminated the possibility of a hydrogeological connection between the aquifer of the Salar del Huasco basin and the aquifer that feeds the springs of the nearby town of Pica. This potential connection has been an issue of great interest to agriculture and tourism activities in the region.
Résumé
Les bassins fermés sont des bassins versants dont les réseaux de drainage convergent vers des lacs, des marais salants ou des plaines alluviales. Les marais salants des bassins fermés dans le nord aride du Chili constituent des niches écologiques très importantes. Le Salar del Huasco, l'une de ces salines situées sur les hauts plateaux (Altiplano) est un site Ramsar situé dans un parc national et composé d'un écosystème de zones humides riche en biodiversité. La bonne gestion des eaux souterraines, qui est essentielle pour la fonction des zones humides, nécessité une estimation précise de la recharge dans le bassin du Salar del Huasco. Cette étude quantifie la distribution spatio-temporelle de la recharge, en combinant l'utilisation de la caractérisation isotopique de différentes composantes du cycle de l'eau et d'un modèle pluie-ruissellement. L'utilisation des deux méthodologies contribue à la compréhension du comportement hydrologique du bassin et a permis l'estimation de la recharge moyenne sur le long terme, 22 mm/an (soit 15 % des précipitations annuelles). La recharge a une forte variabilité spatiale, contrôlée par les caractéristiques géologiques et hydrométéorologiques du bassin, et une forte variabilité interannuelle, avec des valeurs comprises entre 18 et 26 mm/an. L'approche isotopique a permis non seulement la définition d'un modèle conceptuel utilisé pour le modèle hydrologique, mais aussi d'éliminer la possibilité d'une connexion hydrogéologique entre l'aquifère du bassin du Salar del Huasco et l'aquifère qui alimente les sources situées à proximité de la ville de Pica. Cette connexion potentielle a été un sujet de grand intérêt pour les activités agricoles et du tourisme de la région.
Resumen
Las cuencas cerradas son cuencas cuyas redes de drenaje convergen hacia lagos, salares o llanuras aluviales. Las salinas en las cuencas cerradas del norte árido de Chile son extremadamente importantes como nichos ecológicos. El Salar del Huasco, una de estas salinas ubicado en una altiplanicie (Altiplano), es un sitio Ramsar que se encuentra en un parque nacional y se compone de un ecosistema de humedales ricos en biodiversidad. El manejo adecuado del agua subterránea en la cuenca del Salar del Huasco, lo cual es esencial para la función de los humedales, requiere estimaciones precisas de la recarga. Este estudio cuantifica la distribución espacio-temporal de la recarga, mediante el uso combinado de la caracterización isotópica de los distintos componentes del ciclo del agua y de un modelo lluvia-escorrentía. El uso de ambas metodologías ayuda a la comprensión del comportamiento hidrológico de la cuenca y permite la estimación de una recarga media a largo plazo, de 22 mm/año (es decir, el 15 % de la precipitación anual). La recarga tiene una alta variabilidad espacial, controlada por las características geológicas e hidrometeorológicas de la cuenca, y una alta variabilidad interanual, con valores que van del 18 al 26 mm/año. El enfoque isotópico permitió no sólo la definición del modelo conceptual utilizado en el modelo hidrológico, sino que también eliminó la posibilidad de una conexión hidrogeológica entre el acuífero de la cuenca del Salar del Huasco y el acuífero que alimenta a los manantiales de la localidad cercana de Pica. Esta conexión potencial ha sido un tema de gran interés para las actividades de la agricultura y del turismo en la región.
摘要
封闭盆地是指其排水系统汇聚到湖泊、沿沼或冲积平原的集水区。在干旱的智利北部,封闭盆地中的盐沼是极为重要的生态位。萨拉的瓦斯科盆地,是阿尔蒂普拉诺高原上的盐沼之一,位于一个国家公园的湿地中,并且是具有丰富生物多样性的湿地生态系统。地下水的科学管理对于湿地功能的发挥至关重要,这需要精确估算萨拉的瓦斯科盆地的地下水补给量。这项研究通过水循环中不同成分的同位素特征描述与降水径流模型的结合,量化了地下水补给量的时空分布。两种方法的使用有助于了解盆地的水文特性,并且得出长期平均补给量的估算值为22毫米/年(即年降雨量的15 %)。地下水补给量空间变化很大,取决于盆地的地质和水文气象特征,地下水补给量年度变化也很大,其范围为18 ∼ 26毫米/年。同位素方法不仅可以对水文模型中使用的概念模型进行定义,而且还排除了萨拉的瓦斯科盆地含水层与供给皮卡镇附近泉水的含水层之间存在联系的可能性。两个含水层是否存在着潜在的联系,对于本地区农业和旅游活动来说一直是引起极大兴趣的一个问题。
Resumo
Bacias fechadas são aquelas cuja rede de drenagem converge para lagos, desertos de sal e planícies aluviais. Os desertos de sal nas bacias fechadas no norte árido Chileno são nichos ecológicos extremamente importantes. O Salar del Huasco, um desses desertos de sal localizado no planalto (Altiplano), é uma área Ramsar localizada no parque nacional e é composta de um ecossistema pantanoso rico em biodiversidade. O gerenciamento adequado da água subterrânea, essencial para o funcionamento da área úmida, requer estimativas acuradas de recarga na bacia do Salar del Huasco. Este estudo quantifica a distribuição espaço-temporal da recarga, por meio da combinação do uso de caracterização isotópica de diferentes componentes do ciclo hidrológico e de um modelo do tipo chuva-vazão. O uso de ambos os métodos auxilia no entendimento do comportamento hidrológico da bacia e possibilitaram estimar a recarga média de longo prazo em 22 mm/ano (i.e., 15 % da precipitação anual). A recarga possui elevada variabilidade espacial, controlada por características geológicas e hidrometeorológicas da bacia, e uma alta variabilidade interanual, com valores variando de 18 a 26 mm/ano. A abordagem isotópica permitiu não apenas a definição do modelo conceitual usado no modelo hidrológico, mas também eliminou a possibilidade de uma conexão hidrogeológica entre o aquífero da bacia do Salar del Huasco e o aquífero que alimenta as nascentes da cidade de Pica, próxima ao à área de estudo. Essa potencial conexão tem sido uma questão de grande interesse para a agricultura e atividades turísticas na região.
Access options
Buy single article
Instant access to the full article PDF.
USD 39.95
Price excludes VAT (USA)
Tax calculation will be finalised during checkout.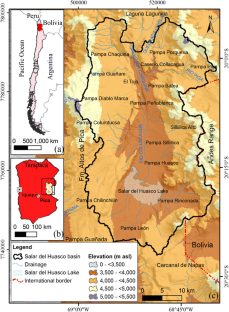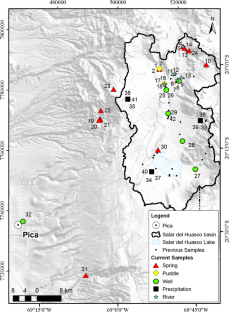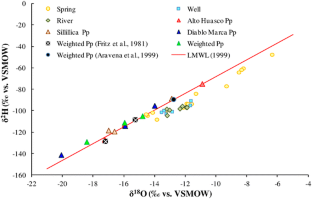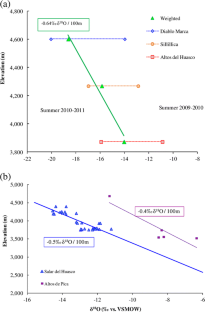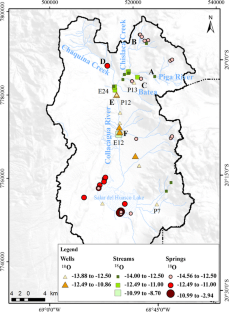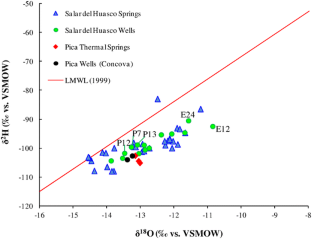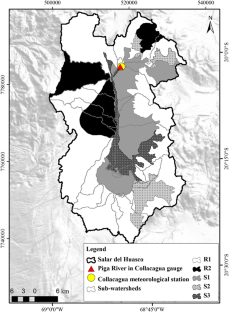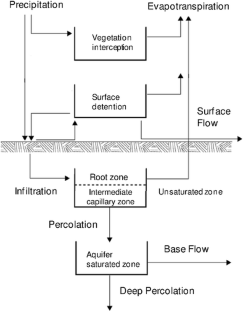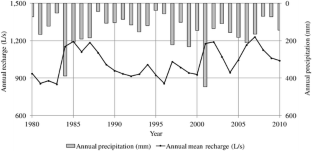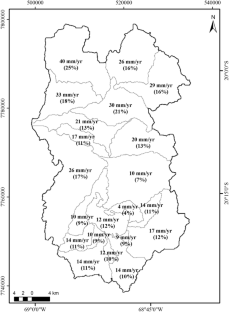 References
Acosta O (2004) Impacto de las extracciones de agua subterránea en el Salar del Huasco [Impact of ground water extraction in the Salar del Huasco]. MSc Thesis, Universidad Politécnica de Cataluña. Barcelona, Spain

Acosta O, Custodio E (2008) Impactos ambientales de las extracciones de agua subterránea en el Salar del Huasco (Norte de Chile) [Environmental impact of ground water abstractions in the Salar del Huasco (northern Chile)]. Bol Geol Min 119(1):33–50

Aravena R (1995) Isotope hydrology and geochemistry of northern Chile ground waters. Bull Inst Fr Etudes Andines 24(3):495–503

Aravena R, Suzuki O, Peña H, Pollastri A, Fuenzalida H, Grilli A (1999) Isotopic composition and origin of the precipitation in northern Chile. Appl Geochem 14(4):411–422. doi:10.1016/S0883-2927(98)00067-5

Bae DH, Jung IW, Chang H (2008) Long-term trend of precipitation and runoff in Korean river basins. Hydrol Process 22(14):2644–2656. doi:10.1002/hyp.6861

Cherkauer DS (2004) Quantifying ground water recharge at multiple scale using PRMS and GIS. Ground Water 42(1):97–110

Chow VT, Maidment DR, Mays LW (1988) Applied hydrology. McGraw-Hill, New York

Clark I, Fritz P (1997) Environmental isotopes in hydrogeology. Lewis, Boca Raton, FL

De Vries JJ, Simmers I (2002) Groundwater recharge: an overview of processes and challenges. Hydrogeol J 10(1):5–17. doi:10.1007/s10040-001-0171-7

DIHA-PUC (2009) Levantamiento hidrogeológico para el desarrollo de nuevas fuentes de agua en áreas prioritarias de la zona norte de Chile, regiones XV, I, II y III [Hydrogeological characterization for the development of new water supply sources in priority areas in northern Chile, regions XV, I, II and III]. Final report VIII, Pilot system, 1st region: Salar del Huasco. S.I.T. no. 195, Dept. de Ingeniería Hidráulica y Ambiental, Pontificia Universidad Católica de Chile and Dirección General de Aguas, Santiago, Chile. http://documentos.dga.cl/REH5161v8.pdf. Accessed 5 July 2015

Domenico PA, Schwartz FW (1998) Physical and chemical hydrogeology. Wiley, New York

Dorsaz JM, Gironás J, Escauriaza C, Rinaldo A (2013) The geomorphometry of endorheic drainage basins: implications for interpreting and modelling their evolution. Earth Surf Process Landf 38(15):1881–1896. doi:10.1002/esp.3475

Feldman A (2000) Hydrologic modeling system HEC-HMS. Technical reference manual. US Army Corps of Engineers, Hydrologic Engineering Center, Davis, CA

Ferrando FJ (1993) Clasificación hidrodinámica de Chile [Hydrodynamic classification of Chile]. Cuad Investig Geogr (Spain) 18-19:57–74

Flügel WA (1995) Delineating hydrological response units (HRU's) by GIS analysis for regional hydrological modeling using PRMS/MMS in the drainage basins of the River Bröl, Germany. Hydrol Process 9(3–4):423–436. doi:10.1002/hyp.3360090313

Fritz P, Suzuki O, Silva C, Salati E (1981) Isotope hydrology of groundwaters in the Pampa del Tamarugal, Chile. J Hydrol 58(1–2):161–184. doi:10.1016/0022-1694(81)90043-3

Garreaud R, Aceituno P (2001) Interannual rainfall variability over the South American Altiplano. J Clim 14(12):2779–2789. doi:10.1175/1520-0442(2001)014

Healy RW, Cook P (2002) Using groundwater levels to estimate recharge. Hydrogeol J 10(1):91–109. doi:10.1007/s10040-001-0178-0

Healy RW, Scanlon BR (2010) Estimating groundwater recharge. Cambridge University Press, Cambridge, UK

Herrera C, Pueyo JJ, Sáez A, Valero-Garcés BL (2006) Relationship of surface and groundwater in the region of the lake and ponds Chungará Cotacotani, northern Chile: an isotopic study. ANDEAN Geol 33:299–325. doi:10.4067/S0716-02082006000200005

Houston J (2002) Groundwater recharge through an alluvial fan in the Atacama Desert, northern Chile: mechanisms, magnitudes and causes. Hydrol Process 16:3019–3035. doi:10.1002/hyp.1086

Houston J (2006) Variability of precipitation in the Atacama Desert: its causes and hydrological impact. Int J Clim 26(15):2181–2189. doi:10.1002/joc.1359

Houston J (2009) A recharge model for high altitude arid Andean aquifers. Hydrol Process 13(16):2383–2393. doi:10.1002/hyp.7350

Hunt R, Steuer J, Mansor T, Bullen T (2001) Delineating a recharge area for spring using numerical modeling, Monte Carlo techniques and geochemical investigations. Ground Water 39(5):702–712. doi:10.1111/j.1745-6584.2001.tb02360.x

Jarvis A, Reuter HI, Nelson A, Guevara, E (2008) Hole-Filled Seamless SRTM Data V4. International Centre for Tropical Agriculture (CIAT). http://srtm.csi.cgiar.org. Accessed 5 July 2015

JICA (1995) The study on the development of water resources in northern Chile. Japan International Cooperation Agency (JICA), Dirección General de Aguas (DGA) and Pacific Consultants International (PCI). JICA, Tokyo, Japan. http://sad.dga.cl/ipac20/ipac.jsp?session=141709L3N68Q0.41484&menu=search&aspect=subtab39&npp=10&ipp=20&spp=20&profile=cirh&ri=&term=jica&index=.GW&x=0&y=0&aspect=subtab39. Accessed 5 July 2015

Laity J (2008) Deserts and desert environments. Wiley, Chichester, UK

Leavesley GH, Stannard LG (1995) The precipitation–runoff modeling system – PRMS. In: Singh VP (ed) Computer models of basin hydrology. Water Resources, Highlands Ranch, CO, pp 281–310

Leavesley GH, Lichty RW, Troutman BM, Saindon LG (1983) Precipitation-runoff modelling system-user's manual. US Geol Surv Water Resour Invest Rep 83-4238

Legesse D, Vallet-Coulomb C, Gasse F (2003) Hydrological response of a catchment to climate and land use changes in tropical Africa: case study south central Ethiopia. J Hydrol 275(1–2):67–85. doi:10.1016/S0022-1694(03)00019-2

Magaritz M, Aravena R, Peña H, Suzuki O, Grilli A (1989) Water chemistry and isotope study of streams and spring in northern Chile. J Hydrol 108:323–341. doi:10.1016/0022-1694(89)90292-8

Magaritz M, Aravena R, Peña H, Suzuki O, Grilli A (1990) Source of ground water in the deserts of northern Chile: evidence of deep circulation of ground water from the Andes. Ground Water 28(4):513–517. doi:10.1111/j.1745-6584.1990.tb01706.x

Meybeck M, Green P, Vörösmarty C (2001) A new typology for mountains and other relief classes: an application to global continental water resources and population distribution. Mt Res Dev 21:34–45

Nichols G (2007) Fluvial systems in desiccating endorheic basins. In: Nichols G, Williams E, Paola C (eds) Sedimentary processes, environments and basins: a tribute to Peter Friend. Blackwell, Oxford, pp 569–589

Pilgrim DH, Chapman TG, Doran DG (1988) Problems of rainfall-runoff modeling in arid and semiarid regions. Hydrol Sci J 33(4):379–400

Ramsar (2015) Ramsar homepage. www.ramsar.org. Accessed July 2015

Salazar C, Rojas L, Pollastri A (1998) Evaluación de recursos hídricos en el sector de Pica. Hoya de la Pampa del Tamarugal, I región [Assessment of water resources in the Pica sector, Pampa del Tamarugal basin, 1st region]. S.I.T. no. 48, Dirección General de Aguas and Comisión Chilena de Energía Nuclear, Santiago, Chile. http://sad.dga.cl/ipac20/ipac.jsp?session=13771R890E3V4.13507&profile=cirh&uri=link=3100006~!1655~!3100001~!3100002&aspect=subtab13&menu=search&ri=1&source=~!biblioteca&term=Evaluaci%C3%B3n+de+recursos+h%C3%ADdricos+en+el+sector+de+Pica+hoya+de+la+Pampa+del+Tamarugal+I+regi%C3%B3n+%2F&index=ALTITLE. Accessed 5 July 2015

Scanlon BR, Cook PG (2002) Preface: theme issue on groundwater recharge. Hydrogeol J 10(1):3–4. doi:10.1007/s10040-001-0175-3

Scanlon B, Keese K, Flint A, Flint L, Gaye C, Edmunds M, Simmers I (2006) Global synthesis of groundwater recharge in semiarid and arid regions. Hydrol Process 20(15):3335–3370. doi:10.1002/hyp.6335

Squeo F, Warner B, Aravena R, Espinoza D (2006) Bofedales: high altitude peatlands of the central Andes. Rev Chil Hist Nat 79(2):245–255. doi:10.4067/S0716-078X2006000200010

Tröger U, Gerstner D (2004) Estudio de investigación de la situación hidrogeológica en la formación Altos De Pica [Research study of the hydrogeological situation in the Altos de Pica area]. S.D.T. no. 174, Convenio Dirección General de Aguas (DGA)-Corporación Nacional de Desarrollo Indígena (CONADI), Santiago, Chile. http://sad.dga.cl/ipac20/ipac.jsp?session=137I33S097328.46256&profile=cirh&uri=full%3D3100001~!3926~!0&booklistformat. Accessed 5 July 2015

Tyler SW, Muñoz JF, Wood WW (2006) The response of playa and sabkha hydraulics and mineralogy to climate forcing. Ground Water 44:329–338. doi:10.1111/j.1745-6584.2005.00096.x

Weaver JM, Talma AS (2005) Cumulative rainfall collectors: a tool for assessing groundwater recharge. Water SA 3(3):283–290. doi:10.4314/wsa.v31i3.5216
Acknowledgements
This work was funded by the International Atomic Energy Agency (AIEA) through the Technical Cooperation Project CHI 8029. Jorge Gironás was also supported by center CONICYT/FONDAP/15110017. R. Oyarzún was supported by DIULS CDI14341. The authors are much indebted to the Dirección General de Aguas (DGA, Ministerio de Obras Públicas) and Compañía Minera Doña Inés de Collahuasi for the collaboration received. Comments from two anonymous reviewers are also acknowledged.
About this article
Cite this article
Uribe, J., Muñoz, J.F., Gironás, J. et al. Assessing groundwater recharge in an Andean closed basin using isotopic characterization and a rainfall-runoff model: Salar del Huasco basin, Chile. Hydrogeol J 23, 1535–1551 (2015). https://doi.org/10.1007/s10040-015-1300-z
Received:

Accepted:

Published:

Issue Date:

DOI: https://doi.org/10.1007/s10040-015-1300-z
Keywords
Groundwater recharge

Stable isotopes

Closed basin

High plateau

Chile