Abstract
About 3 % of India's total land surface is occupied by carbonate rocks which are mostly karstified and constitute a significant source of groundwater. The groundwater drawn from these aquifers matches the water demand of ~35 million people living in 106 districts of the country and also the water needs of livestock, irrigation and industry. The studies on karst in India carried out so far have mostly addressed geology, hydrology and groundwater contamination. A literature survey suggests that there is a need for detailed research, applying new approaches and techniques for proper carbonate aquifer identification, characterization and management. Such specific approaches will improve modeling, exploitation and protection of karst groundwater. An overview of the research carried out on groundwater resources of karst formations in India is presented, which also throws light on the protection of karst aquifers from existing anthropogenic activities such as mining and groundwater over-exploitation.
Résumé
Quelques 3 % de la surface totale de l'Inde sont occupés par des roches carbonatées qui sont le plus souvent karstifiées et constituent une ressource significative en eaux souterraines. L'eau souterraine extraite de ces aquifères satisfait les besoins en eau de quelques 35 millions de personnes vivant dans 106 districts du pays ainsi que les besoins en eau pour le bétail, l'irrigation et l'industrie. Les études menées sur le karst en Inde jusqu'à présent ont surtout abordé la géologie, l'hydrologie et la contamination des eaux souterraines. Une revue de la littérature suggère qu'il existe un besoin pour des recherches approfondies, avec l'application de nouvelles approches et techniques pour une identification correcte des aquifères carbonatés, de leur caractérisation et leur gestion. Ces approches spécifiques permettront d'améliorer la modélisation, l'exploitation et la protection des eaux souterraines en milieu karstique. Un aperçu de recherches menées sur les ressources en eaux souterraines des formations karstiques en Inde est présenté, éclairant aussi la protection des aquifères karstiques vis-à-vis des activités anthropiques existantes, telles que l'exploitation minière et la surexploitation des eaux souterraines.
Resumen
Alrededor del 3 % de la superficie total de India está ocupado por rocas carbonáticas que están en su mayoría karstificadas y constituyen una fuente significativa de agua subterránea. El agua subterránea extraída de estos acuíferos se corresponde con la demanda de ~35 millones de habitantes que viven en 106 distritos del país y también las necesidades de agua del ganado, irrigación e industria. Los estudios sobre karst en India llevados a cabo hasta el momento se dedicaron mayormente a la geología, hidrología y contaminación del agua subterránea. Un relevamiento de la literatura sugiere que existe una necesidad de investigación detallada, aplicando nuevos enfoques y técnicas para la identificación apropiada del acuífero carbonático, la caracterización y el manejo. Tales enfoques específicos mejorarán la modelación, la explotación y la protección del agua subterránea del karst. Se presenta una visión general de la investigación llevada a cabo sobre los recursos de agua subterránea de las formaciones kárstica en India, que también arroja luz sobre la protección de los acuíferos kársticos de la actividad antropogénica existente, tales como minería y sobreexplotación de agua subterránea.
摘要
印度地表面积的大约 3%为碳酸盐岩,大部分已经岩溶化,构成了重要的地下水来源。从这些含水层抽取的地下水能够满足全国106个地区大约3500万人口的用水需求,以及牲畜、灌溉和工业用水需求。到目前为止,印度进行的岩溶方面的研究主要侧重于地质、水文和地下水污染。文献调查表明,需要采用新方法和新技术对碳酸盐含水层的识别、特征描述和管理进行详尽的研究。这样特定的方法可以改进岩溶地下水的模拟、开采和保护。本文综述了印度岩溶地层地下水资源方面的研究成果,同时还论述了目前人类活动如采矿和地下水超采下岩溶含水层的保护。
Resumo
Cerca de 3 % da superfície total da Índia é ocupada por rochas carbonatadas, na sua maioria carsificadas, e que constituem uma importante fonte de águas subterrâneas. As águas subterrâneas extraídas desses aquíferos coincidem com a procura de água de cerca de 35 milhões de pessoas, pertencentes a 106 distritos do país, incluindo também as necessidades de água para o gado, rega e indústria. Os estudos realizados até agora sobre os carsos na Índia são, na sua maioria, estudos clássicos relativos à geologia, hidrologia e contaminação de águas subterrâneas. A revisão da literatura sugere que há necessidade de uma investigação detalhada, utilizando novas abordagens e técnicas para a correta identificação de aquíferos carbonatados, sua caraterização e gestão. Tais abordagens específicas irão permitir melhorar a modelação, a exploração e a proteção das águas subterrâneas nas zonas cársicas. Apresenta-se uma visão geral da investigação levada a cabo sobre os recursos de águas subterrâneas em formações cársicas na Índia, lançando também luz sobre a proteção de aquíferos cársicos em relação a atividades antrópicas existentes, tais como mineração e sobre-exploração de águas subterrâneas.
This is a preview of subscription content, log in to check access.
Access options
Buy single article
Instant access to the full article PDF.
US$ 39.95
Price includes VAT for USA
Subscribe to journal
Immediate online access to all issues from 2019. Subscription will auto renew annually.
US$ 99
This is the net price. Taxes to be calculated in checkout.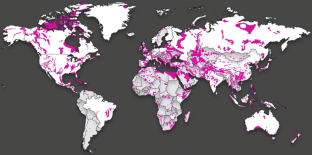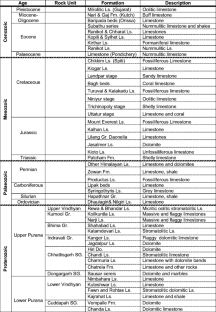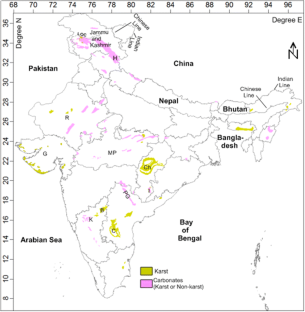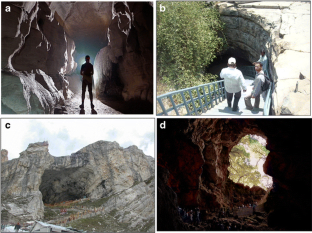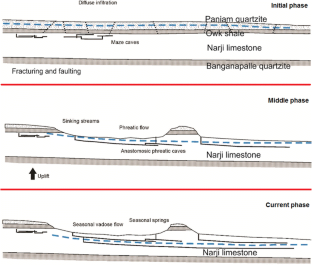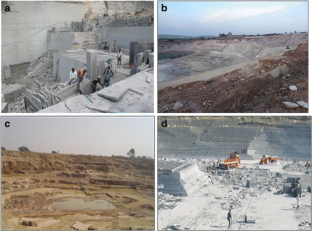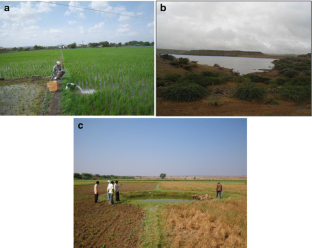 References
Adyalkar PG (1977) Hydrogeology of karstic terrains (limestone areas). In: Exploration techniques for groundwater. COSTED, Chennai, India, pp 128–142

Andreo B, Carrasco F, Durán JJ, LaMoreaux JW (2010) Advances in research in karst media. Springer, Heidelberg

Arbenz T, Weidmann Y (2003) Meghalaya (Indien) Höhlenforschen in der Wolkenstube [Meghalaya (India) cave exploration in the clouds]. Stalactite (Swiss Speleol Soc Bull) 1:4–13

Bakalowicz M (2005) Karst groundwater: a challenge for new resources. Hydrogeol J 13(1):148–160

Bhat NA, Jeelani G (2012) Delineation of recharge areas of some karst springs using hydrogeochemistry and stable isotopes of hydrogen and oxygen. MSc Thesis, University of Kashmir, India. http://www.dspaces.uok.edu.in/jspui/handle/1/1197. Accessed August 2013

Biswas J (2009) The biodiversity of Krem Mawkhyrdop of Meghalaya, India, on the verge of extinction. Curr Sci 96:7

Biswas J, Biswas S (2014) Heteropoda fischeri Jäger, 2005: a huntsman spider hunting on fellow cavernicoles in the caves of Meghalaya, India. J Bomaby Nat Hist Soc 110(1):25–26

Biswas J, Shrotriya S (2011) Dandak: a mammalian dominated cave ecosystem of India. Subterranean Biol 8:1–8

Biswas J, Sharma K, Harris KK, Rajput Y (2013) Biodeterioration agents: bacterial and fungal diversity dwelling in or on the pre-historic rock-paints of Kabra-pahad, India. Iran J Microbiol 5(3):309–314

Bonacci O, Rubinic J (2009) Water losses from a reservoir built in karst: the example of the Boljunčica reservoir (Istria, Croatia). Environ Geol 58(2):339–345

Brooks S, Smart S (1995) Caving in the abode of the clouds: caves and karst of Meghalaya, North East India. Meghalaya 94, Bradford on Avon, UK, 68 pp

CGWB (2009) District groundwater information of Chhatarpur district, MP. Central Ground Water Board, Madhya Pradesh, India

CGWB (2010) Ground water scenario of India 2009–10. Central Ground Water Board, Faridabad, India

CGWB (2011) Groundwater scenario in major cities of India. Central Groundwater Board, Lucknow, India

CGWB (2012) Aquifer systems of Chhattisgarh. Central Groundwater Board, Chhattisgarh Region, Anupam Nagar, India

Chadha SK (1975) Note on the evolution of phytokarst topography in the great limestone formation of Jammu province, J and K state, India. Curr Sci 44:665

Chandra PC, Satyanarayana T, Raju KCB (1987) Geoelectrical response of cavities in limestones: an experimental field study from Kurnool District, Andhra Pradesh, India. Geoexploration 24(6):483–502

Chaulya S K (2009) Water resource development study for a limestone mining area. J Soil Water Sci 2(2):75–134

Circle of Blue (2010) Karst regions of the world. Map source: Williams and Fong, world map of carbonate rock outcrops V 3.0. Map downloaded from http://www.circleofblue.org/waternews/2010/world/chinas-karst-region-infographics. Accessed May 2014

Coward JMH, Waltham AC, Bowser RJ (1972) Karst springs in the Vale of Kashmir. J Hydrol 16:213–233

Coxon C (2011) Agriculture and karst. In: van Beynen PE (ed) Karst management. Springer, Dordrecht, The Netherlands, pp 103–138

Dar FA (2013) Hydrogeological characteristics of carbonate formations of the Cuddapah Basin, India. PhD Thesis, University of Hyderabad, India

Dar FA, Perrin J, Ahmed S (2010) Geomorphology and hydrogeology of the Belum Karst Aquifer, southern Andhra Pradesh, India. 7th AOGS conference, Hyderabad, India, 5–9 July 2010

Dar FA, Perrin J, Ahmed S, Narayana AC (2011a) Karst aquifers: a promising groundwater resource in scarcity context: discovering their hydrogeological potential in semi-arid southern India. Vth WAC (Exhibition and Conference), New Delhi, 16–18 Nov. 2011

Dar FA, Perrin J, Riotte J, Gebauer HD, Narayana AC, Ahmed S (2011b) Karstification in the Cuddapah Sedimentary Basin, southern India: implications for groundwater resources. Acta Carsolog 40(3)457–472

Dar FA, Ahmed S, Perrin J, Narayana AC (2012) Development of hydrogeological thoughts in disregarded karst lithologies: a case study from southern Andhra Pradesh, India. Fifth International Groundwater Conference (IGWC-2012), Aurangabad, Maharashtra, India, 18–21 December 2012

Dubey DP, Tiwari RN, Dwivedi U (2006) Evaluation of pollution susceptibility of karst aquifers of Rewa Town (Madhya Pradesh) using DRASTIC Approach. J Environ Sci Eng 48(2):113–118

Dutta NP, Bose RN, Saikia BC (1970) Detection of solution channels in limestone by electrical resistivity method. Geophys Prospect 18(3):405–414

Ford D (2006) Jovan Cvijic and the founding of karst geomorphology. Environ Geol 51:675–684

Ford DC, Williams PW (2007) Karst geomorphology and hydrology. Wiley, Chichester, UK, 562 pp

Gebauer HD (1985) Kurnool 1984: report of the speleological expedition to the district of Kurnool, Andhra Pradesh, India. Abh Karst Höhlenkunde 21:77

Gebauer HD (1997) Indien 1996/97: Kurnool, Jaypur-Jagdulpur und Meghalaya [India 1996/97: Kurnool, Jaypur-Jagdulpur und Meghalaya]. Mitteil Verband Höhlen Karstforsch 43(4):104–111

Gebauer HD, Abele A (1983) Höhlen von Indien und Nepal [Caves of India and Nepal], vol 6. Self published, Schwäbisch Gmünd, Germany, 166 pp

GEC (2009) Report of the Groundwater Resource Estimation Committee: groundwater resource estimation methodology. Ministry of Water Resources, Government of India, New Delhi

Ghasemizadeh R, Hellweger F, Butscher C, Padilla I, Vesper D, Field M, Alshawabkeh A (2012) Review: Groundwater flow and transport modelling of karst aquifers, with particular reference to the North Coast Limestone aquifer system of Puerto Rico. Hydrogeol J 20:1441–1461

Goldscheider N, Drew D (2007) Methods in karst hydrogeology. Taylor and Francis, London

GSI (1997) Geological map series of carbonate areas of India, Geological survey of India, Calcutta, India

Hobbs SL, Smart PL (1986) Characterisation of carbonate aquifers: a conceptual base. 9th International Congress of Speleology, Barcelona, Spain, August 1986

IAH (2013) World Karst Aquifer Mapping Project (WOKAM). International Association of Hydrogeologists, Goring, UK. Source: http://www.agw.kit.edu/english/wokam.php. Accessed March 2014

Jeelani G (2004) Effect of subsurface lithology on hydrochemistry of springs of a part of Kashmir Himalaya. Himal Geol 25(2):145–151

Jeelani G (2005) Chemical quality of the spring waters of Anantnag, Kashmir. J Geol Soc Ind 66(4):453–462

Jeelani G (2008) Aquifer response to regional climate variability in part of Kashmir Himalaya in India. Hydrogeol J 16:1625–1633

Jeelani G (2010) Chemical and microbial contamination of Anantnag springs. Kashmir Val Him Ecol Sust Dev 5:1–10

Jeelani G, Bhat NA, Shivanna K (2010) Use of δ18O tracer to identify stream and spring origins of a mountainous catchment: a case study from Liddar watershed, Western Himalaya, India. J Hydrol 393:257–264

Jeelani G, Ahmed S, Absar A (2012) Essential and toxic elements in karst spring of Kashmir. Curr Sci 103(9):10

King W (1872) Kadapah and Kurnool formations in the Madras presidency. Geological Survey of India Mem 8, GSI, Calcutta, India

King W (1882) Geological sketch of Vizagapatam district, vol 19. Records of the Geological Survey of India, Gov. of India, Calcutta, 143–157 pp

Kiraly L (1975) Rapport sur l'état actuel des connaissances dans le domaine des caractères physiques des roches karstiques [Report on the current state of knowledge in the field of physical characteristics of karstic rocks]. In: Burger A, Dubertret L (eds) Hydrogeology of karstic terrains. Int Union Geol Sci Ser B 3, IUGS, Paris, pp 53–67

Kotlia BS, Ahmad SM, Zhao JX, Raza W, Collerson KD, Joshi LM, Sanwal J (2012) Climatic fluctuations during the LIA and post-LIA in the Kumaun Lesser Himalaya, India: evidence from a 400 yr. old stalagmite record. Quat Int 263:129–138. doi:10.1016/j.quaint.2012.01.025

Kumar A (1985) Karst landform of Upper Kapili River, Assam. Facets of geomorphology. Thinker's Library, Anil Kumar, India, 212 pp

Kumar R (1985b) Fundamentals of historical geology and stratigraphy of India. Wiley, New Delhi, 254 pp

LaMoreaux PE, Powell WJ, LeGrand HE (1997) Environmental and legal aspects of karst areas. Environ Geol 29:1–2

Laskar AH, RaghavS, Yadava MG, Jani RA, Narayana AC, Ramesh R (2011) Potential of stable carbon and oxygen isotope variations of speleothems from Andaman Islands, India, for paleomonsoon reconstruction. J Geol Res 2011:272971, 7 pp. doi: 10.1155/2011/272971

Laskar AH, Yadava MG, Ramesh R, Polyak VJ, Asmerom Y (2013) A 4 kyr stalagmite oxygen isotopic record of the past Indian summer monsoon in the Andaman Islands. Geochem Geophys Geosyst 14(9):3555–3566. doi: 10.1002/ggge.20203

Legrand HE, Stringfield VT (1973) Karst hydrology: a review. J Hydrol 20:97–120

Limaye SD (1988) Groundwater for small scale irrigation in mini-karstic limestone terrain in Saurashtra area in Western India. IAH, 21st Congress, Karst Hydrogeology and Karst Environment Protection, Guilin, China, 10–15 October 1988

Limaye SD (2003) Groundwater and cement industry: the Indian experience. RMZ Mater Geoenviron 50(1):189–191

Liu Z, Dreybrodt W, Wang H (2010) A new direction in effective accounting for the atmospheric CO2 budget: considering the combined action of carbonate dissolution, the global water cycle and photosynthetic uptake of DIC by aquatic organisms. Earth Sci Rev 99(3–4):162–172

Lone MA, Ahmad SM, Dung NC, Shen CC, Raza W, Kumar A (2014) Speleothem based 1,000-year high resolution record of Indian monsoon variability during the last deglaciation. Palaeogeogr Palaeoclimatol Palaeoecol 395:1–8

Longcliffe Quarries Ltd (2014) Processing and major uses of limestone. http://www.longcliffe.co.uk/limestone/limestone-uses.asp. Accessed February 2014

Maps of India (2007) Lime stone mines in India. Compare Infobase Limited, New Delhi. http://www.mapsofindia.com/maps/minerals/lime-stone-mines-map.html. Assessed July 2013

Meijerink AMJ (2007) Covered karst: example of Borunda, Rajasthan, India. Remote sensing applications to groundwater. UNESCO, Paris

Milanovic P (2002) The environmental impacts of human activities and engineering constructions in karst regions. Episodes 25(1):13–21

Murty KS (1988) Karst hydrogeology: India. In: Proc. 21st IAH Congress, Karst Hydrogeology and Karst Environment Protection, Guilin, China 10–15 October 1988, pp 446–450

Petraglia M, Korisettar R et al (2009) Human occupation, adaptation and behavioral change in the Pleistocene and Holocene of South India: recent investigations in the Kurnool district, Andhra Pradesh. Eurasian Pre Hist 6(1–2):119–166

Pujari PR, Soni AK (2009) Sea water intrusion studies near Kovaya limestone mine, Saurashtra coast. India Environ Monit Assess 154(1–4):93–109

Rajput Y, Biswas J (2012a) Subterranean depth dependent protein constitutions of the Micrococcus sp., isolated from the Kotumsar Cave, India. Asian J Biochem 7(2):90

Rajput Y, Biswas J (2012b) The role of heterotrophic bacteria in bio-deterioration of our cultural heritage: a case study of Udayagiri caves of Odisha, India. J Eco Biotechnol 4(2):112–115

Ranade P (2007) Environmental impact assessment of land use planning around the lease limestone mine using RS technique. Iran J Environ Health Sci Eng 4(1):61–65

Ruedi M, Biswas J, Csorba G (2012) Bats from the wet: two new species of tube-nosed bats (Chiroptera: Vespertilionidae) from Meghalaya, India. Swiss Rev Zool 119(1):111–135

Ruggieri R, Biswas J (2011) The karst Mandhip Khol-Python cave complex in the lenticular limestone intercalations of the metamorphic Chhatrela formation (Chhattisgarh, India). Acta Carsolog 40(1):7–15

Rushton KR, Raghava Rao SV (1988) Groundwater flow through a Miliolite limestone aquifer. Hydrol Sci J 33(5):449–464

Saifuddin I (2000) Quaternary signatures of paleo-humidity in arid zone, Rajasthan, India. J Arid Environ 45:151–158

Sanwal J, Kotlia BS, Rajendran C, Ahmad SM, Rajendran K, Sandiford M (2013) Climatic variability in Central Indian Himalaya during the last 1,800 years: evidence from a high resolution speleothem record. Quat Int 304:183–192

Shibasaki T, Balakrishna S, Yoshimura T, Venkatanarayana B, Furukama H, Venkateswara RT, Chuman N, Ramanohan RY, Venkateswaralu K (1985) Karstification process of carbonate rocks in the Cuddapah sedimentary Basin, Indian Peninsular Shield. J Fac Mar Sci Technol Tokai Univ 21:31–45

Singh KKK, Chauhan RKS (2002) Exploration of subsurface strata conditions for a limestone mining area in India with ground penetrating radar. Environ Geol 41:966–971

Singh TN (1985a) Kuteswar limestone deposit studies for protection against Bansagar dam. Karst water resources, Proc. of the Ankara-Antalya Symposium, July 1985, IAHS Publ. 161, IAHS, Wallingford, UK

Singh Y (1985b) Hydrogeology of the karstic area around Rewa, MP, India. In: Karst water resources, Proc. of the Ankara-Antalya Symposium, July 1985, IAHS Publ. No. 161, IAHS, Wallingford, UK

Sinha UK, Kulkarni KM, Sharmaa S, Rayb A, Bodhankar N (2002) Assessment of aquifer system using isotope techniques in urban centers Raipur, Calcutta and Jodhpur, India. http://www-pub.iaea.org/MTCD/publications/PDF/te_1298_web/t1298_part2.pdf. Accessed on 10 November 2013

Sinha A, Cannariato KG, Stott LD, Li HC, You CF, Cheng H, Edwards RL, Singh IB (2005) Variability of southwest Indian summer monsoon precipitation during the Bølling-Ållerød. Geology 33:813–816. doi:10.1130/G21498.1

Sinha A, Cannariato KG, Stott LD, Cheng H, Edwards RL, Yadava MG, Ramesh R, Singh IB (2007) A 900-year (600 to 1500 A.D.) record of the Indian summer monsoon precipitation from the core monsoon zone of India. Geophys Res Lett 34:L16707. doi:10.1029/2007GL030431

Soni AK (2007) Evaluation of hydrogeological parameters associated with limestone mining: a case study from Chandrapur, India. Mine Water Environ 26:110–118

Urich PB (2002) Land use in karst terrain: review of impacts of primary activities on temperate karst ecosystems. Science for Conservation, Dept. of Conservation, Wellington, New Zealand

Venkatanarayana B, Rao TV (1989) Geological and geophysical investigations for delineating karstic structures of the southwestern portion of Cuddapah basin, Andhra Pradesh, India. In: Berry BF (ed) Proc. of 3rd Multidisciplinary Conference on Sinkholes and the Engineering and Environmental Impacts of Karst, Oct. 1989, USA, Balkema, Dordrecht, The Netherlands, pp 59–64

Venkatanarayana B, Ahmed S, Agnihotri V (1999) The hydrogeology of the Kuteshwar limestone deposits. Madhya Pradesh, India. J Environ Hydrol 7, 5 pp

Wadia DN (1939) Geology of India. Macmillan, London

Waltham AC (1972) Caving in the Himalaya. Himalayan J 31 (9). http://www.himalayanclub.org/hj/31/9/caving-in-the-himalaya. Accessed November 2013

White WB (2002) Karst hydrology: recent developments and open questions. Eng Geol 65:85–105

White WB, Culver DC, Herman JS, Kane TC, Mylroie JE (1997) Karst lands: the dissolution of carbonate rock produces unique landscapes and poses significant hydrological and environmental concerns. Am Sci 83(5):450–459

Wray RAL (2003) Quartzite dissolution: karst or pseudokarst? Speleogenesis Evol Karst Aquifers 2:2

Yadava MG, Ramesh R (2001) Past rainfall and trace element variations in a tropical speleothem from India. Mausam 52:307–316

Yadava MG, Ramesh R (2005) Monsoon reconstruction from radiocarbon dated tropical Indian speleothems. The Holocene 15(1):48–59. doi:10.1191/0959683605h1783rp

Yadava MG, Ramesh R (2006) Stable oxygen and carbon isotope variations as monsoon proxies: a comparative study of speleothems from four different locations in India. J Geol Soc India 68(3):461–475

Yadava MG, Ramesh R, Pant GB (2004) Past monsoon rainfall variations in peninsular India recorded in a 331-year-old speleothem. The Holocene 14:517–524
Acknowledgements
The authors are thankful to the Director, CSIR-National Geophysical Research Institute for permission to publish this work. The first author would like to thank the University Grants Commission for providing the JRF and SRF fellowship and the French Embassy for providing 4 months traineeship at BRGM France. The authors also acknowledge Dr. Jiu Jimmy Jiao, editor, and two anonymous reviewers for constructively reviewing the manuscript.
About this article
Cite this article
Dar, F.A., Perrin, J., Ahmed, S. et al. Review: Carbonate aquifers and future perspectives of karst hydrogeology in India. Hydrogeol J 22, 1493–1506 (2014). https://doi.org/10.1007/s10040-014-1151-z
Received:

Accepted:

Published:

Issue Date:
Keywords
Carbonate rocks

Karst

Water resources

Literature survey

India

Review