Abstract
Water protection is one of the most important goals in environmental protection. The Clean Water Act in the USA and the Water Framework Directive (WFD) in Europe are the legal frameworks to facilitate the achievement of this goal. The question is raised of whether more information can be extracted from WFD-related groundwater data. To answer it, a methodology has been developed that is easy to use and could be implemented into official practice. A case study is presented in which the groundwater data of a sodic area in Austria (Seewinkel) is assessed. Eighteen parameters in groundwater sampled from 23 wells (1991–2011) were analyzed. With basic statistics, trend-, cluster-, Wilks' λ and spatial sampling density analysis, local phosphorus and boron phenomena were described, along with the determining role of sulphate, groundwater flow, and the oxygen gradient in the area. As a final step, the spatial sampling density was determined. Regarding the current set of parameters, all the sampling sites are necessary and only in the case of certain parameters (Ca2+, Mg2+, K+, NO3 −, pH) could one sampling site be abandoned. The methodology applied brings a new perspective to exploring groundwater data collected according to the requirements of the WFD.
Zusammenfassung
Gewässerschutz ist eines der wichtigsten Ziele im Umweltschutz. Der "Clean Water Act" in den USA und die Wasserrahmenrichtlinie (WRRL) in Europa sind die rechtlichen Rahmenbedingungen, um dieses Ziel zu erreichen. Dabei stellt sich die Frage, ob weitere verbesserte Informationen aus den derzeitigen Grundwasserqualitätsmessungen, die im Rahmen der WRRL erhoben werden, gewonnen werden können. Um diese Frage zu beantworten, wurde eine Methodik entwickelt, die einfach zu bedienen ist und leicht in die offizielle Auswertungspraxis umgesetzt werden könnte. In der vorgestellten Fallstudie wurden die Daten eines Grundwasserkörpers in Österreich (Seewinkel) mit der entwickelten Methode ausgewertet. Dazu wurden achtzehn Parameter aus 23 Grundwassergütemessstellen für die Jahre 1991–2011 analysiert. Dazu wurden grundlegende statistische Methoden wie Trend -, Cluster -, Wilks' λ Analyse und die Auswertung der räumlichen Verteilung der Messdichte verwendet. Unter Berücksichtigung mit der bestimmenden Rolle von Sulfat, der Grundwasserfließrichtung und -zeit und dem Sauerstoffgradienten im Untersuchungsgebiet Seewinkel konnten lokale Phosphor und Bor Phänomene beschrieben werden. Im letzten Schritt wurde die räumliche Verteilung der Messdichte bestimmt. Die Datenanalysen zeigten, dass alle, bis auf eine Ausnahme, vorhandenen Messstellen und deren Parameter (Ca2+, Mg2+, K+, NO3 −, pH-Wert) für Auswertungen verwendet werden konnten. Die angewandte Methodik bringt bei der Analyse der erhobenen Grundwasserqualitätsdaten, welche nach den Anforderungen der WRRL erhoben werden, eine neue Perspektive.
Résumé
La protection de l'eau est l'un des objectifs les plus importants de la protection environnementale. Le Clean Water Act aux Etats Unis et la Directive-Cadre sur l'Eau (DCE) en Europe sont les cadres légaux pour favoriser l'atteinte de cet objectif. La question est posée de savoir si l'on peut tirer d'avantages d'informations des données sur l'eau souterraine relatives à la DCE. Pour répondre à celle-ci, on a développé une méthodologie simple, pouvant être mise en pratique de façon officielle. Le cas présenté considère les données sur l'eau souterraine d'un district sodique d'Autriche (Seewinkel). Dix huit paramètres de l'eau de 23 puits échantillonnés (1991–2011) ont été analysés. Avec les paramètres statistiques de base, tendance, classes, paramètre λ de Wilks et analyse de la densité spatiale d'échantillonnage, les phénomènes locaux liés au phosphore et au bore ont été décrits, ainsi que le rôle déterminant du sulfate, le flux d'écoulement souterrain et le gradient de l'oxygène dans la zone. En phase finale, la densité d'échantillonnage spatial a été déterminée. Etant donné le jeu de paramètres considérés, tous les sites échantillonnés sont nécessaires, les sites où certains paramètres (Ca2+, Mg2+, K+, NO3 −, pH) ne pouvaient être mesurés étant abandonnés. La méthodologie appliquée ouvre une nouvelle perspective dans l'exploitation des données sur l'eau souterraine prélevées selon les dispositions de la Directive-Cadre sur l'Eau.
Resumen
La protección del agua es uno de los objetivos más importantes en la protección ambiental. La Ley de Aguas Limpias en EEUU y la Directiva Marco del Agua (WFD) en Europa son los marcos legales para facilitar el logro de este objetivo. La cuestión se plantea si se puede extraer mayor información de los datos de agua subterránea relacionados con WDF. Para responder se desarrolla una una metodología que es fácil de usar y podría ser implementada dentro de la práctica oficial. Se presenta un caso de estudio en el cual se evaluaron los datos de agua subterránea de un área sódica en Austria (Seewinkel). Se analizaron dieciocho parámetros en el agua subterránea muestreada de 23 pozos (1991–2011). Con estadísticas básicas, tendencias, clusters, Wilks' λ y análisis de densidad espacial de muestreo se describieron los fenómenos locales de fósforo y de boro fueron descriptos, conjuntamente con el rol determinante del sulfato, del flujo de agua subterránea, y del gradiente de oxígeno en el área. Como una etapa final, se determinó la densidad de muestreo espacial. En relación con el conjunto actual de parámetros, todos los sitios de muestreos son necesarios y solamente en el caso de ciertos parámetros (Ca2+, Mg2+, K+, NO3 −, pH) podría un sitio de muestreo ser abandonado. La metodología aplicada otorga una nueva perspectiva para explorar los datos de agua subterránea recolectados de acuerdo a los requerimientos de la WFD.
الملخص
حماية المياه هي واحدة من اهم الاهداف في الحماية البيئية. قانون المياه النظيفة في الولايات المتحدة الامريكية والاطار التوجيهي للمياه(WFD) في اوروبا هما من الاطر القانونية لتسهيل تحقيق هذا الهدف . اثيرت مسألة ما اذا كان مزيد من المعلومات يمكن استخصلاصها من الاطار التوجيهي للمياه (WFD) – المتعلقة ببيانات المياه الجوفية. للاجابة على ذلك ، تم تطوير منهجية سهلة الاستخدام ويمكن تنفيذها في الممارسة الرسمية . قدمت دراسة الحالة التي يتم فيها تقييم بيانات المياه الجوفية من منطقة سوديك في النمسا .(Seewinkel) حللت ثمانية عشر معيارا في المياه الجوفية قد تم اخذ عيناتها من ٢٣ بئرا (١٩٩١-٢٠١١).مع احصائية بسيطة، الاتجاه ،الكتلة ، ويلكس λ ومكانية تحليل كثافة اخذ العينات . ظاهرة الفوسفور والبورون المحلية قد وصفت جنبا الى جنب مع دور تحديد الكبريتات ، تدفق المياه الجوفية، والتدرج الاوكسجين في المنطقة . كخطوة نهائية ، تم تحديد كثافة اخذ العينات المكانية . وفيما يتعلق المجموعة الحالية من المعاير ، جميع مواقع اخذ العينات ضرورية و فقط في حالة معايير معينة (Ca2+, Mg2+, K+, NO3 -, pH) يمكن ان يتم التخلي عن موقع واحد.المنهجية المطبقة يجلب منظورا جديدا لاستكشاف بيانات المياه الجوفية التي تم جمعها وفق لمتطلبات الاطار التوجيهي للمياه (WFD) .
摘要
水保护是环境保护中最重要的目标之一。美国的清洁水法及欧洲水框架指令是促进完成这个目标的法律体系。是否能从水框架指令有关的地下水数据中提取更多信息的问题被提了出来。为回答这个问题,开发了便于使用、能够正式实施的方法。展示了一个研究实例,在这个实例中,评价了奥地利(Seewinkel)含钠区的地下水数据。分析了23口井(1991–2011年)中地下水样品的十八个参数。描述了基本统计数字以及趋势的、簇群的Wilks' λ、空间采样密度分析、局部磷和硼现象,并确定了该区的硫酸盐的作用、地下水流和氧梯度。作为最后一步,确定了空间采样密度。关于目前参数(Ca2+, Mg2+, K+, NO3 −, pH)的设置,所有的采样地点都很必要,只有在某些参数情况下,一个采样点可以放弃。所应用的方法给探索按照水框架指令要求收集到的地下水数据带来了新的前景。
Samenvatting
Water bescherming is een van de belangrijkste doelen in bescherming van het milieu. De Clean Water Act in de Verenigde Staten en de Water Framework Directive in Europa zijn de wettelijke kaders waarin deze doelen worden bereikt. De vraag is opgekomen of meer informatie verkregen kan worden van WFD gerelateerde grondwater data. Om deze vraag te beantwoorden is een methode ontwikkeld die makkelijk te gebruiken is en geimplementeerd kan worden door officiele instanties. Een case study wordt gepresenteerd waarin grondwater data van een alkali regio in Oostenrijk (Seewinkel) wordt beoordeeld. Achttien parameters in grondwater bemonsterd in 23 verschillende peilbuizen (1991–2011) zijn geanalyseerd. Met behulp van basis statistiek, trend-, cluster-, Wilks' λ en ruimtelijke bemonster dichtheid analyses, werden lokale fosfor en boor fenomenen beschreven, net als de bepalende rol van sulfaat, grondwater stroming, en de zuurstof gradient in het onderzoeksgebied. Als laatste stap werd de ruimtelijke bemonster dichtheid bepaald. Met betrekking tot de huidige set aan parameters, waren alle bemonsteringsplekken noodzakelijk. Slechts bij sommige parameters (Ca2+, Mg2+, K+, NO3-, pH) kon één bemonsteringsplek worden opgegeven. De gebruikte methodologie geeft een nieuw perspectief aan het onderzoeken van grondwater data die verzameld zijn volgens de eisen van de WFD.
Kivonat
A felszíni és felszín alatti vizeink jó állapotban való megőrzése a környezetvédelem egyik legfontosabb célja. Az Amerikai Egyesült Államokban a "Clean Water Act", Európában pedig a Víz Keretirányelv biztosítja a jogi keretet ezen célok eléréséhez. Felmerül azonban a kérdés, hogy hordoznak-e számottevő többletinformációt a felszín alatti víz monitoring adatok a Víz Keretirányelv által előírt vizsgálatok eredményein túl. A kérdés megválaszolására egy olyan módszertant dolgoztunk ki, amely könnyen alkalmazható a környezetvédelmi hivatali gyakorlatban is. Esettanulmányként, egy ausztriai szikes terület (Seewinkel) 23 felszín alatti víz monitoring kútjának 18 paraméterének idősorait dolgoztuk fel az 1991–2011-es időintervallum vonatkozásában alap- és Wilks' λ statisztikák, valamint trend-, klaszter-, és variogram analízis felhasználásával. Az eredmények alapján a terület bizonyos részein lokális foszfor, bór és szulfát anomália, illetve az egész területre vonatkozó oxigén gradiens figyelhető meg. Végezetül meghatároztuk a szükséges térbeli mintavételezési gyakoriságot. Az összes mért paramétert figyelembe véve minden mintavételi pontra szükség van a területen, csak néhány paraméter vonatkozásában (Ca2+, Mg2+, K+, NO3 −, pH) lehetne egy mintavételi pontot megszüntetni. Az alkalmazott módszertan egy újszerű megközelítése a Víz Keretirányelvhez kapcsolódó felszín alatti víz monitoring adatok értékelésének, értelmezésének.
Riassunto
La protezione delle acque è uno dei più importanti scopi nella protezione dell'ambiente. Il "Clean Water Act" - degli USA - e la Direttiva Quadro sull'Acque (DQA) in Europa è la normativa per facilitare il raggiungimento di questo scopo. La domanda è se sia possibile ricavare maggiori informazioni dai dati delle acque sotterranee in relazione con la DQA. Per trovare la una risposta a questo, è stata sviluppata una metodologia, che è facile da usare e può essere applicata nell'attività ufficiale quotidiana. Viene presentato uno studio, nel quale sono analizzati i dati delle acque sotterranee di un'area di terra sodica in Austria (Seewinkel). Sono stati analizzati diciotto parametri delle acque sotterranee originati da 23 pozzi (1991–2011). Con statistiche di base, e analisi di trend, cluster, Wilks' λ e analisi della densità del campionamento spaziale, è stato descritto il comportamento locale del fosforo e boro; insieme al ruolo determinante del solfato, il flusso delle acque sotterranee e il gradiente dell'ossigeno nella zona. Come passo finale, è stata determinata la densità del campionamento spaziale. Riguardo ai parametri, tutti i siti di campionamento sono stati necessari, solo in caso di certi parametri (Ca2+, Mg2+, K+, NO3 -, pH) esiste la possibilità di abbandonare solo un sito di campionamento. La metodologia applicata apre una nuova prospettiva per l'esplorazione dei dati delle acque sotterranee raccolti in base ai requisiti della DQA.
Resumo
A proteção da água é um dos mais importantes objetivos na proteção ambiental. Water protection is one of the most important goals in environmental protection. A Clean Water Act nos Estados Unidos e a Diretiva Quadro da Água (DQA) na Europa constituem os enquadramentos legais que facilitam a obtenção deste objetivo. A questão levantada é se mais informação pode ser extraída a partir dos dados de água subterrânea relacionados com a DQA. Para dar uma resposta, foi desenvolvida uma metodologia que é de fácil utilização e poderá ser aplicada na prática oficial. Apresenta-se um estudo de caso em que são avaliados os dados de água subterrânea de uma área sódica na Áustria (Seewinkel). Foram analisados dezoito parâmetros em água subterrânea amostrada em 23 poços (1991–2011). Com recurso a estatística básica, análises de tendência, análises grupais, análise de Wilks' λ e análise da densidade espacial de amostragem, foram descritos os fenómenos locais do fósforo e do boro, assim como o papel determinante do sulfato, do escoamento subterrâneo e do gradiente de oxigénio na área. Como um passo final, foi calculada a densidade espacial de amostragem. Tendo em atenção o atual conjunto de parâmetros, todos os locais de amostragem são necessários e somente no caso de certos parâmetros (Ca2+, Mg2+, K+, NO3 −, pH) poderia um local de amostragem ser abandonado. A metodologia aplicada traz uma nova perspetiva à exploração dos dados de água subterrânea coligidos de acordo com os requisitos da DQA.
Резюме
Защита воды одна из самых важних целей защиты природы. Юридическую основу к выполнению этой цели предостовляет "Clean Water Act" в США и "Water Framework Directive (WFD)" в Европе. Вопрос стоит в том, что можно ли получить дополнительную информацию из WFD-данных о подземных водах. Чтобы ответить на этот вопрос, мы выработали метод, которым просто пользоваться и можно перевести в официальную практику. В данной работе мы представляем пример в котором оцениваются данные подземных вод на натрийной территории в Австрии (Seewinkel). Мы проанализировали восемнадцать параметров в подземной воде взятой из 23 колодцов (1991–2001 года). Помимо основных статистик мы использовали тренд-, кластер, Вилкс-ламбда анализ. Были описаны плотность пространственной выборки и локальный феномен фосфора и бора и кроме того определили решающую роль сульфата, течений подземных вод и градиента кислорода на территории. В заключении мы определили необходимую плотность пространственной выборки. Учитывая теперешний набор параметров все места выборки необходимы и только при определенных параметрах (Ca2+, Mg2+, K+, NO3 −, pH) можно пропустить какоенибудь одно место. Эта методология открывает нам новые горизонты в изучении данных подземных вод собранных в соответствии с требованиями WFD.
Abstrakt
Udržanie dobrého stavu povrchových a podzemných vôd je hlavným cieľom ochrany životného prostredia. V Spojených Štátoch "Clean Water Act",pre Európu, Rámcová smernica o vode ustanovuje právny rámec na dosiahnutie týchto cieľov. Avšak vyvstáva otázka, ako získavať ďalšie významné informácie z údajov monitoringu o podzemných vodách z výsledkov testov vyžadovaných podľa rámcovej smernice o vode. Aby sme odpovedali na túto otázku, vyvinuli sme takú metódu, ktorú môžeme ľahko aplikovať v kancelárskej praxi v oblasti životného prostredia. V prípadovej štúdií, rakúskej soľnej oblasti (Seewinkel), bolo monitorovaných 23 studní podzemných vôd, v rámci ktorých sme spracovali 18 parametrov časovej rady za obdobie 1991–2011, pomocou základnej a Wilks 'λ štatistiky ako aj použitím trendových, klastrových a variogram analýz. Na základe výsledkov boli na niektorých častiach územia pozorované lokálne anomálie fosforu, bóru a síranu a na celom sledovanom území gradient kyslíka. Nakoniec sme určili požadovanú frekvenciu priestorových vzoriek. Ak vezmeme do úvahy všetky namerané parametre, v tejto oblasti sú potrebné všetky odbery vzoriek, len v prípade niektorých parametrov (Ca2+, Mg2+, K+, NO3 −, pH) by mohol byť odstránený jeden odber vzoriek. Použitá metodika je nový prístup na vyhodnotenie a interpretáciu monitorovaných údajov o podzemných vodách týkajúci sa Rámcovej smernice o vode.
Access options
Buy single article
Instant access to the full article PDF.
USD 39.95
Price excludes VAT (USA)
Tax calculation will be finalised during checkout.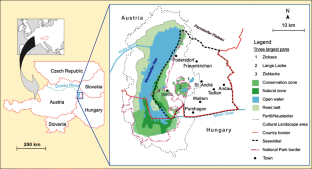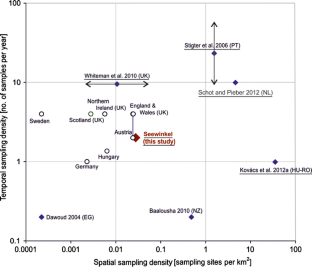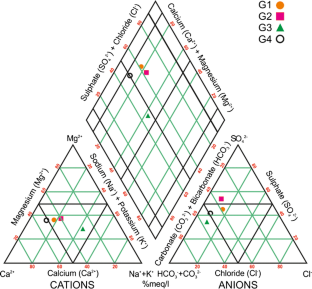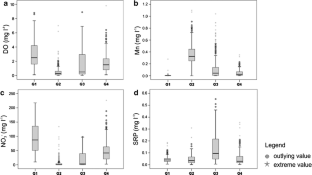 References
Baalousha H (2010) Assessment of a groundwater quality monitoring network using vulnerability mapping geostatistics: a case study from Heretaunga Plains, New Zealand. Agr Water Manag 97:240–246

Blaschke AP, Gschöpf C (2011) Grundwasserströmungsmodell Seewinkel Studie im Auftrag der Burgenländische Landesregierung [Groundwater flow model of the Seewinkel study as commissioned by the Burgenland Government]. Available via DIALOG, Burgenland Gov., Eisenstadt, Austria

Chebotarev II (1955) Metamorphism of natural waters in the crust of weathering. Geochim Cosmochim Acta 8:137–170

Clean Water Act (1948) Federal Water Pollution Control Act. 33 U.S.C. 1251–1376; Chapter 758; P.L. 845, June 30, 1948; 62 Stat. 1155, US Gov., Washington, DC

Convention on Wetlands (1971) Convention on Wetlands of International Importance especially as Waterfowl Habitat, Ramsar, Iran, 2 February 1971. UN Treaty Series no. 14583. As amended by the Paris Protocol, 3 December 1982, and Regina Amendments, 28 May 1987, UN, Brussels

Cook SR, Rubin DR (2007) Imputation. Wiley Encyclopedia of Clinical Trials, Wiley Online Library. http://onlinelibrary.wiley.com/doi/10.1002/9780471462422.eoct025/full. Accessed 20 December 2012

Croghan CW, Egeghy PP (2003) Methods of dealing with values below the limit of detection using SAS. US EPA, Washington, DC

Czauner B, Mádl-Szőnyi J, Tóth J, Gy P (2009) Hydraulic potential anomaly indicating thermal water reservoir and gas pool near Berekfürdő, Trans-Tisza Region, Hungary. Cent Eur Geol 51(3):253–266

Dawoud MA (2004) Design of national groundwater quality monitoring network in Egypt. Environ Monit Assess 96:99–118

Day WHE, Edelsbrunner H (1984) Efficient algorithms for agglomerative hierarchical clustering methods. J Classif 1:7–24

Dinka M, Ágoston-Szabó E, Berczik Á, Gy K (2004) Influence of water level fluctuation on the spatial dynamic of the water chemistry at Lake Fertő/Neusiedlersee. Limnologica 34:48–56

Dinka M, Ágoston-Szabó E, Szeglet P (2010) Comparison between biomass and C, N, P, S contents of vigorous and die-back reed stands of Lake Ferto/Neusiedlersee. Biogeosciences 65:237–247

EC (2000) Directive 2000/60/EC of the European Parliament and of the Council establishing a framework for Community action in the field of water policy. OJ L 327, 22.12.2000. EC, Brussels

EC (2006) Directive 2006/118/EC of the European Parliament and of the Council on the protection of groundwrater against pollution and deterioration. OJ L 372, 27.12.2006. EC, Brussels

Fraters B, Kovar K, Willems W J, Stockmarr J, Grant R (eds) (2005) Monitoring Effectiveness of the EU Nitrates Directive Action Programmes. Results of the International MonNO3 Workshop in the Netherlands, 11–12 June 2003. RIVM report 500003007. RIVM, Utrecht, The Netherlands

Freeze R A, Cherry J A (1979) Groundwater. Prentice-Hall Int., Hemel Hempstead, UK

Füst A (2004) Short course of geostatistics (manuscript). Szent István Egyetem, Gépészmérnöki Kar, Informatika Tanszék, Gödöllő, Hungary

Gattinger TA (1975) Das hydrogeologische Einzugsgebiet des Neusiedlersees [The hydrogeology of the Neusiedlersee]. http://www.landesmuseum.at/pdf_frei_remote/VerhGeolBundesanstalt_1975_0331-0346.pdf. Accessed 5 August 2013

Hatvani IG, Kovács J, Kovácsné Székely I, Jakusch P, Korponai J (2011) Analysis of long term water quality changes in the Kis-Balaton Water Protection System with time series, cluster analysis and Wilks' lambda distribution. Ecol Eng 37:629–635

Helsel DR, Hirsch RM (1992) Statistical methods in water resources. Stud Environ Sci 49:13

Herzig A, Horvath D, Kraus K, Naumann K (2001) Renaturalization of parts of the National Park Neusiedlersee-Seewinkel/Fertö-Hansag by the aid of laser scanning. Paper presented at the Space and Time GIS and Remote Sensing Conference, Sopron, Hungary 6–8 September 2001. Available via DIALOG. http://www.geo.info.hu/sat/cd/pdf/DHorvath-Renaturalization-paper-Uj.pdf. Accessed 15 January 2013

Hinsby K, de Melo MTC, Dahl M (2008) European case studies supporting the derivation of natural background levels and groundwater threshold values for the protection of dependent ecosystems and human health. Sci Total Environ 401:1–20. http://nfp-at.eionet.eu.int/Public/irc/eionet-circle/bridge/library?l=/deliverables/bridge_reportpdf/_EN_1.0_&a=d. Accessed on 15 January 2013

Johnson RA, Wichern DW (1992) Applied multivariate statistical analysis, 3rd edn. Prentice Hall, Englewood Cliffs, NJ

Kersebaum KC, Steidl J, Bauer O, Piorr HP (2003) Modelling scenarios to assess the effects of different agricultural management and land use options to reduce diffuse nitrogen pollution into the River Elbe. Phys Chem Earth 28:537–545

Kløve B, Ala-aho P, Guillaume B, Boukalova Z, Ertük A, Goldscheider N, Ilmonen J, Karakaya N, Kupfersberger H, Kvoerner J, Lundberg A, Mileusnię M, Moszczynska A, Muotka T, Preda E, Rossi P, Siergieiev D, Šimek J, Wachinew P, Angheluta V, Widerlund A (2011) Groundwater dependent ecosystems, part I: hydroecological status and trends. Environ Sci Policy 14:770–781

Kovács J, Hatvani IG, Korponai J, Kovacsné Sz I (2010) Morlet wavelet and autocorrelation analysis of long term data series of the Kis-Balaton Water Protection System (KBWPS). Ecol Eng 36:1438–1440

Kovács J, Korponai J, Kovácsné Sz I, Hatvani IG (2012a) Introducing sampling frequency estimation using variograms in water research with the example of nutrient loads in the Kis-Balaton Water Protection System (W Hungary). Ecol Eng 42:237–243

Kovács J, Nagy M, Czauner B, Kovácsné Sz I, Borsodi AK, Hatvani IG (2012b) Delimiting sub-areas in water bodies using multivariate data analysis on the example of Lake Balaton (W Hungary). J Environ Manag 110:151–158

Kovács J, Tanos P, Korponai J, Kovácsné Sz I, Gondár K, Gondár-Sőregi K, Hatvani IG (2012c) Analysis of water quality data for scientists. In: Kostas V, Dimitra V (eds) Water quality and water pollution: evaluation of water quality data. InTech Open Access Publisher, Rijeka, Croatia

Mádl-Szőnyi J, Tóth J (2009) A hydrogeological type section for the Duna-Tisza Interfluve, Hungary. Hydrogeol J 17:961–980

Magyar N, Hatvani I G, Kovácsné Sz I, Herzig A, Dinka M, Kovács J (2013) Application of multivariate statistical methods in determining the spatial water quality changes in the Austrian part of Neusiedlersee. Ecol Eng 55:82–92. doi:10.1016/j.ecoleng.2013.02.005)55

McNeil VN, Cox ME, Preda M (2005) Assessment of chemical water types and their spatial variation using multi-stage cluster analysis, Queensland Australia. J Hydrol 310:181–200

Molnár S (1982) Properties of kriging-method. In: Peák I, Szép J (eds) Proc. of Conference on System Theoretical Aspects of Computer Sciences, Salgótarján, Hungary, 24–26 May 1982 DM (Series), 82-2, Karl Marx University of Economics, Budapest, pp 166–188

Molnár S (1987) On the convergence of the kriging method. Ann Univ Sci Budapest Sect Comp 8:45-50

Müller D (2005) D12: Proposal of methodology framework (BRIDGE). http://nfp-at.eionet.eu.int/Public/irc/eionet-circle/bridge/library?l=/deliverables/bridge_methodology/_EN_1.0_&a= d. Accessed 29 October 2013

Nemeth E, Bossew P, Plutzar C (2005) A distance-dependent estimation of foraging ranges of neighbouring bird colonies. Ecol Model 182:67–73

Norušis MJ (1993) SPSS for Windows Professional Statistics Release 6.0. SPSS, Chicago, 385 pp

Oliver MA (ed) (2010) Geostatistical applications for precision agriculture geostatistical applications for precision agriculture. Springer, Dordrecth, The Netherlands

ÖWAV (2003) Österreichischer Wasser- und Abfallwirtschaftsverband; Arbeitsbehelf 11: Empfehlungen für Bewässerungswasser, 2. Auflage [Austrian Water and Waste Management Association: recommendations for irrigation water, 2nd edn.]. ÖWAV, Wien, 2003

Pauwells H, Muller D, Griffionen J, Hinsby K, Melo T, Brower R (2007) BRIDGE: Background cRiteria for the IDentification of Groundwater thrEsholds. Final activity report. Available via DIALOG. http://wasser.bgld.gv.at/news/newsdetail.html?tx_ttnews[tt_news=2&cHash=9a0884c7dbac405e5273c7942dd77a5e. Accessed 01 May 2013

Peña-Haro S, Pulido-Velazquez M, Sahuquillo A (2009) A hydro-economic modelling framework for optimal management of groundwater nitrate pollution from agriculture. J Hydrol 373:193–203

Piper AM (1944) A graphic procedure in the geochemical interpretation of water-analyses. Trans Am Geophys Union 25:914–923

Reid RJ, Hayes JE, Post A, Stangoulis JCR, Graham RD (2004) A critical analysis of the causes of boron toxicity in plants. Plant Cell Environ 27:1405–1414

Rosen CJ, Bierman PM, Eliason RD (2008) Soil test interpretations and fertilizer management for lawns, turf, gardens, and landscape plants. Regents of the University of Minnesota, Minneapolis, MN

Schneider T (2001) Analysis of incomplete climate data: estimation of mean values and covariance matrices and imputation of missing values. J Clim 14:853–871

Schot PP, Pieber SM (2012) Spatial and temporal variations in shallow wetland groundwater quality. J Hydrol 422–423:43–52

Steele T, Kralisch S, Klein D, Flügel W-A (2008) A comparative evaluation of selected aspects of the EU's Water Framework Directive versus the U.S. Clean Water Act. 13th IWRA World Water Congress 2008, Montpellier, France, 1–4 Sept. 2008

Steiner W, Parz-Gollner R (2003) Actual numbers and effects of recreational disturbance on the distribution and behavior of Greylag Geese (Anser Anser) in the Neusedler See: Seewinkel National Park Area. J Nat Conserv 11:324–330

Stigter TY, Riberio L, Carvalho Dill AMM (2006) Application of a groundwater quality index as an assessment and communication tool in agro-environmental policies: two Portuguese case studies. J Hydrol 327:578–591

Stojanovic A, Kogelnig D, Mittereger B, Mader D, Jirsa F, Krachler R, Krachler R (2009) Major and trace element geochemistry of superficial sediments and suspended particulate matter of shallow saline lakes in eastern Austria. Chem Erde 69:223–234

Székely B, Zámolyi A, Draganits E, Briese C (2009) Geomorphic expression of neotectonic activity in a low relief area in an Airborne Laser Scanning DTM: a case study of the Little Hungarian Plain (Pannonian Basin). Tectonophysics 474:353–366

Sztárayné Kézdi É, Kmetty Z (2012) Kutatásmódszertan és prezentációkészítés [Research methodology and creating presentations]. Károli Gáspár Kalvinist University, Budapest

Tóth J (1984) The role of regional gravity flow in the chemical and thermal evolution of ground water. In: Proc. of First Canadian/American Conference on Hydrogeology: Practical Applications of Ground Water Geochemistry, Banff, AB, June 1984, pp 3–39

US EPA (2000) Assigning values to non-detected/non-quantified pesticide residues in human health food exposure assessments. Office of Pesticide Programs, US EPA, Washington, DC

Usländer T (2005) Trends of environmental information systems in the context of the European Water Framework Directive. Environ Model Softw 20:1532–1542

Vázquez-Suné E, Abarca E, Carrera J, Capino B, Gámez D, Pool M, Simó T, Batlle F, Niñerola JM, Ibáñez X (2006) Groundwater modelling as a tool for the European water Framework Directive (WFD) application: the Llobregat case. Phys Chem Earth 31:1015–1029

Wenland F, Berthold G, Blum A, Elsass P, Fritsche HG, Kunkel R, Wolter R (2008) Derivation of natural background levels and threshold values for groundwater bodies in the Upper Rhine Valley (France, Switzerland and Germany). Desalination 226:160–168

Whiteman M, Brooks A, Skinner A, Hulme P (2010) Determining significant damage to groundwater-dependent terrestrial ecosystems in England and Wales for use in implementation of the Water Framework Directive. Ecol Eng 36:1118–1125

Wilks SS (1932) Certain generalizations in the analysis of variance. Biometrika 24:471–494

World Health Organization (WHO) (1998) Boron in drinking-water: background document for development of WHO Guidelines for drinking-water quality. WHO/SDE/WSH/03.04/54, WHO, Rome

Yuan YC (2010) Multiple imputation for missing data: concepts and new development (version 9.0). SAS, Rockville, MD
Acknowledgements
The authors would like to thank the Austrian Federal Ministry of Agriculture, Forestry, Environment and Water Management, Department VII/Unit 1 National Water Management and the offices of the provincial governments for permission to use the dataset and the Umweltbundesamt, especially Mr. Harald Loishandl-Weisz for his help in acquiring it. We would also like to say thanks for the stimulating discussions with our colleagues at the Institute of Hydraulic Engineering and Water Resources Management of the Vienna University of Technology and the Peripato Joint Research of the Department of Sociology at the Eötvös Loránd University and the Hungarian Academy of Sciences. The work of I.G. Hatvani was funded by the Ernst Mach Scholarship of the Austro-Hungarian Action Fund (AÖU), while the work of József Kovács was financed by the OTKA-K-42996. In addition, we would like to give thanks for the support of the "Lendület" program of the Hungarian Academy of Sciences (LP2012-27/2012). This is contribution No.05 of 2 ka Palæoclimatology Research Group.
About this article
Cite this article
Hatvani, I.G., Magyar, N., Zessner, M. et al. The Water Framework Directive: Can more information be extracted from groundwater data? A case study of Seewinkel, Burgenland, eastern Austria. Hydrogeol J 22, 779–794 (2014). https://doi.org/10.1007/s10040-013-1093-x
Received:

Accepted:

Published:

Issue Date:

DOI: https://doi.org/10.1007/s10040-013-1093-x
Keywords
European Water Framework Directive (WFD)

Groundwater management

Multivariate data analysis

Austria

Spatial sampling density analysis