Abstract
Deep onshore Mesozoic basins have favourable geothermal aquifers at depth comprising basal Permo-Triassic sandstones. The principal basins are the Wessex and Worcester (southern England), Cheshire (northwest England), Eastern England, Larne and Lough Neagh (Northern Ireland). Measured temperatures are up to 80 °C and could reach 100 °C in the deepest parts of some of the basins. Porosity and permeability data from depth are limited, but values high enough to allow adequate yields have been measured in many of the basins. Productive sandstones vary from a few tens of metres to hundreds of metres thick resulting in productive transmissivities. The estimated heat in place (Inferred Geothermal Resource) has been calculated as 201 × 1018 to 328 × 1018 J. New heat demand maps illustrate that many of the centres of high heat use are coincident with Upper Palaeozoic basins. Within the Carboniferous and Devonian there are thick sequences of deeply buried arenaceous deposits. Some productive local aquifers occur at shallow depth, but most depend on fissure flow that is anticipated to diminish rapidly with depth. The exception may be the Carboniferous Limestone where warm springs and a pronounced thermal anomaly in Eastern England demonstrate groundwater flow at depth, possibly along pathways of many kilometers.
Résumé
Les bassins sédimentaires mésozoïques continentaux profonds possèdent des aquifères avec un potentiel géothermique à la profondeur interceptant les grès permiens triasiques de base. Les principaux bassins sont les bassins du Wessex et Worcester (Sud de l'Angleterre), de Cheshire (Nord-Ouest de l'Angleterre), l'est de l'Angleterre avec le bassin de Larne et le bassin de Lough Neagh (Nord de l'Irlande). Les températures mesurées sont de 80°C et peuvent atteindre 100 °C dans les parties les plus profondes de certains bassins. Les données de porosité et de conductivité hydraulique sont limitées, mais des valeurs suffisamment élevées pour assurer des rendements satisfaisants ont été mesurées dans les bassins. Les grès productifs ont une épaisseur comprise entre quelques dizaines de mères à plusieurs centaines de mètres, leur conférant des transmissivités productives. La chaleur estimée en place (Resource géothermale présupposée) a été calculée avec des valeurs comprises entre 201 × 1018 et 328 × 1018 J. Des cartes de nouvelles demandes en chaleur indiquent que plusieurs secteurs avec une chaleur importante coïncident avec les bassins du Paléozoïque supérieur. Au sein du Carbonifère et du Dévonien, il y a des séquences épaisses de dépôts profonds sableux. Des aquifères productifs localement prennent place à de faible profondeur, mais la plupart dépend d'écoulements en zone fissurée qui sont supposés diminuer rapidement avec la profondeur. Les calcaires du Carbonifères peuvent constituer une exception avec la présence de sources chaudes et d'une anomalie thermique dans l'Est de l'Angleterre, attestant de l'existence d'écoulements d'eau souterraine en profondeur, peut être avec des cheminements sur plusieurs kilomètres.
Resumen
Las cuencas profundas continentales del Mesozoico tienen acuíferos geotérmicos favorables a profundidades que comprenden a las areniscas basales del Permo-Triasico. Las cuencas principales son las de Wessex y Worcester (sur de Inglaterra), Cheshire (noroeste de Inglaterra), Eastern England, Larne y Lough Neagh (Norte de Irlanda). Las temperaturas medidas llegan hasta 80 °C y pueden alcanzar 100 °C en las partes más profundas de algunas de las cuencas. Los datos de porosidad y permeabilidad en profundidad son limitados, pero se han medido valores suficientemente altos como para permitir rendimientos adecuados en muchas de las cuencas. Las areniscas productivas varían desde unos pocas decenas de metros a centenas de metros de espesor que resultan en transmisividades productivas. El calor estimado en el sitio (Recurso Geotérmico Inferido) ha sido calculado entre 201 × 1018 y 328 × 1018 J. Los nuevos mapas de demanda de calor ilustran que muchos de los centros de uso de alto calor son coincidentes con las cuencas del Paleozoico Superior. Dentro del Carbónico y Devónico hay secuencias espesas de depósitos arenosos profundamente enterrados. Algunos acuíferos locales productivos se encuentran a profundidades someras, pero la mayoría depende del flujo en fisuras que se anticipa como disminuyendo rápidamente con la profundidad. La excepción pueden ser las Calizas Carbónicas donde manantiales cálidos y una pronunciada anomalía térmica en el este de Inglaterra demuestran flujo de agua subterránea en profundidad, posiblemente a lo largo de trayectorias de muchos kilómetros.
摘要
深的、陆上中生代盆地在包含基底二叠--三叠砂岩的深度具有良好的地热含水层。主要盆地有Wessex和Worcester (英国南部), Cheshire (英国西北部), 英国东部、 Larne 和Lough Neagh (爱尔兰北部)。测得的温度高达80 °C, 在有些盆地的最深部能 达到100 °C。深部的孔隙度和透水率资料有限, 但数值足够能使许多盆地充足的出水量得到测量。产水的砂岩厚度从几十米到几百米, 致使导水系数能达到产水的程度。有些地方的热量估算为201 × 1018 to 328 × 1018 J。新的热能需求图显示许多高热能利用中心与上古生代盆地一致。在石炭纪和泥盆纪内, 存在很厚深埋的沙质沉积序列。有些产水的局部含水层出现在浅部, 但大部分依靠裂隙流, 这些裂隙流一般随深度增加迅速减少。石炭纪石灰岩层可能是个例外, 在英国东部这个岩层温泉及显著的热异常证明在深部有地下水流, 水流可能沿数公里长的通道流动。
Resumo
As bacias Mesozoicas profundas onshore possuem em profundidade aquíferos potencialmente geotérmicos constituídos por arenitos basais Permo-Triássicos. As principais bacias são as de Wessex e Worcester (sul de Inglaterra), Cheshire (noroeste da Inglaterra), Leste da Inglaterra, Larne e Lough Neagh (Irlanda do Norte). As temperaturas registadas ultrapassam 80°C, podendo atingir 100°C nas zonas mais profundas de algumas das bacias. Os valores da porosidade e da permeabilidade, a partir de dados de profundidade, são limitados, mas os valores são suficientemente elevados para admitir que foram avaliados rendimentos adequados em muitas das bacias. Os arenitos produtivos variam de algumas dezenas a centenas de metros de espessura, resultando em transmissividades produtivas. O potencial calorífico estimado in-situ (recurso geotérmico inferido) foi calculado como 201 × 1018 a 328 × 1018 J. Novos mapas de calor ilustram que muitos dos centros de elevado uso de calor são coincidentes com as bacias do Paleozóico Superior. No Devónico e Carbónico existem sequências espessas de depósitos arenosos profundamente enterrados. Alguns aquíferos locais produtivos ocorrem a profundidades baixas, mas a maioria depende do fluxo fissural que previsivelmente diminui rapidamente com a profundidade. A exceção podem ser os calcários carbónicos, onde nascentes quentes e uma anomalia térmica acentuada, no leste da Inglaterra, revelam fluxo de água subterrânea em profundidade, possivelmente ao longo de muitos quilómetros.
Access options
Buy single article
Instant access to the full article PDF.
US$ 39.95
Tax calculation will be finalised during checkout.
Subscribe to journal
Immediate online access to all issues from 2019. Subscription will auto renew annually.
US$ 79
Tax calculation will be finalised during checkout.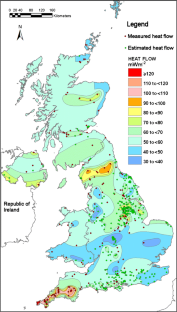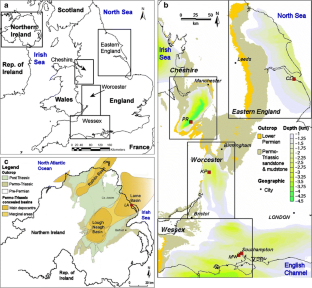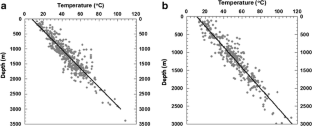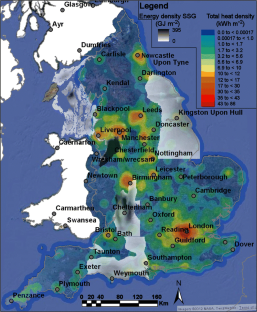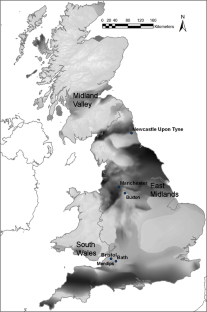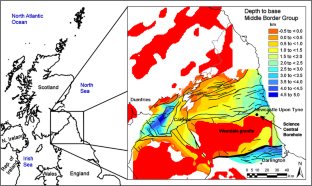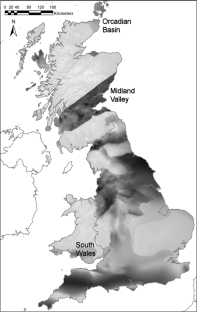 References
AGRC (2010) The geothermal reporting code. Australian code for reporting of exploration results, geothermal resources and geothermal reserves, 2nd edn. Australian Geothermal Energy Association, Unley, SA, Australia

Barker JA, Downing RA, Gray DA, Findlay J, Kellaway GA, Parker RH et al (2000) Hydrogeothermal studies in the United Kingdom. Q J Eng Geol Hydrogeol 33:41–58

Barrios LA, Quijano J, Guerra E, Mayorga H, Rodríguez A, Romero R (2007) Injection improvements in low permeability and negative skin wells, using mechanical cleanout and chemical stimulation, Berlin Geothermal Field, El Salvador. Geo Res Coun Trans 31:141–146

Batchelor T, Curtis R, Ledingham P (2010) Country update for the United Kingdom. Proceedings World Geothermal Congress 2010, Bali, Indonesia, 25–29 April 2010

Bennett JRP (1980) The sedimentary basins in Northern Ireland: investigation of the geothermal potential of the UK. Institute of Geological Sciences, London

Bott MHP, Swinburn PM, Long RE (1984) Deep structure and origin of the Northumberland and Stainmore troughs. Proc Yorks Geol Soc 44:479–495

Brassington FC (2007) A proposed conceptual model for the genesis of the Derbyshire thermal springs. Q J Eng Geol Hydrogeol 40:35–46

Bullard EC (1939) Heat flow in South Africa. Proc R Soc Lond A 173:428–450

Bullard EC, Niblett ER (1951) Terrestrial heat flow in England. Monthly Notices RAS, Geophys Suppl 6:222–238

CGCC (2010) The Canadian geothermal code for public reporting: reporting of exploration results, geothermal resources and geothermal reserves. CanGEA Calgary, AB

Chadwick RA, Pharaoh TC (1998) The seismic reflection Moho beneath the United Kingdom and adjacent areas. Tectonophysics 299:255–279

DECC (2009) The UK renewable energy strategy. Department of Energy and Climate Change, London

DECC (2011) UK renewable energy roadmap. Department of Energy and Climate Change, London

DECC (2012) The national heat map. http://tools.decc.gov.uk/nationalheatmap/. Accessed August 2013

Downing RA, Burgess WG, Smith IF, Allen DJ, Price M, Edmunds WM (1982) Geothermal aspects of the Larne No. 2 borehole. investigation of the geothermal potential of the UK. Institute of Geological Sciences, London

Downing RA, Gray DA (eds) (1986a) Geothermal energy: the potential in the United Kingdom. HMSO, London

Downing RA, Gray DA (1986b) Geothermal resources of the United Kingdom. J Geol Soc Lond 143:499–507

Evans KF, Moriya H, Niitsuma H, Jones RH, Phillips WS, Genter A (2005) Microseismicity and permeability enhancement of hydrogeologic structures during massive fluid injections into granite at 3 km depth at the Soultz HDR site. Geophys J Int 160:389–412

Fraser AJ, Nash DF, Steele RP, Ebdon CC (1990) A regional assessment of the intra-Carboniferous play of northern England. In: Brooks J (ed) Classic petroleum provinces. Geol Soc Lond Spec Publ 50, pp 417–440

Gallois R (2007) The formation of the hot springs at Bath Spa, UK. Geol Mag 144:741–747

Ganz B (2012) Trends in geothermal applications: survey report on geothermal utilisation and development in IEA-GIA member countries in 2010. IEA Geothermal Implementing Agreement, Taupo, New Zealand. http://iea-gia.org/2010-trend-report-annex-x-available/. Accessed February 2013

Gillespie MR (2009) The potential for developing enhanced geothermal systems in Scotland. Internal report, British Geological Survey, Keyworth, UK

GT Energy (2012) Project update: geothermal energy in Manchester. The 2nd UK Deep Geothermal Symposium, London, October 15 2012

Hurter S, Haenel R (eds) (2002) Atlas of geothermal resources in Europe. Office for Official Publications of the European Communities, Luxemburg

Jackson T (2012) Geothermal potential in Great Britain and Northern Ireland. SKM, London

Kimbell GS, Young B, Millward D, Crowley QG (2010) The North Pennine batholith (Weardale Granite) of northern England: new data on its age and form. Proc Yorks Geol Soc 58:107–128

Lee MK, Brown GC, Webb PC, Wheildon J, Rollin KE (1987) Heat flow, heat production and thermo-tectonic setting in mainland UK. J Geol Soc Lond 144:35–42

Leeder MR (1982) Upper Palaeozoic basins of the British Isles Caledonide inheritance versus Hercynian plate margin processes. J Geol Soc Lond 139:479–491

Mitchell WI (ed) (2004) The geology of Northern Ireland: our natural foundation, 2nd edn. Geological Survey of Northern Ireland, Belfast

Nami P, Schellschmidt R, Schindler M, Tischner T (2008) Chemical stimulation operations for reservoir development of the deep crystalline HDR/EGS system at Soultz-Sous-Forets France. Proc. 32nd Workshop on Geothermal Reservoir Engineering, Stanford University, Stanford, CA, January 28–30, 2008

Pasquali R, O'Neill N, Reay D, Waugh T (2010) The geothermal potential of Northern Ireland. Proceedings World Geothermal Congress 2010, Bali, Indonesia, 25–29 April 2010

Reay D, Kelly J (2010) Deep geothermal energy resource potential of Northern Ireland. European Geol 29:14–18

Rollin KE (1995) A simple heat-flow quality function and appraisal of heat-flow measurements and heat-flow estimates from the UK Geothermal Catalogue. Tectonophysics 244:185–196

Rollin KE, Kirby GA, Rowley WJ, Buckley DK (1995) Atlas of geothermal resources in Europe: UK revision. Technical report WK/95/07, British Geological Survey, Keyworth, UK

Singhal BBS, Gupta RP (2010) Applied hydrogeology of fractured rocks. Springer Dordrecht, Dordrecht, The Netherlands

Wilson NP, Luheshi MN (1987) Thermal aspects of the East Midlands aquifer system. In: Goff JC, Williams BPJ (eds) Fluid flow in sedimentary basins and aquifers. Geol Soc Spec Publ 34:157–169

Younger PL, Gluyas JG, Stephens WE (2012) Development of deep geothermal energy resources in the UK. Proc ICE-Energy 165:19–32
Acknowledgements
This paper is published by permission of the Executive Director of the British Geological Survey (NERC).
Additional information
Published in the theme issue "Hydrogeology of Shallow Thermal Systems"
About this article
Cite this article
Busby, J. Geothermal energy in sedimentary basins in the UK. Hydrogeol J 22, 129–141 (2014). https://doi.org/10.1007/s10040-013-1054-4
Received:

Accepted:

Published:

Issue Date:
Keywords
Thermal conditions

UK

Geothermal resources

Sedimentary basins

Renewable heat