Abstract
The Vić Bare groundwater source is used to supply water to the population and industry of Obrenovac, one of the municipalities of Belgrade (the capital of Serbia). It is a typical riverbank filtration site; exploitation is performed through 30 drilled wells and two radial wells located in the meander of the Sava River. The established hydraulic connection between the river and tapped aquifer is so great that the river regime has a dominant influence on the aquifer. As a consequence of this, water-delivery reduction occurs in the dry months (summer–autumn), when the population needs water the most. Based on the data associated with the river's gauges, precipitation, quantity of pumped water and groundwater-level fluctuation, a simulation of the groundwater regime for non-steady-state flow conditions has been undertaken through a numerical model. To overcome problems of water shortage during the dry season, the possibility of artificial recharge using an infiltration channel, made up of two connected parts, was analyzed. During the dry months, 80 % of the wells receive water partly from the infiltration channel. In this way, possibilities for extracting additional water are created. The application of this concept is discussed.
Résumé
La source de Vić Bare est utilisée pour approvisionner la population et l'industrie de Obrenovac, l'une des municipalités de Belgrade (capitale de la Serbie). C'est un site typique de filtration par berge; l'exploitation est réalisée par 30 puits forés et deux puits à drains rayonnants localisés dans le méandre de la rivière Sava. La connexion hydraulique entre la rivière et l'aquifère sollicité est si grande que le régime de la rivière a une incidence dominante sur l'aquifère. Par suite, la réduction de fourniture d'eau a lieu durant les mois secs (été–automne), lorsque les besoins de la population en eau sont le plus grands. Basées sur des données associées aux jaugeages de la rivière, précipitation, quantité d'eau pompée et fluctuation du niveau de la nappe, une simulation de régime de nappe non permanent a été entrepris à travers un modèle numérique. Pour surmonter les problèmes de pénurie d'eau pendant la saison sèche, la possibilité d'une recharge artificielle en utilisant un chenal d'infiltration, constitué de deux sections connectées, a été analysée. Durant les mois secs, 80 % des puits reçoivent en partie l'eau du canal d'infiltration. De cette façon, on crée des possibilités pour prélever des volumes d'eau additionnels. L'application de ce concept est discutée.
Resumen
La fuente de agua subterránea de The Vić Bare se usa para el abastecimiento de agua a la población y a la industria de Obrenovac, una de las municipalidades de Belgrade (la capital de Serbia). Es un típico sitio de filtración en las márgenes del río, la explotación es realizada a través de 30 pozos perforados y dos pozos radiales localizados en el meandro del Río Sava. La conexión hidráulica establecida entre el río y el acuífero explotado es tan grande que el régimen del río tiene una influencia dominante sobre el acuífero. Como consecuencia de esto, se produce una reducción en la entrega de agua en los meses secos (verano–otoño), cuando la población necesita agua en mayor medida. Sobre la base de datos asociados con las mediciones de aforos, la precipitación y la cantidad de agua bombeada y las fluctuaciones de nivel de agua subterránea, se llevó a cabo una simulación del régimen de agua subterránea para condiciones de flujo no estacionario a través de un modelo numérico. Para resolver los problemas de escasez de agua durante la estación seca se analizó la posibilidad de recarga artificial usando un canal de infiltración, hecho de dos partes conectadas. Durante los meses secos, el 80 % de los pozos recibe agua parcialmente del canal de infiltración. De esta manera se crean posibilidades para una extracción adicional de agua. Se discuten las aplicaciones de este concepto.
Resumo
A zona de Vić Bare constitui a origem da água subterrânea para fornecimento de água á população e indústria de Obrenovac, um dos municípios de Belgrado (capital da Sérvia). É uma área típica de banco filtrante num rio; a exploração é feita através de 30 furos e dois poços radiais no meandro do Rio Sava. A conexão hidráulica entre o rio e o aquífero explorado é tão evidente que o regime do rio tem uma influência dominante sobre o aquífero. Como consequência, a redução de disponibilidade no aquífero ocorre nos meses secos (verão–outono), quando a população necessita de mais água. Com base nos dados associados aos registos no rio, à precipitação, à quantidade de água bombeada e à flutuação dos níveis piezométricos, foi realizada uma simulação de fluxo de águas subterrâneas para as condições de fluxo não estacionário, através de um modelo numérico. Para ultrapassar os problemas de escassez de água durante a época seca, foi analisada a possibilidade de recarga artificial através do uso de um canal de infiltração, criado a partir de duas partes conexas. Durante os meses secos, 80 % das captações recebem água parcialmente a partir do canal de infiltração. Deste modo, são criadas condições para a extração de água adicional. É discutida a aplicação deste conceito.
Abstrakt
Izvorište podzemnih voda "Vić Bare" koristi se za vodosnabdevanje stanovništva i industrije Obrenovca, jedne od opština Beograda, glavnog grada Srbije. To je tipično priobalno izvorište u meandru reke Save, a eksploatacija se vrši pomoću 30 bušenih bunara i dva bunara sa horizontalnim drenovima. Zahvaljujući dobroj hidrauličkoj vezi između reke i kaptirane izdani, režim reke ima dominantan uticaj na režim izdani. Posledica je smanjenje kapaciteta izvorišta i redukcije u isporuci vode tokom sušnih meseci (leto–jesen), kada je voda stanovništvu najpotrebnija. Na osnovu prikupljenih podataka o vodostajima reke, padavinama, količinama vode koja se crpi i nivoima podzemnih voda, na numeričkom modelu je izvršena simulacija režima podzemnih voda za nestacionarne uslove filtracije. U cilju prevazilaženja problema nestašice vode u sušnim periodima, analizirana je i mogućnost veštačkog prihranjivanja izgradnjom infiltracionog kanala koji bi se sastojao iz dva povezana dela. Tokom sušnih meseci, od ukupnog broja bunara na izvorištu, 80 % bunara dobijalo bi deo vode iz infiltracionog kanala. Na taj način stvaraju se mogućnosti za zahvatanje dodatnih količina vode. U radu se razmatra primena ovakvog konceptualnog rešenja.
Access options
Buy single article
Instant access to the full article PDF.
USD 39.95
Price excludes VAT (USA)
Tax calculation will be finalised during checkout.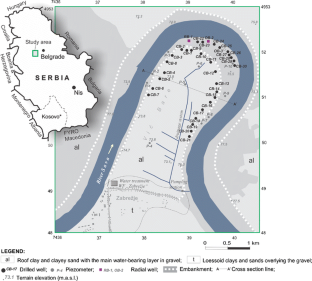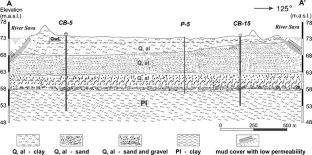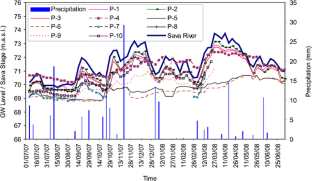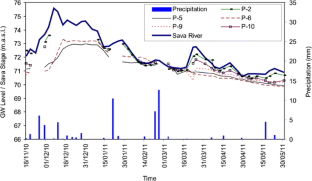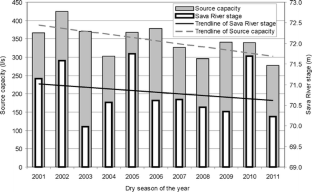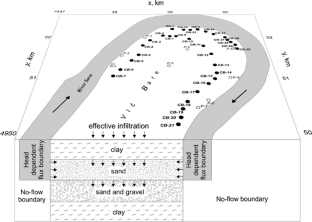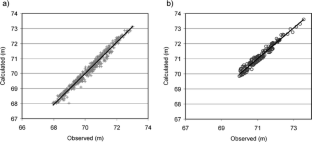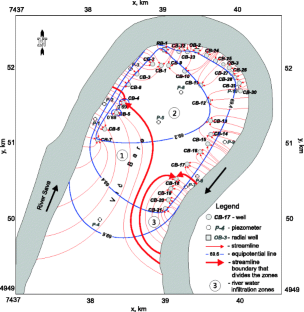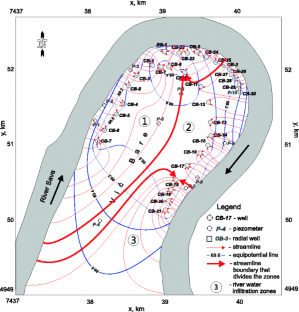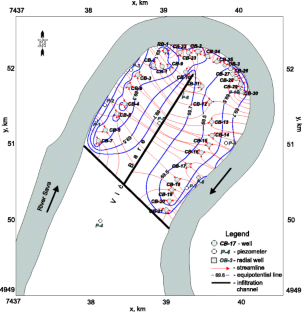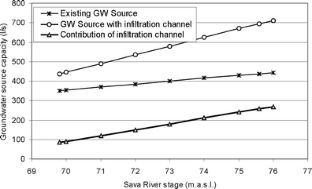 References
Chang LC, Ho CC, Yeh MS, Yang CC (2011) An integrating approach for conjunctive-use planning of surface and subsurface water system. Water Resour Manag 25(1):59–78

Dimkić M, Stevanović Z, Đurić D (2007) Utilization, protection and status of groundwater in Serbia. Keynote lecture, Proceedings of Regional IWA Conference on Groundwater Management in the Danube River Basin and Other Large River Basins, Belgrade, June 2007, pp 83–102

Eckert P, Irmscher R (2006) Over 130 years of experience with riverbank filtration in Düsseldorf, Germany. J Water SRT Aqua 55:283–291

Grischek T, Schoenheinz D, Sandhu C, Hiscock KM (2005) Riverbank filtration: its worth in Europe and India. J Indian Water Resour Soc 25(2):25–30

Grünheid S, Amy G, Jekel M (2005) Removal of bulk dissolved organic carbon (DOC) and trace organic compounds by bank filtration and artificial recharge. Water Res 39:3219–3228

Hajdin B, Dokmanović P, Stevanović Z, Hajdin K (2007) State of art of Vić Bare Source for Obrenovac Water Supply. Regional IWA Conference on Groundwater Management in the Danube River Basin and Other Large River Basins, Belgrade, June 2007, pp 217–225

Harbaugh AW, Banta ER, Hill MC, McDonald MG (2000) MODFLOW-2000: The U.S. Geological Survey modular ground-water model: user guide to modularization concepts and the ground-water flow process. US Geol Surv Open-File Rep 00-92, 121 pp

Hiscock KM, Grischek T (2002) Attenuation of groundwater pollution by bank filtration. J Hydrol 266:139–144

Huisman L, Olsthoorn TN (1983) Artificial groundwater recharge. Pitman, London

Huisman L, Van Haaren (1966) Treatment of water before infiltration and modification of its quality during its passage underground. Int. Water Supply Assoc. 7th Congress, 1, Spec. subj. 3, Barcelona, October 1966, 43 pp

Jury WA, Roth K (1990) Transfer function and solute movement through soil: theory and applications. Birkhauser, Basel, 226 pp

Kühn W, Müller U (2000) Riverbank filtration. J Am Water Works Assoc 92(12):60–69

Mayr E, Jung H, Perfler R (2011) Drinking water abstraction by bank filtration: state of the art in research and practice reviewed by Systematic Literature-Matrix. IWA Specialist Groundwater Conference, Belgrade, September 2011, pp 231–237

Plotnikov NI, Kaden S (1979) Artificial recharge and the effect of groundwater development on the environment, Memoires of IAH, vol XV, 2. Proceedings of IAH Congress, Vilnius, Nauka, Moscow, July 1979, pp 61–64

Polomčić D (2001) Hydrodynamic research, design and management of groundwater sources intergranular environment. University of Belgrade, Belgrade, 196 pp (in Serbian)

Polomčić D, Stevanović Z, Dokmanović P et al (2011) Groundwater supply in Serbia: situation and perspectives. In: Polomčić D, Ristić-Vakanjac V (eds) 40 years of the Department of Hydrogeology. Faculty of Mining and Geology, University of Belgrade, Belgrade, pp 45–78 (in Serbian)

Ray C, Grischek T, Schubert J, Wang Z, Speth TF (2002a) A perspective of riverbank filtration. JAWWA 94(4):149–160

Ray C, Melin G, Linsky RB (eds) (2002b) Riverbank filtration: improving source water quality. Kluwer, Dordrecht, The Netherlands, 364 pp

Schmidt K (1996) Water quality aspects of artificial groundwater recharge: general overview as a keynote. NHP rep. 38, Proc. Int. Symp. Artificial Recharge of Groundwater, Helsinki, June 1996

Schmidt CK, Brauch HJ (2008) Benefits or riverbank filtration and artificial groundwater recharge: the German experience. In: Dimkić M, Brauch HJ, Kavanaugh M (eds) Groundwater management in large river basins. IWA, London, pp 310–332

Schmidt CK, Lange FT, Brauch HJ, Kühn W (2003) Experiences with riverbank filtration and infiltration in Germany. In Proceedings of the International symposium on artificial recharge of groundwater, Daejeon, Korea. Korea Water Resources Research Institute (K-Water) pp. 117–131

Shankar V, Eckert P, Ojha C, König CM (2009) Transient three-dimensional modeling of riverbank filtration at Grind well field, Germany. Hydrogeol J 17:321–326

Sontheimer H (1980) Experience with riverbank filtration along the Rhine River. J Am Water Works Assoc 72(7):386–390

Stauder S, Stevanovic Z, Richter C et al (2012) Evaluating bank filtration as an alternative to the current water supply from Deeper Aquifer: a case study from the Pannonian Basin, Serbia. Water Resour Manag 26(2):581–594

Stuyfzand PJ, Juhàsz-Holterman MHA, Lange WJ (2006) Riverbank filtration in the Netherlands: well fields, clogging and geochemical reactions. In Hubbs SA (ed) Riverbank Filtration Hydrology. Springer Netherlands 60:119–153
Acknowledgements
Our gratitude goes to Waterworks and Sewerage from Obrenovac, who supported the investigations whose results are presented in this work, and the Ministry of Education and Science of Serbia for financing projects III-43004, 176022 and 37005.
About this article
Cite this article
Polomčić, D., Hajdin, B., Stevanović, Z. et al. Groundwater management by riverbank filtration and an infiltration channel: the case of Obrenovac, Serbia. Hydrogeol J 21, 1519–1530 (2013). https://doi.org/10.1007/s10040-013-1025-9
Received:

Accepted:

Published:

Issue Date:

DOI: https://doi.org/10.1007/s10040-013-1025-9
Keywords