Abstract
A method is devised for estimating the potential permeability of fracture networks from attributes of fractures observed in outcrop. The technique, which is intended as a complement to traditional approaches, is based on type curves that represent various combinations of fracture lengths, fracture orientations and proportions (i.e., intensities) of fractures that participate in flow. Numerical models are used to derive the type curves. To account for variations in fracture aperture, a permeability ratio (R) defined as the permeability of a fracture network in a domain divided by the permeability of a single fracture with identical fracture apertures, is used as a dependent variable to derive the type curves. The technique works by determining the point on the type curve that represents the fracture characteristics collected in the field. To test the performance of the technique, permeabilities that were derived from fractured-rock aquifers of eastern Massachusetts (USA) are compared to permeabilities predicted by the technique. Results indicate that permeabilities estimated from type curves are within an order of magnitude of permeabilities derived from field tests. First-order estimates of fracture-network permeability can, therefore, be easily and quickly acquired with this technique before more robust and expensive methods are utilized in the field.
Résumé
Une méthode a été élaborée pour estimer la perméabilité d'ensemble de réseaux de fractures à partir de caractéristiques de fractures observées sur affleurement. La technique, qui se veut être un complément aux approches traditionnelles, est basée sur des abaques représentant des combinaisons variables de longueurs, orientations et proportions (i.e. densité de fracturation) des fractures qui contribuent à l'écoulement. On a utilisé des modèles numériques dérivés d'abaques. Pour tenir compte des variations d'ouverture de la fracturation, un ratio de perméabilité (R) défini comme la perméabilité d'un domaine de réseau de fractures divisé par la perméabilité d'une fracture unique d'ouverture identique, a été utilisé comme variable dépendante dérivant des abaques. La technique fonctionne en déterminant le point sur l'abaque type qui représente les caractéristiques de la fracturation relevées sur le terrain. Pour tester la performance de la technique, les perméabilités d'aquifères fracturés de l'Est Massachusetts (USA) ont été comparées avec les perméabilités prévues par la technique. Les résultats indiquent que les perméabilités estimées à partir des abaques sont dans l'ordre de grandeur des perméabilités issues de tests de terrain. Des estimations de premier ordre de la perméabilité du réseau de fractures peut, par conséquent, être aisément et rapidement acquises avec cette technique avant que des méthodes plus lourdes et coûteuses soient utilisées sur le terrain.
Resumen
Se diseñó un método para estimar la permeabilidad potencial de redes de fracturas a partir de atributos de las fracturas observadas en afloramientos. La técnica, que se intenta como un complemento a los enfoques tradicionales, está basada en curvas tipo que representan varias combinaciones de longitudes, orientaciones y proporciones (por ejemplo intensidades) de fracturas que participan en el flujo. Se utilizan modelos numéricos para desarrollar las curvas tipo. Para tener en cuenta las variaciones en las aperturas de las fracturas, se utilizó una relación de permeabilidad (R) definida como la permeabilidad de una red de fracturas en un dominio dividido por la permeabilidad de una fractura simple con idénticas aperturas de fracturas, como una variable dependiente para desarrollar las curvas tipo. La técnica trabaja determinando el punto sobre la curva tipo que representa las características de la fractura recogidas en el campo. Para probar la performance de la técnica se comparan las permeabilidades que fueron desarrolladas de los acuíferos de rocas fracturadas del este de Massachusetts (EEUU) a las permeabilidades predichas por la técnica. Los resultados indican que las permeabilidades estimadas a partir de las curvas tipo están dentro del orden de magnitud de permeabilidades deducidas de los ensayos de campo. Las estimaciones de primer orden de la permeabilidad de redes de fractura, pueden, por lo tanto, ser fácil y rápidamente adquiridas con esta técnica antes de utilizar métodos de campo más robustos y costosos
摘要
通过在野外露头观察到的裂隙的特征来评估裂隙网络的潜在渗透性的方法在本文中被提出。这种技术是基于标准曲线的,是对传统方法的一种补充,标准曲线代表了裂隙的长度、裂隙的走向和与地下水流动有关的裂隙的规模(即密度)的不同组合。用数值模型来获得标准曲线。为了解释裂隙开度的变化,定义了渗透性比值(R),渗透性比值是区域上裂隙网的渗透系数与具有相同裂隙开度的单一裂隙渗透系数的比值,渗透性比值也作为获得标准曲线的因变量。这种技术的工作原理是确定标准曲线上能代表在现场获得的裂隙特征的点。为了测试这种技术的效果,把从美国马萨诸塞州东部获得的裂隙含水层的渗透率和通过这种技术预测得到的渗透率进行了对比。结果表明,利用标准曲线评估获得的渗透系数和通过现场测试得到的渗透系数在同一个数量级上。因此,在利用更成熟更昂贵的方法之前,利用这种技术,可以方便快捷地获得裂隙网络渗透系数的一级估计值。
Resumo
É desenvolvido um método para estimar a permeabilidade potencial de redes de fratura através de atributos de fraturas observadas em afloramento. A técnica, que é concebida como um complemento para as abordagens tradicionais, baseia-se em curvas tipo que representam várias combinações de comprimentos de fratura, orientações de fratura e proporções (isto é, intensidades) de fraturas que facilitam o fluxo. São utilizados modelos numéricos para obter as curvas tipo. Para ter em conta as variações de abertura das fraturas, uma relação de permeabilidade (R) definida como a permeabilidade de uma rede de fraturas de um domínio dividida pela permeabilidade de uma fratura simples com idêntica abertura da fratura, é usada como uma variável dependente para obter as curvas tipo. A técnica funciona através da determinação do ponto na curva tipo que representa as caraterísticas das fraturas recolhidas no campo. Para testar o desempenho da técnica, as permeabilidades que foram derivadas a partir de aquíferos rochosos fraturados do leste de Massachusetts (EUA) são comparados com permeabilidades previstas pela técnica. Os resultados indicam que as permeabilidades estimadas a partir das curvas tipo estão dentro da ordem de grandeza da magnitude das permeabilidades obtidas a partir de ensaios de campo. Estimativas de uma primeira ordem de grandeza da permeabilidade da rede de fraturas podem, portanto, ser fácil e rapidamente obtidas com esta técnica, antes de métodos mais robustos e dispendiosos serem utilizados no campo.
Access options
Buy single article
Instant access to the full article PDF.
US$ 39.95
Tax calculation will be finalised during checkout.
Subscribe to journal
Immediate online access to all issues from 2019. Subscription will auto renew annually.
US$ 79
Tax calculation will be finalised during checkout.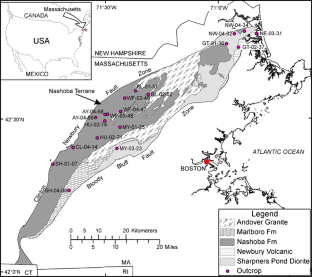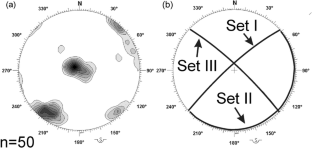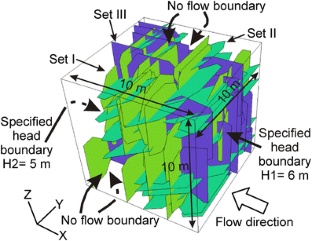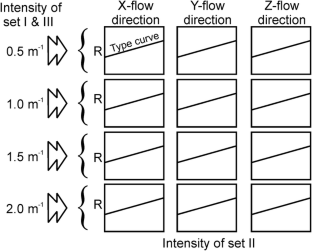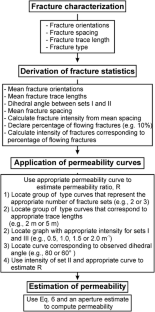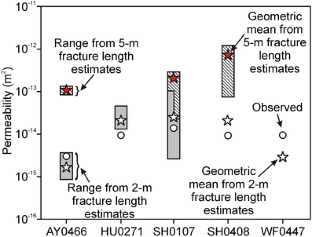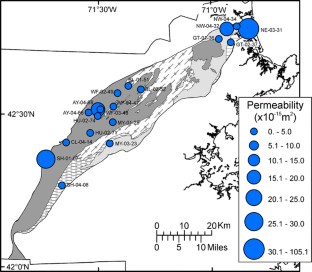 References
Baghbanan A, Jing L (2007) Hydraulic properties of fractured rock masses with correlated fracture length and aperture. Int J Rock Mech Min Sci 44(5):704–719

Berkowitz B (1995) Analysis of fracture network connectivity using percolation theory. Math Geol 27(4):467–483

Berkowitz B (2002) Characterizing flow and transport in fractured geologic media: a review. Adv Water Resour 25:861–884

Boutt DF, Diggins PJ, Mabee SB (2010) A field study (Massachusetts, USA) of the factors controlling the depth of groundwater flow systems in crystalline fractured-rock terrain. Hydrogeol J 18(8):1839–1854. doi:10.1007/s10040-010-0640-y

Caine JS, Tomusiak SRA (2003) Brittle structures and their role in controlling porosity and permeability in a complex Precambrian crystalline-rock aquifer system in the Colorado Rocky Mountain Front Range. Geol Soc Am Bull 115(11):1410–1424

de Dreuzy JR, Davy P, Bour O (2001a) Hydraulic properties of two-dimensional random fracture networks following a power law length distribution, 1: effective connectivity. Water Resour Res 37(8):2065–2078

de Dreuzy JR, Davy P, Bour O (2001b) Hydraulic properties of two-dimensional random fracture networks following a power law length distribution, 2: permeability of networks based on lognormal distribution of apertures. Water Resour Res 37(8):2079–2095

Dershowitz W, Lee G, Geier J, Foxford T, LaPointe P, Thomas A (1996) FracMan™: interactive discrete feature data analysis, geometric modeling, and exploration simulation, user documentation, version 2.5. Golder, Redmond, WA

Diggins JP (2009) Understanding the Depth and Nature of Flow Systems in the Nashoba Terrane, Eastern Massachusetts, U.S.A. MSc Thesis, University of Massachusetts, USA. http://scholarworks.umass.edu/theses/272. Accessed January 2012

Gillespie PA, Walsh JJ, Watterson J, Bonson CG, Manzocchi T (2001) Scaling relationships of joints and vein arrays from The Burren Co. Clare, Ireland. J Struct Geol 23:183–201

Golder Associates (2004) FracWorks XP: discrete feature simulator, User Documentation, Version 4.0. Golder, Redmond, WA

Hancock PL, Engelder T (1989) Neotectonic joints. Geol Soc Am Bull 101:1197–1208

Huseby O, Thovert J-F, Adler PM (1997) Geometry and topology of fracture systems. J Phys A Math Gen 30:1415–1444

Khamforoush M, Shams K, Thovert J-F, Adler PM (2008) Permeability and percolation of anisotropic three-dimensional fracture networks. Phys Rev 77(5):0563071–056307110

Koudina NR, Garcia G, Thovert J-F, Adler PM (1998) Permeability of three-dimensional fracture networks. Phys Rev 57(4):4466–4467

Lattman LH, Parizek RR (1964) Relationship between fracture traces and the occurrence of groundwater in carbonate rocks. J Hydrol 2:73–91

Long JCS, Witherspoon PA (1985) The relationship of the degree of interconnection to permeability in fracture networks. J Geophys Res 90:3087–3098

Long JCS, Remer JS, Wilson CR, Witherspoon PA (1982) Porous media equivalents for networks of discontinuous fractures. Water Resour Res 18(3):645–658

Mabee SB, Hardcastle KC, Wise DU (1994) A method for collecting and analyzing lineaments for regional-scale fractured bedrock aquifer studies. Ground Water 32(6):884–894

Manda AK (2009) Development and verification of conceptual models to characterize the fractured bedrock aquifer of the Nashoba terrane, Massachusetts. PhD, University of Massachusetts, USA, paper AAI3372266. http://scholarworks.umass.edu/dissertations/AAI3372266. Accessed January 2012

Manda AK, Mabee SB, Wise DU (2008) Influence of rock fabric attribute distribution and implications for groundwater flow in the Nashoba Terrane, eastern Massachusetts. J Struct Geol 30(4):464–477

Marshak S, Mitra G (1988) Basic methods of structural geology. Prentice Hall, Upper Saddle River, NJ

Mazurek M, Jakob A, Bossart P (2003) Solute transport in crystalline rocks at Äspö: geological basis and model calibration. J Contam Hydrol 61:157–174

Min KB, Jing L, Stephansson O (2004) Determining the equivalent permeability tensor for fractured rock masses using a stochastic REV approach: method and application to the field data from Sellafield, UK. Hydrogeol J 12:497–510

Mourzenko VV, Thovert J-F, Adler PM (2004) Macroscopic permeability of three-dimensional fracture networks with a power-law size distribution. Phys Rev 69(6):0663071–06630713

National Research Council (1996) Rock fracture and fluid flow, contemporary understandings and applications. National Academy Press, Washington, DC

Odling NE (1997) Scaling and connectivity of joint systems in sandstones from western Norway. J Struct Geol 19:1257–1271

Ortega O, Marrett R, Laubach S (2006) A scale-independent approach to fracture intensity and average spacing measurement. AAPG Bull 90(2):193–208. doi:10.1306/08250505059

Renshaw CE (1999) Connectivity of joint networks with power law length distributions. Water Resour Res 35:2661–2670

Robinson PC (1983) Connectivity of fracture systems a percolation theory approach. J Phys A Math Gen 16:605–614

Shapiro A, Hsieh P (1991) Research in fractured-rock hydrogeology: characterizing fluid movement and chemical transport in fractured rock at the mirror lake drainage basin, New Hampshire. In: US Geological Survey Toxic Substances Hydrology Program: Proc. of the technical meeting, Monterey, CA, March 11–15, 1991. US Geol Surv Water Resour Invest Rep 91–4034

Shapiro A, Hsieh P (1994) Hydraulic characteristics of fractured bedrock underlying the FSE well Field at the mirror lake site, Grafton County, New Hampshire. In: US Geological Survey Toxic Substance Hydrology Program: proceedings of the technical meeting, Colorado Springs, CO, September 20–24, 1993. US Geol Surv Water Resour Invest Rep 94–4015

Siddiqui SH, Parizek RR (1971) Hydrologic factors influencing well yields in folded and faulted carbonate rocks in central Pennsylvania. Water Resour Res 7(5):1295–1312

Siddiqui SH, Parizek RR (1974) An application of non parametric statistical tests in hydrogeology. Ground Water 12:1–14

Snow DT (1968) Rock fracture spacings, openings, and porosities. Proc Am Soc Civ Eng J Soil Mech Found Div ASCE 94:73–91

Snow DT (1969) Anisotropic permeability of fractured media. Water Resour Res 5(6):1273–1289

Surrette MJ, Allen DM (2008) Quantifying heterogeneity in variably fractured sedimentary rock using a hydrostructural domain. Geol Soc Am Bull 120:225–237. doi:10.1130/B26078.1

Surrette MJ, Allen DM, Journey M (2008) Regional evaluation of hydrologic properties in variably fractured rock using a hydrostructural domain approach. Hydrogeol J 16:11–30. doi:10.1007/s10040-0070206-9

Wong TF, Fredrich JT, Gwanmesia GD (1989) Crack aperture statistics and pore space fractal geometry of westerly granite and Rutland quartzite: implications for an elastic contact model of rock compressibility. J Geophys Res 94 (B8):10,278. doi:10.1029/JB094iB08p10267

Zen E, Goldsmith RR, Ratcliff NM, Robinson P, Stanley RS (1983) Bedrock geologic map of Massachusetts. U S Geol Surv scale 1:250000

Zhang X, Sanderson DJ (1995) Anisotropic features of geometry and permeability in fractured rock masses. Eng Geol 40:65–75
Acknowledgements
This research was supported by USGS Award Number 03HQGR0125 through the Water Resources Research Institutes Program. This manuscript is submitted for publication with the understanding that the United States Government is authorized to reproduce and distribute reprints for governmental purposes. The views and conclusions contained in this document are those of the authors and should not be interpreted as necessarily representing the official policies, either expressed or implied, of the U.S. Government. Software programs used in this study were graciously provided by Richard W. Allmendinger (StereoWin 1.2), Francesco Salvini (Daisy 3) and Golder Associates (FracMan). This paper benefited greatly from suggestions made by an anonymous reviewer and Diana Allen.
Electronic supplementary material
Below is the link to the electronic supplementary material.
About this article
Cite this article
Manda, A.K., Mabee, S.B., Boutt, D.F. et al. A method of estimating bulk potential permeability in fractured-rock aquifers using field-derived fracture data and type curves. Hydrogeol J 21, 357–369 (2013). https://doi.org/10.1007/s10040-012-0919-2
Received:

Accepted:

Published:

Issue Date:
Keywords
Modeling

Permeability

Fractured rocks

Type curves

USA