Abstract
Lake–groundwater interactions exhibit a complex three-dimensional (3D) structure that is seldom studied. The utility of waterborne electrical resistivity (ER) surveys is explored for characterization of 3D groundwater flow and solute transport patterns for three lakes in the Nebraska Sand Hills, USA. Waterborne ER surveys, using contrasts between lake and groundwater solutes as natural tracers, are useful for inferring 3D patterns of groundwater flow and solute transport as well as classifying groundwater–lake interactions. Three unique groundwater flow systems are interpreted under each lake from dense networks of two-dimensional (2D) waterborne ER surveys. A lateral transition from high to low ER values beneath the saline Wilson Lake expresses its flow-through regime, where groundwater salinity indicates changes from groundwater inflow to outflow. Alkali Lake ER profiles reveal a prevalent ER increase with depth over the lakebed area that is characteristic of groundwater discharge lakes. ER profiles beneath Gimlet Lake are the most resistive and indicate pockets of high ER related to fresh groundwater discharge into the lake, supporting a flow-through regime with a short flushing time. These ER patterns correctly classify groundwater–lake interactions and provide high spatial resolution of mixing patterns for systems with varying water salinity.
Résumé
Les interactions eau de nappe–lac présentent une structure tridimensionnelle (3D) complexe qui est rarement étudiée. L'utilité de levers de résistivité électrique (RE) hydro portés est explorée pour caractériser un flux de nappe 3D et pour établir les caractéristiques d'écoulement de trois lacs dans les Sand Hills du Nebraska, USA. Les relevés RE hydro portés, utilisant les contrastes entre solutés du lac et solutés de l'eau souterraine en tant que traceurs naturels, sont utiles pour inférer les caractéristiques 3D du flux de nappe et transport de soluté comme pour comprendre et classer les interactions eau de nappe-lac. Trois systèmes singuliers de flux souterrains sont caractérisés sous chaque lac à partir d'un réseau dense de relevés RE 2D hydro portés. Une transition latérale de haute à basse valeur de RE sous le lac salé Wilson exprime un régime d'écoulement partagé, où la salinité de l'eau de nappe indique les changements de flux entrants et sortants. Les profils RE sur Akali Lake révèlent qu'une augmentation de RE prévaut avec la profondeur, ce qui est caractéristique des lacs de décharge de nappe. Les profils RE sous Gimlet Lake sont les plus résistants et indiquent des poches de RE élevée en relation avec une décharge d'eau douce dans le lac, siège d'un régime d'écoulement partagé avec un flux rapide. Ces caractéristiques de RE classent correctement les interactions eau de nappe– lac et fournissent en haute résolution spatiale les caractéristiques de systèmes imbriqués à eaux de salinité variable.
Resumen
Las interacciones entre agua subterránea–lago exhibe una estructura compleja tridimensional (3D) que raramente es estudiada. Se exploró la utilidad de los sondeos de resistividad eléctrica (ER) basados en el agua para la caracterización de los esquemas de flujo de agua subterránea 3D y de transporte de soluto para tres lagos en Nebraska Sand Hills, EEUU. Los sondeos ER basados en el agua, usando contrastes entre los solutos del agua del lago y el subterránea como trazadores naturales, son útiles para inferir esquemas 3D del flujo de agua subterránea y del transporte de solutos así como para clasificar las interacciones agua subterránea–lago. A partir de redes densas de sondeos ER basados en el agua se interpretaron tres sistemas únicos de flujo de agua subterránea bajo de cada lago. Una transición lateral desde altos a bajos valores debajo del lago salino Wilson expresa su régimen de flujo continuo a través del medio, donde la salinidad del agua subterránea indica cambios desde la entrada de agua subterránea hasta su salida. Los perfiles ER del lago Alkali revelan un predominio de incremento de ER con la profundidad sobre el área del lecho del lago que es característico de lagos de descarga de agua subterránea. Los perfiles ER debajo del lago Gimlet son los más resistivos e indican bolsas de alta ER relacionados a la descarga de agua subterránea dulce en el lago, manteniendo un régimen continuo de flujo con un tiempo corto de lavado. Estos esquemas de ER clasifican correctamente las interacciones lago–agua subterránea y proporcionan una alta resolución espacial de los esquemas de mezcla para sistemas con salinidades del agua variables.
摘要
湖水地下水相互作用显示为一种复杂的、很少被研究过的三维结构。本文在美国内布拉斯加州沙丘开展了水上电阻率(ER)调查以刻画三个湖泊的三维地下水流和溶质运移特征。水上ER调查是利用湖水和地下水溶质的差异作为天然示踪剂,在推断地下水流和溶质运移的三维形态以及划分地下水湖水相互作用方面非常有用。通过高密度2维水上ER调查,在每个湖泊下面解译出了3种独立的地下水流系统。在Wilson咸湖下面ER值从高到低的侧向过渡,显示了它的水流动态,在这里用地下水盐度指示地下水流入到流出的变化。Alkali湖ER剖面显示出在湖床上ER随深度增加而升高的趋势,为地下水向湖排泄的特征。Gimlet湖的ER剖面电阻率最高,高ER区与地下淡水向湖的排泄有关,支持短时间内水流通过的推断。ER的分布特征恰当准确的划分了地下水湖水相互作用,且提供了高空间分辨率的不同盐度的地下水混合形态特征。
Resumo
As interações lago–água subterrânea exibem uma complexa estrutura tri-dimensional (3D) que é frequentemente estudada. A utilidade de campanhas de resistividade elétrica (RE) em meio aquoso é explorada para caraterizar o fluxo subterrâneo 3D e os padrões de transporte de solutos em três lagos nas Montanhas de Nebraska Sand, EUA. As campanhas de RE em meio aquoso, usando os contrastes entre a concentração de solutos do lago e da água subterrânea como traçadores naturais, são úteis para inferir os padrões 3D do fluxo subterrâneo e transporte de solutos, bem como para classificar as interações água subterrânea-lago. A partir de densas redes de campanhas de RE 2D em meio aquoso, foram interpretados três sistemas únicos de fluxo subterrâneo subjacentes a cada lago. A transição lateral de elevados valores para baixos valores de RE debaixo do lago salino de Wilson reflete o seu regime de passagem de água, onde a salinidade da água subterrânea indica mudanças entre entradas e saídas de água subterrânea. Os perfis de RE do Lago Alkali revelam a prevalência de um aumento da RE com a profundidade ao longo da área do leito do lago, o que é caraterístico de lagos com descarga de água subterrânea. Os perfis de RE debaixo do Lago Gimlet são os mais resistivos e indicam a existência de zonas com elevada RE, relacionadas com a descarga de água doce subterrânea no lago, o que reflete um regime de passagem de água com um curto período de renovação. Estes padrões de RE permitem classificar corretamente as interações água subterrânea–lago e fornecem uma elevada resolução espacial dos padrões de mistura em sistemas com águas de diferentes salinidades.
This is a preview of subscription content,
to check access.
Access this article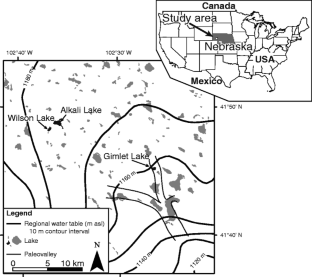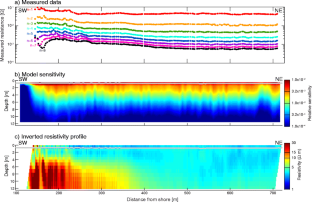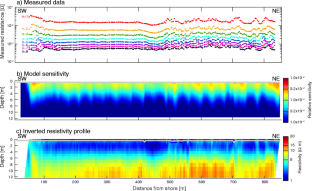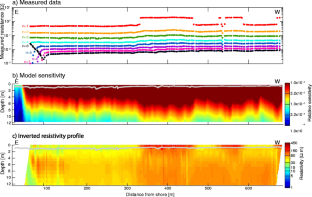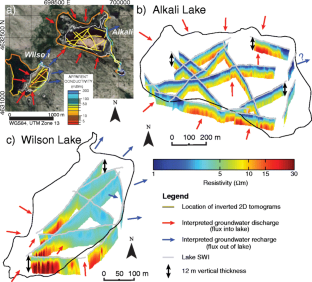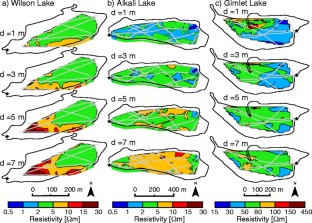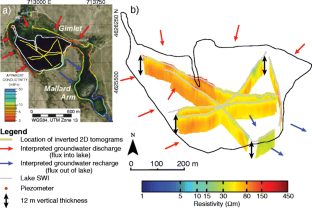 References
Amidu SA, Dunbar JA (2008) An evaluation of the electrical-resistivity method for water-reservoir salinity studies. Geophysics. doi:10.1190/1.2938994

Archie GE (1942) The electrical resistivity log as an aid in determining some reservoir characteristics. Trans Am Inst Min Metall Pet Eng 146:54–62

Bauer P, Supper R, Zimmermann S, Kinzelbach W (2006) Geoelectrical imaging of groundwater salinization in the Okavango Delta, Botswana. J Appl Geophys. doi:10.1016/j.jappgeo.2006.01.003

Bennett DM, Fritz SC, Holz JC, Holz AA, Zlotnik VA (2007) Evaluating climatic and non-climatic influences on ion chemistry in natural and man-made lakes of Nebraska, USA. Hydrobiologia. doi:10.1007/s10750-007-0798-z

Born SM, Smith SA, Stephenson DA (1979) Hydrogeology of glacial-terrain lakes, with management and planning applications. J Hydrol. doi:10.1016/0022-1694(79)90163-x

Cardenas MB, Markowski MS (2011) Geoelectrical imaging of hyporheic exchange and mixing of river water and groundwater in a large regulated river. Environ Sci Technol. doi:10.1021/es103438a

Day-Lewis FD, Singha K, Binley AM (2005) Applying petrophysical models to radar travel time and electrical resistivity tomograms: resolution-dependent limitations. J Geophys Res Solid Earth. doi:10.1029/2004jb003569

Day-Lewis FD, White EA, Johnson CD, Lane JWJ, Belaval M (2006) Continuous resistivity profiling to delineate submarine groundwater discharge: examples and limitations. Lead Edge. doi:10.1190/1.2210056

Ewing RP, Hunt AG (2006) Dependence of the electrical conductivity on saturation in real porous media. Vadose Zone J. doi:10.2136/vzj2005.0107

Gosselin DC, Sibray S, Ayers J (1994) Geochemistry of K-rich alkaline lakes, Western Sandhills, Nebraska, USA. Geochim Cosmochim Acta. doi:10.1016/0016-7037(94)90545-2

Hayashi M (2004) Temperature-electrical conductivity relation of water for environmental monitoring and geophysical data inversion. Environ Monit Assess. doi:10.1023/b:emas.0000031719.83065.68

Hayley K, Bentley LR, Gharibi M, Nightingale M (2007) Low temperature dependence of electrical resistivity: implications for near surface geophysical monitoring. Geophys Res Lett. doi:10.1029/2007gl031124

Keller GV, Frischknect FC (1966) Electrical methods in geophysical prospecting. Pergamon, Oxford

Labaugh JW (1986) Limnological characteristics of selected lakes in the Nebraska Sandhills, USA, and their relation to chemical characteristics of adjacent groundwater. J Hydrol. doi:10.1016/0022-1694(86)90168-x

Loope DB, Swinehart JB, Mason JP (1995) Dune-dammed paleovalleys of the Nebraska Sand Hills: intrinsic versus climatic controls on the accumulation of lake and marsh sediments. Geol Soc Am Bull. doi:10.1130/0016-7606(1995)107<0396:DDPOTN>2.3.CO;2

Mansoor N, Slater L (2007) Aquatic electrical resistivity imaging of shallow-water wetlands. Geophysics. doi:10.1190/1.2750667

Nyquist JE, Heaney MJ, Toran L (2009) Characterizing lakebed seepage and geologic heterogeneity using resistivity imaging and temperature measurements. Near Surf Geophys. doi:10.3997/1873-0604.2009022

Ong JB (2010) Investigation of spatial and temporal processes of lake-aquifer interactions in the Nebraska Sand Hills, PhD Thesis, Univ. of Nebraska-Lincoln, USA

Ong JB, Zlotnik VA (2011) Assessing lakebed hydraulic conductivity and seepage flux by potentiomanometer. Ground Water. doi:10.1111/j.1745-6584.2010.00717.x

Ong JB, Lane JW, Zlotnik VA, Halihan T, White EA (2010) Combined use of frequency-domain electromagnetic and electrical resistivity surveys to delineate near-lake groundwater flow in the semi-arid Nebraska Sand Hills, USA. Hydrogeol J. doi:10.1007/s10040-010-0617-x

Revil A, Cathles LM III, Losh S, Nunn JA (1998) Electrical conductivity in shaly sands with geophysical applications. J Geophys Res. doi:10.1029/98jb02125

Rosenberry DO, LaBaugh JW, Hunt RJ (2008) Use of monitoring wells, portable piezometers, and seepage meters to quantify flow between surface water and ground water. In: Rosenberry DO, LaBaugh JW (eds) Field techniques for estimating water fluxes between surface water and ground water. US Geological Survey Techniques and Methods 4-D2, Reston, VA, pp 39–70

Rucker DF, Noonan GE, Greenwood WJ (2011) Electrical resistivity in support of geological mapping along the Panama Canal. Eng Geol. doi:10.1016/j.enggeo.2010.10.012

Schneider RL, Negley TL, Wafer C (2005) Factors influencing groundwater seepage in a large, mesotrophic lake in New York. J Hydrol. doi:10.1016/j.jhydrol.2004.09.020

Smith BD, Abraham JD, Cannia JC, Minsley BJ, Deszcz-Pan M, Ball LB (2010) Helicopter electromagnetic and magnetic geophysical survey data, portions of the North Platte and South Platte Natural Resources Districts, western Nebraska, May 2009. US Geol Surv Open-File Rep 2010–1259, 33 pp

Sophocleous M (2002) Interactions between groundwater and surface water: the state of the science. Hydrogeol J. doi:10.1007/s10040-001-0170-8

Szilagyi J, Zlotnik VA, Gates JB, Jozsa J (2011) Mapping mean annual groundwater recharge in the Nebraska Sand Hills, USA. Hydrogeol J. doi:10.1007/s10040-011-0769-3

Tcherepanov EN, Zlotnik VA, Henebry G (2005) Using Landsat thermal imagery and GIS for identification of ground water discharge into shallow ground water-dominated lakes. Int J Remote Sens 26(17):3649–3661. doi:10.1080/01431160500177315

Toran L, Johnson M, Nyquist J, Rosenberry D (2010) Delineating a road-salt plume in lakebed sediments using electrical resistivity, piezometers, and seepage meters at Mirror Lake, New Hampshire, USA. Geophysics. doi:10.1190/1.3467505

Townley LR, Trefry MG (2000) Surface water-groundwater interaction near shallow circular lakes: flow geometry in three dimensions. Water Resour Res. doi:10.1029/1999wr900304

Turner JV, Townley LR (2006) Determination of groundwater flow-through regimes of shallow lakes and wetlands from numerical analysis of stable isotope and chloride tracer distribution patterns. J Hydrol. doi:10.1016/j.jhydrol.2005.07.050

Wang T, Wedin D, Zlotnik VA (2009) Field evidence of a negative correlation between saturated hydraulic conductivity and soil carbon in a sandy soil. Water Resour Res. doi:10.1029/2008wr006865

Winter TC (1977) Classification of the hydrologic settings of lakes in the north central United States. Water Resour Res. doi:10.1029/WR013i004p00753

Winter TC (1986) Effect of ground-water recharge on configuration of the water table beneath sand dunes and on seepage in lakes in the sandhills of Nebraska, USA. J Hydrol. doi:10.1016/0022-1694(86)90166-6

Winter TC, Pfannkuch HO (1984) Effect of anisotropy and groundwater system geometry on seepage through lakebeds: 2. numerical simulation analysis. J Hydrol. doi:10.1016/0022-1694(84)90052-0

Zarroca M, Bach J, Linares R, Pellicer XM (2011) Electrical methods (VES and ERT) for identifying, mapping and monitoring different saline domains in a coastal plain region (Alt Empordà, northern Spain). J Hydrol. doi:10.1016/j.jhydrol.2011.08.052

Zlotnik VA, Olaguera F, Ong JB (2009) An approach to assessment of flow regimes of groundwater-dominated lakes in arid environments. J Hydrol. doi:10.1016/j.jhydrol.2009.03.012

Zlotnik VA, Robinson NI, Simmons CT (2010) Salinity dynamics of discharge lakes in dune environments: conceptual model. Water Resour Res. doi:10.1029/2009wr008999

Zlotnik VA, Ong JB, Lenters JD, Schmieder J, Fritz SC (2012) Quantification of salt dust pathways from a groundwater-fed lake: implications for solute budgets and dust emission rates. J Geophys Res 117:F02014. doi:10.1029/2011JF002107
Acknowledgements
This project was funded by a National Science Foundation grant (EAR-0609982) to V. Zlotnik and a Big XII Faculty Fellowship to M. B. Cardenas. The authors thank M. Koepsel and M. French, the Crescent Lake National Wildlife Refuge, and the U.S. Fish and Wildlife Service for assisting with the study logistics and M. Peters and E. Peters at Rex Ranch for access to the Alkali Lake area. Dale Rucker, Malcolm Ingham, and Mario Zarroca greatly improved the clarity and discussion of these findings with honest and insightful suggestions. Additional support was provided by the Geology Foundation at the University of Texas at Austin.
About this article
Cite this article
Befus, K.M., Cardenas, M.B., Ong, J.B. et al. Classification and delineation of groundwater–lake interactions in the Nebraska Sand Hills (USA) using electrical resistivity patterns. Hydrogeol J 20, 1483–1495 (2012). https://doi.org/10.1007/s10040-012-0891-x
Received:

Accepted:

Published:

Issue Date:

DOI: https://doi.org/10.1007/s10040-012-0891-x
Keywords