Abstract
Information on the anisotropy of streambed hydraulic conductivity (K) is a necessity for analyses of water exchange and solute transport in the hyporheic zone. An approach is proposed for the determination of K, developed from existing in-situ permeameter test methods. The approach is based on determination of vertical and horizontal hydraulic conductivity of streambed sediments on-site and eliminates the effects of vertical flow in the hyporheic zone and stream-stage fluctuation, which normally influence in situ permeameter tests. The approach was applied to seven study sites on four tributaries of the Platte River in east-central Nebraska, USA. On-site permeameter tests conducted on about 172 streambed cores for the determination of vertical hydraulic conductivity (K v) and horizontal hydraulic conductivity (K h) at the study sites indicate that the study sites have relatively small anisotropic ratios, ranging from 0.74 to 2.40. The ratios of K h to K v from individual locations within a study site show greater variation than the anisotropic ratios from the mean or median K at each of the study sites.
Résumé
L'information sur l'anisotropie de la conductivité hydraulique (K) est nécessaire pour les analyses d'échange d'eau et de transport de soluté dans la zone hyporhéique. Une démarche est proposée pour la détermination de K, dérivée de méthodes existantes de test au perméamètre in situ. La démarche est basée sur la détermination sur site des conductivités hydrauliques verticale et horizontale des sédiments du lit et élimine les effets du flux vertical dans la zone hyporhéique et de la fluctuation du niveau d'eau, qui influencent normalement les tests perméamètre in situ. La démarche a été menée sur sept sites d'étude sur quatre tributaires de la Platte River, Centre-Est Nebraska, USA. Des tests de perméabilité sur site réalisés sur environ 172 carottes pour la détermination des conductivités hydrauliques verticale (K v) et horizontale (K h) indiquent des ratios d'anisotropie relativement petits, s'échelonnant de 0.74 à 2.40. Les ratios de K h sur K v mesurés sur différents emplacements d'un même site montrent une plus grande variabilité que les ratios d'anisotropie de la moyenne ou de la médiane de K sur chacun de ces sites d'étude.
Resumen
La información sobre la anisotropía de la conductividad hidráulica de un cauce (K) es una necesidad para los análisis del intercambio de agua y transporte de solutos en una zona hiporreica. Se propone un método para la determinación de K, desarrollado a partir de métodos de prueba in situ en permeámetros existentes. El método está basado en la determinación de la conductividad hidráulica vertical y horizontal de los sedimentos del cauce en el sitio y elimina los efectos del flujo vertical en la zona hiporreica y las fluctuaciones del estado de la corriente, la cual normalmente influye en las pruebas in situ con los permeámetros. El método fue aplicado en siete sitios de estudio en cuatro tributarios del Platte River en el centro este de Nebraska, EEUU. En los lugares de las pruebas en los permeámetros se llevaron a cabo 172 testigos en el cauce para la determinación de la conductividad hidráulica vertical (K v) y la conductividad hidráulica horizontal (K h) en los sitios de estudios indican que los sitios de estudio tienen un cociente de anisotropía relativamente pequeña, oscilando de 0.74 a 2.40. Los cocientes de K h a K v a partir de lugares individuales dentro del sitio de estudio muestran mayores variaciones que los cocientes de anisotropía a partir de la K media o mediana en cada uno de los sitios estudiados.
摘要
河床渗透系数的各向异性比是进行河流潜流带水量交换和溶质运移分析时必不可少的重要信息。本文提出一种测定河床渗透系数的改进渗透方法,该方法是基于原位渗透试验的改进。改进试验中采用非原位操作方法,避免了河水位波动和河流潜流带垂向流对原位试验的影响。本研究采用改进的非原位渗透试验方法分别应用在美国内布拉斯加州中东部普拉特河的四条支流上的七个试验场地。非原位渗透试验共计测定172组河床砂样的垂向渗透系数(K v )和水平渗透系数(K h)。结果表明这些试验场地具有较弱的各向异性特征,各向异性比介于0.74和2.40之间。在任意试验场地内,每个试验位置上的K h/K v值与使用该场地的K h与K v的平均值(或中位数)得到的各向异性比相比,具有更大的变异性。
Resumo
A informação acerca da anisotropia da condutividade hidráulica (K) do sedimento do leito de rios é uma necessidade para as análises de trocas de água e transporte de solutos na zona hiporreica. Propõe-se uma metodologia para determinar K, desenvolvida a partir de métodos existentes de ensaios de permeâmetro in situ. A metodologia é baseada na determinação, no local, da condutividade hidráulica vertical e horizontal de sedimentos do leito de rios e elimina os efeitos do fluxo vertical na zona hiporreica e da flutuação do nível do rio, que normalmente influenciam os ensaios de permeâmetro in situ. A metodologia foi aplicada a sete casos de estudo em quatro afluentes do rio Platte no Centro-este de Nebraska, nos EUA. Os ensaios de permeâmetro in situ, feitos em cerca de 172 sondagens em sedimentos dos leitos de rios, para a determinação da condutividade hidráulica vertical (K v) e condutividade hidráulica horizontal (K h) indicam que as zonas de estudo têm rácios de anisotropia relativamente baixos, variando entre 0.74 e 2.40. Os rácios entre K h e K v de locais individuais dentro de uma zona de estudo mostram uma variação maior do que os rácios de anisotropia da K média ou mediana em cada uma das zonas de estudo.
This is a preview of subscription content, log in to check access.
Access options
Buy single article
Instant access to the full article PDF.
US$ 39.95
Price includes VAT for USA
Subscribe to journal
Immediate online access to all issues from 2019. Subscription will auto renew annually.
US$ 99
This is the net price. Taxes to be calculated in checkout.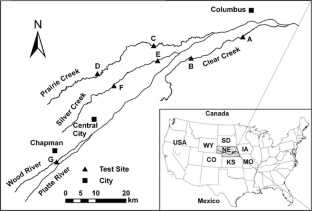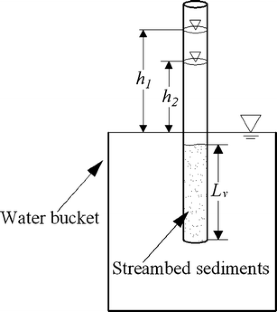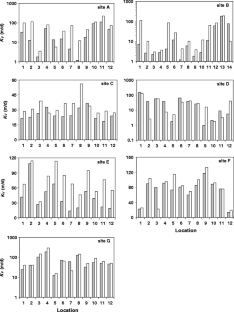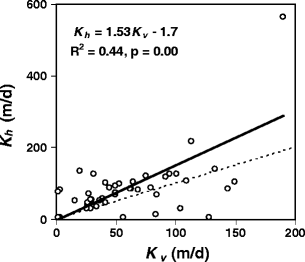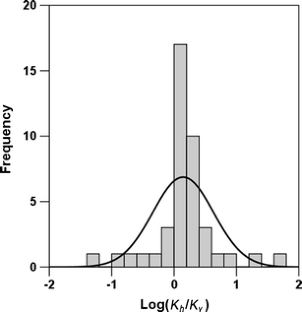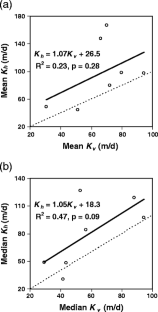 References
Beckwith CW, Baird AJ, Heathwaite AL (2003) Anisotropy and depth-related heterogeneity of hydraulic conductivity in a bog peat. I: laboratory measurements. Hydrol Proc 17:89–101

Bouma J, Dekker LW (1981) A method for measuring vertical and horizontal Ksat of clay soils with macropores. Soil Sci Soc Am J 45:662–664

Bouwer H, Rice RC (1976) A slug test for determining hydraulic conductivity of unconfined aquifers with completely or partially penetrating wells. Water Resour Res 12:423–428

Chen XH (2000) Measurement of streambed hydraulic conductivity and its anisotropy. Environ Geol 39:1317–1324

Chen XH (2004) Streambed hydraulic conductivity for rivers in south-central Nebraska. J Am Water Resour Assoc 40:561–573

Chen X (2010) Depth-dependent hydraulic conductivity distribution patterns of a streambed. Hydrol Proc 25:278–287

Chen XH, Chen X (2003) Effects of aquifer anisotropy on the migration of infiltrated stream water to a pumping well. J Hydrol Eng 8(5):287–293

Chen XH, Yin Y (1999) Evaluation of streamflow depletion for vertical anisotropic aquifers. J Environ Syst 27(1):55–70

Cheng C, Chen XH (2007) Evaluation of methods for determination of hydraulic properties in an aquifer-aquitard system hydrologically connected to a river. Hydrogeol J 15:669–678

Cheng C, Song J, Chen XH, Wang D (2011) Statistical distribution of streambed vertical hydraulic conductivity along the Platte River, Nebraska. Water Resour Manage 25:265–285

Conover WJ (1980) Practical nonparametric statistics, 2nd edn. Wiley, New York

Dong JJ, Tzeng JH, Wu PK, Lin ML (2006) Effects of anisotropic permeability on stabilization and pore water pressure distribution of poorly cemented stratified rock slopes. Int J Numer Anal Methods Geomech 30:1579–1600

Freeze RA, Cherry JA (1979) Groundwater. Prentice-Hall, Englewood Cliffs, NJ, 603 pp

Genereux D, Bandopadhyay I (2001) Numerical investigation of lake bed seepage patterns: effects of porous medium and lake properties. J Hydrol 241:286–303

Genereux DP, Leahy S, Mitasova H, Kennedy CD, Corbett DR (2008) Spatial and temporal variability of streambed hydraulic conductivity in West Bear Creek, North Carolina, USA. J Hydrol 358:332–353

Hemker K, Bakker M (2006) Analytical solutions for whirling groundwater flow in two-dimensional heterogeneous anisotropic aquifers. Water Resour Res 42. doi:10.1029/2006WR004901

Hubbert MK (1940) The theory of ground-water motion. J Geol 48(8):785–944

Hvorslev MJ (1951) Time lag and soil permeability in ground-water observations. US Army Corps Eng Waterw Exp Station Bull 36:1–50

Kelly SE, Murdoch LC (2003) Measuring the hydraulic conductivity of shallow submerged sediments. Ground Water 41(4):431–439

Kennedy CD, Genereux DP, Corbett DR, Mitasova H (2009) Spatial and temporal dynamics of coupled groundwater and nitrogen fluxes through a streambed in an agricultural watershed. Water Resour Res 45. doi:10.1029/2008WR007397

Landon MK, Rus DL, Harvey FE (2001) Comparison of in-stream methods for measuring hydraulic conductivity in sandy streambeds. Ground Water 39(6):870–885

Lautz LK, Kranes NT, Siegel DI (2009) Heat tracing of heterogeneous hyporheic exchange adjacent to in-stream geomorphic features. Hydrol Proc 24:3074–3086

Leek R, Wu JQ, Wang L, Hanrahan TP, Barber ME, Qiu H (2009) Heterogeneous characteristics of streambed saturated hydraulic conductivity of the Touchet River, south eastern Washington, USA. Hydrol Proc 23:1236–1246

Li H, Sun P, Chen S, Xia Y, Liu S (2010) A falling-head method for measuring intertidal sediment hydraulic conductivity. Ground Water 48(2):206–211

Lu C, Chen X, Cheng C, Ou G, Shu L (2011) Horizontal hydraulic conductivity of shallow streambed sediments and comparison with the grain-size analysis results. Hydrol Proc. doi:10.1002/hyp. 8143 (online early view)

Marie JR, Hollett KJ (1996) Determination of hydraulic characteristics and yield of aquifers underlying Vekol Valley, Arizona, using several classical and current methods. US Geol Surv Water Suppl Pap 2453

Rosenberry DO, Healy RW (2011) Influence of a thin veneer of low-hydraulic-conductivity sediment on modelled exchange between river water and groundwater in response to induced infiltration. Hydrol Proc. doi:10.1002/hyp. 8153

Runkel AC, Tipping RG, Alexander EC, Jr. Green JA, Mossler JH, Alexander SC (2003) Hydrogeology of the Paleozoic bedrock in southeastern Minnesota, Minnesota Geol Surv Rep Invest 61, 105 pp., 2 pls

Salehin M, Packman AI, Paradis M (2004) Hyporheic exchange with heterogeneous streambeds: Laboratory experiments and modeling. Water Resour Res 40. doi:10.1029/2003WR002567

Sawyer AH, Cardenas MB (2009) Hyporheic flow and residence time distributions in heterogeneous cross-bedded sediment. Water Resour Res 45:W08406. doi:10.1029/2008WR007632

Shalev E, Lazar A, Wollman S, Kington S, Yechieli Y, Gvirtzman H (2009) Biased monitoring of fresh water-salt water mixing zone in coastal aquifers. Ground Water 47(1):49–56

Smerdon BD, Mendoza CA, Devito KJ (2007) Simulations of fully coupled lake-groundwater exchange in a subhumid climate with an integrated hydrologic model. Water Resour Res 43. doi: 10.1029/2006WR005137

Song J, Chen X, Cheng C, Wang D, Lackey S, Xu Z (2009) Feasibility of grain-size analysis methods for determination of vertical hydraulic conductivity of streambeds. J Hydrol 375:428–437

Su GW, Jasperse J, Seymour D, Constantz J (2004) Estimation of hydraulic conductivity in an alluvial system using temperatures. Ground Water 42(6):890–901

Van den Berg EH, de Vries JJ (2003) Influence of grain fabric and lamination on the anisotropy of hydraulic conductivity in unconsolidated dune sands. J Hydrol 283:244–266

Vukovic M, Soro A (1992) Determination of hydraulic conductivity of porous media from grain-size composition. Water Resources, Littleton, CO

Yager RM (1993) Estimation of hydraulic conductivity of a riverbed and aquifer system on the Susquehanna River in Broome County, New York. US Geol Surv Water Suppl Pap 2387
Acknowledgements
The study was funded by the Upper Big Blue Natural Resources District (NRD). The analysis was also partially supported by the program for Changjiang Scholars and Innovative Research Team of the Chinese Ministry of Education (IRT0811, Utilization of groundwater resource and protection of the water environment in arid and semi-arid areas) and by the National Natural Science Foundation of China (project no. 41072183). The authors would like to express their appreciation to the anonymous reviewers and the editors for their valuable comments and suggestions.
About this article
Cite this article
Lu, C., Chen, X., Ou, G. et al. Determination of the anisotropy of an upper streambed layer in east-central Nebraska, USA. Hydrogeol J 20, 93–101 (2012). https://doi.org/10.1007/s10040-011-0792-4
Received:

Accepted:

Published:

Issue Date:
Keywords
Anisotropy

Upper streambed layer

Hydraulic properties

Permeameter test

USA