Abstract
Large-scale geological features have been identified by satellite imagery and global positioning system data in the Wajid Sandstone in Saudi Arabia. The main objective is to evaluate the importance of fractures for the overall flow behaviour in this fractured rock aquifer and to estimate in-situ hydraulic apertures. Data on fractures and lineaments were available for three outcrops. By applying a "cut-out" routine on the fracture endpoint data of these fracture trace windows, three deterministic discrete fracture networks (DFN), with an area of 100 m × 100 m, could be generated. These were used to simulate the fracture flow and to determine the hydraulic conductivity tensors. Using additional data on hydraulic pumping tests and matrix conductivities, in-situ hydraulic apertures could be determined. Average in-situ hydraulic apertures range from 1,300 to 1,700 µm. Observations from the field support these results. In addition, a hydraulic conductivity ratio between the matrix and fracture system was used to identify the contribution of the DFN to the overall fluid transport. A ratio of 10.4 was determined, which indicates that the effective flow behaviour in the Wajid Sandstone aquifer is not entirely dominated by the fracture system, though evidently strongly controlled by it.
Résumé
Les caractéristiques géologiques du Grès de Wajid, Arabie Saoudite, ont été identifiées à grande échelle et géoréférencées par imagerie satellite. L'objectif principal est d'évaluer le rôle des fractures dans le fonctionnement global du flux et d'estimer les ouvertures hydrauliques dans la roche aquifère fracturée. Des données sur des fractures et linéaments ont été relevées sur trois affleurements. En appliquant à ces fenêtres une routine de réduction des marques de fracturation, on a pu reconnaître trois réseaux de fractures discrètes (RFD) par surface de 100 m × 100 m. Ceux-ci ont été utilisés pour simuler le flux de fracture et déterminer les tenseurs de conductivité hydraulique. A l'aide des données additionnelles de tests de pompage et de conductivités de matrice, on a pu évaluer les ouvertures hydrauliques in-situ. Les ouvertures hydrauliques moyennes in-situ s'échelonnent de 1,300 à 1,700 µm. Des observations de terrain confirment ces résultats. De plus, un ratio de conductivité hydraulique entre la matrice et le système de fractures a été utilisé pour estimer la contribution RFD à l'écoulement global du fluide. Un rapport de 10.4 a été calculé, indiquant que le flux global dans l'aquifère du Grès de Wajid n'est pas entièrement dirigé par le système de fractures, quoiqu'il soit à l'évidence fortement contrôlé par celui-ci.
Resumen
Se han identificado los aspectos geológicos a gran escala por imágenes satelitales y por datos del sistema de posicionamiento global en el Wajid Sandstone en Arabia Saudita. El objetivo principal es evaluar la importancia de las fracturas para el comportamiento global del flujo en este acuífero de rocas fracturadas y estimar las aperturas hidráulicas in situ. Se tuvieron disponibles los datos sobre fracturas y lineamientos para tres afloramientos. Aplicándole una rutina de cut-out a los datos de los puntos extremos de la fractura de estas ventanas de traza de la fractura se pudieron generar tres redes de fracturas determinísticas discretas (DFN), con un área de 100 m × 100 m. Estas fueron usadas para simular el flujo de fractura y para determinar los tensores de conductividad hidráulica. Usando datos adicionales de ensayos hidráulicos de bombeo y conductividades de la matriz se pudieron determinar las aperturas hidráulicas in situ. Las aperturas hidráulicas promedio variaban de 1,300 a 1,700 µm. Las observaciones de campo apoyaron estos resultados. Además, se utilizó un cociente de conductividad hidráulica entre la matriz y el sistema de fractura para identificar la contribución de las DFN al transporte general de flujo. Se determinó un cociente de 10.4, la cual indica que el comportamiento del flujo efectivo en el acuífero Wajid Sandstone no es enteramente dominado por el sistema de fractura, aunque evidentemente está fuertemente controlado por él.
摘要
通过卫星图象和全球定位系统数据确定了沙特阿拉伯Wajid砂岩层的区域地质特征。主要目的是评估在该裂隙含水层中裂隙对整个流动过程的重要性, 评估当地水力隙宽。获得了三个露头的裂隙和轮廓数据。通过将切断流程应用于这些断裂迹线窗口的裂隙端点数据, 可生成3个100 m×100 m的确定性离散裂缝网( DFN)。用此模拟了裂隙流并确定渗透系数张量。 利用补充的水力抽水试验和基质电导率数据确定了当地的水力隙宽, 其平均值在1,300到1,700μm之间。结果与现场观测数据吻合。另外, 应用基质和断裂系统的渗透系数比值判别DFN对整个流体运移的贡献。 确定出的比值为10.4, 表明断裂系统虽然对Wajid砂岩含水层中的有效流动行为有很强的控制作用, 但并非完全由其控制。
Resumo
Imagens de satélite e de posicionamento global permitiram a identificação de características geológicas de larga escala no aquífero arenítico de Wajid, na Arábia Saudita. O principal objectivo foi avaliar a importância das fracturas no comportamento global do escoamento neste aquífero rochoso fracturado e estimar as aberturas hidráulicas (in situ). Os dados sobre as fracturas e os alinhamentos ficaram disponíveis para três afloramentos. Aplicando uma rotina do tipo "cut-out" aos dados obtidos para as fracturas foi possível gerar três redes determinísticas discretas de fracturas (DFN), com áreas de 100 m × 100 m. As redes foram usadas para simular o escoamento nas fracturas e determinar os tensores da condutividade hidráulica. Usando dados adicionais provenientes de ensaios de bombagem e matrizes de condutividade, foram caracterizadas as aberturas hidráulicas in situ. As aberturas hidráulicas in-situ médias vão de 1,300 a 1,700 µm. Observações de campo confirmam estes resultados. A razão entre a condutividade hidráulica da matriz e a do sistema de fracturas foi usada para identificar a contribuição das DFN para o escoamento global do fluido. Foi determinada uma razão de 10.4. Tal indica que o comportamento efectivo do escoamento no aquífero arenítico de Wajid não é inteiramente dominado pelo sistema de fracturas, embora evidentemente seja fortemente controlado por ele.
This is a preview of subscription content, log in to check access.
Access options
Buy single article
Instant access to the full article PDF.
US$ 39.95
Price includes VAT for USA
Subscribe to journal
Immediate online access to all issues from 2019. Subscription will auto renew annually.
US$ 99
This is the net price. Taxes to be calculated in checkout.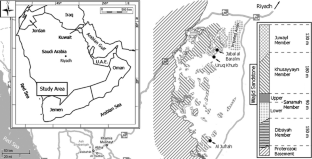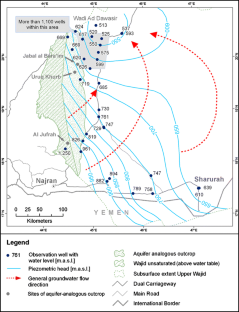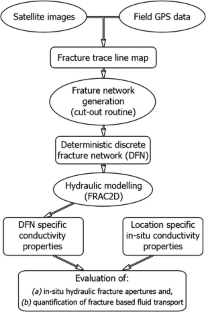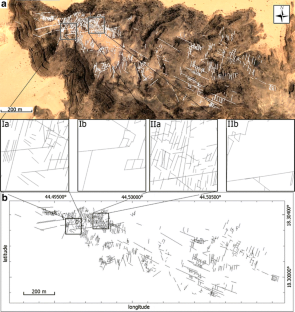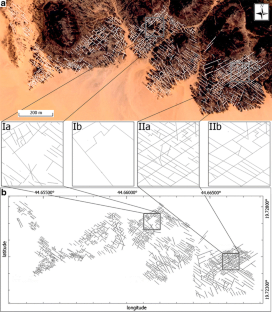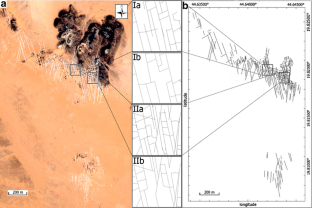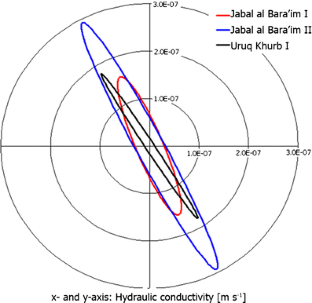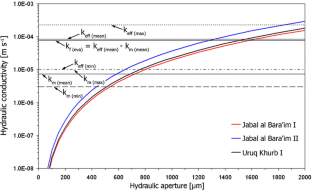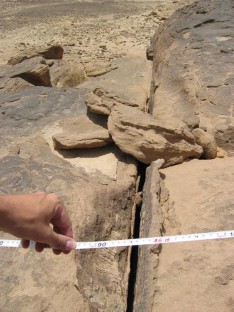 References
Al Ajmi H, Keller M, Hinderer M, Rausch R (2009) New insights into the facies distribution of the Wajid sandstone in its Western outcrop area and implication on reservoir properties. In: Proceedings of the 3rd International Conference on Water Resources and Arid Environments 2008 and the 1st Arab Water Forum, Riyadh, Saudi Arbia, November 2008, 13 pp

Babiker M, Gudmundsson A (2004) The effects of dykes and faults on groundwater flow in arid land: the Red Sea Hills, Sudan. J Hydrol 297(1–4):256–273

Becker MW (2006) Potential for satellite remote sensing of ground water. Ground Water 44:306–318

Berkowitz B (1995) Analysis of fracture network connectivity using percolation theory. Math Geol 27(4):467–483

Blum P, Mackay R, Riley MS, Knight JL (2005) Performance assessment of a nuclear waste repository: upscaling coupled hydro-mechanical properties for far-field transport analysis. Int J Rock Mech Min Sci 42(5–6):781–792

Blum P, Mackay R, Riley MS, Knight JL (2007) Hydraulische Modellierung und die Ermittlung des representativen Elementarvolumens (REV) im Kluftgestein [Hydraulic modelling and the determination of the representative elementary volume (REV) in fractured rock]. Grundwasser 12:48–65

Blum P, Mackay R, Riley MS (2009) Stochastic simulations of regional scale advective transport in fractured rock masses using block upscaled hydro-mechanical rock property data. J Hydrol 369:318–325

Brunner P, Franssen H-JH, Kgotlhang L, Bauer-Gottwein P, Kinzelbach W (2006) How can remote sensing contribute in groundwater modelling? Hydrogeol J 15:5–18

Butler JJ (2009) Pumping tests for aquifer evaluation: time for a change? Ground Water 47(5):615–617

Castaing C, Halawani MA, Gervais F, Chilès JP, Genter A, Bourgine B, Ouillion G, Brosse JM, Martin P, Genna A, Janjou D (1996) Scaling relationships in intraplate fracture systems related to the Red Sea drifting. Tectonophysics 261:291–314

Castaing C, Genter A, Bourgine B, Chilès JP, Wendling J, Siegel P (2002) Taking into account the complexity of natural fracture systems in reservoir single-phase flow modelling. J Hydrol 266:83–98

Davis PA, Breed CS, McCauley JF, Schaber GG (1993) Surficial geology of the Safsaf region, south-central Egypt, derived from remote-sensing and field data. Remote Sens Environ 46(2):183–203

Deroin J-P, Motti E, Simonin A (1996) A comparison of the potential for using optical and SAR data for geological mapping in an arid region: the Atar site, Western Sahara, Mauritania. Int J Remote Sens 19(6):1115–1132

de Marsily G (1981) Quantitative hydrogeology. Masson, Paris

Elachi C, Cimino J, Settle M (1986) Overview of the shuttle imaging Radar-B preliminary scientific results. Science 232(4757):1511–1516

Evans DS, Lathon RB, Senalp M, Connally TC (1991) Stratigraphy of the Wajid Sandstone of south-western Saudi Arabia. Society of Petroleum Engineers, Richardson, TX

Food and Agriculture Organization (2008) Review of world water resources by country. FAO, Rome, Italy

Franssen H-JH, Brunner P, Makobo P, Kinzelbach W (2007) Equally likely inverse solutions to a groundwater flow problem including pattern information from remote sensing images. Water Resour Res 44, W01419

Galanos I, Rokos D (2005) A statistical approach in investigating the hydrogeological significance of remotely sensed lineaments in the crystalline mountainous terrain of the island of Naxos. Metsovion Interdisciplinary Research Center, National Technical University of Athens, Athens, Greece

Hitchmough AM, Riley MS, Herbert AW, Tellam JH (2007) Estimating the hydraulic properties of the fracture network in a sandstone aquifer. J Contam Hydrol 93:38–57

Hoffmann J (2005) The future of satellite remote sensing in hydrogeology. Hydrogeol J 13:247–250

Hoffmann J, Sander P (2007) Remote sensing and GIS in hydrogeology. Hydrogeol J 15:1–3

Hornung J (1999) Dynamische Stratigraphie, Reservoir- und Aquifer-Sedimentgeologie einer alluvialen Ebene: Der Stubensandstein in Baden-Württemberg (Obere Trias, Mittlerer Keuper) [Dynamic stratigraphy, reservoir- and aquifer-sedimentology of an alluvial plain: the Stubensandstein in Baden-Würtemberg (upper Trias, middle Keuper)]. Tübinger Geowissenschaftliche Arbeiten (TGA) Reihe A (Nr. 56), Tübingen, Germany, 156 pp

Jackson CP, Hoch AR, Todman S (2000) Self-consistency of a heterogeneous continuum porous medium representation of fractured media. Water Resour Res 36(1):189–202

Jha MK, Chowdary VM (2006) Challenges of using remote sensing and GIS in developing nations. Hydrogeol J 15:197–200

Kellogg KS, Janjou D, Minoux L, Fourniguet J (1986) Explanatory notes to the geologic map of the Wadi Tathlith Quadrangle, sheet 20G. Ministry of Petroleum and Mineral Resources, Kingdom of Saudi Arabia, Riyadh

Koike K, Ichikawa Y (2004) Spatial correlation structures of fracture systems for deriving a scaling law and modelling fracture distribution. Comp Geosci 32:1079–1095

Koike K, Nagano S, Ohmi M (1995) Lineament analysis of satellite images using a segment tracing algorithm (STA). Comp Geosci 21(9):1091–1104

Koike K, Nagano S, Kawaba K (1996) Construction and analysis of interpreted fracture planes through combination of satellite-image derived lineaments and digital elevation model data. Comp Geosci 24:573–583

Konert G, Abdulkader MA, Sa'id AA, Henk JD (2001) Palaeozoic stratigraphy and hydrocarbon habitat of the Arabian Plate. Geoarabia 6(3):407–442

Konikow LF, Kendy E (2005) Groundwater depletion: a global problem. Hydrogeol J 13(1):317–320

Kumar PKD (2007) Application of remote sensing and GIS for the demarcation of groundwater potential zones of a river basin in Kerala, southwest coast of India. Int J Remote Sens 28:5583–5601

Leblanc M, Favreau G, Tweed S, Leduc C, Razack M, Mofor L (2006) Remote sensing for groundwater modelling in large semiarid areas: Lake Chad Basin, Africa. Hydrogeol J 15:97–100

Louis C (1967) Strömungsvorgänge in klüftigen Medien und ihr Wirkung auf die Standsicherheit von Bauwerken und Böschungen im Fels [Flow phenomena in fractured systems and their contribution to structural integrity of buildings and slopes at rock]. PhD Thesis, Technical University Karlsruhe, Germany

Lubczynski M (1997) Application of numerical flow modelling combined with remote sensing and GIS techniques for the quantification of regional groundwater resources in hard rock terrain. International Symposium on Hard Rock Hydrosystems, Rabat, Morocco, IAHS, Wallingford, UK

Luijendijk E, Bruggeman A (2008) Groundwater resources in the Jabal Al Hass region, northwest Syria: an assessment of past use and future potential. Hydrogeol J 16:511–530

Masoud A, Koike K (2005) Tectonical architecture through Landsat-7 ETM+/SRTM DEM-derived lineaments and relationship to the hydrogeological setting in Siwa region, NW Egypt. J African Earth Sci 45(4–5):467–477

Nirex (1997) Evaluation of heterogeneity and scaling of fractures in the Borrowdale Volcanic Group in the Sellafield Area. Nirex Report SA/97/028, Nirex, Cumbria, UK

Novakowski K, Bickerton G, Lapcevic P, Voralek J, Ross N (2006) Measurements of groundwater velocity in discrete rock fractures. J Cont Hydrol 82(1–2):44–60

Nyborg M, Berglund J, Triumf C-A (2006) Detection of lineaments using airborne laser scanning technology: Laxemar-Simpevarp, Sweden. Hydrogeol J 15:29–32

Postel S (1999) Pillar of sand: Can the irrigation miracle last? Norton, New York

Robinson CA (2002) Application of satellite radar data suggest that the Kharga Depression in south-western Egypt is a fractured rock aquifer. Inter J Remote Sens 23(19):4101–4113

Robinson CA, El-Baz F, Singhroy V (1999) Subsurface imaging by Radarsat: comparison with Landsat TM data and implications to ground water in the Selima area, north-western Sudan. Can J Remote Sens 25:268–277

Robinson CA, El-Baz F, Ozdogan M, Ledwith M, Blanco D, Oakley S, Inzana J (2000) Use of radar data to delineate palaeodrainage flow directions in the Selima Sand Sheet, Eastern Sahara. Photogramm Eng Remote Sens 66:745–753

Robinson CA, Werner A, El-Baz F, El-Shazly M, Fritch T, Kusky T (2006) The Nubian aquifer in southwest Egypt. Hydrogeol J 15:33–45

Robinson CA, El-Baz F, Kusky TM, Mainguet M, Dumay F, Suleimani ZA, Marjeby AA (2007) Role of fluvial and structural processes in the formation of the Wahiba Sands, Oman: a remote sensing perspective. J Arid Environ 69:679–694

Rodell M, Famiglietti JS (2002) The potential of satellite-based monitoring of groundwater storage changes using GRACE: the high plains aquifer, central US. J Hydrol 623(1–4):245–256

Rokade VM, Kundal P (2007) Groundwater potential modelling through remote sensing and GIS: a case study from Rajura Taluka, Chandrapur district, Maharashtra. J Geol Soc India 69(5):943–948

Sander P (2006) Lineaments in groundwater exploration: a review of applications and limitations. Hydrogeol J 15:71–74

Sener E, Davraz A, Ozcelik M (2005) An integration of GIS and remote sensing in groundwater investigations: a case study in Burdur, Turkey. Hydrogeol J 13(5–6):826–834

Shah T, Molden D, Sakthivadivel R, Seckler D (2000) The global groundwater situation:overview of opportunities and challenges. International Water Management Institute, Colombo, Sri Lanka

SKB (2006) Discrete fracture network for the Forsmark site. SKB Report R/06/79, SKB, Stockholm

Snow DT (1965) A parallel plate model of fractured permeable media. PhD Thesis, University of California, Berkeley, USA

Solomon S (2006) Groundwater study using remote sensing and geographic information systems (GIS) in the central highlands of Eritrea. Hydrogeol J 14(5):729–741

Steele A, Reynolds DA, Kueper BH, Lerner DN (2006) Field determination of mechanical aperture, entry pressure and relative permeability of fractures using NAPL injection. Geotech 56(1):27–38

Sultan M, Wagdy A, Manocha N, Sauck W, Gelil KA, Youssef AF, Becker R, Milewski A, Alfy ZE, Jones C (2007) An integrated approach for identifying aquifers in transcurrent fault systems: the Najd shear system of the Arabian Mubian shield. J Hydrol 349:475–488

Toublanc A, Renaud S, Sylte JE, Clausen CK, Eiben T, Nadland G (2005) Ekofisk field: fracture permeability evaluation and implementation in the flow model. Petrol Geosci 11(4):321–330

Yeh PJ-F, Swenson SC, Famiglietti JS, Rodell M (2006) Remote sensing of groundwater storage changes in Illinois using the Gravity Recovery and Climate Experiment (GRACE). Water Resour Res 42, W12203

Yeo IW, de Freitas MH, Zimmerman RW (1998) Effect of shear displacement on the aperture and permeability of a rock fracture. Int J Rock Mech Min Sci 35(8):1051–1070
Acknowledgements
We would like to thank the Ministry of Water and Electricity of the Kingdom of Saudi Arabia for their help and guidance regarding the field investigations. Special thanks to our colleagues S. Dirner, C. Filomena and T. Aigner from the University of Tübingen, Institute for Geoscience for providing the matrix porosity and permeability data. Furthermore, we would like to acknowledge the manifold support of M. Keller, H. Bock and J. Döhler from GTZ and Dornier Consulting in Riyadh, Saudi Arabia.
About this article
Cite this article
Zeeb, C., Göckus, D., Bons, P. et al. Fracture flow modelling based on satellite images of the Wajid Sandstone, Saudi Arabia. Hydrogeol J 18, 1699–1712 (2010). https://doi.org/10.1007/s10040-010-0609-x
Received:

Accepted:

Published:

Issue Date:
Keywords
Groundwater management

Remote sensing

Fractured rocks

Discrete fracture networks

Saudi Arabia