Abstract
A case study is presented to assess the relevance of geomorphology in hydrogeological phenomena in an arid coastal area in the Argentinean extra-Andean Patagonia (Península Valdés) with an average rainfall of 232 mm/year and a soil moisture deficit of about 472 mm/year. Various geomorphic units were identified by interpreting Landsat 7 satellite images processed with ER Mapper software and then surveyed in the field, as well as by geological characterization. The hydrodynamic analysis was based on a survey of 89 wells, the construction of equipotential maps, and the interpretation of pumping-test results by a non-equilibrium method. The hydrochemical characterization was based on chemical tests analyzed with the Easy_Quim 6.0 application. The combination of geomorphological, geological, hydrodynamic and hydrochemical elements allowed the definition of hydromorphological units that are typical of recharge, circulation and discharge areas, the latter both for coastal and inland areas in wetlands (salt pans) with elevations to −40 m relative to sea level. These units and the criteria used for their definition allow immediate recognition of hydrogeological phenomena in arid regions such as the extra-Andean Patagonia, with low information density but with near-optimal satellite imaging of landforms due to the lack of vegetation cover.
Résumé
Cette étude de cas présente l'incidence de la géomorphologie sur les phénomènes hydrogéologiques dans une zone côtière aride de la Patagonie extra-andine (Péninsule de Valdès), Argentine. La moyenne annuelle des précipitations y est de 322 mm et le déficit en humidité du sol de 472 mm. Différentes unites morphologiques ont été identifiées en interprétant les images satellite Landsat 7 traitées avec le logiciel ER Mapper, puis leurs caractéristiques géologiques ont été relevées sur sur le terrain. L'analyse hydrodynamique est basée sur le suivi de 89 puits, le tracé de courbes équipotentielles, et l'interprétation de tests de pompage en régime transitoire. La caractérisation hydrochimique est basée sur des tests réalisés avec l'analyseur Easy Quim 6.0. Le rapprochement des données géomorphologiques, géologiques, hydrodynamiques et hydrochimiques permet de définir des unités hydromorphologiques caractéristiques des aires de recharge, circulation et décharge, ces dernières dans des domaines côtiers et continentaux humides (bassins salés) à −40 m sous le niveau de la mer. Les critères utilisés pour la défintion de ces unités permettent une compréhension immédiate des phénomènes hydrogéologiques dans des régions arides telles la Patagonie extra-andine, avec une faible densité d'informations mais avec une couverture satellite presque optimale des formes naturelles en raison du manque de couverture végétale.
Resumen
Se presenta un caso de estudio en el cual se evalúa la importancia de la geomorfología en los fenómenos geohidrológicos, en una región costera árida de la Patagonia Extrandina de Argentina (Península Valdés), con lluvias medias de 232 mm/año y un déficit hídrico del orden de 472 mm/año. Se identificaron distintas unidades geomórficas en base a la interpretación de imágenes satelitales Landsat 7 procesadas con el software ERMapper y luego chequeadas en el campo, junto con la caracterización geológica. El análisis hidrodinámico se basó en el relevamiento de 89 pozos, el trazado de mapas equipotenciales y la interpretación de ensayos de bombeo por métodos de no-equilibrio. La caracterización hidroquímica se basó en análisis químicos, procesados utilizando el código Easy_Quim 6.0. La conjunción de elementos geomorfológicos, geológicos, hidrodinámicos e hidroquímicos permitió definir unidades hidromorfológicas, que son típicas de las áreas de recarga, circulación y descarga, esta última tanto en el litoral como en áreas interiores en humedales (salinas) con cota de hasta −40 m en relación al nivel del mar. Estas unidades y los criterios utilizados para su definición permiten un reconocimiento inmediato del fenómeno geohidrológico en regiones áridas, como la Patagonia Extrandina, con baja densidad de información pero con buena percepción satelital de las geoformas debido a la falta de cobertura vegetal.
摘要
本文在阿根廷外-安第斯巴塔哥尼亚 (瓦尔德斯半岛) 干旱沿海地区, 进行了水文地质评价中地貌关联性的实例研究。该地区平均降水量232 mm/a, 土壤含水量亏缺472 mm/a。通过ER Mapper软件解译Landsat 7卫星图像、实地调查, 结合地质特征, 划分了若干地貌单元。基于89口井的调查数据、等势线图和抽水试验的非平衡解释, 进行了水动力分析。水化学参数由仪器Easy_Quim 6.0的测得。地貌学、地质学、水动力学及水化学原理的联合运用能够定义水文地貌单元, 具补给、循环和排泄区域, 后者包含沿海和内陆海拔至-40m的湿地 (盐田) 。这些单元和所采用的定义标准可以对干旱区的水文地质现象进行快速定义, 例如外-安第斯山巴塔哥尼亚地区, 有较低的信息密度但是具备因缺少植被覆盖而接近最优的地形卫星成像条件。
Resumo
Apresenta-se um estudo de caso para avaliar a relevância da geomorfologia em fenómenos hidrogeológicos numa zona árida costeira na Patagónia extra-Andina, Argentina (Península Valdés), com uma precipitação média de 232 mm/ano e um défice de humidade do solo de cerca de 472 mm/ano. Foram identificadas várias unidades geomórficas através da interpretação de imagens de satélite Landsat 7, processadas com o software ER Mapper, com subsequente verificação no campo e caracterização geológica. O estudo de hidrodinâmica baseou-se na análise de 89 poços, na construção de mapas de equipotenciais e na interpretação dos resultados dos ensaios de bombagem por um método transitório. A caracterização hidroquímica baseou-se em testes químicos analisados com a aplicação Easy_Quim 6.0. A combinação de elementos geomorfológicos, geológicos, hidrodinâmicos e hidroquímicos permitiu a definição de unidades hidromorfológicas típicas para áreas de recarga, circulação e descarga, as últimas incluindo áreas costeiras e zonas húmidas interiores (salinas), com elevações de −40 m relativamente ao nível do mar. Estas unidades e os critérios utilizados para a sua definição permitem o reconhecimento imediato de fenómenos hidrogeológicos em regiões áridas como a Patagónia extra-Andina, com baixa densidade de informação, mas com imagens de satélite de acidentes geográficos quase óptimas, devido à falta de cobertura vegetal.
Access options
Buy single article
Instant access to the full article PDF.
USD 39.95
Price excludes VAT (USA)
Tax calculation will be finalised during checkout.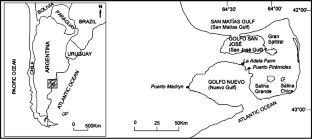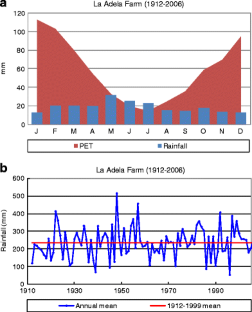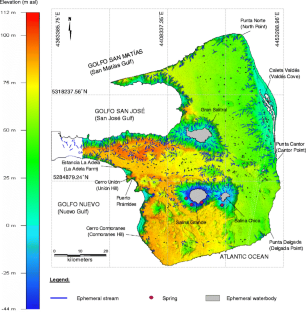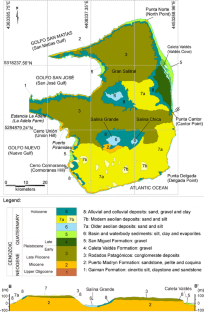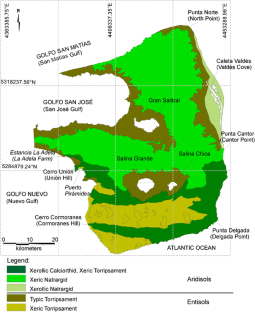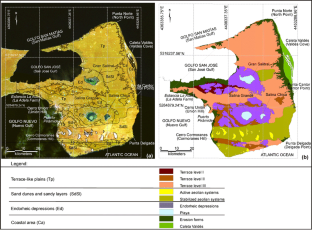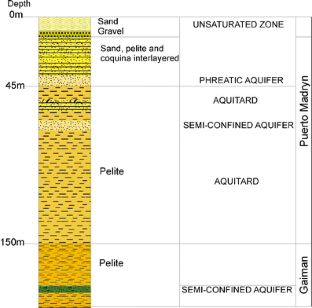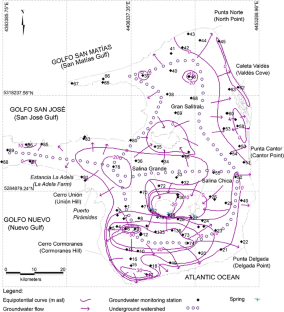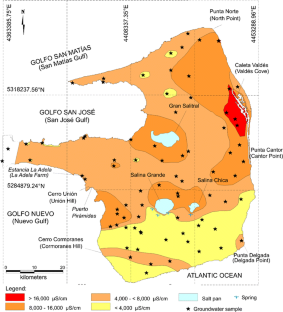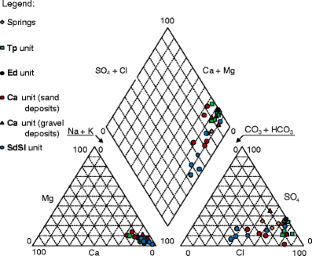 References
Alvarez MP, Weiler NE, Hernández MA (2006) Geohidrología de humedales cercanos a la costa con cota bajo nivel del mar, Península Valdés, Argentina [Geohydrology of below sea level nearshore wetlands, Península Valdés, Argentina] In: Rev Latinoam Hidrogeologia [in Spanish] 6(1):35–42

Ameghino F (1906) Les formations sédimentaires du Crétacé supérieur et du Tertiaire de Patagonie [The Upper Cretaceous and Tertiary sedimentary formations of Patagonia] Records of the Museo Nacional de Buenos Aires [in French] (8) Buenos Aires, Argentina

American Public Health Association (1998) Standard methods for the examination of water and wastewater, 20th edn. American Public Health Association, Washington, USA

ASTM D 4448-85a (2001) Standard Guide For Sampling Groundwater Monitoring Wells, ASTM International West Conshohocken, PA, USA

Barros V, Rodríguez Seró JA (1981) Measurement strategies: use of short observation records for estimating the annual wind variations. Proceedings of the International Colloquium on Wind Energy and BHRA Fluids Engineering, Brighton, UK, pp 3–28

Beltramone CA (1983) Rasgos fisiográficos de Península Valdés (Chubut, Argentina) [Physiographic features of Península Valdés (Chubut, Argentina)] Terra Aridae [in Spanish] 2(1):168–188

Brodtkorb A (1999) Salinas Grande y Chica de la Península de Valdés, Chubut. [Salina Grande and Salina Chica salt pans of Península Valdés, Chubut] In: Zappettini EO (ed) Recursos Minerales de la República Argentina (SEGEMAR) [in Spanish]

Codignotto JO (1983) Depósitos elevados y/o de acreción Pleistoceno-Holoceno en la costa fueguino-patagónica. [Pleistocene-Holocene elevated and/or accretion deposits on the coast of Tierra del Fuego and Patagonia] Proceedings of the Simposio Oscilaciones del Nivel del Mar durante el último Hemiciclo Demiglacial en la Argentina (CIC), Mar del Plata, Argentina, pp 12–26 [in Spanish]

Fasano JL, Isla F, Schnack E (1984) Significado paleoambiental de los depósitos del Pleistoceno Tardío de Camet Norte (Partido de Mar Chiquita, Provincia de Buenos Aires) [Paleoenvironmental meaning of the Late Pleistocene deposits in North Camet (County of Mar Chiquita, Province of Buenos Aires] Rev Asoc Geol Argent [in Spanish] XXXIX(3–4):244–250

Feruglio E (1949–1950) Descripción geológica de la Patagonia [Geological description of Patagonia] In: Dirección General Yacimientos Petrolíferos Fiscales, (1–3) Buenos Aires, Argentina [in Spanish]

Fidalgo F, Riggi JC (1970) Consideraciones geomórficas y sedimentológicas sobre los Rodados Patagónicos [Geomorphological and sedimentological considerations about the Rodados Patagónicos] Rev Asoc Geol Argent [in Spanish] XXV(4):430–443

Haller MJ (1979) Estratigrafia de la región al poniente de Puerto Madryn [Stratigraphy of the region to the west of Puerto Madryn] Proceedings of the 7°Congreso Geológico Argentino, Neuquén, Argentina [in Spanish] (1):285–297

Haller MJ (1981) Estructura y mineralización en la Cordillera Patagónica [Structure and mineralization in the Patagonian mountain range] PhD Thesis, Universidad de Buenos Aires, Argentina [in Spanish] p 125

Haller M, Monti A, Meister C (2001) Hoja Geológica 4363-I, Península Valdés [Geological Sheet 4363-I, Península Valdés] SEGEMAR Buenos Aires, Argentina [in Spanish]

Hernández MA (2005) Mecanismos de recarga de acuíferos en regiones áridas (síntesis) [Aquifer recharge mechanism in arid regions (abstract)] Proceedings of the II Seminario Hispano Latinoamericano sobre Temas Actuales de la Hidrología Subterránea. Río Cuarto, Córdoba, Argentina [in Spanish] pp 249–254

Hernández MA, González N, Sánchez R (2002) Mecanismos de recarga de acuíferos en regiones áridas. Cuenca del Río Seco, Provincia de Santa Cruz, Argentina [Aquifer recharge mechanism in arid regions. Río Seco basin, Province of Santa Cruz, Argentina] Proceedings of the XXXII IAH Congress and VI Congreso ALHSUD, CD-ROM. Mar del Plata, Buenos Aires, Argentina [in Spanish]

Kostadinoff J (1993) Estudio geofísico de la Península de Valdés y los golfos norpatagónicos [Geophysical study in Península Valdés and the North Patagonian gulfs] Rev Asoc Geol Argent [in Spanish] 47(2):229–236

Kruseman GP, De Ridder NA (1975) Análisis y Evaluación de los Datos de Ensayos por Bombeo [Analysis and Evaluation of Pumping Test Data] Published by the Intl Inst for Land Reclamation and Improvement Wageningen, The Netherlands

Labraga JC, Davies EC (2008) Datos de la estación meteorológica del Centro Nacional Patagónico - CONICET [Data from the meteorological station of the National Patagonian Center - CONICET] http://www.cenpat.edu.ar/. Cited 20 January 2008 [in Spanish]

Monteith JL (1965) Evaporation and the environment. In: The state and movement of water in living organisms. Proceedings of the 19th Symposium, Society of Experimental Biology, Cambridge Univesity Press, London, UK

Rostagno CM (1981) Reconocimiento de suelos de Península Valdés [Reconnaissance of soils in Península Valdés] Contribución N° 44, Centro Nacional Patagónico [in Spanish] pp 1–24

Rovereto G (1921) Studi di geomorfologia argentina. V: La Penisola Valdés [Research on Argentinian geomorphology. V: Valdés Península] Boll Soc Geol Ital, Rome, Italy [in Italian] 30:1–47

Scasso RA, del Río C (1988) Ambientes de sedimentación, estratigrafía y proveniencia de la secuencia marina del Terciario superior de la región de Península Valdés, Chubut [Sedimentation environments, stratigraphy and origin of the upper Tertiary marine sequence of Península Valdés] Rev Asoc Geol Argent [in Spanish] XLII(3–4):291–321

Súnico A (1996) Geología del Cuaternario y ciencia del suelo: relaciones geomórficas-estratigráficas con suelos y paleosuelos [Quaternary geology and soil science: geomorphic/stratigraphic relationships with soils and paleosoils] PhD Thesis, Universidad Nacional de Buenos Aires, Argentina [in Spanish]

Thornthwaite CW, Mather JR (1957) Instructions and tables for computing potential evapotranspiration and water balance. Drexel Institute of Technology, Laboratory of Climatology. Publ Climatol 3(10):183–311

Vàzquez Suñé E ( 2002) Easy_Quim 6.0. Departamento de Ingeniería del Terreno de la Universidad Politécnica de Cataluña, Barcelona, Spain [in Spanish]

Weiler NE (2000) Holocene sea levels and volcanic ash to the southwest of Golfo San José, Península Valdés, Argentina. In: Coastal Interactions during Sea-Level Highstands Proyecto IGCP N° 437 (UNESCO-IUGS): Comisión de Líneas de Costa - Unión Internacional para el Cuaternario (INQUA) Comisión de Sistemas Costeros - Unión Geográfica Internacional (IGU). Patagonia 2000 International Conference (Puerto Madryn, Chubut), 29 October to 3 November 2000, (abstracts):83–86

Windhausen A (1921) Informe sobre un viaje de reconocimiento geológico en la parte noreste del Territorio de Chubut, con referencia especial a la provisión de agua de Puerto Madryn. Con un estudio petrográfico de algunas rocas por R. Beder [Report on a geological reconnoissance expedition to the northeast of the Chubut territory, with a special reference to the water supply of Puerto Madryn. With petrographic research on some rocks by R Beder] Bulletin 24B. Dirección General de Minas, Buenos Aires, Argentina [in Spanish]
Acknowledgments
This research was funded by the Agencia Nacional de Promoción Científica y Tecnológica. The cooperation of the Centro Nacional Patagónico is much appreciated. The authors would like to acknowledge the contribution of the Administración Área Natural Protegida Península Valdés for their logistics support. We would like to thank Prof. Nilda González and Lic. María Marta Trovatto for their helpful comments, Lic. Andrés Bilmes for his assistance in the field, and the Hydrogeology Journal reviewers who helped to improve the quality of this report.
About this article
Cite this article
del Pilar Alvarez, M., Weiler, N.E. & Hernández, M.A. Linking geomorphology and hydrodynamics: a case study from Península Valdés, Patagonia, Argentina. Hydrogeol J 18, 473–486 (2010). https://doi.org/10.1007/s10040-009-0528-x
Received:

Accepted:

Published:

Issue Date:

DOI: https://doi.org/10.1007/s10040-009-0528-x
Keywords
Hydrogeomorphology

Geomorphology

Groundwater flow

Arid regions

Argentina