Abstract
Saltwater has intruded into many of the coastal aquifers of the United States, Mexico, and Canada, but the extent of saltwater intrusion varies widely among localities and hydrogeologic settings. In many instances, the area contaminated by saltwater is limited to small parts of an aquifer and to specific wells and has had little or no effect on overall groundwater supplies; in other instances, saltwater contamination is of regional extent and has resulted in the closure of many groundwater supply wells. The variability of hydrogeologic settings, three-dimensional distribution of saline water, and history of groundwater withdrawals and freshwater drainage has resulted in a variety of modes of saltwater intrusion into coastal aquifers. These include lateral intrusion from the ocean; upward intrusion from deeper, more saline zones of a groundwater system; and downward intrusion from coastal waters. Saltwater contamination also has occurred along open boreholes and within abandoned, improperly constructed, or corroded wells that provide pathways for vertical migration across interconnected aquifers. Communities within the coastal regions of North America are taking actions to manage and prevent saltwater intrusion to ensure a sustainable source of groundwater for the future. These actions can be grouped broadly into scientific monitoring and assessment, engineering techniques, and regulatory approaches.
Résumé
De l'eau salée a envahi de nombreux aquifères côtiers des Etats-Unis, du Mexique, et du Canada, mais l'ampleur de l'intrusion d'eau salée varie beaucoup entre les endroits et les contextes géologiques. Dans de nombreux cas le secteur contaminé par l'eau salée se limite à de petites parties d'un aquifère et à des puits particuliers et a peu ou pas d'effet sur l'ensemble des approvisionnements en eau souterraine; dans d'autres cas, la contamination en eau salée a une extension régionale et a entraîné la fermeture de beaucoup de puits d'alimentation en eau souterraine. La variabilité des contextes géologiques, de la distribution en trois dimensions de l'eau saline, et de l'historique des prélèvements d'eau souterraine et du drainage d'eau douce s'est traduite par une variété de types d'intrusion d'eau salée dans les aquifères côtiers. Celles ci englobent l'intrusion latérale provenant de l'océan; l'intrusion vers le haut provenant de zones plus profondes, plus salines d'un système d'eau souterraine; et l'intrusion vers le bas d'eaux côtières. La contamination par l'eau salée s'est aussi produite le long de forages non tubés et dans des puits abandonnés, mal construits, ou corrodés qui offrent des passages pour la migration verticale à travers des aquifères interconnectés. Les communautés dans les régions côtières d'Amérique du Nord prennent des mesures pour gérer et empêcher l'intrusion d'eau salée afin de garantir un approvisionnement durable en eau souterraine pour le futur. Ces mesures peuvent être regroupées en gros en contrôle scientifique et évaluation, en techniques d'ingénierie, et en approche réglementaire.
Resumen
El agua salada ha invadido muchos de los acuíferos costeros de Estados Unidos, Méjico y Canadá, pero la extensión de la intrusión del agua salada varía ampliamente entre las localidades y características hidrogeológicas. En muchas oportunidades, el área contaminada por agua salada está limitada a pequeños sectores de un acuífero y a pozos específicos y ha tenido poco o ningún efecto sobre el abastecimiento general de las aguas subterráneas, en otros casos, la contaminación de agua salada es de extensión regional y ha provocado el cierre de muchos pozos de abastecimiento de aguas subterráneas. La variabilidad de las características hidrogeológicas, la distribución tridimensional del agua salada y la historia de la extracción de aguas subterráneas y drenaje de agua dulce ha provocado una variedad de modos de intrusión de agua salada en los acuíferos costeros. Estos incluyen intrusión lateral desde el océano, intrusión ascendente desde zonas profundas y más salinas de un sistema de agua subterránea e intrusión descendente desde las aguas costeras. La contaminación por agua salada ha ocurrido también a través de pozos abiertos y dentro de pozos abandonados, impropiamente construidos, o corroídos que proveen trayectorias para la migración vertical a través de acuíferos interconectados. Las comunidades dentro de las regiones costeras de América del Norte están tomando medidas para manejar y prevenir la intrusión de agua salada para asegurar una fuente sustentable de agua subterránea para el futuro. Estas acciones pueden ser agrupadas en un sentido amplio en monitoreo y evaluación científica, técnicas ingenieriles, y enfoques regulatorios.
摘要
咸水入侵在美国、墨西哥和加拿大的许多滨海含水层都有发生, 但其程度因地点和水文地质背景存在很大差异。许多案例中, 咸水对含水层的污染为小部分、或局限于特定的井, 而对整个地下水供水影响很小或无影响 ; 其它一些案例中, 咸水污染达到区域规模, 导致许多地下水供水井停产。水文地质条件的不同、咸水的三维分布、地下水汲取历史, 及淡水排泄造成了咸水入侵滨海海水层的不同模式。这包括来自海洋的侧向入侵、地下水系统中深部咸水的上侵, 及滨海水域的下侵。咸水污染还发生在开放钻孔, 及废弃、建造不合理、或遭腐蚀的井, 因其提供了不连通含水层间的垂向迁移通道。北美沿海地区的社区正采取行动来防治咸水入侵, 以保证未来地下水的可持续供应。这些行动可概分为科学监测和评估、工程技术, 及调控方法。
Resumo
Muitos aquíferos costeiros dos Estados Unidos, México e Canadá registam contaminação por água salgada, mas a extensão da intrusão salina apresenta grandes variações entre localidades e condições hidrogeológicas. Em muitos casos, a área contaminada por água salgada está limitada a zonas reduzidas de um aquífero e a furos específicos, com poucos ou nenhuns efeitos no abastecimento geral em água subterrânea; noutras situações, a contaminação apresenta um carácter regional e resultou no abandono de muitas captações de água subterrânea. A variabilidade de ambientes hidrogeológicos, a distribuição tri-dimensional da água salinizada, e o historial de volumes captados e de drenagem de água doce, resultou numa variedade de padrões de intrusão salina nos aquíferos costeiros. Entre esses padrões, incluem-se a intrusão lateral a partir do oceano; a intrusão ascendente a partir de zonas profundas, de maior salinidade, do sistema aquífero; e a intrusão descendente a partir de águas da zona costeira. A contaminação por águas salgadas também ocorreu ao longo de sondagens operacionais e em furos abandonados, construídos de modo incorrecto ou com as protecções corroídas, e que constituem linhas de migração vertical entre aquíferos. As comunidades nas zonas costeiras da América do Norte estão a desenvolver iniciativas para gerir e prevenir a intrusão salina, de modo a garantir uma fonte sustentável de água subterrânea para o futuro. Estas iniciativas podem ser agrupadas genericamente em monitorização e avaliação, técnicas de engenharia, e regulação.
Access options
Buy single article
Instant access to the full article PDF.
USD 39.95
Price excludes VAT (USA)
Tax calculation will be finalised during checkout.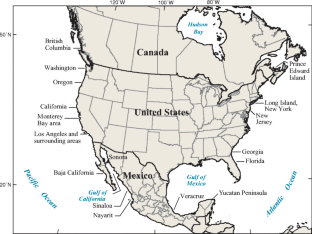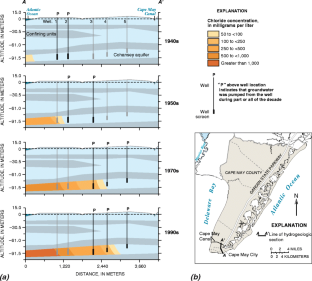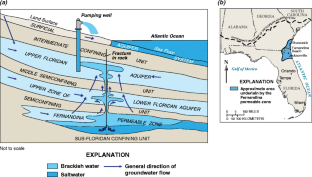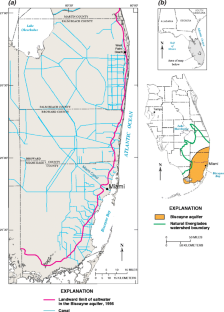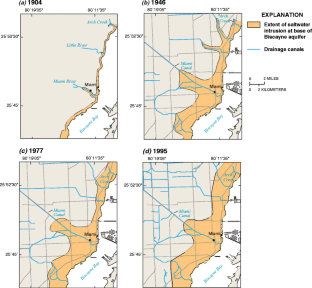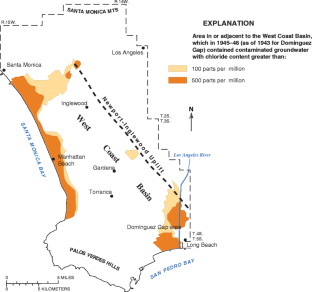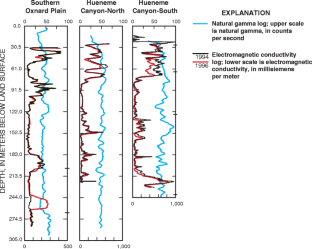 References
Andrews R (1981) Salt-water intrusion in the Costa de Hermosillo, Mexico: a numerical analysis of water management proposals. Ground Water 19:635–647

Back W, Freeze RA (eds) (1983) Chemical hydrogeology. Benchmark Papers in Geology, 73. Hutchinson Ross, Stroudsburg, PA

Barlow PM (2003) Ground water in freshwater-saltwater environments of the Atlantic coast. US Geol Surv Circ 1262

Barlow PM, Wild EC (2002) Bibliography on the occurrence and intrusion of saltwater in aquifers along the Atlantic coast of the United States. US Geol Surv Open-File Rep 02-235

California Department of Water Resources (1958) Sea water intrusion in California. Bulletin 63, California Department of Water Resources, Sacramento, CA

Cardoso PR (1993) Saline water intrusion in Mexico. In: Transactions on ecology and the environment, vol 2. WIT, Southampton, UK

Carr PA (1969) Salt-water intrusion in Prince Edward Island. Can J Earth Sci 6:63–74

Cherry GS, Clarke JS (2008) Ground-water conditions and studies in the Brunswick-Glynn county area, Georgia, 2007. US Geol Surv Open-File Rep 2008-1297

Comte JC, Banton O (2006) Modelling of seawater intrusion in the Magdalen Islands (Québec, Canada). Proceedings 1st SWIM-SWICA Joint Saltwater Intrusion Conference, Cagliari-Chia Laguna, Italy, 24–29 September 2006

Dakin RA, Farvolden RN, Cherry JA, Fritz P (1983) Origin of dissolved solids in groundwaters of Mayne Island, British Columbia, Canada. J Hydrol 63:233–270

Dion NP, Simioka SS (1984) Seawater intrusion into coastal aquifers in Washington. Water-Supply Bulletin 56, Washington Department of Ecology, Olympia, Washington

Flores-Márquez EL, Campos-Enríquez JO, Chávez-Segura RE, Castro-García JA (1998) Saltwater intrusion of the Costa de Hermosillo aquifer, Sonora, Mexico: a numerical simulation. Geofís Int 37:133–151

Freckleton JR, Martin P, Nishikawa T (1998) Geohydrology of Storage Unit III and a combined flow model of the Santa Barbara and foothill ground-water basins, Santa Barbara, California. US Geol Surv Water-Resour Invest Rep 97-4121

Georgia Environmental Protection Division (2006) Coastal Georgia water & wastewater permitting plan for managing salt water intrusion. http://www1.gadnr.org/cws/Documents/saltwater_management_plan_june2006.pdf. Cited 4 Nov 2008

González-Herrera R, Sánchez-y-Pinto I, Gamboa-Vargas J (2002) Groundwater-flow modeling in the Yucatan karstic aquifer, Mexico. Hydrogeol J 10:539–552

Granato GE, Smith KP (2002) Robowell: providing accurate and current water-level and water-quality data in real time for protecting ground-water resources. US Geol Surv Fact Sheet 053-02

Hanson RT (2003) Geohydrologic framework of recharge and seawater intrusion in the Pajaro Valley, Santa Cruz and Monterey Counties, California. US Geol Surv Water-Resour Invest Rep 03-4096

Hanson RT, Martin P, Koczot KM (2003) Simulation of ground-water/surface-water flow in the Santa Clara-Calleguas ground-water basin, Ventura County, California. US Geol Surv Water-Resour Invest Rep 2002-4136

Hanson RT, Izbicki JA, Reichard EG, Edwards BD, Land MT, Martin P (2009) Comparison of ground-water flow in southern California coastal aquifers. In: Lee HJ, Normak B (eds) Earth science in the urban ocean: the southern California continental borderland. Geol Soc Am Spec Pap 454, pp 345–373. doi:10.1130/2009.2454(5.3)

Izbicki JA (1996) Seawater intrusion in a coastal California aquifer. US Geol Surv Fact Sheet 125-96

Johnson TA, Whitaker R (2004) Saltwater intrusion in the coastal aquifers of Los Angeles County, California. In: Cheng A, Ouazar D (eds) Coastal aquifer management. Lewis, Boca Raton, FL

Jones MA (1992) Ground-water availability from a dune-sand aquifer near Coos Bay and North Bend, Oregon. US Geol Surv Open File Rep 90-563

Konikow LF, Reilly TE (1999) Seawater intrusion in the United States. In: Bear J et al (eds) Seawater intrusion in coastal aquifers. Kluwer, Dordrecht, The Netherlands

Krause RE, Randolph RB (1989) Hydrology of the Floridan aquifer system in southeast Georgia and adjacent parts of Florida and South Carolina. US Geol Surv Prof Pap 1403-D

Krieger RA, Hatchett JL, Poole JL (1957) Preliminary survey of the saline-water resources of the United States. US Geol Surv Water-Suppl Pap 1374

Lacombe PJ, Carleton GB (2002) Hydrogeologic framework, availability of water supplies, and saltwater intrusion, Cape May County, New Jersey. US Geol Surv Water-Resour Invest Rep 01-4246

Land M, Reichard EG, Crawford SM, Everett RR, Newhouse MW, Williams CF (2004) Ground-water quality of coastal aquifer systems in the West Coast Basin, Los Angeles County, California, 1999–2002. US Geol Surv Sci Invest Rep 2004-5067

Marin LE (2002) Perspectives on Mexican ground water resources. Ground Water 40:570–571

Marin LE, Perry EC, Essaid HI, Steinich B (2004) Hydrogeological investigations and numerical simulation of groundwater flow in the karstic aquifer of northwestern Yucatan, Mexico. In: Cheng A, Ouazar D (eds) Coastal aquifer management. Lewis, Boca Raton, FL

Maritimes Groundwater Initiative (2003) Hydrogeological characterization of a representative area of the Maritimes Carboniferous Basin. Geological Survey of Canada, Ottawa, ON

Maupin MA, Barber NL (2005) Estimated withdrawals from principal aquifers in the United States, 2000. US Geol Surv Circ 1279

Meisler H (1989) The occurrence and geochemistry of salty ground water in the northern Atlantic Coastal Plain. US Geol Surv Prof Pap 1404-D

Metz PA, Brendle DL (1996) Potential for water-quality degradation of interconnected aquifers in west-central Florida. US Geol Surv Water-Resour Invest Rep 96-4030

Miller JA (1986) Hydrogeologic framework of the Floridan aquifer system in Florida and in parts of Georgia, Alabama, and South Carolina. US Geol Surv Prof Pap 1403-B

Miller JA (1990) Ground water atlas of the United States: Alabama, Florida, Georgia, and South Carolina. US Geol Surv Hydrol Invest Atlas 730-G

Monterey County Water Resources Agency (2004a) Hydrostratigraphic analysis of northern Salinas Valley. http://www.mcwra.co.monterey.ca.us/Agency_data/Hydrogeologic%20Reports/HS_Analysis_NSV/HS_Analysis_NSV.htm. Cited 21 Nov 2008

Monterey County Water Resources Agency (2004b) Salinas Valley water project. http://www.mcwra.co.monterey.ca.us/SVWP/SVWP_Project_Description.pdf. Cited 21 Nov 2008

Neilson-Welch L, Smith L (2001) Saline water intrusion adjacent to the Fraser River, Richmond, British Columbia. Can Geotech J 38:67–82

Nishikawa T (1997) Testing alternative conceptual models of seawater intrusion in a coastal aquifer using computer simulation, southern California, USA. Hydrogeol J 5:60–74

Nishikawa T, Siade AJ, Reichard EG, Ponti DJ, Canales AG, Johnson TA (2009) Stratigraphic controls on seawater intrusion and implications for groundwater management, Dominguez Gap area of Los Angeles, California, USA. Hydrogeol J. doi:10.1007/s10040-009-0481-8

Orange County Water District (2004) Groundwater replenishment system. http://www.gwrsystem.com.qanda/index.html. Cited 16 Nov 2008

Planert M, Williams JS (1995) Ground water atlas of the United States: California and Nevada. US Geol Surv Atlas 730-B

Poland JF, Garret AA, Sinnot A (1959) Geology, hydrology, and chemical character of ground waters in the Torrance-Santa Monica area. US Geol Surv Water-Suppl Pap 1461

Ponti DJ, Ehman KD, Edwards BD, Tinsley JC, Hildenbrand T, Hillhouse JW, Hanson RT, McDougall K, Powell CL, Wan E, Land M, Mahan S, Sarna-Wojcicki AM (2006) A 3-dimensional model of water-bearing sequences in the Dominguez Gap region, Long Beach, California. US Geol Surv Open-File Rep 2007-1013

Reichard EG, Johnson TA (2005) Assessment of regional management strategies for controlling seawater intrusion. J Water Resour Plan Manage 131:280–291

Reichard EG, Land M, Crawford SM, Johnson T, Everett RR, Kulshan TV, Ponti DJ, Halford KJ, Johnson TA, Paybins KS, Nishikawa T (2003) Geohydrology, geochemistry, and ground-water simulation-optimization of the central and west coast basins, Los Angeles county, California. US Geol Surv Water-Resour Invest Rep 03-4065

Renken RA, Dixon J, Koehmstedt J, Ishman S, Lietz AC, Marella RL, Telis P, Rogers J, Memberg S (2005) Impact of anthropogenic development on coastal ground-water hydrology in southeastern Florida, 1900–2000. US Geol Surv Circ 1275

Sapik DB, Bortleson GC, Drost BW, Jones MA, Prych EA (1988) Ground-water resources and simulation of flow in aquifers containing freshwater and seawater, Island County, Washington. US Geol Surv Water-Resour Invest Rep 87-4182

Spechler RM (1994) Saltwater intrusion and quality of water in the Floridan aquifer system, northeastern Florida. US Geol Surv Water-Resour Invest Rep 92-4174

Spitz FJ, Watt MK, DePaul VT (2008) Recovery of ground-water levels from 1988 to 2003 and analysis of potential water-supply management options in Critical Area 1, east-central New Jersey. US Geol Surv Sci Invest Rep 2007-5193

Sprinkle CL (1989) Geochemistry of the Floridan aquifer system in Florida and in parts of Georgia, South Carolina, and Alabama. US Geol Surv Prof Pap 1403-I

Steinich B, Marin LE (1996) Hydrogeological investigations in northwestern Yucatan, Mexico, using resistivity surveys. Ground Water 34:640–646

Steinich B, Escolero O, Marin LE (1998) Salt-water intrusion and nitrate contamination in the Valley of Hermosillo and El Sahuaral coastal aquifers, Sonora, Mexico. Hydrogeol J 6:518–526

Task Committee on Saltwater Intrusion (1969) Saltwater intrusion in the United States. J Hydraulics Division Am Society of Civ Eng 95(HY5):1651–1669

Tremblay JJ, D'Cruz J, Anger H (1973) Salt water intrusion in the Summerside area, P.E.I. Ground Water 11:21–27

US Geological Survey (2004) Estimated use of water in the United States, county-level data for 2000. http://water.usgs.gov/watuse/data/2000/index.html. Cited 13 Nov 2008

van der Kamp G (1981) Salt-water intrusion in a layered coastal aquifer at York Point, Prince Edward Island. National Hydrology Research Institute Paper 14, Inland Waters Directorate Series 121, NHRI, Ottawa, Canada

Yates EB (1988) Simulated effects of ground-water management alternatives for the Salinas Valley. US Geol Surv Sci Invest Rep 87-4066
Acknowledgements
We thank Dr. L. E. Marin of the Universidad Nacional Autónoma de México, México, and Dr. K. T. B. MacQuarrie of the University of New Brunswick, Canada, for their helpful comments on the status of saltwater-intrusion issues in Mexico and along the Atlantic Coast of Canada, respectively. We also appreciate the helpful review comments by our US Geological Survey colleagues L. Konikow, T. Nishikawa, R. Dinicola, J. Clarke, D. Morgan, and R. Hanson. This work was supported by the US Geological Survey Groundwater Resources Program and the US Geological Survey California Water Science Center.
About this article
Cite this article
Barlow, P.M., Reichard, E.G. Saltwater intrusion in coastal regions of North America. Hydrogeol J 18, 247–260 (2010). https://doi.org/10.1007/s10040-009-0514-3
Received:

Accepted:

Published:

Issue Date:

DOI: https://doi.org/10.1007/s10040-009-0514-3
Keywords