Abstract
Fresh water availability has recently become a serious concern in the Italian Apennines, as various activities rely on a predictable supply. Along the ridge between Scansano and Magliano in Toscana, in southern Tuscany, the situation is further complicated by contamination of the nearby alluvial aquifers. Aquifers locally consist of thin fractured reservoirs, generally within low-permeability formations, and it can be difficult to plan the exploitation of resources based on conventional techniques. An integrated study based on geological data investigated the link between tectonics and groundwater circulation, to better define the hydrological model. After the regional identification of fault and fracture patterns, a major structure was investigated in detail to accurately map its spatial position and to understand the geometry and properties of the associated aquifer and assess its exploitation potential. The subsurface around the fault zone was clearly imaged using ground probing radar, two-dimensional and three-dimensional resistivity tomography, and three-dimensional shallow seismic surveys. The vertical and horizontal contacts between the different geological units of the Ligurian and Tuscan series were resolved with a high degree of spatial accuracy. Three-dimensional high-resolution geophysical imaging proved to be a very effective means of characterising small-scale fractured reservoirs.
Resume
L'accès à l'eau potable est devenu une préoccupation importante dans les Apennins en Italie, du fait que de nombreuses activités nécessitent une alimentation en eau. Le long de la chaîne montagneuse entre Scansano et Magliano dans le Sud de la Tosacne, la situation concernant l'alimentation en eau est de plus complexe, au vu de la contamination des aquifères alluviaux. Au niveau régional, les aquifères se développent au sein de réservoirs fracturés de faible puissance, généralement au sein de formations de faible perméabilité. Il est ainsi difficile de procéder à l'exploitation de la ressource à partir des techniques d'investigation classiquement utilisées en hydrogéologie. Une étude selon une approche intégrée basée sur des données géologiques a été réalisée afin de déterminer les relations entre la tectonique et les circulations d'eau souterraine ainsi que d'établir un modèle hydrogéologique conceptuel. Après une identification des familles de failles et fractures au niveau régionale, une structure principale a été étudiée en détail afin de réaliser une cartographie précise de sa position géographique, de comprendre la géométrie et les propriétés de l'aquifère associé et d'évaluer le potentiel d'exploitation. La sub-surface autour de la zone de failles a été clairement imagée en utilisant du radar pénétrant, des tomographies de résistivité électrique en 2 et 3 dimension et des investigations sismiques 3D de faible profondeur. Les contacts verticaux et horizontaux entre les différentes unités géologiques des séries Ligures et Toscanes ont été identifiées avec une très bonne résolution spatiale. L'imagerie géophysique de haute résolution en 3D s'est révélée être un moyen très efficace de caractériser de petits réservoirs fissurés.
Resumen
La disponibilidad de agua dulce se ha convertido recientemente en una preocupación seria en los apeninos italianos puesto que diversas actividades que dependen de una oferta previsible de agua. En la divisoria entre Scansano y Magliano en Toscana, en el sur de la región Toscana, la situación es más complicada aún por la contaminación de los acuíferos aluviales próximos. Los acuíferos localmente consisten de delgados reservorios fracturados, generalmente dentro de formaciones de baja permeabilidad, y puede ser difícil planificar la explotación de los recursos sobre la base de técnicas convencionales. Un estudio integrado basado en la investigación de datos geológico. Un estudio integrado basado en datos geológicos investigó la conexión entre la tectónica y la circulación de las aguas subterráneas para definir mejor el modelo hidrológico. Después de una identificación regional de los esquemas de fallamiento y fracturas, una estructura principal fue investigada en detalle para mapear en forma precisa su posición entender la geometría y propiedades de los acuíferos asociados y evaluar su potencial explotación. En el subsuelo la zona de falla fue claramente reflejada usando georadar, tomografía de resistividad bidimensional (2D) y tridimensional (3D), y relevamientos sísmicos poco profundos 3D. Los contactos vertical y horizontal entre las diferentes unidades geológicas de la serie de Liguria y Toscana fueron resueltos con un alto grado de resolución espacial. Las imágenes geofísicas 3D de alta resolución demostraron ser un medio muy efectivo para caracterizar de los reservorios fracturados en pequeña escala.
摘要
由于许多活动有赖于有限的淡水, 意大利亚平宁山区的供应能力备受关注。在位于托斯卡纳省南部的Scansano 和 Magliano之间的山区, 由于邻近冲积含水层受到污染, 情况变得更为复杂。含水层局部由薄的裂隙储层构成, 而大部分存在于低渗地层之中。基于传统方法来规划水资源的开采遇到困难。一项基于地质资料的综合研究查明了构造和地下水循环之间的联系, 以更好地定义水文模型。在确定了区域断层和裂隙型式之后, 详细调查了某主要构造, 以精确测绘其空间位置, 了解相关含水层的几何形态和性质, 并评价其开采潜力。应用地质雷达、二维和三维电阻率层析成像及三维浅部地震进行勘查, 清晰地对断层附近的地下区域进行成像。以较高的空间精度解决了Ligurian 和 Tuscan序列不同地质单元之间垂向和水平向的接触关系问题。证实了三维高精度地球物理成像是刻画小尺度裂隙储层的一种非常有效的方法。
Resumo
A disponibilidade de água doce tornou-se recentemente uma grave preocupação nos Apeninos Italianos, dado que várias actividades dependem de um abastecimento seguro. Ao longo da cordilheira entre Scansano e Magliano, na Toscana, no sul da Toscana, a situação complica-se ainda mais, devido à contaminação dos aquíferos aluviais próximos. Os aquíferos consistem localmente em reservatórios fracturados de pouca espessura, de modo geral em formações de baixa permeabilidade, o que pode dificultar o planeamento da exploração dos recursos baseada em técnicas convencionais. Num estudo integrado baseado em dados geológicos investigou-se a relação entre a tectónica e a circulação da água subterrânea, para obter uma melhor definição do modelo hidrológico. Após a identificação regional de padrões de falhas e fracturas, estudou-se em pormenor uma estrutura principal, para cartografar de forma precisa a sua posição espacial e compreender a geometria e as propriedades do aquífero associado, avaliando o seu potencial de exploração. Imagens claras do subsolo em volta da zona de falhas foram obtidas com a utilização de radar de penetração no solo, tomografia de resistividade bidimensional (2D) e 3D, e ensaios sísmicos 3D pouco profundos. Os contactos verticais e horizontais entre as diferentes unidades geológicas das séries Ligurianas e Toscanas foram detectados com um alto grau de precisão espacial. As imagens geofísicas de alta resolução 3D provaram ser meios muito eficazes para a caracterização de reservatórios fracturados de pequena escala.
This is a preview of subscription content, log in to check access.
Access options
Buy single article
Instant access to the full article PDF.
US$ 39.95
Price includes VAT for USA
Subscribe to journal
Immediate online access to all issues from 2019. Subscription will auto renew annually.
US$ 99
This is the net price. Taxes to be calculated in checkout.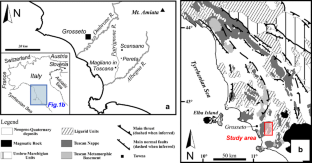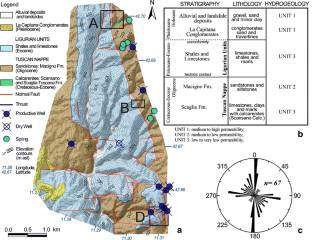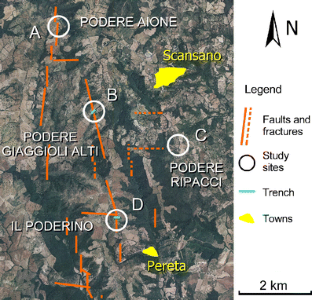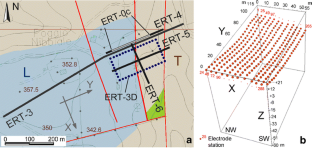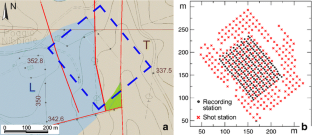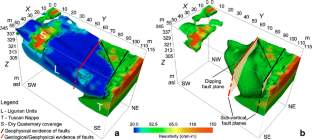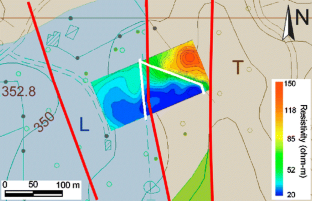 References
Bartole R (1995) The North Tyrrhenian-Northern Apennines post-collisional system: constraints for a geodynamic model. Terra Nova 7:7–30

Benvenuti G, Brondi M, Dall'Aglio M, Da Roit R, De Cassan P, Ghiara E, Gigli C, Marinelli G, Martini M, Gragnani R, Orlandi C, Paganin G (1971) La Toscana Merdionale: fondamenti geologico minerari per una prospettiva di valorizzazione delle risorse naturali, l'idrologia [Southern Tuscany: mining and geological features for an understanding of natural resources, hydrology]. Rend Soc Ital Mineral Petrol 27:211–297

Bertini G, Costantini A, Cameli GM, Di Filippo M, Decandia FA, Elter FM, Lazzarotto A, Liotta D, Pandeli E, Sandrelli F, Toro B (1991) Struttura geologica dai Monti di Campiglia a Rapolano terme (Toscana meridionale): stato delle conoscenze e problematiche [Geologic and structural setting in the area Monti di Campiglia-Rapolano terme (southern Tuscany): state of knowledge and problems]. Studi Geol Camerti 1:155–178

Boccaletti M, Elter P, Guazzone G (1971) Plate tectonics models for the development of Western Alps and Northern Apennines. Nature 234:108–111

Bonazzi U, Fazzini P, Gasperi G (1992) Note alla carta geologica del bacino del fiume Albegna [Notes to the geological map of the basin of the Albegna River]. Boll Soc Geol Ital 111:341–354

Bossio A, Costantini A, Lazzarotto A, Liotta D, Mazzanti R, Mazzei R, Salvatorini G, Sandrelli F (1993) Rassegna delle conoscenze sulla stratigrafia del Neoautoctono Toscano [On the stratigraphy of the "Neoautoctono Toscanao": a review]. Mem Soc Geol Ital 49:17–98

Burgassi PD, Decandia FA, Lazzarotto A (1983) Elementi di stratigrafia e paleogeografia nelle colline metallifere (Toscana) dal Trias al Quaternario [Basic stratigraphy and paleogeography in the Colline Metallifere area (Tuscany): Trias to Quaternary]. Mem Soc Geol Ital 25:27–50

Caine JS, Evans JP, Forster CB (1996) Fault zone architecture and permeability structure. Geology 24:1025–1028

Carmignani L, Decandia FA, Disperati L, Fantozzi PL, Lazzarotto A, Liotta D, Oggiano G (1995) Relationships between the Tertiary structural evolution of the Sardinia-Corsica Provencal Domain and the Northern Apennines. Terra Nova 7:128–137

Daniels DJ (1996) Surface penetrating radar. Institution of Electrical Engineers, London, 300 pp

Darcel C, Bour O, Davy P, de Dreuzy JR (2003) Connectivity properties of two-dimensional fracture networks with stochastic fractal correlation. Water Resour Res 39, 1272. doi:10.1029/2002WR001628

Decandia FA, Lazzarotto A, Liotta D, Cernobori L, Nicolich R (1998) The CROP 03 traverse: insights on post-collisional evolution of northern Apennines. Mem Soc Geol Ital 52:427–439

Demanet D, Pirard E, Renardy F, Jongmans D (2001) Application and processing of geophysical images for mapping faults. Comput Geosci 27:1031–1037

Innocenti F, Serri G, Ferrara G, Manetti P, Tonarini S (1992) Genesis and classification of the rocks of the Tuscan Magmatic Province: thirty years after Marinelli's model. Acta Vulcanol 2:247–265

Legambiente (2003) Ecosistema Urbano 2003 di LEGAMBIENTE, Nono Rapporto sulla Qualità Ambientale dei Comuni Capoluogo: a cura di Duccio Bianchi e Lorenzo Bono [9th Report on the quality of the environment in the main municipalities by Duccio Bianchi and Lorenzo Bono]. Istituto di Ricerche Ambiente Italia, Milano, 18 pp

Margolin G, Berkowitz B, Scher H (1998) Structure, flow, and generalized conductivity scaling in fracture networks. Water Resour Res 34:2103–2121

Marinelli G, Barberi F, Cioni R (1993) Sollevamenti neogenici e intrusioni acide della Toscana e del Lazio settentrionale [Neogene uplift and acidic intrusions in Tuscany and northern Latium]. Mem Soc Geol Ital 49:279–278

Martelli L, Moratti G, Sani F (1989) Analisi strutturale dei travertini della Toscana meridionale (Valle dell'Albegna) [Structural analysis in the travertines of southern Tuscany (the valley of Albegna River)]. Boll Soc Geol Ital 108:197–205

Mussi M, Doveri M, Calvi E, Catania M, Ferrari E, Giorgi C, Giorgi R, Trifirò S (2006) Idrogeologia isotopica dei sistemi acquifero ubicati in destra Fiume Albegna nell'area "Magliano in Toscana-Scansano" (relazione finale) [Isotopic hydrogeology of aquifer system in northern sector of the Albegna River basin in the area Magliano in Toscana-Scansano ( final report)]. Scientific report no. 10471, CNR-IGG, Pisa, Italy, 28 pp

Nguyen F, Garambois S, Jongmans D, Pirard E, Loke MH (2005) Image processing of 2D resistivity data for imaging faults. J Appl Geophys 57:260–277

Pasquaré G, Chiesa S, Vezzoli L, Zanchi A (1983) Evoluzione paleogeografica e strutturale di parte della Toscana meridionale a partire dal Miocene Superiore [Paleogeographic and structural evolution of a sector of the southern Tuscany since the late Miocene]. Mem Soc Geol Ital 25:145–157

Porsani JL, Elis VR, Hiodo FY (2005) Geophysical investigation for the characterization of fractured rock aquifers in ITU, SE Brazil. J Appl Geophys 57:119–128

Schon JH (2004) Physical properties of rocks: fundamentals and principles of petrophysics. In: Helbig K, Treitel S (eds) Handbook of geophysical exploration–seismic exploration, vol 18. Elsevier, Amsterdam, 583 pp

Serri G, Innocenti F, Manetti P (1993) Geochemical and petrological evidence of the subduction of delaminated Adriatic continental lithosphere in the genesis of the Neogene-Quaternary magmatism of central Italy. Tectonophysics 223:117–147

Sharma SP, Baranwal VC (2005) Delineation of groundwater-bearing fracture zones in a hard rock area integrating very low frequency electromagnetic and resistivity data. J Appl Geophys 57:155–166

Taylor KC, Minor TC, Chesley MM, Matanawi K (1999) Cost effectiveness of well site selection methods in a fractured aquifer. Ground Water 37:271–274

Wise DJ, Cassidy J, Locke CA (2003) Geophysical imaging of the Quaternary Wairoa North Fault, New Zealand: a case study. J Appl Geophys 53:1–16

Zanchi A, Tozzi M (1987) Evoluzione paleogeografica e strutturale recente del bacino del fiume Albegna (Toscana Meridionale) [Recent paleogeographic and structural evolution of the Albegna River basin (southern Tuscany)]. Geol Rom 26:305–325
Acknowledgements
We acknowledge the useful and constructive comments of the reviewers and editor. We thank M. Doveri for information on isotopic and geochemical analysis of water in the studied area. We wish to thank the municipalities of Scansano and Magliano in Toscana for logistic support during field work.
About this article
Cite this article
Francese, R., Mazzarini, F., Bistacchi, A. et al. A structural and geophysical approach to the study of fractured aquifers in the Scansano-Magliano in Toscana Ridge, southern Tuscany, Italy. Hydrogeol J 17, 1233–1246 (2009). https://doi.org/10.1007/s10040-009-0435-1
Received:

Accepted:

Published:

Issue Date:
Keywords
Italy

Fractured rocks

Geophysical methods

Tectonics

Groundwater exploration