Abstract
Currently, aquifers are considered to be ecosystems that interchange materials and energy with other systems located in their surroundings. The aquifer system of Doñana (southwest Spain) has been studied over recent decades from a hydrogeological point of view, although nothing is known about its biological or ecological aspects. In order to describe the general characteristics of its microbial communities, bacterial abundance, cell biomass, bacterial biomass and microbial activities of functional groups were investigated by sampling, over a 2-year period, 13 wells located in the vicinity of four very productive shallow lakes in the most superficial part of this coastal, sandy aquifer system. Multivariate analysis of variance (MANOVA) indicated differences in abundance and biomass variables among sampling locations, seasons and sampling locations × seasons. Principal component analysis showed that temperature and dissolved oxygen appeared to be the most important factors controlling the temporal variability of microbial communities. Hydrological connectivity between surface water and groundwater was important in the control of the spatiotemporal distribution of microbial communities. Due to this hydrological connection, the aquifer system and the wetlands constitute a unique entity, a unique ecosystem, called the "hydroecosystem", where microbial communities could play a central ecological role.
Résumé
D'une manière générale, les aquifères sont considérés comme des écosystèmes qui échangent de la matière et de l'énergie avec d'autres systèmes situés dans leur entourage. Le système aquifère de Donana (Sud Ouest de l'Espagne) a été étudié durant les dernières décennies d'un point de vue hydrogéologique, bien que rient ne soit connu de ses caractéristiques biologiques ou écologiques. Afin de décrire les caractéristiques générales de ses populations microbiennes, de l'abondance des bactéries, de la biomasse cellulaire, de la biomasse bactérienne et de l'activité microbienne de groupes fonctionnels 13 puits situés au voisinage de quatre lacs peu profonds très productifs dans la partie la plus superficielle de ce système aquifère côtier, sableux ont été analysés à partir d'un échantillonnage pendant une période de deux ans. L'analyse multivariable de la variance (MANOVA) a montré des différences d'abondance et de modifications de la biomasse selon les emplacements d'échantillonnage, les saisons et les emplacements d'échantillonnage x saisons. L'analyse de la composante principale a montré que la température et l'oxygène dissous se révélaient comme étant les facteurs essentiels contrôlant les fluctuations au cours du temps des populations microbiennes. La connexion hydrologique entre l'eau de surface et l'eau souterraine était importante pour le contrôle de la répartition spatiotemporelle des populations microbiennes. Du fait de cette connexion hydrologique, le système aquifère et les zones humides forment une seule entité, un écosystème unique, appelé "hydroécosystème", où les populations microbiennes pourraient jouer un rôle écologique majeur.
Resumen
Actualmente se consideran a los acuíferos como ecosistemas que intercambian materiales y energía con otros sistemas situados en su entorno. El sistema acuífero de Doñana (al sudoeste España) se ha estudiado durante las últimas décadas desde un punto de vista hidrogeológico, aunque nada se conoce acerca de sus aspectos biológicos o ecológicos. Con la finalidad de describir las características generales de sus comunidades microbianas, abundancia bacteriana, biomasa de células, biomasa bacteriana y actividades microbianas de grupos funcionales se investigaron por muestreo 13 pozos ubicados en las cercanías de cuatro lagos muy productivos poco profundos en la parte más superficial de este sistema acuífero arenoso costero, durante un período de dos años. El análisis multivariados de varianza (MANOVA) indicó diferencias en las variables de abundancia y la biomasa entre los lugares de muestreo, estaciones y lugares de muestreo por estaciones. El análisis de componente principal mostró que la temperatura y el oxígeno disuelto parecían ser los factores más importantes que controlaban la variabilidad temporal de las comunidades microbianas. La conectividad hidrológica entre las aguas superficiales y subterráneas fue importante en el control de la distribución espacio temporal de las comunidades microbianas. Debido a esta conexión hidrológica, el sistema acuífero y los humedales constituyen una entidad singular, un ecosistema único, llamado "hidroecosistema", donde las comunidades microbianas podrían desempeñar un papel ecológico central.
摘要
当前, 含水层被认为是与其周围其它系统进行物质和能量相互交换的生态系统。尽管对于西班牙西南部多那那含水层系统中生物或生态方面缺乏了解, 但是近几十年来, 对其水文地质的研究一直在进行。为了描述其微生物群落的基本特征, 对位于该滨海砂质含水层系统最浅部的四个高产浅湖附近的13口井进行了历时两年的取样, 调查了细菌丰度, 细胞生物量、细菌生物量和功能群的微生物活性。多元方差分析 (MANOVA) 表明, 丰度和生物量随取样点、季节及取样时间不同而变化。主元分析表明, 温度和溶解氧是控制微生物群落时间变异的最重要的因素。地表水和地下水之间的水力连通性对于控制微生物群落的时空分布具有重要作用。由于这种水力联系, 含水层系统和湿地组成了一个独特的整体、一种独特的生态系统 ,称作水文生态系统, 其中的微生物群落可起到核心的生态作用。
Resumo
Os aquíferos são considerados actualmente como sendo ecossistemas que trocam matéria e energia com outros sistemas localizados nas suas proximidades. O sistema aquífero de Doñana (sudoeste de Espanha) foi estudado ao longo das últimas décadas sob o ponto de vista hidrogeológico e, não obstante, nada se conhece relativamente aos seus aspectos biológicos e ecológicos. Com o objectivo de descrever as caracteristícas gerais das suas comunidades microbianas, foram investigadas a abundância bacteriana, a biomassa celular, a biomassa bacteriana e as actividades microbianas de grupos funcionais a partir de amostragem, durante dois anos, em 13 poços localizados na vizinhança de quatro lagos pouco profundos e muito produtivos, na parte mais superficial do sistema aquífero arenoso costeiro. A análise multivariada da variância (MANOVA) revelou diferenças na abundância e nas variáveis de biomassa entre diferentes pontos de amostragem, estações do ano e locais de amostragem × estações. A análise de componentes principais mostrou que a temperatura e o oxigénio dissolvido parecem ser os factores mais importantes no controlo da variabilidade temporal das comunidades microbianas. A conectividade hidráulica entre a água superficial e a água subterrânea foi importante no controlo da distribuição espacio-temporal das comunidades microbianas. Devido a esta conexão hidráulica, o sistema aquífero e as zonas húmidas constituem uma entidade única, um ecossistema único, denominado "hidroecossistema", no qual as comunidades microbianas podem desempenhar um papel ecológico central.
This is a preview of subscription content, log in to check access.
Access options
Buy single article
Instant access to the full article PDF.
US$ 39.95
Price includes VAT for USA
Subscribe to journal
Immediate online access to all issues from 2019. Subscription will auto renew annually.
US$ 99
This is the net price. Taxes to be calculated in checkout.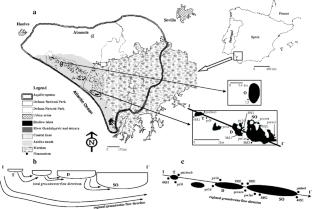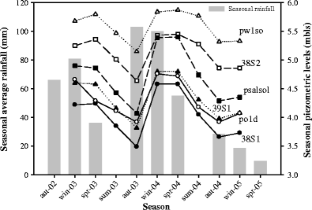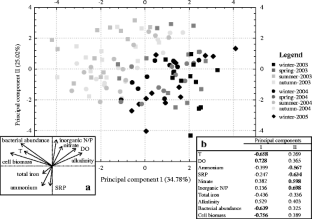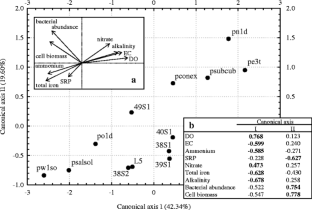 References
Alfreider A, Krossbacher M, Psenner R (1997) Groundwater samples do not reflect bacterial densities and activity in subsurface systems. Water Res 31(4):832–840

Álvarez S (2002) Descomposición de materia orgánica en lagunas someras del manto eólico litoral de Doñana [Organic matter decomposition in shallow lakes located on aeolian sands in Doñana Natural Area]. PhD Thesis, Universidad Autónoma de Madrid, Spain

APHA, AWWA, WPCF (1987) Standard methods for the examination of water and wastewater. American Public Health Association, Washington, DC

Baker MA, Valett HM, Dahm CN (2000) Organic carbon supply and metabolism in a shallow groundwater ecosystem. Ecology 81(11):3133–3148

Balkwill DL (1989) Numbers, diversity, and morphological-characteristics of aerobic, chemoheterotrophic bacteria in deep subsurface sediments from a site in South Carolina. Geomicrobiol J 7(1–2):33–52

Balkwill DL, Ghiorse WC (1985) Characterization of subsurface bacteria associated with 2 shallow aquifers in Oklahoma. Appl Environ Microbiol 50(3):580–588

Balkwill DL, Fredrickson JK, Thomas JM (1989) Vertical and horizontal variations in the physiological diversity of the aerobic chemoheterotrophic bacterial microflora in deep southeast coastal-plain subsurface sediments. Appl Environ Microbiol 55(5):1058–1065

Ball CL, Crawford RL (2006) Bacterial diversity within the planktonic community of an artesian water supply. Can J Microbiol 52(3):246–259

Beloin RM, Sinclair JL, Ghiorse WC (1988) Distribution and activity of microorganisms in subsurface sediments of a pristine study site in Oklahoma. Microb Ecol 16(1):85–97

Bennett PC, Hiebert FK, Rogers JR (2000) Microbial control of mineral-groundwater equilibria: macroscale to microscale. Hydrogeol J 8(1):47–62

Bone TL, Balkwill DL (1988) Morphological and cultural comparison of microorganisms in surface soil and subsurface sediments at a pristine study site in Oklahoma. Microb Ecol 16(1):49–64

Boulton AJ (2007) Hyporheic rehabilitation in rivers: restoring vertical connectivity. Freshw Biol 52(4):632–650

Brockman FJ, Murray CJ (1997) Subsurface microbiological heterogeneity: current knowledge, descriptive approaches and applications. FEMS Microbiol Rev 20(3–4):231–247

Brockman FJ, Kieft TL, Fredrickson JK, Bjornstad BN, Li SMW, Spangenburg W, Long PE (1992) Microbiology of vadose zone paleosols in south-central Washington state. Microb Ecol 23(3):279–301

Chapelle FH (2000b) Groundwater microbiology and geochemistry. Wiley, New York

Coleto MC (2003) Funciones hidrológicas y biogeoquímicas de las formaciones palustres de los mantos eólicos de El Abalario-Doñana (Huelva) [Hydrological and biochemical processes carried out in shallow lakes located on aeolian sands in the area of El Abalario-Doñana (Huelva)]. PhD Thesis, Universidad Autónoma de Madrid, Spain

Colwell FS, Lehman RM (1997) Carbon source utilization profiles for microbial communities from hydrologically distinct zones in a basalt aquifer. Microb Ecol 33(3):240–251

Cullimore DR (1993) Practical manual of groundwater microbiology. Lewis, Chelsea, MI

Danielopol DL (1989) Groundwater fauna associated with riverine aquifers. J N Am Benthol Soc 8(1):18–35

Danielopol DL (1994) What can we expect from groundwater ecologists? In: Standford JA, Valett HM (eds) Second International Conference on Groundwater Ecology. Atlanta, GA, March 1994, pp 13–20

Danielopol DL, Niederreiter R (1987) A sampling device for groundwater organisms and oxygen measurement in multi-level monitoring wells. Stygologia 3:252–263

Danielopol DL, Griebler C, Gunatilaka A, Notenboom J (2003) Present state and future prospects for groundwater ecosystems. Environ Conserv 30(2):104–130

Dunlap WJ, McNabb JF, Scalf MR, Cosby RL, Kerr RS (1977) Sampling for organic chemicals and micoorganisms in the subsurface, Office of Research and Development, US Environmental Protection Agency, Ada, OK

Franklin RB, Taylor DR, Mills AL (1999) The distribution of microbial communities in anaerobic and aerobic zones of a shallow coastal plain aquifer. Microb Ecol 38(4):377–386

Fredrickson JK, Phelps TJ (1997) Subsurface drilling and sampling. In: Hurst CJ, Knudsen GR, McInerney MJ, Stetzenbach LD, Walter MV (eds) Manual of environmental microbiology. American Society of Microbiology, Washington, DC

Fredrickson JK, Balkwill DL, Zachara JM, Li SMW, Brockman FJ, Simmons MA (1991) Physiological diversity and distributions of heterotrophic bacteria in deep Cretaceous sediments of the Atlantic coastal-plain. Appl Environ Microbiol 57(2):402–411

Fredrickson JK, McKinley JP, Nierzwickibauer SA, White DC, Ringelberg DB, Rawson SA, Li SM, Brockman FJ, Bjornstad BN (1995) Microbial community structure and biogeochemistry of Miocene subsurface sediments: implications for long-term microbial survival. Mol Ecol 4(5):619–626

Fry JC (1990) Direct methods and biomass estimation. Method Microbiol 22:41–85

Goldscheider N, Hunkeler D, Rossi P (2006) Review: Microbial biocenoses in pristine aquifers and an assessment of investigative methods. Hydrogeol J 14(6):926–941

Griebler C, Mindl B, Slezak D, Geiger-Kaiser M (2002) Distribution patterns of attached and suspended bacteria in pristine and contaminated shallow aquifers studied with an in situ sediment exposure microcosm. Aquat Microb Ecol 28(2):117–129

Haack SK, Bekins BA (2000) Microbial populations in contaminant plumes. Hydrogeol J 8(1):63–76

Hancock PJ, Boulton AJ, Humphreys WF (2005) Aquifers and hyporheic zones: towards an ecological understanding of groundwater. Hydrogeol J 13(1):98–111

Kieft TL, Murphy EM, Haldeman DL, Amy PS, Bjornstad BN, McDonald EV, Ringelberg DB, White DC, Stair J, Griffiths RP, Gsell TC, Holben WE, Boone DR (1998) Microbial transport, survival, and succession in a sequence of buried sediments. Microb Ecol 36(3):336–348

Kirchman D, Sigda J, Kapuscinski R, Mitchell R (1982) Statistical-analysis of the direct count method for enumerating bacteria. Appl Environ Microbiol 44(2):376–382

Legendre P, Legendre L (1998) Numerical ecology. Elsevier, Amsterdam

López-Archilla AI, Mollá S, Coleto MC, Guerrero MC, Montes C (2004) Ecosystem metabolism in a mediterranean shallow lake (Laguna de Santa Olalla, Doñana National Park, SW Spain). Wetlands 24(4):848–858

Manzano M, Custodio E (2007) Groundwater baseline chemistry in the Doñana aquifer (SW Spain) and geochemical controls. In: Edmunds M, Shand P (eds) Baseline groundwater quality. Blackwell, London

Manzano M, Custodio E, Lozano E, Higueras H (2007) Relationships between wetlands and the Doñana coastal aquifer (SW Spain). In: Ribeiro L, Chambel A, Condesso de Melo MT (eds) Proceedings of the XXXV IAH Congress. Lisbon, 2007

Marxsen J (1988) Investigations into the number of respiring bacteria in groundwater from sandy and gravelly deposits. Microb Ecol 16(1):65–72

Mary P, Chihib NE, Charafeddine O, Defives C, Hornez JP (2002) Starvation survival and viable but nonculturable states in Aeromonas hydrophila. Microb Ecol 43(2):250–258

Mauck BS, Roberts JA (2007) Mineralogic control on abundance and diversity of surface-adherent microbial communities. Geomicrobiol J 24(3–4):167–177

McMahon PB (2001) Aquifer/aquitard interfaces: mixing zones that enhance biogeochemical reactions. Hydrogeol J 9(1):34–43

McMahon PB, Chapelle FH (1991) Microbial production of organic acids in aquitard sediments and its role in aquifer geochemistry. Nature 349(6306):233–235

Mitch WJ, Gosselink JG (2007) Wetlands. Wiley, NJ

Montes C, Borja F, Bravo MA, Moreira JM (1998) Doñana: una aproximación ecosistémica [Doñana: an ecosystem approximation]. Consejería de Medio Ambiente, Junta de Andalucía, Seville

Murphy EM, Schramke JA, Fredrickson JK, Bledsoe HW, Francis AJ, Sklarew DS, Linehan JC (1992) The influence of microbial activity and sedimentary organic-carbon on the isotope geochemistry of the Middendorf aquifer. Water Resour Res 28(3):723–740

Musslewhite CL, McInerney MJ, Dong HL, Onstott TC, Green-Blum M, Swift D, Macnaughton S, White DC, Murray C, Chien YJ (2003) The factors controlling microbial distribution and activity in the shallow subsurface. Geomicrobiol J 20(3):245–261

Nyström T (2004) Stationary-phase physiology. Annu Rev Microbiol 58:161–181

Petit M, Servais P, Lavandier P (1999) Bacterial production measured by leucine and thymidine incorporation rates in French lakes. Freshw Biol 42(3):513–524

Phelps TJ, Pfiffner SM, Sargent KA, White DC (1994) Factors influencing the abundance and metabolic capacities of microorganisms in eastern coastal-plain sediments. Microb Ecol 28(3):351–364

Psenner R (1993) Determination of size and morphology of aquatic bacteria by automated image analysis. In: Kemp PF, Sherr BF, Sherr EB, Cole JJ (eds) Handbook of methods in aquatic microbial ecology. Lewis, Boca Raton, FL

Pulido-Villena E, Reche I (2003) Exploring bacterioplankton growth and protein synthesis to determine conversion factors across a gradient of dissolved organic matter. Microb Ecol 46(1):33–42

Roling WFM, van Breukelen BM, Braster M, Lin B, van Verseveld HW (2001) Relationships between microbial community structure and hydrochemistry in a landfill leachate-polluted aquifer. Appl Environ Microbiol 67(10):4619–4629

Sacks LA, Herman JS, Konikow LF, Vela AL (1992) Seasonal dynamics of groundwater-lake interactions at Doñana National Park, Spain. J Hydrol 136(1–4):123–154

Schryver JC, Brandt CC, Pfiffner SM, Palumbo AV, Peacock AD, White DC, McKinley JP, Long PE (2006) Application of nonlinear analysis methods for identifying relationships between microbial community structure and groundwater geochemistry. Microb Ecol 51(2):177–188

Serrano L, Toja J (1995) Limnological description of 4 temporary ponds in the Doñana National Park (SW, Spain). Arch Hydrobiol 133(4):497–516

Shi Y, Zwolinski MD, Schreiber ME, Bahr JM, Sewell GW, Hickey WJ (1999) Molecular analysis of microbial community structures in pristine and contaminated aquifers: field and laboratory microcosm experiments. Appl Environ Microbiol 65(5):2143–2150

Sinclair JL, Ghiorse WC (1989) Distribution of aerobic-bacteria, protozoa, algae, and fungi in deep subsurface sediments. Geomicrobiol J 7(1–2):15–31

Sophocleous M (2002) Interactions between groundwater and surface water: the state of the science. Hydrogeol J 10(1):52–67

Trick T, Custodio E (2004) Hydrodynamic characteristics of the western Doñana Region (area of El Abalario), Huelva, Spain. Hydrogeol J 12(3):321–335

Viollier E, Inglett PW, Hunter K, Roychoudhury AN, Van Cappellen P (2000) The ferrozine method revisited: Fe(II)/Fe(III) determination in natural waters. Appl Geochem 15(6):785–790

Zar JH (1998) Biostatistical analysis. Prentice Hall, Englewood Cliffs, NJ

Zhang CL, Lehman RM, Pfiffner SM, Scarborough SP, Palumbo AV, Phelps TJ, Beauchamp JJ, Colwell FS (1997) Spatial and temporal variations of microbial properties at different scales in shallow subsurface sediments. Appl Biochem Biotech 63–5:797–808

Zhou JZ, Xia BC, Huang H, Palumbo AV, Tiedje JM (2004) Microbial diversity and heterogeneity in sandy subsurface soils. Appl Environ Microbiol 70(3):1723–1734
Acknowledgements
This work was supported by the Spanish CICYT grant No. REN2002-10221-E/HID. Sergio Velasco was supported by a personal grant from the Spanish Department of Education and Science (FPI-2001–2175). We thank Dr. D. L. Balkwill and Dr. A. C. Smith for discussion and manuscript review, as well as for help with the English text. We thank Dr. M. Manzano and I. Núñez for reviewing hydrogeological concepts. We also thank the Doñana Biological Reserve staff for field help.
About this article
Cite this article
Velasco Ayuso, S., Acebes, P., López-Archilla, A.I. et al. Environmental factors controlling the spatiotemporal distribution of microbial communities in a coastal, sandy aquifer system (Doñana, southwest Spain). Hydrogeol J 17, 767–780 (2009). https://doi.org/10.1007/s10040-008-0397-8
Received:

Accepted:

Published:

Issue Date:
Keywords
Microbial processes

Coastal aquifers

Ecology

Spatiotemporal distribution

Spain