Abstract
The lower reaches of Tarim River in the Xinjiang Uygur region of western China had been dried out for more than 30 years before water began to be diverted from Konqi (Peacock) River via a 927-km-long channel in year 2000, aimed at improving the riparian ecological systems. Since then, eight intermittent water deliveries have been carried out. To evaluate the response of riparian vegetation to these operations, the groundwater regime and vegetation changes have been monitored along the 350-km-long stem of the river using a network of 40 dug wells at nine transects across the river and 30 vegetation plots at key sites. Results show that the water table rose remarkably, i.e. from a depth of 9.87 m before the water delivery to 3.16 m after the third water delivery. The lateral distance of affected water table extended to 1,050 m from the riverbank after the fourth water delivery. The riparian vegetation has changed in composition, type, distribution, and growing behavior. This shows that the water deliveries have had significant effects on restoration of riparian ecosystems.
Résumé
Les parties inférieures de la Tarim River dans la région de Xinjiang Uygur de Chine occidentale ont été asséchées il y a plus de 30 ans avant que de l'eau n'ait commencé à être dérivée de la Konki (Peacock) River par un canal long de 927 km en l'an 2000, destinée à améliorer les systèmes écologiques rivulaires. Depuis lors, huit fournitures intermittentes d'eau ont été effectuées. Afin d' évaluer la réaction de la végétation rivulaire à ces opérations, les modifications du régime de la nappe et de la végétation ont été suivies le long du cours de la rivière long de 350 km en utilisant un réseau de 40 puits au niveau de neuf sections transversales de la rivière et 30 parcelles de végétation à des emplacements clés. Les résultats montrent que la nappe s'est élevée de façon remarquable, i.e. d'une profondeur de 9.87 m avant la fourniture d'eau à 3.16 m après la troisième fourniture d'eau. La distance latérale à laquelle la nappe est affectée s'étendait à 1050 m de la rive de la rivière après le quatrième fourniture d'eau. La végétation rivulaire a changé de composition, de type, de répartition et de comportement de la croissance. Ceci montre que les fournitures d'eau ont eu des effets significatifs sur la restauration des écosystèmes rivulaires;
Resumen
Los tramos inferiores del Río Tarim en la región de Xinjiang Uygur (oeste de China) se han secado durante más de 30 años antes que el agua comenzó a ser desviada desde el Río Konqi (Peacock) por medio de un canal de 927 km en el año 2000, con el propósito de mejorar el sistema ecológico ribereño. Desde entonces, se han instrumentado ocho entregas intermitentes de agua. A fin de evaluar la respuesta de la vegetación ribereña a tales operaciones, el sistema de agua subterránea y los cambios en la vegetación han sido monitoreados a lo largo de 350 km del río usando una red de 40 pozos cavados en nueve transectas que atraviesan el río y 30 parcelas de vegetación en sitios clave. Los resultados muestran que el nivel del agua ascendió considerablemente, desde una profundidad de 9.87 m antes de las entregas de agua hasta 3.16 m después de la tercera entrega. El acuífero ha sido afectado hasta una distancia de 1050 m desde la orilla del río después de la cuarta entrega de agua. La vegetación ribereña ha cambiado su composición, tipo, distribución, y comportamiento de crecimiento. Esto demuestra que las entregas intermitentes de agua han tenido efectos significativos en la restauración de los sistemas ecológicos ribereños.
This is a preview of subscription content,
to check access.
Access this article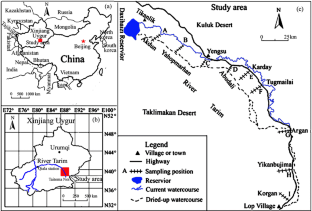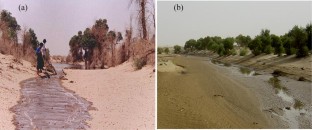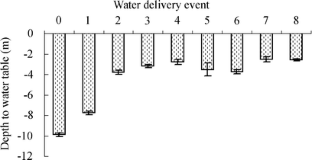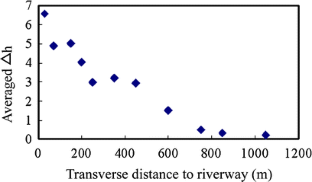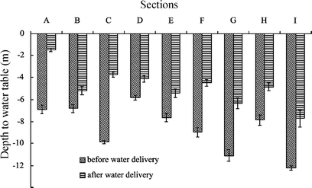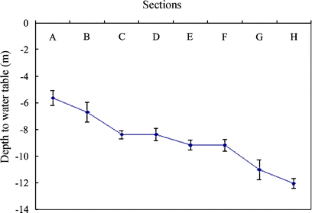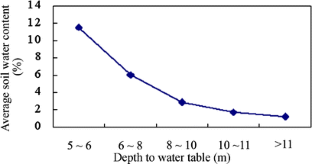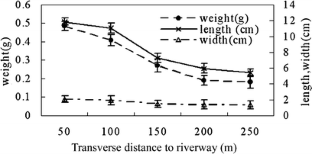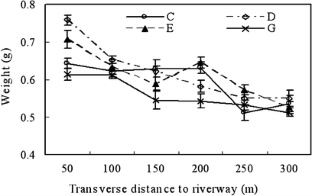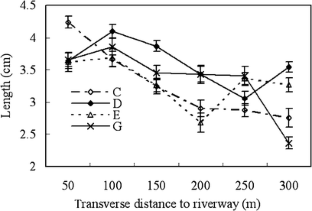 References
Caldow RG, Racey PA (2000) Large-scale processes in ecology and hydrology. J Appl Ecol 37:6–12

Chen YN, Chen YP, Li WH, Zhang HF (2003a) Response of the accumulation of praline in the bodies of Populus euphratica to the change of ground water level at the lower reaches of Tarim River. Chin Sci Bull 48(18):1995–1999

Chen YN, Cui WC, Li WH (2003b) Utilization of water resources and ecological protection in the Tarim River. Acta Geogr Sin 58(2):215–177

Chen YN, Zilliacus H, Li WH, Zhang HF, Chen YP (2006) Ground-water lever affects plant species diversity along the lower reaches of the Tarim River. J Arid Environ 66:231–246

Doble R, Simmons C, Jolly I, Walker G (2006) Spatial relationships between vegetation cover and irrigation-induced groundwater discharge on a semi-arid floodplain, Australia. J Hydrol 329:75–97

Eamus D, Murray B, Froend R (2006) A functional methodology for determining the groundwater regime needed to maintain health of groundwater dependent ecosystems. Aust J Bot 54:197–114

Hou P, Beeton RJ, Carter RW, Dong XG, Li X (2007a) Response to environmental flows in the lower Tarim River, Xinjiang, China: ground water. J Environ Manage 83:371–382

Hou P, Beeton RJ, Carter RW, Dong XG, Li X (2007b) Response to environmental flows in the Lower Tarim River, Xinjiang, China: an ecological interpretation of water-table dynamics. J Environ Manage 83:383–391

Kite J, Webster K (1989) Management of groundwater resources for protection of native vegetation. J R Soc West Aust 71(4):100–102

Lammerts EJ, Maas C, Grootjans AP (2001) Groundwater variables and vegetation in dune slacks. Ecol Eng 17(1):33–47

Liu JZ, Chen YN, Chen YJ, Zhang N, Li WH (2005) Degradation of Populus euphratica community in the lower reaches of the Tarim River, Xinjiang, China. J Environ Sci 17(5):740–747

Margalef R (1958) Information theory in ecology. Gen Syst 3:36–71

McIntosh RP (1967) An index of diversity and the relation of certain concepts to diversity. Ecology 48:392–404

Munoz-Reinoso JC (2001) Vegetation changes and groundwater abstraction in SW Donana, Spain. J hydrol 242(3/4):197–209

Naumburg E, Mata-Gonzalez R, Hunter RG (2005) Phreatophytic vegetation and groundwater fluctuations: a review of current research and application of ecosystem response modeling with an emphasis on great basin vegetation. Environ Manage 35(6):726–740

Rey Benayas JM, Bernáldez FG, Levassor C, Peco B (1990) Vegetation of groundwater discharge sites in the Douro Basin, central Spain. J Veg Sci 1(4):461–466

Rood SB, Samuelson GM, Braatne JH, Gourley CR, Hughes FMR, Mahoney JM (2005) Managing river flows to restore floodplain forests. Front Ecol Environ 3(4):193–201

Ross MS, Jones RD, O'Brien JJ, Flynn LJ (1994) Nitrogen and phosphorus in the Florida Keys: Groundwater-vegetation relationship. Bull Mar Sci 54(3):1082–1083

Simpson EH (1949) Measurement of diversity. Nature 163:668

Stromberg JC, Tiller R, Richter B (1996) Effects of groundwater decline on riparian vegetation of semiarid regions: The San Pedro, Arizona. Ecol Appl 6(1):113–131

Stromberg JC, Beauchamp VB, Dixon MD, Lite SJ, Paradzick C (2007) Importance of low-flow and high-flow characteristics to restoration of riparian vegetation along rivers in arid southwestern United States. Freshw Biol 52:651–679

Wassen MJ, Barendregt A, Palczynski A Smidt JT (1990) The relationship between fen vegetation gradients, groundwater flow and flooding an undrained valley mire at Biebraza, Poland. J Ecol 78(4):1106–1122
Acknowledgements
This study was funded by the Chinese Academy of Sciences for a Knowledge Innovation Project (KZCX2-YW-127, KZCX2-XB2–03), the National Natural Science Foundation of China (90502004, 30500081, 40672171) and the National Support Plan of China (2006BAC01A03). We sincerely acknowledge the valuable comments made by the editor and the two anonymous reviewers from which we have learned a lot on the subject of study and which have helped to improve the quality of our manuscript significantly.
About this article
Cite this article
Chen, Y., Pang, Z., Chen, Y. et al. Response of riparian vegetation to water-table changes in the lower reaches of Tarim River, Xinjiang Uygur, China. Hydrogeol J 16, 1371–1379 (2008). https://doi.org/10.1007/s10040-008-0306-1
Received:

Accepted:

Published:

Issue Date:

DOI: https://doi.org/10.1007/s10040-008-0306-1
Keywords