Abstract
In many cases, the development of groundwater resources to boost agricultural production in dry areas has led to a continuous decline in groundwater levels; this has called into question the sustainability of such exploitation. In developing countries, limited budgets and scarce hydrological data often do not allow groundwater resources to be assessed through groundwater modeling. A case study is presented of a low-cost water-balance approach to groundwater resource assessments in a 1,550 km2 semi-arid region in northwestern Syria. The past development of irrigated agriculture and its effect on the groundwater system were studied by analysis of Landsat images and long-term groundwater level changes, respectively. All components of the groundwater balance were determined. Groundwater recharge was estimated using the chloride mass balance method. Over the past three decades, groundwater levels have declined, on average, 23 m, coinciding with a two-fold increase in the groundwater-irrigated area. Groundwater resources are currently depleted by a value that lies between 9.5×106 and 118×106 m3 year−1, which is larger than can be compensated for by a future decrease in natural discharge or changes in boundary conditions. However, groundwater resources are likely to be sufficient to supply domestic and livestock needs in the area.
Résumé
Dans plusieurs cas, le développement des ressources en eau souterraine pour augmenter les productions agricoles dans les zones sèches a mené à un déclin continu des niveaux piézométriques ; ceci remet en question la durabilité de telles exploitations. Dans les pays en voie de développement, les budgets limités et le peu de données hydrologiques ne permettent pas souvent de dresser le bilan des ressources en eau souterraine à travers la modélisation hydrogéologique. Un cas d'étude est présenté, reprenant une approche par bilan hydrologique peu coûteuse pour évaluer les eaux souterraines dans une région semi-aride de 1550 km2 du Nord-Ouest de la Syrie. L'historique du développement de l'agriculture irriguée et les effets sur le système hydrogéologique ont été analysés au moyen d'images Landsat et du changement sur le long terme des niveaux piézométriques. Toutes les composantes du bilan hydrologiques ont été déterminées. La recharge de l'eau souterraine a été estimée suivant la méthode du bilan massique des chlorures. Sur les trois dernières décennies, les niveaux piézométriques ont diminué - en moyenne de 23 mètres - ce qui coïncide avec une augmentation croissante de la surface irriguée par de l'eau souterraine. Les ressources en eau souterraine sont pour l'instant diminuées d'un taux situé entre 9.5×106 et 118×106 m3an−1, ce qui est largement supérieur à ce qui peut être compensé par une diminution de la recharge naturelle ou des changements des conditions aux limites. Toutefois, les ressources en eau souterraine sont suffisantes pour supporter l'alimentation domestique et les besoins des élevages dans la zone concernée.
Resumen
En muchos casos, el desarrollo de recursos del agua subterránea, para incrementar la producción agrícola en las áreas secas, ha llevado a un descenso continuo en los niveles del agua subterránea; esto ha originado cuestionamientos acerca de la sostenibilidad de tal explotación. En los países en vías de desarrollo, a menudo, tanto los presupuestos limitados como los datos hidrológicos escasos, no permiten evaluar los recursos del agua subterránea a través del modelamiento de agua subterránea. Se presenta un estudio de caso, de un método económico para realizar un balance hídrico, destinado a evaluar el recurso de agua subterránea en una región semiárida de 1550 km2, en el noroeste de Siria. El desarrollo pasado de agricultura irrigada y su efecto en el sistema del agua subterránea, fueron estudiados mediante el análisis de imágenes de Landsat y de los cambios de largo plazo en los niveles de agua subterránea, respectivamente. Todos los componentes del balance del agua subterránea fueron determinados. Se estimó la recarga de agua subterránea, mediante el uso del método de balance de masas de cloruros. Durante las últimas tres décadas, los niveles del agua subterránea han descendido, en el promedio 23 m, coincidiendo con un aumento, en dos órdenes de magnitud, en el área irrigada con agua subterránea. Los recursos de Agua subterránea son gastados actualmente en cantidades que oscilan entre 9.5×106 y 118×106 m3/año, las cuales son mayores que lo que puede compensarse por una disminución futura en la descarga natural o por cambios en las condiciones de contorno del acuífero. Sin embargo, es probable que los recursos del agua subterránea sean suficientes para suministrar el consumo doméstico y del ganado que se necesitan en el área.
Access options
Buy single article
Instant access to the full article PDF.
US$ 39.95
Tax calculation will be finalised during checkout.
Subscribe to journal
Immediate online access to all issues from 2019. Subscription will auto renew annually.
US$ 79
Tax calculation will be finalised during checkout.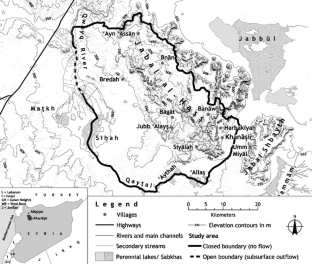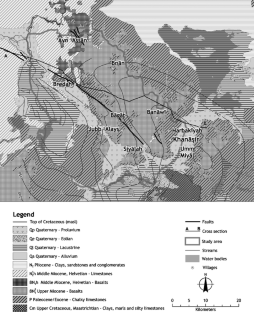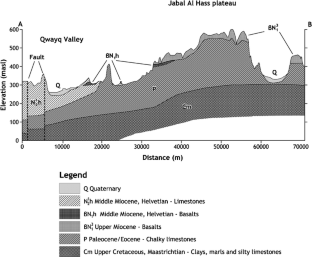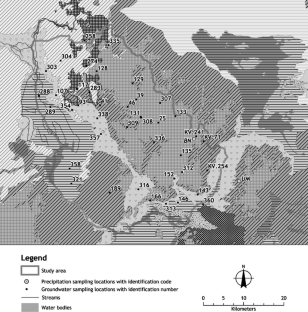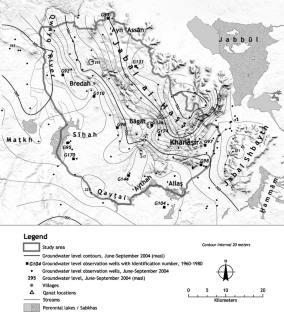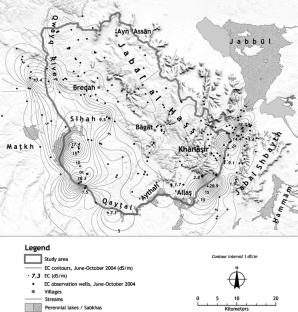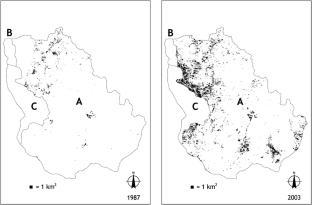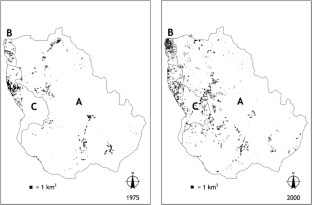 References
Abou Zakhem B (2008) Isotope and hydrochemical assessment. In: Bruggeman A, Rieser A, Asfahani J, Abou Zakhem B, Luijendijk E (eds) Water resources and use of Khanasser Valley. International Center for Agricultural Research in the Dry Areas, Aleppo, Syria

Allen RG, Pereira LS, Raes D, Smith M (1998) Crop evapotranspiration: guidelines for computing crop water requirements. Irrigation and drainage paper 56. FAO, Rome

Alley WM, Leake SA (2004) The journey from safe yield to sustainability. Ground Water 42(1):12–16

Alley WM, Healy RW, LaBaugh JW, Reilly TE (2002) Flow and storage in groundwater systems. Science 296:1985–1990

Appelo CAJ, Postma D (1996) Geochemistry, groundwater and pollution. Balkema, Rotterdam, The Netherlands

Athavale RN, Chand R, Rangarajan R (1983) Ground water recharge estimates for two basins in the Deccan trap basalt formation. Hydrol Sci J 28(4):523–538

Aw-Hassan A, Rida F, Bruggeman A, Mueller R (2003) The returns to ground water use for different crops in the dry areas: the case of five villages in Syria. In: Annual Report for 1996–2001, Natural Resource Management Program. International Center for Agricultural Research in the Dry Areas, Aleppo, Syria

Bardouki H, Liakakou H, Economou C, Sciare J, Smolík J, Imagedímal V, Eleftheriadis K, Lazaridis M, Dye C, Mihalopoulos N (2003) Chemical composition of size-resolved atmospheric aerosols in the eastern Mediterranean during summer and winter. Atmos Environ 37:195–208

Bazuhair AS, Wood WW (1996) Chloride mass-balance method for estimating groundwater recharge in arid areas: examples from western Saudi Arabia. J Hydrol 186:153–159

Blackburn G, McLeod S (1983) Salinity of atmospheric precipitation in the Murray-Darling Drainage Division, Australia. Aust J Soil Res 21:411–434

Bredehoeft JD (2002) The water-budget myth revised: why hydrogeologists model. Ground Water 40(4):340–345

Bredehoeft JD, Papadopulos SS, Cooper HH Jr (1982) The water budget myth. In: Scientific basis of water resource management, studies in geophysics. National Academy Press, Washington, DC, pp 51–57

CBS (Central Bureau of Statistics, Syrian Arab Republic) (2003) Statistical abstract. Damascus, CBS, Syria

Custodio E (2002) Aquifer overexploitation: What does it mean? Hydrogeol J 10:254–277. DOI 10.1007/s10040-002-0188-6

De Pauw E, Van de Steeg J, Hoogeveen R, Balikian A, Oberle A, Zoebisch M, Thomas N (2001) Agroecological atlas of Syria, version 1.0, digital datasets. International Center for Agricultural Research in the Dry Areas, Aleppo, Syria

Dettinger MD (1989) Reconnaissance estimates of natural recharge to desert basins in Nevada, USA, by using chloride-balance calculations. J Hydrol 106:55–78

De Vries JJ, Simmers I (2002) Groundwater recharge: an overview of processes and challenges. Hydrogeol J 10(1):5–17. DOI 10.1007/s10040-001-0171-7

De Vries JJ, Selaolo ET, Beekman HE (2000) Groundwater recharge in the Kalahari, with reference to paleo-hydrologic conditions. J Hydrol 238:110–123

Edmunds WM, Darling WG, Kinniburgh DG (1988) Solute profile techniques for recharge estimation in semi-arid and arid terrain. In: Simmers I (ed) Estimation of natural groundwater recharge. Riedel, Dordrecht, pp 139–157

Eriksson E (1959) The yearly circulation of chloride and sulfur in nature; meteorological, geochemical and pedological implications, part 1. Tellus 11:375–403

Erisman JW, Beier C, Draaijers G, Lindberg S (1994) Review of dry deposition monitoring methods. Tellus 46:79–93

FAO (Food and Agriculture Organization of the United Nations) (2003) Groundwater management: the search for practical approaches. FAO, Rome

Gallagher M, Fontan J, Wyers P, Ruijgrok W, Duyzer J, Hummelsh P, Fowler D (1997) Atmospheric particles and their interactions with natural surfaces. In: Slanina S (ed) Biosphere-atmosphere exchange of pollutants and trace substances. Springer, Heidelberg, pp 45–92

Garland JA (2001) On the size dependence of particle deposition. Water Air Soil Pollut Focus 1:323–332

Gruzgiprovodkhoz (1982) Hydrogeological and hydrological surveys and investigations in four areas of the Syrian Arab Republic. Georgian State Institute for Design of Water Resources, Tbilisi, Georgia

Harrison SP, Kohfeld KE, Roelandt C, Claquin T (2001) The role of dust in climate changes today, at the last glacial maximum and in the future. Earth Sci Rev 54:43–80

Heck B (1995) Water requirements: stock and domestic. Fact sheet w36, Department of Natural Resources and Mines. Queensland Government, Brisbane, Australia

Hem JD (1985) Study and interpretation of the chemical characteristics of natural water, 3rd edn. US Geol Surv Water Suppl Pap 2254

Hingston FJ, Gailitis V (1976) The geographic variation of salt precipitated over Western Australia. Aust J Soil Res 14:319–335

Hoogeveen RM, Zöbisch M, Bruggeman A (1999) Ground water balance of the Khanasser Valley, Syria. Paper presented at the International Conference Water Resources Management, Use and Policy in Dry Areas, Amman, Jordan, 1–3 December 1999

Kalf RPF, Woolley DR (2005) Applicability and methodology of determining sustainable yield in groundwater systems. Hydrogeol J 13(1):295–312. DOI 10.1007/s10040-004-0401-x

Kattan Z (1996) Chemical and environmental isotope study of precipitation in Syria. In: Isotope field applications for groundwater studies in the Middle East. IAEA-TECDOC-890, IAEA, Vienna, pp 185–202

Krige DG (1951) A statistical approach to some basic mine valuation problems on the Witwatersrand. J Chem Metall Min Eng Soc South Africa 52(6):119–139

Lightfoot DR (1996) Syrian qanat Romani: history, ecology, abandonment. J Arid Environ 33(3):321–336

Luijendijk E (2003) Groundwater resources of the Aleppo basin, Syria. MSc Thesis, Vrije Universiteit Amsterdam, The Netherlands

MAAR (Ministry of Agriculture and Agrarian Reform) (2006) Syrian Agriculture Database. MAAR, Damascus, Syria

Maimone M (2004) Defining and managing sustainable yield. Ground Water 42(6):809–814

Martin N (1999) Development of cropping patterns in irrigated agriculture in Aleppo basin: options for demand management. International Center for Agricultural Research in the Dry Areas, Aleppo, Syria

Mészáros E (1981) Atmospheric chemistry, fundamental aspects. Elsevier, Amsterdam

Möller D (1990) The Na/Cl ratio in rainwater and the seasalt chloride cycle. Tellus 42B:254–262

Omran K, Breek Y (2000) A socioeconomic study of the rural community at the area of Jabal Al Hass. UNDP and Ministry of Agriculture and Agrarian Reform of Syria, Rural Community Development Project, Bnan, Syria

Postel S (1999) Pillar of sand: Can the irrigation miracle last? Norton, New York

Rouse JW, Haas RH, Schell JA, Deering DW (1973) Monitoring vegetation systems in the great plains with ERTS. In: Proceedings of Third Earth Resources Technology Satellite Symposium, December 1973, NASA SP-351, vol 1, NASA, Washington, DC, pp 309–317

Ryan J, Estefan G, Rashid A (2001) Soil and plant analysis laboratory manual. International Center for Agricultural Research in the Dry Areas, Aleppo, Syria and the National Agricultural Research Center, Islamabad, Pakistan

Sami K, Hughes DA (1995) A comparison of recharge estimates to a fractured sedimentary aquifer in southern Africa from a chloride mass-balance and an integrated surface-subsurface model. J Hydrol 179:111–136

Scanlon BR, Healy RW, Cook PG (2002) Choosing appropriate techniques for quantifying groundwater recharge. Hydrogeol J 10:18–39. DOI 10.1007/s10040-001-0176-2

Schweers W, Bruggeman A, Rieser A, Oweis T (2004) Water-use by farmers in response to groundwater scarcity and salinity in a marginal area of Northwest Syria. J Appl Irrig Sci 39(2):241–252

Shah T, Molden D, Sakthivadivel R, Seckler D (2000) The global groundwater situation: overview of opportunities and challenges. International Water Management Institute, Colombo, Sri Lanka

Sophocleous MA (1997) Managing water resources systems: why safe yield is not sustainable. Ground Water 35(4):561

Technoexport (1966) Explanatory notes for the geological map of Syria, scale 1:200.000, sheet I-37-XX. Syrian Arab Republic Ministry of Industry, Department of Geological and Mineral Research, Damascus, Syria

Thimonier A (1997) Measurement of atmospheric deposition under forest canopies: some recommendations for equipment and sampling design. Environ Monit Assess 52:353–387

USDA-NRCS (United States Department of Agriculture, Natural Resources Conservation Service) (1986) Urban hydrology for small watersheds, TR-55. USDA, Washington, DC

Wesely ML, Hicks BB (2000) A review of the current status of knowledge on dry deposition. Atmos Environ 34:2261–2282

Wolfart R (1966) Zur Geology und Hydrogeologie von Syrien, unter besondere Berücksichtigung der süd- und nordwestlichen Landesteile [On the geology and hydrogeology of Syria, with special reference to the southern and northwestern regions of the country]. Beihefte zum Geologischen Jahrbuch 68, Geological Society, Hanover, Germany
Acknowledgements
The authors would like to thank the ICARDA staff that assisted with the fieldwork and prepared the laboratory analyses of this study. We would also like to acknowledge P. d'Altan, who analyzed the satellite images and prepared the final maps and figures. Thanks are also due to B. Abou Zakhem, of Syria's Atomic Energy Commission, for generously sharing the results obtained from hydrochemical analyses of water samples from Khanasir Valley. We would like to acknowledge J.J. de Vries and K. Hemker of the Vrije Universiteit Amsterdam for the advice given during the MSc thesis research of the first author, which formed the background of this study.
About this article
Cite this article
Luijendijk, E., Bruggeman, A. Groundwater resources in the Jabal Al Hass region, northwest Syria: an assessment of past use and future potential. Hydrogeol J 16, 511–530 (2008). https://doi.org/10.1007/s10040-008-0282-5
Received:

Accepted:

Published:

Issue Date:
Keywords
Groundwater recharge/water budget

Groundwater development

Agriculture

Semi-arid regions

Syria