Abstract
A detailed hydrogeological investigation was carried out in parts of the Central Ganga Plain, India, with the objective of assessing the aquifer framework and its resource potential. The area was studied because of its dual hydrogeological situation, that is water logging and soil salinization in the canal command areas and depletion of aquifers in the western part of the basin. A comprehensive investigation of the aquifer system between the Ganga River and Kali River revealed its lateral and vertical dimensions and hydrogeological characteristics. Moreover, study of the groundwater occurrences, movements and behaviour, in terms of water level fluctuation with time and space, confirms the coexistence of over exploitation as well as water logging in the area.
Résumé
L'objectif de cette étude hydrogéologique détaillée de portions de la Plaine Centrale du Gange est de déreminer la structure aquifère et la ressource potentielle. L'intérêt de la zone repose sur sa dualité du point de vue hydrogéologique, les zones influencées par le canal présentent une remontée de la nappe avec une salinisation des sols, la portion Ouest du bassin présente une baisse du niveau des aquifères. Par cette étude, le système aquifère compris entre la rivière du Gange et la rivière Kali révèle ses dimensions latérales et verticales ainsi que ses caractéristiques hydrogéologiques. De plus, l'étude des événements, des mouvements et du régime hydrogéologique affectant le niveau phréatique confirme la co-existence de surexploitation et de saturation des sols dans la région.
Resumen
Una investigación hidrogeológica detallada se llevó a cabo en partes de la Llanura de Ganga Central, India, con el objetivo de evaluar la estructura del acuífero y su potencial del recurso. El área fue estudiada por su doble situación hidrogeológica, es decir la saturación con agua y salinización de suelos en las áreas dominadas por el canal y vaciamiento de acuíferos en el la parte occidental de la cuenca. Una investigación completa del sistema acuífero entre el Río Ganga y el Río Kali, reveló sus dimensiones verticales y laterales y las características hidrogeológicas. Además, los estudios sobre la ocurrencia del agua subterránea, sus movimientos y comportamiento, en lo que se refiere al nivel de agua, y a su fluctuación en el tiempo y el espacio, confirma la co-existencia en el área de sobre- explotación así como de saturación con agua.
Access options
Buy single article
Instant access to the full article PDF.
USD 39.95
Price excludes VAT (USA)
Tax calculation will be finalised during checkout.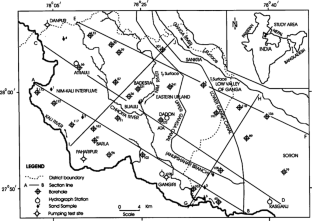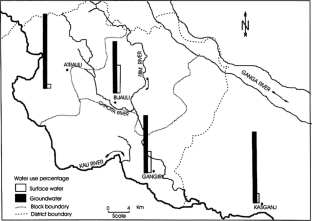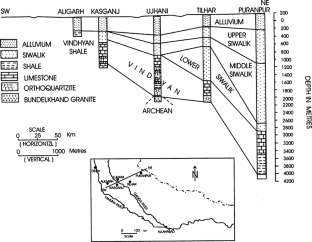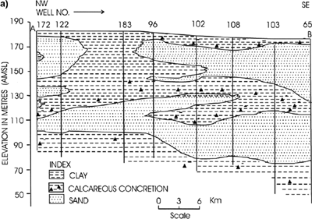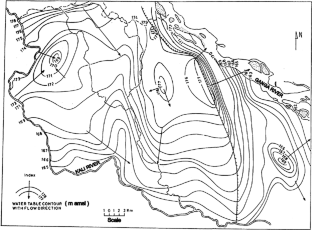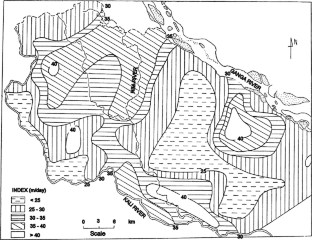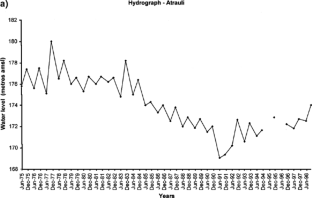 References
Ala Eldin MEH, Ahmad MS, Gurunadha Rao VVS, Dhar RL (2000) Aquifer modeling of the Ganga-Mahawa sub-basin, a part of Central Ganga plain, Uttar Pradesh, India. Hydrol Process 14:297–315

Ansari AA, Singh IB, Tobschal (2000) Role of monsoon rain on concentrations and dispersion pattern of metal pollution in sediments and soils of the Ganga Plain, India. Environ Geol 39(3–4):221–237

Jacob CE, Cooper HH Jr (1946) A generalized graphic method for evaluating formation constants and summarizing well field history. Trans Am Geophys Union 27:526–534

Karanth KR (1987) Groundwater assessment, development and management. Tata McGraw-Hill, New Delhi

Logan (1964). Estimating transmissivity from routine production tests of water wells. Groundwater 2(1):35–37

Rao MBR (1973) The sub-surface geology of the Indo-Gangetic plains. J Geol Soc Ind 14(3):217–242

Sastri VV, Bhandari LL, Raju ATR, Dutt AK (1971) Tectonic frame work and subsurface stratigraphy of the Ganga Basin. J Geol Soc Ind 12(3):222–233

Singh IB (1996) Geological evolution of Ganga plain-An overview. J Palaeontol Soc India 41:99–137

Singh IB (2004) Late Quaternary History of the Ganga Plain. J Geol Soc India 64:431–454

Theis CV (1935) The relation between the lowering of the piezometric surface and rate and duration of discharge of a well using groundwater storage. Trans Am Geophys Union 16:519–524

Uma KO, Egboka BCE, Ohuoha KM (1989) New statistical grain size method for evaluating the hydraulic conductivity of sandy aquifer. J Hydrol 108:343–366

Umar R, Ahmad MS, Umar A (1999) Aquifer over exploitation in parts of the Central Ganga Basin India. Proceedings of the XXIX Congress of IAH Bratislava, Slovak, 6–10 September 1999

Umar R (1990) Aquifer system and groundwater resource potential of Ganga-Kali sub-basin in parts of Aligarh and Etah districts, Uttar Pradesh. PhD, Aligarh Muslim University, Aligarh, India
Acknowledgement
The author wishes to express his gratitude to the Chairman, Department of Geology, Aligarh Muslim University, Aligarh for providing facilities to carry out this work. The author also wishes to thank the Uttar Pradesh State Groundwater Department for providing the useful data. The reviews and constructive comments provided by the reviewers and the editor are gratefully acknowledged.
Additional information
Communicated by P. P. Kumar
Electronic supplementary material
Environnement et particularité hydrogéologique des aquifères alluviaux de portions de la Plaine Centrale du Gange, Uttar Pradesh, Inde
Hydrogeological Environment and Groundwater Occurrences of the Alluvial Aquifers in Parts of the Central Ganga Plain, Uttar Pradesh, India.
About this article
Cite this article
Umar, R. Hydrogeological environment and groundwater occurrences of the alluvial aquifers in parts of the Central Ganga Plain, Uttar Pradesh, India. Hydrogeol J 14, 969–978 (2006). https://doi.org/10.1007/s10040-005-0019-7
Received:

Accepted:

Published:

Issue Date:

DOI: https://doi.org/10.1007/s10040-005-0019-7
Keywords