Abstract
The Republic of Djibouti (23,000 km2; 500,000 inhabitants), located within the Horn of Africa, undergoes an arid climate with an average annual rainfall less than 150 mm. Water resources are provided up to 98% by groundwater. Two types of aquifers are encountered: volcanic and sedimentary aquifers. This paper focuses on the assessment of their hydraulic properties, which is necessary for future tasks regarding the management of these aquifers. To this end, a data base consisting of all available pumping test data obtained since the 1960s was compiled. Pumping tests have been interpreted to determine transmissivity. Solely for volcanic aquifers, transmissivity also has been estimated through an empirical relationship using specific capacity corrected for turbulent well losses. The transmissivity of each type of aquifer can span up to four orders of magnitude, pointing out their strong heterogeneity. For the various volcanic rocks, the younger the rock, the higher the transmissivity. The transmissivity of volcanic rocks has therefore decreased in the course of geological time. At present, a much better understanding of the hydraulic properties of these complex aquifers has been obtained, which should enable optimal management of their groundwater resources through the use of numerical modeling.
Résumé
La République de Djibouti (23,000 km2; 500,000 habitants), située dans la Corne de l'Afrique, subit un climat aride avec une pluviométrie moyenne annuelle inférieure à 150 mm. Les ressources en eau sont fournies à plus de 98% par les eaux souterraines contenues dans des aquifères sédimentaires ou volcaniques. Cet article a pour objectif l'évaluation des propriétés hydrauliques de ces aquifères, étape indispensable pour entreprendre par la suite des études en vue de la gestion de ces aquifères. Une base rassemblant les données d'essais par pompage disponibles depuis les années Soixante a d'abord été établie. Les essais par pompage ont été interprétés pour déduire la transmissivité. Concernant les aquifères volcaniques, la transmissivité a également été estimée à l'aide d'une relation empirique reliant la transmissivité et le débit spécifique corrigé des pertes de charge anormales. La transmissivité pour chaque aquifère couvre jusqu'à quatre ordres de grandeur, montrant la forte hétérogénéité de ces milieux. Pour les roches volcaniques, on observe que la transmissivité est d'autant meilleure que la roche est plus jeune. Leur transmissivité a ainsi diminué durant les temps géologiques. La compréhension des propriétés hydrauliques de ces aquifères complexes est à présent bien meilleure, ce qui permet d'envisager une gestion optimale de leurs ressources à l'aide de modèles numériques.
Resumen
La República de Yibuti (23.000 km2, 500.000 habitantes) está situada en el Cuerno de África, donde se han formado diversas unidades volcánicas—basaltos y riolitas—y rocas sedimentarias desde la expansión de los continentes acaecida al inicio de la deriva continental (hace 30 millones de años). La precipitación media anual es inferior a 150 mm. Las rocas volcánicas y sedimentarias, con dimensión inferior a 2.000 km2, constituyen acuíferos locales. Los basaltos estratificados forman un acuífero regional que se extiende a más de 9.000 km2. La multitud de datos existente ha sido almacenada desde los años 1960 en una base de datos. La transmisividad de estos acuíferos ha sido determinada mediante datos de ensayos de bombeo y una relación empírica que usa la capacidad específica corregida con las pérdidas turbulentas en el pozo. La transmisividad de estos acuíferos se comporta como una variable lognormal, hecho importante para los trabajos previstos de modelación con métodos estadísticos. La transmisividad de cada acuífero puede variar hasta en cuatro órdenes de magnitud, manifestando su gran heterogeneidad. Para los materiales volcánicos, la transmisividad es mayor cuanto más joven es la roca. La permeabilidad de las rocas volcánicas ha evolucionado por tanto con el tiempo geológico. Actualmente, se posee un mayor conocimiento sobre las propiedades hidráulicas de estos acuíferos complejos, de manera que se puede hacer una gestión óptima de sus recursos hídricos subterráneos con la utilización de modelos numéricos.
This is a preview of subscription content, log in to check access.
Access options
Buy single article
Instant access to the full article PDF.
US$ 39.95
Tax calculation will be finalised during checkout.
Subscribe to journal
Immediate online access to all issues from 2019. Subscription will auto renew annually.
US$ 99
Tax calculation will be finalised during checkout.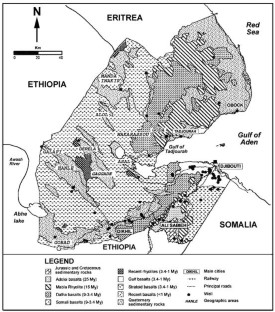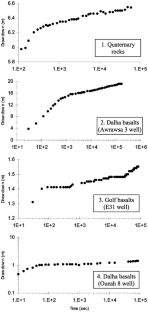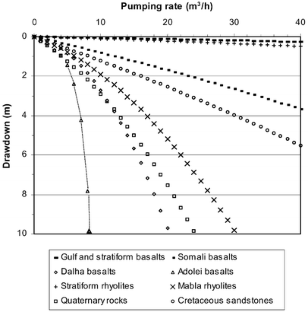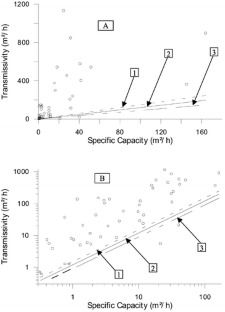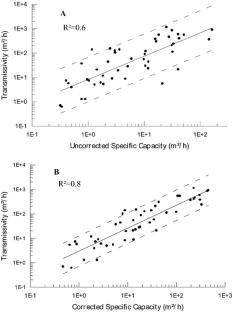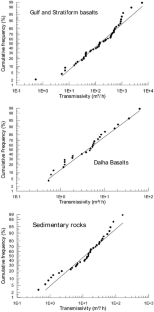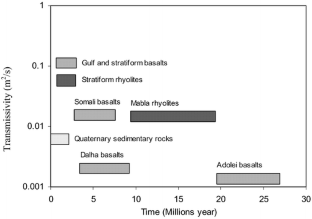 References
Aboufirassi M. and M.A.Marino, 1984. Cokriging of aquifer transmissivity from field measurements of transmissivity and specific capacity. Math.Geol. v.16, no.1, pp 19–35.

Arthaud F, Choukroune P, Robineau B (1980) Tectonique, microtectonique et évolution structurale du golfe de Tadjourah et du Sud de la Dépression Afar (République de Djibouti) [Tectonics, microtectonics and structural evolution of the Gulf of Tadjourah and the South of the Afar Depression (Republic of Djibouti)]. Bull Soc Géol Fr XXII(6):901–908

AQUATER-ISERST (1986) Préfactibilité géothermique de la plaine de Hanlé-Gaggadé [Geothermic feasibility study of the plain of Hanlé-Gaggadé]. Unpublished report, Djibouti

Barberi F, Ferrara G, Santacroce R, Varet J (1974) Structural evolution of the Afar triple junction. Afar Depression of Ethiopia. Bad Bergzarben, Germany, April 1–6 1974. Edition A. Pilger and A. Rösler, 1, pp 38–54

Barberi F, Santacroce R (1980) The Afar stratoïd series and the magmatic evolution of East African rift system. Bull Soc Géol Fr XXII(6):891–900

BGR (1999) Résultats de la campagne des forages de reconnaissance effectuée dans la plaine de Hanlé [Results of the drilling campaign carried out in the plain of Hanlé]. Projet n°: 95.2050.3. Bundesanstalt für GeowissenSchaften und Rohstoffe, Hannover, Germany, 101 pp (Unpublished report)

Black M, Morton WH, Rex DC (1974) Block tilting and volcanism within the Afar in the light of recent K/Ar age data. Afar Depression of Ethiopia. Bad Bergzarben, Germany, April 1–6 1974. Edition A. Pilger and A. Rösler, 1, pp 296–299

Boulton NS (1964) Analysis of data from non-equilibrium pumping tests allowing for delayed yield from storage. Proc Inst Civ Eng 26:603–610

Brown RH (1963) Estimating the transmissivity of an artesian aquifer from the specific capacity of a well. U.S. Geol Survey Water Supply Paper 1536-I, pp 336–338

Castany G (1982) Principes et méthodes de l'hydrogéologie [Principles and methods of hydrogeology ]. Ed Dunod, Paris, 237 pp

Chessex R, Delaloye M, Muller M, Weidmann M (1974) Evolution of the volcanic region of Ali Sabieh (TFAI), in light of K/Ar age determination. Afar Depression of Ethiopia. Bad Bergzarben, Germany, April 1–6 1974. Edition A. Pilger and A. Rösler, 1, pp 228–231

Clark L (1977) The analysis and planning of step drawdown tests. Q Jl Eng Geol 10(2)

CNRS-CNR (1973) Geology of Northern Afar (Ethiopia). Rev Géog Phys Géol Dyn XV(4):443–490

Cooper HH, Jacob CE (1946) A generalized graphical method for evaluation formation constants and summarizing well field history. Am Geophys Union Trans 27, 526–534.

Delhomme JP (1979) Spatial variability and uncertainty in groundwater flow parameters: a geostatistical approach. Water Res Research 15:269–280

Dupuit J (1863) Etudes théoriques et pratiques sur le mouvement des eaux dans les canaux découverts et à travers les terrains perméables [Theoretical and practical studies on the movement of water in open channels and through permeable rocks]. Editions Dunod Paris.

Eagan HB Jr, Johe DE (1972) Practical solutions for pumping tests in carbonate-rock aquifers. Ground Water 10(4):6–13

El Naqa A (1994) Estimation of transmissivity from specific capacity data in fractured carbonate rock aquifer, central Jordan. Environmental Geology 23(1):73–80

Fabbri P (1997) Transmissivity in the geothermal Euganean basin: a geostatistical analysis. Ground Water 35(5):881–887

Fetter CW (1994) Applied Hydrogeology. Prentice Hall, New Jersey, 691 pp

Forkasiewicz J (1978) Essais de puits par paliers de débit [Step drawdown pumping tests]. Rapport 78SGN040HYD, BRGM, Orléans, France, 31 pp

Gasse F (1975) L'évolution des lacs de l'Afar central (Ethiopie et TFAI) du plio-pleistocène à l'actuel [Evolution of the lakes in the Central Afar (Ethiopia and TFAI) from Plio-Pleistocene to present period]. Thèse Doctorat d'Etat, Université de Paris VI, 406 pp

Gasse F, Richard O, Robbe D, Rognon P, Williams MAJ (1980) Evolution tectonique et climatique de l'Afar Central d'après les sédiments plio-pléistocènes [Tectonic and climatic evolution of Central Afar according to the Plio-Pleistocenes sediments ]. Bull Soc Géol Fr XXII(6):987–1001

Gaulier JM, Huchon P (1991) Tectonic evolution of Afar triple junction. Bull Soc Géol France 162(3):451–464

Huntley D, Nommensen R, Steffey D (1992) The use of specific capacity to assess transmissivity in fractured rock aquifers. Ground Water 30(3):396–402

Hurr RT (1966) A new approach for estimating transmissivity from specific capacity. Water Res Research 2:657–664

ISERST (1985–1995) Cartes géologiques de la République de Djibouti à 1/100000 [Geological maps of the Republic of Djibouti at 1/100000]. Editions ORSTOM, Paris, France

Jacob CE (1950) Flow of groundwater. In: Rouse H (ed) Engineering Hydraulics. Wiley, New York, pp 321–386

Jalludin M (1997) Hydrogeological features of the Afar Stratoïd basalts aquifer on the Djiboutian part. International Symposium on flood basalts, rifting and paleoclimates in the Ethiopian rift and Afar Depression. Addis Ababa, Djibouti, 3–14/02/1997

Jalludin M, Razack M (1994) Analysis of pumping tests in fractured Dalha and stratoid basalts with regard to tectonics, hydrothermal effects and weathering. Republic of Djibouti. J Hydrol 155:237–250

Kruseman GP, de Ridder NA (1991) Analysis and evaluation of pumping test data. Intern Inst Land Reclam Improvement, Publi 47, Wageningen, The Netherlands, 341 pp

Mace RE (1997) Determination of transmissivity from specific capacity tests in a karst aquifer. Ground Water 35(5):738–742

Mogg JL (1969) Step drawdown test needs critical review. Ground Water 7(1)

Neuman SP (1979) Statistical characterization of aquifer heterogeneities, an overview of recent trends in hydrology. Proc Symp Honoring Prof. Witherspoon's 60th birthday, Lawrence Berkeley Laboratory, Berkeley, CA

Razack M, Huntley D (1991) Assessing transmissivity from specific capacity in a large and heterogeneous aquifer. Ground Water 29:856–861

Rorabaugh MJ (1953) Graphical and theoretical analysis of step-drawdown test of artesian well. Proceedings separate, ASCE n° 362, 79

Theis CV (1935) The relation between the lowering of the piezometric surface and the rate and discharge of a well using groundwater storage. Am Geophys Union Trans 16:519–524

Theis CV (1963) Estimating the transmissivity of a water-table aquifer from the specific capacity of a well. U.S. Geol Survey Paper Water Supply Paper 1536-I, pp 332–336

Thomasson HJ, Olmsted FH, Leroux ER (1960) Geology, water resources and usable ground water storage capacity of part of Solano County, CA. U.S. Geol Survey Water Supply Paper 1464, pp 693–699

Todd DK (1959) Ground Water Hydrology. Wiley, New York, USA, 336 pp
Acknowledgments
We gratefully thank the anonymous reviewer whose comments, suggestions and corrections have greatly helped to bring this article to its final form.
About this article
Cite this article
Jalludin, M., Razack, M. Assessment of hydraulic properties of sedimentary and volcanic aquifer systems under arid conditions in the Republic of Djibouti (Horn of Africa). Hydrogeology Journal 12, 159–170 (2004). https://doi.org/10.1007/s10040-003-0312-2
Received:

Accepted:

Published:

Issue Date:
Keywords
Djibouti

Volcanic aquifers

Sedimentary aquifers

Arid climate

Hydraulic properties