Zusammenfassung
Septische Arthritiden des Ellenbogens sind selten, treten aber in Risikogruppen wie beispielsweise bei Patienten mit rheumatoider Arthritis oder bei einliegenden Prothesen gehäuft auf. Die sichere Diagnose einer septischen Arthritis ist besonders herausfordernd, da kein diagnostisches Mittel isoliert eine hinreichend sichere Diagnose ermöglicht. Das Leitsymptom ist das schmerzhaft geschwollene Gelenk. Neben dem klinischen Erscheinungsbild und den üblichen Infektparametern hat die Anzahl und Art der Leukozyten im Gelenkpunktat die höchste Aussagekraft in der Diagnostik. Besteht der Verdacht auf eine septische Arthritis ist sofortiges Handeln notwendig, um einen desaströsen Verlauf abzuwenden.
Abstract
Septic arthritis of the elbow joint is a rare condition, frequently occuring in risk groups, such as patients with rheumatoid arthritis or implanted elbow prostheses. The diagnosis of a septic arthritis of the elbow joint is particularly challenging as there is no single diagnostic means that sufficiently enables a clear-cut diagnosis. Leading symptom is the painful swollen joint. Besides the clinical presentation and basic laboratory parameters, the number and type of leukocytes in the joint fluid have the greatest diagnostic value. In cases where a septic arthritis is suspected, immediate treatment is necessary to avoid a disastrous outcome.
Access options
Buy single article
Instant access to the full article PDF.
US$ 39.95
Tax calculation will be finalised during checkout.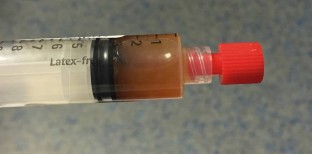 Literatur
1.

Kaandorp CJE, Van Schaardenburg D, Krijnen P et al (1995) Risk factors for septic arthritis in patients with joint disease. Arthritis Rheum 38:1819–1825. https://doi.org/10.1002/art.1780381215

2.

Weston VC, Jones AC, Bradbury N et al (1999) Clinical features and outcome of septic arthritis in a single UK Health District 1982–1991. Ann Rheum Dis 58:214–219. https://doi.org/10.1136/ard.58.4.214

3.

Morgan DS, Fisher D, Merianos A, Currie BJ (1996) An 18 year clinical review of septic arthritis from tropical Australia. Epidemiol Infect. https://doi.org/10.1017/S0950268800059070

4.

Geirsson ÁJ, Statkevicius S, Víkingsson A (2008) Septic arthritis in Iceland 1990–2002: Increasing incidence due to iatrogenic infections. Ann Rheum Dis 67:638–643. https://doi.org/10.1136/ard.2007.077131

5.

Al-Nammari SS, Gulati V, Patel R et al (2008) Septic arthritis in haemodialysis patients: a seven-year multi-centre review. J Orthop Surg 16:54–57. https://doi.org/10.1177/230949900801600114

6.

Kaandorp CJE, Krijnen P, Moens HJB et al (1997) The outcome of bacterial arthritis. A prospective community-based study. Arthritis Rheum 40:884–892. https://doi.org/10.1002/art.1780400516

7.

Riegels-Nielsen P, Frimodt-Möller N, Jensen JS (1987) Rabbit model of septic arthritis. Acta Orthop 58:14–19. https://doi.org/10.3109/17453678709146335

8.

Margaretten ME, Kohlwes J, Moore D, Bent S (2007) Does this adult patient have septic arthritis? JAMA 297:1478–1488. https://doi.org/10.1001/jama.297.13.1478

9.

Gupta MN, Sturrock RD, Field M (2001) A prospective 2‑year study of 75 patients with adult-onset septic arthritis. Baillieres Clin Rheumatol 40:24–30. https://doi.org/10.1093/rheumatology/40.1.24

10.

Li SF, Cassidy C, Chang C et al (2007) Diagnostic utility of laboratory tests in septic arthritis. Emerg Med J. https://doi.org/10.1136/emj.2006.037929

11.

Trampuz A, Hanssen AD, Osmon DR et al (2004) Synovial fluid leukocyte count and differential for the diagnosis of prosthetic knee infection. Am J Med 117:556–562. https://doi.org/10.1016/j.amjmed.2004.06.022

12.

Beaman FD, von Herrmann PF, Kransdorf MJ et al (2017) ACR Appropriateness Criteria® suspected Osteomyelitis, septic arthritis, or soft tissue infection (excluding spine and diabetic foot). J Am Coll Radiol 14:S326–S337. https://doi.org/10.1016/j.jacr.2017.02.008

13.

Morrey B, Sanchez Sotelo J, Morrey M (2017) The elbow and its disorders, 5. Aufl., S 458–465

14.

Vergidis P, Greenwood-Quaintance KE, Sanchez-Sotelo J et al (2011) Implant sonication for the diagnosis of prosthetic elbow infection. J Shoulder Elbow Surg 20:1275–1281. https://doi.org/10.1016/j.jse.2011.06.016

15.

Rothenberg AC, Wilson AE, Hayes JP et al (2017) Sonication of Arthroplasty implants improves accuracy of periprosthetic joint infection cultures. Clin Orthop Relat Res 475:1827–1836. https://doi.org/10.1007/s11999-017-5315-8

16.

Dubost JJ, Soubrier M, De Champs C et al (2002) No changes in the distribution of organisms responsible for septic arthritis over a 20 year period. Ann Rheum Dis 61:267–269. https://doi.org/10.1136/ard.61.3.267

17.

Mehta P, Schnall SB, Zalavras CG (2006) Septic arthritis of the shoulder, elbow, and wrist. Clin Orthop Relat Res 451:42–45. https://doi.org/10.1097/01.blo.0000229322.30169.29

18.

Moon J‑G, Bilaris S, Jeong W‑K, Kim J‑H (2014) Clinical results after Arthroscopic treatment for septic arthritis of the elbow joint. Arthroscopy 30:673–678. https://doi.org/10.1016/j.arthro.2014.02.018

19.

Stutz G, Gächter A (2001) Diagnostik und stadiengerechte Therapie von Gelenkinfekten. Arthroskopie 14:18–22

20.

Stengel D, Bauwens K, Sehouli J et al (2001) Systematic review and meta-analysis of antibiotic therapy for bone and joint infections. Lancet Infect Dis 1:175–188

21.

Voloshin I, Schippert DW, Kakar S et al (2011) Complications of total elbow replacement: a systematic review. J Shoulder Elbow Surg 20:158–168

22.

Little C (2005) Outcomes of total elbow Arthroplasty for rheumatoid arthritis: comparative study of three implants. J Bone 87:2439–2448. https://doi.org/10.2106/JBJS.D.02927

23.

Burkhart KJ, Stein G, Skouras E, Müller LP (2010) Revisionsendoprothetik des Ellenbogens. Unfallchirurg 113:996–1005. https://doi.org/10.1007/s00113-010-1903-8

24.

Yamaguchi K, Adams RA, Morrey BF (1998) Infection after total elbow arthroplasty. J Bone Joint Surg Am 80:481–491. https://doi.org/10.2106/00004623-198365030-00006

25.

Rudge WBJ, Eseonu K, Brown M et al (2018) The management of infected elbow arthroplasty by two-stage revision. J Shoulder Elbow Surg 27:879–886. https://doi.org/10.1016/j.jse.2017.12.033

26.

Spormann C, Achermann Y, Simmen BR et al (2012) Treatment strategies for periprosthetic infections after primary elbow arthroplasty. J Shoulder Elbow Surg 21:992–1000. https://doi.org/10.1016/j.jse.2011.10.007
Ethics declarations
Interessenkonflikt
V. Rausch, M. Hackl, T. Leschinger, T.A. Schildhauer, L.P. Müller und K. Wegmann geben an, dass kein Interessenkonflikt besteht.
Für diesen Beitrag wurden von den Autoren keine Studien an Menschen oder Tieren durchgeführt. Für die aufgeführten Studien gelten die jeweils dort angegebenen ethischen Richtlinien. Für Bildmaterial oder anderweitige Angaben innerhalb des Manuskripts, über die Patienten zu identifizieren sind, liegt von ihnen und/oder ihren gesetzlichen Vertretern eine schriftliche Einwilligung vor.
About this article
Cite this article
Rausch, V., Hackl, M., Leschinger, T. et al. Seltene Arthritiden. Trauma Berufskrankh 21, 231–235 (2019). https://doi.org/10.1007/s10039-019-00447-y
Schlüsselwörter
Septische Arthritis

Prothese

Leukozyten

Gelenkpunktat

Stadiengerechte Therapie
Keywords
Septic arthritis

Prosthesis

Leukocytes

Joint puncture fluid

Stage-related treatment