Zusammenfassung
Die periprothetische Infektion ist eine der herausforderndsten postoperativen Komplikationen in der Endoprothetik und stellt hohe Ansprüche an die Anwendung von komplexen diagnostischen und therapeutischen Konzepten. Bei jeder schmerzhaften Endoprothese oder Zeichen einer Frühlockerung muss mittels Gelenkpunktion mit Bestimmung der Leukozytenzahl und der prozentualen Anteile der Granulozyten in der Synovialflüssigkeit eine Infektion ausgeschlossen werden. Anhand der Symptomdauer wird zwischen akuter (<4 Wochen nach Operation bzw. <3 Wochen bei hämatogenen Infektionen) und chronischer Infektion unterschieden. Ein Erhalt der Prothese ist bei akuten Infektionen möglich, sofern die Prothese stabil ist, die Weichteile intakt sind und das Pathogen kein Problemerreger ist. In chronischen Infektionen kann ein ein- oder zweizeitiger Prothesenwechsel durchgeführt werden. Beim zweizeitigen Wechsel ist ein kurzes Intervall von 2 bis 3 Wochen möglich, wenn eine biofilmaktive Therapie verfügbar ist. In Standardfällen ist die Dauer der antibiotischen Behandlung 12 Wochen. Rifampicin und andere biofilmaktive Antibiotika sollten nur gezielt und mit der chirurgischen Therapie zeitlich abgestimmt eingesetzt werden.
Abstract
Periprosthetic joint infections are one of the most challenging postoperative complications after primary arthroplasty and place high demands on complex diagnostic and treatment strategies. Joint aspiration with determination of the leukocyte count and percentage of granulocytes in the synovial fluid should be performed for every painful prosthetic joint or signs of early implant loosening. Surgical treatment depends on the duration of clinical symptoms, based on which infections are classified as acute (<4 weeks postoperatively or <3 weeks in hematogenous infections) or chronic. In acute infections with a stable prosthesis, good soft tissue conditions and a pathogen that is not difficult to treat, retention of the prosthesis is possible. In cases of chronic infection a complete exchange of the prosthesis in one or two stages is necessary. In two-stage procedures a short interval of 2–3 weeks is possible if biofilm-active treatment is available. The total duration of antibiotic treatment for standard cases is 12 weeks. Rifampicin and other biofilm-active antibiotics should only be used as targeted treatment and in optimal timing with the surgical procedure.
Access options
Buy single article
Instant access to the full article PDF.
US$ 39.95
Tax calculation will be finalised during checkout.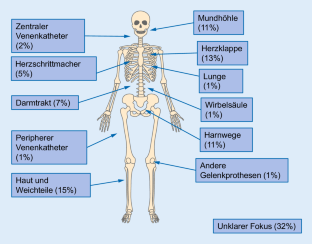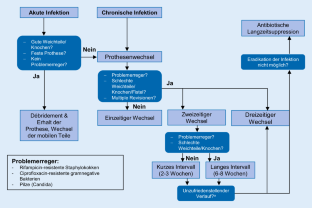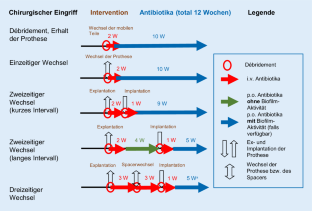 Literatur
1.

Kurtz SM, Ong KL, Lau E et al (2010) Prosthetic joint infection risk after TKA in the Medicare population. Clin Orthop Relat Res 468:52–56

2.

Rakow A, Perka C, Trampuz A, Renz N (2019) Origin and characteristics of haematogenous periprosthetic joint infection. Clin Microbiol Infect 25:845–850

3.

Zimmerli W, Trampuz A, Ochsner P (2004) Prosthetic-joint infections. N Engl J Med 351:1645–1654

4.

Gbejuade H, Lovering AM, Webb JC (2015) The role of microbial biofilms in prosthetic joint infections. Acta Orthop 86:147–158

5.

Zimmerli W, Lew PD, Waldvogel FA (1984) Pathogenesis of foreign body infection. Evidence for a local granulocyte defect. J Clin Invest 73:1191–1200

6.

Dinneen A, Guyot A, Clements J, Bradley N (2013) Synovial fluid white cell and differential count in the diagnosis or exclusion of prosthetic joint infection. Bone Joint J 95-B:554–557

7.

Trampuz A, Hanssen AD, Osmon DR, Mandrekar J, Steckelberg JM, Patel R (2004) Synovial fluid leukocyte count and differential for the diagnosis of prosthetic knee infection. Am J Med 117:556–562

8.

Trampuz A, Perka C, Borens O (2013) Gelenkprotheseninfektion: Neue Entwicklungen in der Diagnostik und Therapie. Dtsch Med Wochenschr 1380:1571–1573

9.

Karczewski D, Winkler T, Perka C, Müller M (2018) The preoperative microbial detection is no prerequisite for the indication of septic revision in cases of suspected periprosthetic joint infection. Biomed Res Int. https://doi.org/10.1155/2018/1729605

10.

Renz N, Yermak K, Perka C, Trampuz A (2018) Alpha defensin lateral flow test for diagnosis of periprosthetic joint infection: not a screening but a confirmatory test. J Bone Joint Surg Am 100:742–750

11.

Portillo ME, Salvado M, Alier A, Martinez S, Sorli L, Horcajada JP, Puig L (2013) Prosthesis failure within two years of implantation is highly predictive for infection. Clin Orthop Relat Res 471(11):3672–3678

12.

Aggarwal VK, Higuera C, Deirmengian G et al (2013) Swab cultures are not as effective as tissue cultures for diagnosis of periprosthetic joint infection. Clin Orthop Relat Res 471:3196–3203

13.

Trampuz A, Piper KE, Jacobson MJ, Hanssen AD, Unni KK, Osmon DR et al (2007) Sonication of removed hip and knee prostheses for diagnosis of infection. N Engl J Med 357:654–663

14.

Christensen CP, Bedair H, Della Valle CJ et al (2013) The natural progression of synovial fluid white blood-cell counts and the percentage of polymorphonuclear cells after primary total knee arthroplasty: a multicenter study. J Bone Joint Surg Am 95:2081–2208

15.

Kunutsor SK, Beswick AD, Whitehouse MR, Wylde V, Blom AW (2018) Debridement, antibiotics and implant retention for periprosthetic joint infections: a systematic review and meta-analysis of treatment outcomes. J Infect 77(6):479–488. https://doi.org/10.1016/j.jinf.2018.08.017

16.

Sendi P, Lötscher PO, Kessler B, Graber P, Zimmerli W, Clauss M (2017) Debridement and implant retention in the management of hip periprosthetic joint infection: outcomes following guided and rapid treatment at a single centre. Bone Joint J 99-B:330–333

17.

Izakovicova P, Borens O, Trampuz A (2019) Periprosthetic joint infection: current concepts and outlook. EFORT Open Rev 4(7):482–494

18.

Troendlin F, Frieler S, Hanusrichter Y, Yilmaz E, Schildhauer TA, Baecker H (2019) Persistent Fistula for treatment of a failed periprosthetic joint infection: relic from the past or a viable salvage procedure? J Arthroplasty. https://doi.org/10.1016/j.arth.2019.09.012

19.

PRO-IMPLANT Foundation (2019) Pocket Guide zur Diagnostik und Behandlung von periprothetischen Infektionen (Version 9)
Ethics declarations
Interessenkonflikt
P. Izakovičová, D. Margaryan, H. Baecke und A. Trampuz geben an, dass kein Interessenkonflikt besteht.
Für diesen Beitrag wurden von den Autoren keine Studien an Menschen oder Tieren durchgeführt. Für die aufgeführten Studien gelten die jeweils dort angegebenen ethischen Richtlinien.
About this article
Cite this article
Izakovičová, P., Margaryan, D., Baecker, H. et al. Periprothetische Gelenkinfektion. Trauma Berufskrankh 21, 210–216 (2019). https://doi.org/10.1007/s10039-019-00446-z
Schlüsselwörter
Biofilm

Diagnostik

Antibiotika

Akute Infektion

Chronische Infektion
Keywords
Biofilm

Diagnostics

Antibiotics

Acute infection

Chronic infection