Zusammenfassung
Hintergrund
Die Spondylodiszitis ist eine seltene, aber komplexe Erkrankung mit steigender Inzidenz. Diagnostische Algorithmen und Behandlungsoptionen werden kontrovers diskutiert. Nationale Leitlinien sind zwar für Mai 2020 geplant, fehlen aber nach wie vor, so dass diagnostische Algorithmen und Behandlungsoptionen weiterhin kontrovers diskutiert werden.
Zielsetzung
Es erfolgen die Präsentation eines Diagnostikalgorithmus und Behandlungsvorschläge mit Fokus auf die antibiotische Therapie.
Methoden
Eine umfassende Literatursuche wurde durchgeführt, um klinische Studien, nationale Leitlinien, Reviewartikel und Expertenmeinungen zu identifizieren, analysieren und diskutieren.
Resultate
Aufgrund der unspezifischen Klinik erfolgt die Diagnosestellung häufig verzögert. Meist kann die korrekte Diagnose nur mithilfe einer Kombination aus klinischen, laborchemischen und radiologischen Befunden gestellt werden. Die antibiotische Therapie ist eine Säule der Spondylodiszitistherapie. Empfohlen wird eine umgehende empirische antibiotische Therapie bis zur Identifikation des Pathogens. Eine konservative Therapie kann in Erwägung gezogen werden, wenn keine neurologischen Defizite, größeren Abszesse, knöchernen Destruktionen, Instabilitäten oder ein septisches Krankheitsbild vorliegen. Eine engmaschige Reevaluation und klinische Kontrollen sind in der poststationären Nachbehandlung essenziell. Die zeitgerechte operative Therapie kann zu einer schnellen Besserung der neurologischen Symptomatik, einer Sicherung der Diagnose durch Probenentnahme, Stabilisierung und Vermeidung von Deformitäten führen.
Schlussfolgerung
Die Diagnosestellung und Behandlung der Spondylodiszitis stellt eine Herausforderung dar und ist nach wie vor assoziiert mit einer hohen Morbidität und Mortalität. Schlüsselfaktoren einer erfolgreichen Behandlung sind die schnelle und korrekte Diagnosestellung und die adäquate antibiotische Therapie.
Abstract
Background
Spondylodiscitis is a rare but complex disease with an increasing incidence. Diagnostic algorithms and treatment options for spondylodiscitis are controversially discussed. National guidelines for Germany do not currently exist but are planned for May 2020.
Objective
A diagnostic algorithm and treatment recommendations are presented with a focus on antibiotic treatment.
Methods
A comprehensive literature search was performed using the PubMed database to identify, analyze and discuss clinical studies, national guidelines, systematic and narrative reviews as well as expert opinions.
Results
The diagnostics of spondylodiscitis are often delayed due to the nonspecific clinical manifestation. The correct diagnosis can mostly be made using a combination of clinical, laboratory and radiographic findings. An immediate empirical antimicrobial treatment is recommended until the pathogen has been identified. Conservative treatment can be considered in patients without neurological deficits, larger abscesses, bony destruction, instability or sepsis. A continuous re-evaluation and clinical control are essential in the posthospital follow-up treatment. The timely operative treatment can lead to a rapid improvement of neurological symptoms, diagnosis confirmation through intraoperative samples, stabilization and prevention of deformities.
Conclusion
The diagnostics and treatment of spondylodiscitis are a challenge and it is still associated with a high morbidity and mortality. Rapid and correct diagnosis as well as an adequate antimicrobial therapy are key factors for a successful treatment of spondylodiscitis.
Access options
Buy single article
Instant access to the full article PDF.
US$ 39.95
Tax calculation will be finalised during checkout.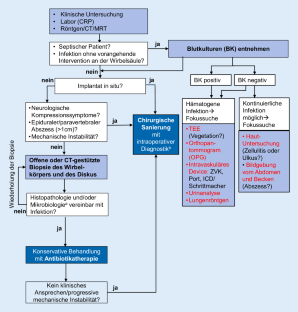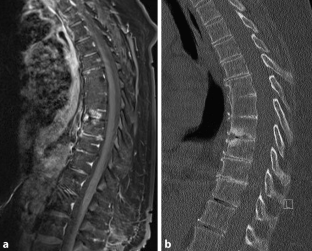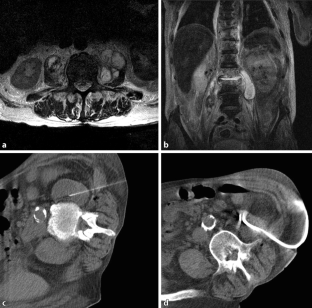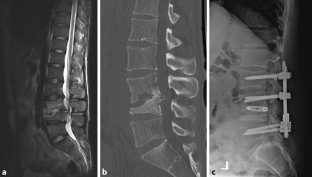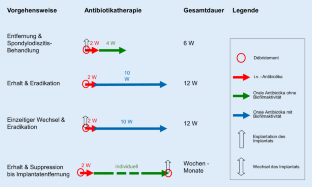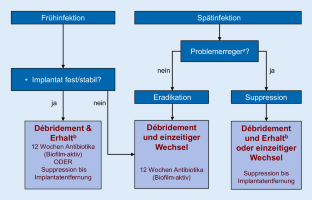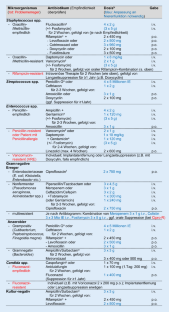 Literatur
1.

Sobottke R, Seifert H, Fätkenheuer G, Schmidt M, Gossmann A, Eysel P (2008) Current diagnosis and treatment of spondylodiscitis. Dtsch Arztebl Int 105(10):181–187

2.

Cornett CA, Vincent SA, Crow J, Hewlett A (2016) Bacterial spine infections in adults: evaluation and management. J Am Acad Orthop Surg 24(1):11–18

3.

Frangen TM, Kälicke T, Gottwald M et al (2006) Surgical management of spondylodiscitis. An analysis of 78 cases. Unfallchirurg 109(9):743–753

4.

Schinkel C, Gottwald M, Andress HJ (2003) Surgical treatment of spondylodiscitis. Surg Infect 4(4):387–391

5.

Butler JS, Shelly MJ, Timlin M, Powderly WG, O'Byrne JM (2006) Nontuberculous pyogenic spinal infection in adults: a 12-year experience from a tertiary referral center. Spine 31(23):2695–2700

6.

Nolla JM, Ariza J, Gómez-Vaquero C et al (2002) Spontaneous pyogenic vertebral osteomyelitis in nondrug users. Semin Arthritis Rheum 31(4):271–278

7.

Linhardt O, Matussek J, Refior HJ, Krödel A (2007) Long-term results of ventro-dorsal versus ventral instrumentation fusion in the treatment of spondylitis. Int Orthop 31(1):113–119

8.

Woertgen C, Rothoerl RD, Englert C, Neumann C (2006) Pyogenic spinal infections and outcome according to the 36-item short form health survey. J Neurosurg Spine 4(6):441–446

9.

Loibl M, Stoyanov L, Doenitz C et al (2014) Outcome-related co-factors in 105 cases of vertebral osteomyelitis in a tertiary care hospital. Infection 42(3):503–510

10.

Brummerstedt M, Bangstrup M, Barfod TS (2018) High mortality from pyogenic vertebral osteomyelitis: a retrospective cohort study. Spinal Cord Ser Cases 4:59

11.

Vettivel J, Bortz C, Passias PG, Baker JF (2019) Pyogenic vertebral column osteomyelitis in adults: analysis of risk factors for 30-day and 1‑year mortality in a single center cohort study. Asian Spine J 13:608–614. https://doi.org/10.31616/asj.2018.0295

12.

Klöckner C, Valencia R, Weber U (2001) Alignment of the sagittal profile after surgical therapy of nonspecific destructive spondylodiscitis: ventral or ventrodorsal method—a comparison of outcomes. Orthopade 30(12):965–976

13.

Blecher R, Yilmaz E, Ishak B, Drazin D, Oskouian RJ, Chapman JR (2019) Recent increase in the rate of spinal infections may be related to growing substance-use disorder in the state of washington: wide population-based analysis of the comprehensive hospital abstract reporting system (CHARS) database. Spine 44(4):291–297

14.

Müller EJ, Russe OJ, Muhr G (2004) Osteomyelitis of the spine. Orthopade 33(3):305–315

15.

Mylona E, Samarkos M, Kakalou E, Fanourgiakis P, Skoutelis A (2009) Pyogenic vertebral osteomyelitis: a systematic review of clinical characteristics. Semin Arthritis Rheum 39(1):10–17

16.

Gouliouris T, Aliyu SH, Brown NM (2010) Spondylodiscitis: update on diagnosis and management. J Antimicrob Chemother 65(Suppl 3):iii11–iii24

17.

Krogsgaard MR, Wagn P, Bengtsson J (1998) Epidemiology of acute vertebral osteomyelitis in Denmark: 137 cases in Denmark 1978–1982, compared to cases reported to the National Patient Register 1991–1993. Acta Orthop Scand 69(5):513–517

18.

Carragee EJ (1997) Pyogenic vertebral osteomyelitis. J Bone Joint Surg Am 79(6):874–880

19.

Musher DM, Thorsteinsson SB, Minuth JN, Luchi RJ (1976) Vertebral osteomyelitis. Still a diagnostic pitfall. Arch Intern Med 136(1):105–110

20.

Patzakis MJ, Rao S, Wilkins J, Moore TM, Harvey PJ (1991) Analysis of 61 cases of vertebral osteomyelitis. Clin Orthop Relat Res 264:178–183

21.

Rezai AR, Woo HH, Errico TJ, Cooper PR (1999) Contemporary management of spinal osteomyelitis. Neurosurgery 44(5):1018–1025 (discussion 1025–1016)

22.

Dufour V, Feydy A, Rillardon L et al (2005) Comparative study of postoperative and spontaneous pyogenic spondylodiscitis. Semin Arthritis Rheum 34(5):766–771

23.

Ulu-Kilic A, Karakas A, Erdem H et al (2014) Update on treatment options for spinal brucellosis. Clin Microbiol Infect 20(2):O75–O82

24.

Cottle L, Riordan T (2008) Infectious spondylodiscitis. J Infect 56(6):401–412

25.

Mavrogenis AF, Megaloikonomos PD, Igoumenou VG et al (2017) Spondylodiscitis revisited. EFORT Open Rev 2(11):447–461

26.

Lerner T, Hackenberg L, Rösler S, Joosten U, Halm H, Liljenqvist U (2005) Surgical therapy of unspecific and specific Spondylodiscitis. Z Orthop Ihre Grenzgeb 143(2):204–212

27.

Mackenzie AR, Laing RB, Smith CC, Kaar GF, Smith FW (1998) Spinal epidural abscess: the importance of early diagnosis and treatment. J Neurol Neurosurg Psychiatry 65(2):209–212

28.

Fachgesellschaften AdWM. (2017) Kurzfassung der Nationalen Versorgungsleitlinie "Nicht-spezifischer Kreuzschmerz". Version  1

29.

Kemp HB, Jackson JW, Jeremiah JD, Hall AJ (1973) Pyogenic infections occurring primarily in intervertebral discs. J Bone Joint Surg Br 55(4):698–714

30.

Belzunegui J, Intxausti JJ, De Dios JR et al (2000) Haematogenous vertebral osteomyelitis in the elderly. Clin Rheumatol 19(5):344–347

31.

Chang MC, Wu HT, Lee CH, Liu CL, Chen TH (2006) Tuberculous spondylitis and pyogenic spondylitis: comparative magnetic resonance imaging features. Spine 31(7):782–788

32.

Maiuri F, Iaconetta G, Gallicchio B, Manto A, Briganti F (1997) Spondylodiscitis. Clinical and magnetic resonance diagnosis. Spine 22(15):1741–1746

33.

Rausch VH, Bannas P, Schoen G et al (2017) Diagnostic yield of multidetector computed tomography in patients with acute spondylodiscitis. Rofo 189(4):339–346

34.

Van Goethem JW, Parizel PM, van den Hauwe L, Van de Kelft E, Verlooy J, De Schepper AM (2000) The value of MRI in the diagnosis of postoperative spondylodiscitis. Neuroradiology 42(8):580–585

35.

Grados F, Lescure FX, Senneville E, Flipo RM, Schmit JL, Fardellone P (2007) Suggestions for managing pyogenic (non-tuberculous) discitis in adults. Joint Bone Spine 74(2):133–139

36.

Klöckner C, Valencia R (2003) Sagittal alignment after anterior debridement and fusion with or without additional posterior instrumentation in the treatment of pyogenic and tuberculous spondylodiscitis. Spine 28(10):1036–1042

37.

Lee JS, Suh KT (2006) Posterior lumbar interbody fusion with an autogenous iliac crest bone graft in the treatment of pyogenic spondylodiscitis. J Bone Joint Surg Br 88(6):765–770

38.

Kinzl LSG (1996) Infizierte Pseudarthrose. Orthopäde 25(5):478–483

39.

Mazur MD, Ravindra VM, Dailey AT, McEvoy S, Schmidt MH (2015) Rigid posterior lumbopelvic fixation without formal debridement for pyogenic vertebral diskitis and osteomyelitis involving the lumbosacral junction: technical report. Front Surg 2:47

40.

McHenry MC, Easley KA, Locker GA (2002) Vertebral osteomyelitis: long-term outcome for 253 patients from 7 Cleveland-area hospitals. Clin Infect Dis 34(10):1342–1350

41.

Fushimi K, Miyamoto K, Fukuta S, Hosoe H, Masuda T, Shimizu K (2012) The surgical treatment of pyogenic spondylitis using posterior instrumentation without anterior debridement. J Bone Joint Surg Br 94(6):821–824

42.

Akbar M, Sobottke R, Lehner B et al (2012) Pyogenic spondylodiscitis: therapy algorithm and a new classification for therapeutic decision-making. Orthopade 41(9):749–758

43.

Waheed G, Soliman MAR, Ali AM, Aly MH (2019) Spontaneous spondylodiscitis: review, incidence, management, and clinical outcome in 44 patients. Neurosurg Focus 46(1):E10

44.

Isenberg J, Jubel A, Hahn U, Seifert H, Prokop A (2005) Multistep surgery for spondylosyndesis. Treatment concept of destructive spondylodiscitis in patients with reduced general condition. Orthopade 34(2):159–166

45.

Tsai TT, Yang SC, Niu CC et al (2017) Early surgery with antibiotics treatment had better clinical outcomes than antibiotics treatment alone in patients with pyogenic spondylodiscitis: a retrospective cohort study. BMC Musculoskelet Disord 18(1):175

46.

Nasto LA, Colangelo D, Mazzotta V et al (2014) Is posterior percutaneous screw-rod instrumentation a safe and effective alternative approach to TLSO rigid bracing for single-level pyogenic spondylodiscitis? Results of a retrospective cohort analysis. Spine J 14(7):1139–1146

47.

Lambert A, Charles YP, Ntilikina Y et al (2019) Safety and efficacy of percutaneous instrumentation combined with antibiotic treatment in spondylodiscitis. Orthop Traumatol Surg Res 105(6):1165–1170

48.

Aboobakar R, Cheddie S, Singh B (2018) Surgical management of psoas abscess in the Human Immunodeficiency Virus era. Asian J Surg 41(2):131–135

49.

Matsumoto T, Yamagami T, Morishita H et al (2012) CT-guided percutaneous drainage within intervertebral space for pyogenic spondylodiscitis with psoas abscess. Acta Radiol 53(1):76–80

50.

Rutges JP, Kempen DH, van Dijk M, Oner FC (2016) Outcome of conservative and surgical treatment of pyogenic spondylodiscitis: a systematic literature review. Eur Spine J 25(4):983–999

51.

Lazzarini L, Lipsky BA, Mader JT (2005) Antibiotic treatment of osteomyelitis: what have we learned from 30 years of clinical trials? Int J Infect Dis 9(3):127–138

52.

Lew DP, Waldvogel FA (2004) Osteomyelitis. Lancet 364(9431):369–379

53.

Berbari EF, Kanj SS, Kowalski TJ et al (2015) 2015 infectious diseases society of america (IDSA) clinical practice guidelines for the diagnosis and treatment of native vertebral osteomyelitis in adults. Clin Infect Dis 61(6):e26–e46

54.

Zimmerli W, Trampuz A, Ochsner PE (2004) Prosthetic-joint infections. N Engl J Med 351(16):1645–1654

55.

Hegde V, Meredith DS, Kepler CK, Huang RC (2012) Management of postoperative spinal infections. World J Orthop 3(11):182–189

56.

Núñez-Pereira S, Pellisé F, Rodríguez-Pardo D et al (2013) Implant survival after deep infection of an instrumented spinal fusion. Bone Joint J 95-B(8):1121–1126

57.

Dowdell J, Brochin R, Kim J et al (2018) Postoperative spine infection: diagnosis and management. Global Spine J 8(4 Suppl):37S–43S

58.

Di Silvestre M, Bakaloudis G, Lolli F, Giacomini S (2011) Late-developing infection following posterior fusion for adolescent idiopathic scoliosis. Eur Spine J 20(Suppl 1):S121–127

59.

Bellabarba C, Schildhauer TA, Vaccaro AR, Chapman JR (1976) Complications associated with surgical stabilization of high-grade sacral fracture dislocations with spino-pelvic instability. Spine 31(11 Suppl):S80–S88 (discussion S104)

60.

Schildhauer TA, Bellabarba C, Nork SE, Barei DP, Routt ML, Chapman JR (2006) Decompression and lumbopelvic fixation for sacral fracture-dislocations with spino-pelvic dissociation. J Orthop Trauma 20(7):447–457

61.

Schildhauer TA, Bellabarba C, Chip Routt ML, Chapman JR (2010) Surgical stabilization options for fractures and fracture-dislocations at the Lumbosacral junction and for posterior pelvic ring reconstruction. Spine Trauma 5:321–333. https://doi.org/10.1007/978-3-642-03694-1_28

62.

Patel AR, Alton TB, Bransford RJ, Lee MJ, Bellabarba CB, Chapman JR (2014) Spinal epidural abscesses: risk factors, medical versus surgical management, a retrospective review of 128 cases. Spine J 14(2):326–330

63.

Ascione T, Balato G, Di Donato SL et al (2017) Clinical and microbiological outcomes in haematogenous spondylodiscitis treated conservatively. Eur Spine J 26(Suppl 4):489–495

64.

PRO-IMPLANT Foundation (2019) Pocket Guide Diagnose & Behandlung von Wirbelsäuleninfektionen, Version 3. http://www.pro-implant-foundation.org/. Zugegriffen: 30.09.2019
Ethics declarations
Interessenkonflikt
E. Yilmaz, C. Kruppa, T.A. Schildhauer und M.F. Hoffmann geben an, dass kein Interessenkonflikt besteht.
Für diesen Beitrag wurden von den Autoren keine Studien an Menschen oder Tieren durchgeführt. Für die aufgeführten Studien gelten die jeweils dort angegebenen ethischen Richtlinien. Für Bildmaterial oder anderweitige Angaben innerhalb des Manuskripts, über die Patienten zu identifizieren sind, liegt von ihnen und/oder ihren gesetzlichen Vertretern eine schriftliche Einwilligung vor.
About this article
Cite this article
Yilmaz, E., Kruppa, C., Schildhauer, T.A. et al. Therapie der Spondylodiszitis. Trauma Berufskrankh 21, 236–246 (2019). https://doi.org/10.1007/s10039-019-00445-0
Schlüsselwörter
Diagnostikalgorithmus

Antibiotische Therapie

Operative Therapie

Konservative Therapie

Neurologische Symptomatik
Keywords
Diagnostic algorithm

Antibiotic treatment

Surgical treatment

Conservative treatment

Neurological symptoms