Zusammenfassung
Hintergrund
Die Patellaluxation bereitet Gutachtern immer noch Schwierigkeiten bei der Beurteilung des Unfallzusammenhangs im Kontext der gesetzlichen Unfallversicherung.
Fragestellung
Es erfolgt das Herausarbeiten gesicherter Parameter zum Beweis einer anlagebedingten Patellaluxation.
Material und Methode
Es findet eine Auswertung von 624 Patellaluxationen im Rahmen einer beratungsärztlichen Tätigkeit für einen gesetzlichen Unfallversicherungsträger statt.
Ergebnisse
Der Gutachter ist aufgerufen, alle verfügbaren Inhalte der Unfallanamnese zu sammeln und sich dadurch ein konkretes Bild zum Ereignisablauf machen zu können. Durch Auswertung der Magnetresonanztomographie des verletzten Kniegelenks (Durchführung in 85 % aller Fälle) konnten die Patellaform, Trochleaform, Insall-Salvati-Index (ISI) und Tuberositas-Tibiae-Trochlea-Index (TTT-Index) ausgewertet werden. Durch Verwendung des TTT-Index lässt sich das Zusammenspiel von Trochleaform und Kniescheibensehnenansatz im ventralen Kniegelenk spezifizieren. Eine erhöhte Pathologie von Trochleaform und TTT-Index findet sich deutlich bei Kniegelenken mit stattgehabter Patellaluxation.
Schlussfolgerungen
Die wesentlichen Prädiktoren der anlagebedingten Patellaluxation sind die pathologische Erhöhung der Trochleadysplasie und des TTT-Index, dazu der Patellahochstand und die valgische Beinachse. Die abschließende Beurteilung zum Unfallzusammenhang stellt keine statische Gegenüberstellung von Pro- und Kontraargumenten dar, sondern es bedarf einer kritischen Abwägung zwischen Ereignisablauf und nachzuweisenden dispositionellen Faktoren.
Abstract
Background
Patellar dislocation still causes appraisers difficulties in assessing the causal relationship of the accident in the context of the statutory accident insurance.
Objective
An evaluation of certain parameters to prove situation-related patellar luxation was carried out.
Material and methods
An evaluation of 624 patellar dislocations as part of a consulting medical activity for an insurance institution was carried out.
Results
The expert assessor is called upon to collect all available information necessary about the accident history, in order to make a correct reconstruction of the accident. An evaluation of the magnetic resonance imaging (MRI) scan of the knee joint (used 85% of the time) helps to get the results from patellar shape, trochlear shape, ISI and TTT index. The TTT index specifies the correlation between the trochlear shape and the patella tendon in the ventral area of the knee joint. An increased pathology of the trochlear shape and TTT index can be seen in knee joints after patellar luxation.
Conclusion
The main predictors of genetically predisposed patellar luxation are a pathological increase of trochlea dysplasia and the TTT index. The patella elevation and valgus leg axis should also be considered. The concluding evaluation of the course of the accident is not a statistical comparison of positive and negative aspects but there needs to be a critical weighing up between the course of the accident and detected predisposing factors.
This is a preview of subscription content, log in to check access.
Access options
Buy single article
Instant access to the full article PDF.
US$ 39.95
Price includes VAT for USA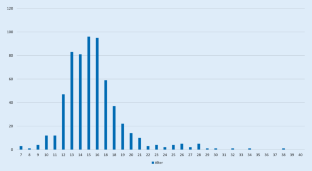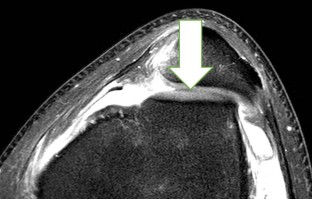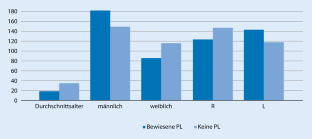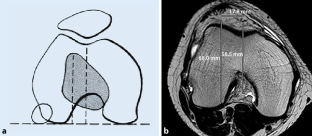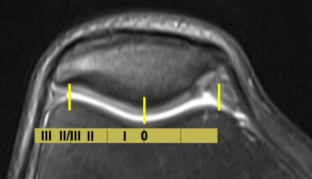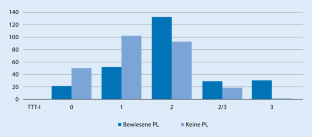 Literatur
1.

Ateschrang A, Freude T, Grünwald L, Schäffler A, Stöckle U, Schröter S (2014) Patellaluxation: Diagnostik- und Behandlungsalgorithmus unter Berücksichtigung der Torsion. Z Orthop Unfall 152(1):59–67

2.

Baumgartl F (1964) Das Kniegelenk. Springer, Berlin Heidelberg New York

3.

Brattström H (1964) Shape of the intercondylar groove normally and in recurrent dislocation of patella. Acta Orthop Scand Suppl 68:134–148

4.

Dejour H, Walch G, Nove-Josserand L, Guier C (1994) Factors of patellar instability: an anatomic radiographic study. Knee Surg Sports Traumatol Arthrosc 2(1):19–26

5.

DGUV (2016) Grundlagen der Begutachtung von Arbeitsunfällen, 2. Aufl.

6.

Goutalier D, Bernageau J, Lecudonnec B (1978) The measurement of the tibial tuberosity. Patella groove distanced technique and results. Rev Chir Orthop 64:423–428

7.

Hepp WR (1982) Zur Bestimmung der Dysplasie des Femoro-Patellargelenks. Z Orthop Unfall 120(3):259–267. https://doi.org/10.1055/s-2008-1051611

8.

Hepp WR (1986) Die Dystopie der Kniescheibe. Orthop Prax 22:222–229

9.

Hepp WR (2000) Klinische und bildtechnische Verfahren zur Beurteilung des Patellofemoralen Gleitlagers. In: Wirth CJ, Rudert M (Hrsg) Das Patellofemorale Schmerzsyndrom. Steinkopf, Darmstadt

10.

Ludolph E, Schröter F, Krumbiegel A, Hempfling H (2014) Patellaluxation (Kniescheibenverrenkung). Med Sachverstand 111(5):212–233

11.

Schröter F (2016) In: Schönberger, Mehrtens, Valentin (Hrsg) Arbeitsunfall und Berufskrankheit, 9. Aufl. Erich Schmidt, Berlin, S 644–645

12.

Schröter F, Ludolph E (1992) Die Kniescheibenluxation: Diagnostische und gutachterliche Probleme. Unfallchirurg 95:37–40

13.

Strich R (2017) Gutachtliche Bewertung der Patellaluxation. Med Sachverstand 1‑2017:24–34

14.

Unfallkasse NRW (2016) Broschüre Zahlen-Daten-Fakten-2016. https://www.unfallkasse-nrw.de/fileadmin/server/download/PDF_2017/Broschuere_Zahlen_Daten_Fakten_2016_FINAL.pdf. Zugegriffen: 08.2018

15.

Wiberg G (1941) Roentgenographic and anatomical studies on the femoro-patellar joint. With special reference to chondromalacia patellae. Acta Orthop Scand 12:319–410
Ethics declarations
Interessenkonflikt
R. Strich gibt an, dass kein Interessenkonflikt besteht.
Dieser Beitrag beinhaltet keine vom Autor durchgeführten Studien an Menschen oder Tieren. Alle Patienten, die über Bildmaterial oder anderweitige Angaben innerhalb des Manuskripts zu identifizieren sind, haben hierzu ihre schriftliche Einwilligung gegeben. Im Falle von nicht mündigen Patienten liegt die Einwilligung eines Erziehungsberechtigten oder des gesetzlich bestellten Betreuers vor.
About this article
Cite this article
Strich, R. Neue Aspekte in der Begutachtung der Patellaluxation. Trauma Berufskrankh 21, 199–208 (2019). https://doi.org/10.1007/s10039-018-0410-y
Schlüsselwörter
Dispositionelle Faktoren

Ereignisablauf

Unfallzusammenhang

Gutachter

Anlagebedingte Patellaluxation
Keywords
Predisposing factors

Course of events

Causal relationship

Expert opinion

Situation-related patellar luxation