Zusammenfassung
Hintergrund
Verkürzte Extremitäten können aufgrund von Funktionseinschränkungen eine Herausforderung bei der Durchführung von Alltagstätigkeiten darstellen. Zusätzlich können Patienten neben der Funktionseinschränkung an Beschwerden als auch an dem kosmetischen Erscheinungsbild der betroffenen Extremität leiden.
Fragestellung
Es erfolgt eine Beschreibung der graduellen und akuten Knochenverlängerung anhand von häufigen Indikationen.
Material und Methode
Präsentiert werden die aktuelle Literaturlage und eigene klinische Beispiele und Erfahrungen bei der Verwendung der Kallusdistraktion und Akutverlängerung.
Ergebnisse
Obwohl die derzeitige Studienlage keine Erstellung von allgemein gültigen Guidelines erlaubt und jeder Patient individuell betrachtet werden muss, zeigt sich, dass die Kallusdistraktion bei gegebener Patienten-Compliance eine effiziente Methode zur Knochenverlängerung darstellt.
Schlussfolgerungen
Die Kallusdistraktion sowie die Methode der Akutkorrektur stellen eine gute, wenngleich komplikationsbehaftete Methode zur Knochenverlängerung dar. Die generelle Patientenzufriedenheit ist trotzdem hoch.
Abstract
Background
Shortened limbs can be challenging for activities of daily life due tot he functional limitations. Moreover, in addition to the functional impairments affected patients may also suffer from pain and the disfigured cosmetic appearance of the affected limb.
Objective
Description of current gradual and acute bone lengthening indications and techniques in the upper limbs.
Material and methods
Presentation of the current literature and own clinical experiences and cases using gradual and acute bone lengthening techniques.
Results
Although there is a paucity of validated data for general recommendations concerning the use of distraction osteogenesis, the current literature and own experiences show that this technique is an effective surgical procedure to improve bone length in the upper limbs.
Conclusion
Distraction osteogenesis is a viable tool for lengthening of posttraumatically or congenitally shortened bones. A relatively high rate of complications has to be expected but nevertheless subjective patient satisfaction is high.
This is a preview of subscription content, log in to check access.
Access options
Buy single article
Instant access to the full article PDF.
US$ 39.95
Price includes VAT for USA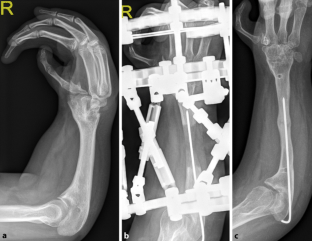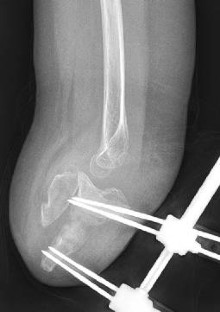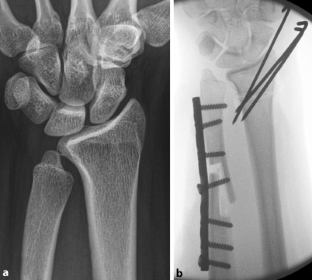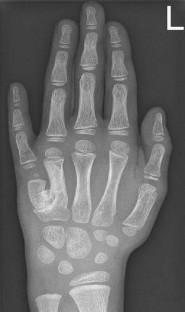 Literatur
1.

Abe M, Shirai H, Okamoto M et al (1996) Lengthening of the forearm by callus distraction. J Hand Surg Br 21:151–163

2.

Aronson J (1994) Experimental and clinical experience with distraction osteogenesis. Cleft Palate Craniofac J 31:473–481 (discussion 481–472)

3.

Buck-Gramcko D, Pereira JA (1990) Proximal toe phalanx transplantation for bony stabilization and lengthening of partially aplastic digits. Ann Chir Main Memb Super 9:107–118

4.

Cattaneo R, Catagni MA, Guerreschi F (2001) Treatment of radial agenesis with the Ilizarov method. Rev Chir Orthop Reparatrice Appar Mot 87:443–450

5.

Codivilla A (2008) The classic: on the means of lengthening, in the lower limbs, the muscles and tissues which are shortened through deformity. Clin Orthop Relat Res 466:2903–2909 (Erstveröffentlichung 1905)

6.

Dhalla R, Strecker W, Manske PR (2001) A comparison of two techniques for digital distraction lengthening in skeletally immature patients. J Hand Surg Am 26:603–610

7.

Dudda M, Hauser J, Muhr G et al (2011) Low-intensity pulsed ultrasound as a useful adjuvant during distraction osteogenesis: a prospective, randomized controlled trial. J Trauma 71:1376–1380

8.

Erdem M, Sen C, Eralp L et al (2009) Lengthening of short bones by distraction osteogenesis—results and complications. Int Orthop 33:807–813

9.

Ettl V, Wild A, Thorey F et al (2005) Correction of forearm deformities in children with multiple cartilaginous osteochondromas. Z Orthop Ihre Grenzgeb 143:106–111

10.

Herbert AJ, Herzenberg JE, Paley D (1995) A review for pediatricians on limb lengthening and the Ilizarov method. Curr Opin Pediatr 7:98–105

11.

Ilizarov GA (1989) The tension-stress effect on the genesis and growth of tissues. Part I. The influence of stability of fixation and soft-tissue preservation. Clin Orthop Relat Res 238:249–281

12.

Ilizarov GA (1989) The tension-stress effect on the genesis and growth of tissues: Part II. The influence of the rate and frequency of distraction. Clin Orthop Relat Res 239:263–285

13.

Ilizarov GA (1990) Clinical application of the tension-stress effect for limb lengthening. Clin Orthop Relat Res 250:8–26

14.

Jager T, Popkov D, Lascombes P et al (2012) Elastic intramedullary nailing as a complement to Ilizarov's method for forearm lengthening: a comparative pediatric prospective study. Orthop Traumatol Surg Res 98:376–382

15.

Latalski M, Elbatrawy YA, Thabet AM et al (2011) Enhancing bone healing during distraction osteogenesis with platelet-rich plasma. Injury 42:821–824

16.

Manner HM, Huebl M, Radler C et al (2007) Accuracy of complex lower-limb deformity correction with external fixation: a comparison of the Taylor Spatial Frame with the Ilizarov ring fixator. J Child Orthop 1:55–61

17.

Masada K, Tsuyuguchi Y, Kawai H et al (1989) Operations for forearm deformity caused by multiple osteochondromas. J Bone Joint Surg Br 71:24–29

18.

Ogino T, Kato H, Ishii S et al (1994) Digital lengthening in congenital hand deformities. J Hand Surg Br 19:120–129

19.

Page WT, Szabo RM (2009) Distraction osteogenesis for correction of distal radius deformity after physeal arrest. J Hand Surg Am 34:617–626

20.

Popkov D, Popkov A, Haumont T et al (2010) Flexible intramedullary nail use in limb lengthening. J Pediatr Orthop 30:910–918

21.

Putti V (1990) The operative lengthening of the femur. Clin Orthop Relat Res 250:4–7 (Erstveröffentlichung 1921)

22.

Raimondo RA, Skaggs DL, Rosenwasser MP et al (1999) Lengthening of pediatric forearm deformities using the Ilizarov technique: functional and cosmetic results. J Hand Surg Am 24:331–338

23.

Rubin G, Rozen N, Bor N (2013) Gradual correction of congenital radioulnar synostosis by an osteotomy and Ilizarov external fixation. J Hand Surg Am 38:447–452

24.

Salom M, Aroca JE, Chover V et al (1998) Distraction-lengthening of digital rays using a small external fixator. J Hand Surg Br 23:781–784

25.

Sewell MD, Higgs DS, Lambert SM (2013) Clavicle lengthening by distraction osteogenesis for congenital clavicular hypoplasia: case series and description of technique. J Pediatr Orthop 33:314–320

26.

Villa A, Paley D, Catagni MA et al (1990) Lengthening of the forearm by the Ilizarov technique. Clin Orthop Relat Res 250:125–137

27.

Vogt B, Tretow HL, Daniilidis K et al (2011) Reconstruction of forearm deformity by distraction osteogenesis in children with relative shortening of the ulna due to multiple cartilaginous exostosis. J Pediatr Orthop 31:393–401

28.

Waters PM, Van Heest AE, Emans J (1997) Acute forearm lengthenings. J Pediatr Orthop 17:444–449

29.

Wittmoser R (1953) Pressure osteosynthesis. Langenbecks Arch Klin Chir Ver Dtsch Z Chir 276:229–231

30.

Zhang P, Yokota H (2012) Elbow loading promotes longitudinal bone growth of the ulna and the humerus. J Bone Miner Metab 30:31–39
Ethics declarations
Interessenkonflikt
S. Farr und F. Schachinger geben an, dass kein Interessenkonflikt besteht.
Dieser Beitrag beinhaltet keine von den Autoren durchgeführten Studien an Menschen oder Tieren.
About this article
Cite this article
Farr, S., Schachinger, F. Längenkorrekturen an der oberen Extremität. Trauma Berufskrankh 19, 198–203 (2017). https://doi.org/10.1007/s10039-017-0330-2
Schlüsselwörter
Kallusdistraktion

Akutkorrektur

Fixateur externe

Osteotomie

Compliance
Keywords
Distraction osteogenesis

Acute correction

External fixator

Osteotomy

Compliance