Zusammenfassung
Hintergrund
Im Rahmen der Patientenversorgung sind Qualitätssicherung und damit auch Qualitätsmanagement von entscheidender Bedeutung. In diesem Kontext stellt sich die Frage, ob Qualitätsmanagement für alle Akteure dasselbe bedeutet.
Qualitätsmanagement
Im Gegensatz zu Ärzten und Pflegepersonal, die Qualitätsmanagement eher aus Fachperspektive betrachten, mit dem Ziel einer therapeutischen Wertschöpfung mit voller Verantwortung für die Qualität, ist die Perspektive der Krankenhausleitung umfassender, sie beinhaltet das gesamte Krankenhaus, das System. Entsprechend unterschiedlich ist auch das Führungsverhalten.
Problematik
Diese unterschiedlichen Perspektiven führen häufig zu Missverständnissen, z. B. zwischen Chefärzten und Krankenhausleitung. Auch der häufig zu beobachtende mangelnde Reformwille führt zu Spannungen zwischen System- (Krankenhausleitung) und Fachführung (Ärzte und Pflege) und reduziert die Performance – auch für das Qualitätsmanagement.
Schlussfolgerung
Durch Anwendung des integrierend wirkenden multiprofessionellen Hospitalperformancemanagement (HPM) kann das Qualitätsmanagement verbessert werden. Auch Ärzte und Pflegepersonal sollten in dessen Optimierung aktiv eingebunden werden, denn diese Aufgabe ist nur inter- und multiprofessionell lösbar und bedingt auch eine Änderung der inneren Haltung, die sich wiederum auf die Ergebnisqualität von Krankenhäusern auswirken wird.
Abstract
Background
Within the framework of patient care quality assurance and therefore quality management are of decisive significance. In this context it is questionable whether quality management has the same importance for all players.
Quality management
In contrast to medical and nursing personnel who are more concerned with the perspective of the discipline with the aim of therapeutic validation with full responsibility for quality, the perspective of the hospital management is more comprehensive and includes the complete hospital, the system. The management perspective is therefore correspondingly different.
Problem
The different perspectives often lead to misunderstandings, for example between department heads and hospital management. The frequently observed lack of willingness to accept change also leads to tension between system (hospital management) and faculty management (medical and nursing personnel) and reduces performance, even for the quality management.
Conclusion
By the implementation of integratively effective multiprofessional hospital performance management (HPM) the quality management can be improved. Medical and nursing personnel should also be actively involved in the optimization as this problem can only be solved in an interdisciplinary and multiprofessional manner and also results in changes in internal behavior which in turn have an effect on the quality of results in hospitals.
Access options
Buy single article
Instant access to the full article PDF.
US$ 39.95
Tax calculation will be finalised during checkout.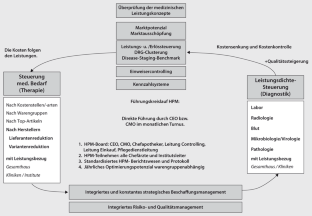 Literatur
1.

Arx W von, Rüegg-Stürm J (2007) Integrierendes Management von Healthcare-Organisationen. Schweiz Arzte Z 88(23):1012–1015

2.

Arx W von, Rüegg-Stürm J (2007) Spitäler im Umbruch – Ansatzpunkte für eine gelingende Weiterentwicklung. Schweiz Arzte Z 88(27/28):1214–1219

3.

Bennis W, Nanus B (1985) Leaders: the strategies for taking charge. Harper Collins, New York

4.

Blanquet Henri M von (2012) Hospitalperformance-Management (HPM) mit dem Ziel der EBIT-Optimierung durch Einführung einer Kommunikationsarena und eines Klinikstandards zur Steuerung des Krankenhauses. Master-Thesis. Studiengang Hospital Management, Christian-Albrecht-Universität, Kiel

5.

Daft R, Marcic D (2004) Understanding Management, 3. Aufl. Dryden Press, Oak Brook

6.

Goleman D (1995) EQ – emotional intelligence. Why it can matter more than IQ. Bantam, New York

7.

Goleman D (2006) Soziale Intelligenz – SQ. Droemer Knaur, München

8.

Leverin R (2010) Transforming workplace cultures. Insights from Great Place to Work® Institute's first 25 years. Primavera Editorial, Sao Paolo

9.

Mourkogiannis N, Vogelsang G, Unger S (2008) Der Auftrag – Was großartige Unternehmen antreibt. Wiley-VCH, Weinheim

10.

Rüegg-Stürm J (2008) Führung ist nicht gleich Führung …. Schweiz Arzte Z 89(23):1025–1027

11.

Tuckermann H, Rüegg-Stürm J (2007) Sind Spitäler wandelresistent? Organisieren als Stabilisierung von arbeitsteiliger Wertschöpfung im Kontext fundamentaler Ungewissheit. Schweiz Arzte Z 88(45):1895–1899
Einhaltung ethischer Richtlinien
Interessenkonflikt. H. M. von Blanquet gibt an, dass kein Interessenkonflikt besteht. Dieser Beitrag beinhaltet keine Studien an Menschen oder Tieren.
About this article
Cite this article
von Blanquet, H. Qualitätsmanagement aus der Sicht der Krankenhausleitung. Trauma Berufskrankh 15, 203–206 (2013). https://doi.org/10.1007/s10039-013-2020-z
Schlüsselwörter
Patientenversorgung

Qualität

Qualitätsmanagement

Hospitalperformancemanagement

Krankenhausleitung
Keywords
Patient care

Quality of health care

Total quality management

Hospital performance management

Hospital director