Zusammenfassung
Die verschiedenen plastisch-chirurgischen Deckungsverfahren innerhalb der rekonstruktiven Strategien erfuhren in den letzten Jahren durch die Möglichkeit des simultanen Mehrgewebetransfers eine entscheidende Erweiterung. Dabei können sowohl durch freie mikrovaskuläre als auch gestielte Lappenplastiken in einem Eingriff mehrere Arten von Geweben zur optimierten funktionellen und ästhetischen Defektrekonstruktion verwendet werden. Je nach vaskulärer Verbindung und räumlicher Zusammensetzung der unterschiedlichen Gewebearten (Haut, Fett, Knochen, Muskel, Nerv, Faszie, Gefäße usw.) lassen sich dabei unterschiedliche Konstrukte heben, welche gestielte axiale Lappen bis hin zu mikrochirurgischen zusammengesetzten sequenziellen Chimärenlappen umfassen. Ziel dabei ist es, dem Patienten die optimale und insgesamt zeitsparende Versorgung im Rahmen des rekonstruktiven Ersteingriffs zu ermöglichen. Die hierbei initial etwas längeren Operationszeiten werden oft durch die Reduktion der Anzahl und Komplexität von Folgeeingriffen aufgewogen.
Abstract
In the recent years, the variety of plastic surgical methods for defect closure among the different reconstructive strategies has been expanded by simultaneous multi-tissue transfer options. Both free microvascular and pedicled flaps may be used for optimized functional and aesthetic defect closure by simultaneous tissue transfer in a single operation. According to their vascular connection and spatial relationship of the different tissue types (skin, fat, bone, muscle, nerve, fascia, vessels etc.) there are various different tissue transplants ranging from simple axial pattern flap to microsurgically constructed sequential chimeric free flaps. The goal with these flaps is to achieve an optimal and overall time-saving treatment with the first reconstructive procedure. Though the initial operative time might be slightly longer, the number and complexity of subsequent procedures are reduced.
Access options
Buy single article
Instant access to the full article PDF.
USD 39.95
Price includes VAT (USA)
Tax calculation will be finalised during checkout.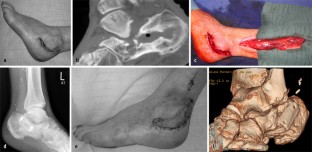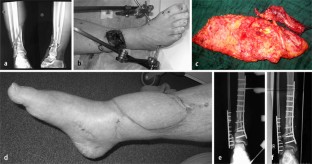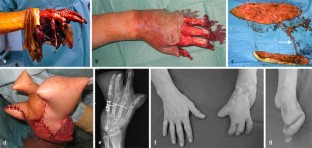 Literatur
1.

Cheng MH, Saint-Cyr M, Ali RS et al (2009) Osteomyocutaneous peroneal artery-based combined flap for reconstruction of composite and en bloc mandibular defects. Head Neck 31:361–370

2.

Dayan JH, Lin CH, Wei FC (2009) The versatility of the anterolateral thigh flap in lower extremity reconstruction. Handchir Mikrochir Plast Chir 41:193–202

3.

Dunn R, Watson S (2001) Why climb a ladder when you can take the elevator? Plast Reconstr Surg 107:283

4.

Engel H, Gazyakan E, Cheng MH et al (2008) Customized reconstruction with the free anterolateral thigh perforator flap. Microsurgery 28:489–494

5.

Germann G, Bickert B, Steinau HU et al (1999) Versatility and reliability of combined flaps of the subscapular system. Plast Reconstr Surg 103:1386–1399

6.

Giessler GA, Doll S, Germann G (2007) Macroscopic and microangiographic anatomy of the teres major muscle: a new free functional muscle flap? Plast Reconstr Surg 119:941–949

7.

Hallock GG (2004) The complete classification of flaps. Microsurgery 24:157–161

8.

Hallock GG (2006) Further clarification of the nomenclature for compound flaps. Plast Reconstr Surg 117:151e–160e

9.

Levin LS (1993) The reconstructive ladder. An orthoplastic approach. Orthop Clin North Am 24:393–409

10.

Peek A, Giessler GA (2006) Functional total and subtotal heel reconstruction with free composite osteofasciocutaneous groin flaps of the deep circumflex iliac vessels. Ann Plast Surg 56:628–634

11.

Schmidt AB, Giessler GA (2010) The muscular and the new osteomuscular composite peroneus brevis flap: experiences from 109 cases. Plast Reconstr Surg 126:924–932

12.

Schmidt A, Herndl E, Muhlbauer W (1991) Increasing the vascular pedicle length in a free flap using a two-stage preliminary ectopic transfer. Ann Plast Surg 27:97–102

13.

Wei FC, Celik N, Chen HC et al (2002) Combined anterolateral thigh flap and vascularized fibula osteoseptocutaneous flap in reconstruction of extensive composite mandibular defects. Plast Reconstr Surg 109:45–52

14.

Yazar S, Cheng MH, Wei FC et al (2006) Osteomyocutaneous peroneal artery perforator flap for reconstruction of composite maxillary defects. Head Neck 28:297–304
Interessenkonflikt
Der korrespondierende Autor gibt an, dass kein Interessenkonflikt besteht.
About this article
Cite this article
Giessler, G., Schmidt, A. Composite- und Chimärenlappen in der Traumaversorgung. Trauma Berufskrankh 13, 104–108 (2011). https://doi.org/10.1007/s10039-011-1723-2
Schlüsselwörter
Freie Lappen

Gestielte Lappen

Chimären-/Composite-Lappen

Mikrochirurgischer Mehrgewebetransfer

Knochentransplantation
Keywords
Free flaps

Pedicled flap

Chimeric/composite flaps

Microsurgical multi-tissue transfer

Bone transplantation