Abstract
In this study, the durability of railway ballast material is investigated by magnesium sulfate soundness tests. Two types of ballast aggregates, which are produced from basaltic rocks and currently used as railway ballast in such high speed railway routes in Turkey, are investigated regarding their resistance against freezing–thawing (FT) and traffic loads. Firstly, the mineralogical and physico-mechanical properties of rocks are determined. Then the degradation of investigated ballast aggregates is determined by magnesium sulfate soundness and Los Angeles abrasion (LAA) tests. The natural FT effects are simulated by magnesium sulfate soundness tests up to 40 cycles, whereas the traffic loads are represented by LAA tests up to 3000 revolutions. The ballast fouling that leads to such problems are also investigated within the scope in the present study. The degree of ballast fouling is quantified as fouling index (FI) which is determined using the crushed particles generated after LAA tests. It is concluded from laboratory studies that rock properties considered are considerably influenced by simulated FT cycles. It is also achieved from the laboratory studies that magnesium sulfate soundness and Los Angeles abrasion tests are good indicators to clarify the fragmentation mechanism of the ballast aggregate in laboratory scale. In conclusion several empirical formulas are developed to predict LAA and FI for each rock type. The proposed empirical formulas could be utilized as a pre-design tool for new railway routes in design stage provided that the investigated ballast aggregates are considered.
This is a preview of subscription content,
to check access.
Access this article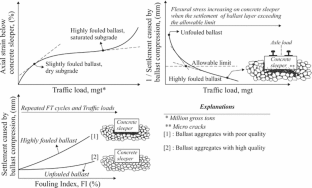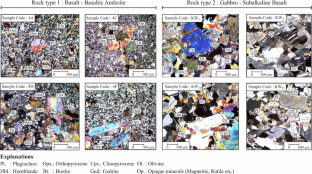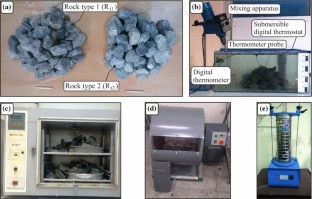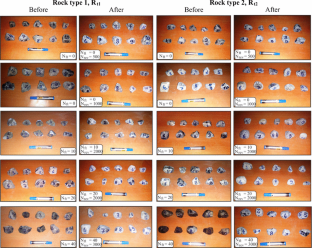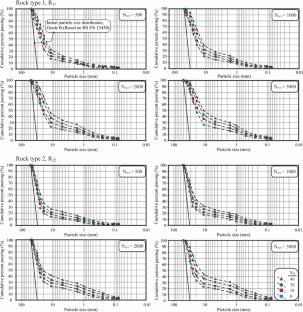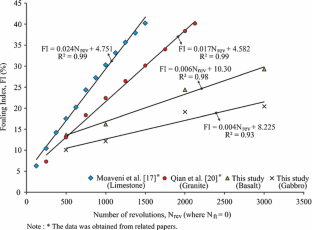 References
UIC/ETF Rail Transport and Environment: Facts and Figures. Paris, p. 68 (2015)

Profillidis, V.A.: Railway Management and Engineering, 4th edn. Ashgate Publishing, Aldershot (2014)

Li, D., Hyslip, J., Sussmann, T., Chrismer, S.: Railway Geotechnics. CRC Press, Boca Raton (2016)

Knutson, R.M., Thompson, M.R.: Permanent-deformation behavior of railway ballast. Transp. Res. Rec. 694, 47–53 (1978)

Selig, E.T., Waters, J.M.: Track Geotechnology and Substructure Management. Thomas Telford Services Ltd., London (1994)

Li, D., Selig, E. T.: Evaluation of Railway Subgrade Problems. Transp. Res. Rec. 1489. National Research Council, Washington, DC, pp. 17–25 (1995)

Feldman, F., Nissen, D.: Alternative testing method for the measurement of ballast fouling: percentage void contamination. In: Proceedings of the Conference on Railway Engineering, Wollongong, Australia. Railway Technical Society of Australia, Canberra, Australia, pp. 101–109 (2002)

Al-Qadi, I., Xie, W., Roberts, R.: Scattering analysis of ground-penetrating radar data to quantify railroad ballast contamination. NDT E Int. 41(6), 441–447 (2008). https://doi.org/10.1016/j.ndteint.2008.03.004

Dombrow, W., Huang, H., Tutumluer, E.: Comparison of coal dust fouled railroad ballast behavior—granite versus limestone. In: Bearing Capacity of Roads, Railways and Airfields, Proceedings of 8th International Conference (BCR2A'09). Taylor & Francis, London, pp. 1349–1357 (2009)

Paiva, C., Ferreira, M., Ferreira, A.: Ballast drainage in Brazilian railway infrastructures. Constr. Build. Mater. 92, 58–63 (2015). https://doi.org/10.1016/j.conbuildmat.2014.06.006

Lakušic, S., Ahac, M., Haladin, I.: Experimental investigation of railway track with under sleeper pad. In: 10th Slovenian Road Transp. Cong. Portoroz, Slovenija, pp. 386–393 (2010)

Koohmishi, M., Palassi, M.: Evaluation of the strength of railway ballast using point load test for various size fractions and particle shapes. Rock Mech. Rock Eng. 49, 2655–2664 (2016). https://doi.org/10.1007/s00603-016-0914-3

Köken, E., Özarslan, A.: Development of proposals for utilization of point load strength to estimate the strength of ballast material. In: 8th International, Agg. Symp, Kutahya, Turkey, pp. 73–83 (2016)

Aursudkij, B.: A laboratory study of railway ballast behaviour under traffic loading and tamping maintenance. Ph.D. Thesis (unpublished), University of Nottingham, p. 215 (2007)

Rangaraju, P.R., Edlinski, J.: Comparative evaluation of micro-deval abrasion test with other toughness/abrasion resistance and soundness tests. J. Mater. Civ. Eng. 20(5), 343–351 (2008). https://doi.org/10.1061/(ASCE)0899-1561(2008)20:5(343)

Han, X., Selig, E.T.: Effects of fouling on ballast settlement. In: Proceedings of 6th International Heavy Haul Railway Conference, Cape Town, South Africa, pp. 257–268 (1997)

Moaveni, M., Qian, Y.H., Boler, H. Mishra, D., Tutumluer E.: Investigation of ballast degradation and fouling trends using image analysis. In: Proceedings of 2nd International Conference on Railway Tech. Res. Develop. Main. (Pombo, J. (ed.)). Civil-Comp Press, Stirlingshire, UK, Paper 123 (2014). https://doi.org/10.4203/ccp.104.123

Koohmishi, M., Palassi, M.: Effect of particle size distribution and subgrade condition on degradation of railway ballast under impact loads. Granul. Matter 19, 63 (2017). https://doi.org/10.1007/s10035-017-0747-0

Wnek, M.: Investigation of aggregate properties influencing railroad ballast performance. M.Sc. thesis (unpublished) in Civil Engineering, University of Illinois, p. 235 (2013)

Qian, Y., Boler, H., Moaveni, M., Tutumluer, E., Hashash, Y.M.A., Ghaboussi, J.: Characterizing ballast degradation through Los Angeles abrasion test and image analysis. Transp. Res. Rec. 2448, 126–135 (2014)

Huang, H., Tutumluer, E., Dombrow, W.: Laboratory characterization of fouled railroad ballast behavior. Transp. Res. Rec. 2117, 93–101 (2009). https://doi.org/10.3141/2117-12

Parsons,R., Rahman, A.J., Han, J.: Properties of fouled railroad ballast (Phase 1), Final report (Report no: 25-1121-0001-465), Mid-America, Transp. Center, p. 55 (2012)

Tennakoon, N., Indraratna, B., Rujikiatkamjorn, C., Nimbalkar, S., Neville, T.: The role of ballast fouling characteristics on the drainage capacity of rail substructure. Geotech. Test. J. 35(4), 629–640 (2012). https://doi.org/10.1520/GTJ104107

ISRM: The complete ISRM suggested methods for rock characterization, testing and monitoring: 1974–2006. In: Ulusay R, Hudson JA (eds) Suggested methods prepared by the commission on testing methods. Int. Soc. Rock Mech. (ISRM), Ankara, Turkey (2007)

TS EN 1097-6: Tests for mechanical and physical properties of aggregates—Part 6: determination of particle density and water absorption, p. 51 (2013)

TS EN 1097-2: Tests for mechanical and physical properties of aggregates—Part 2: methods for the determination of resistance to fragmentation, p. 36 (2010)

TS EN 1367-2: Tests for thermal and weathering properties of aggregates. Magnesium sulfate test, p. 8 (2009)

Anon: Classification of rocks and soils for engineering geological mapping, Part 1: rock and soil materials. Bull. Int. Eng. Geol. 19, 364–371 (1979)

Bieniawski, Z.T.: The point load test in geotechnical practice. Eng. Geol. 9, 1–11 (1975)

BS EN 13450: Aggregates for railway ballast, p. 38 (2002)
Acknowledgements
The authors gratefully acknowledge and appreciate the constructive comments and suggestions of the reviewers and the financial support (Project No: 2016-98150330-01) provided by Bülent Ecevit University.
Ethics declarations
Conflict of interest
The authors declare that they have no conflict of interest.
About this article
Cite this article
Köken, E., Özarslan, A. & Bacak, G. An experimental investigation on the durability of railway ballast material by magnesium sulfate soundness. Granular Matter 20, 29 (2018). https://doi.org/10.1007/s10035-018-0804-3
Received:

Published:

DOI: https://doi.org/10.1007/s10035-018-0804-3
Keywords