Abstract
Granular flows are most often investigated at steady-state conditions. This allows time-averaged analysis to display results such as velocity profiles and convective accelerations within the thin flowing layer. Typically in rotating tumblers, constant rotation rates and circular shapes are used as they jointly produce a steady, uniform flowing layer at the free surface. Conversely, unsteady flowing layers can be generated through any combination of varying the rotation rate of a tumbler or using a non-circular cross-sectional shape to change the length of the flowing layer. The unsteady conditions, however, require the additional complexity of ensemble-averaged analysis of images in a sequence of multiple trials. The experiments of this paper examine the properties of unsteady flow produced by triangular-shaped rotating tumblers at constant rotation rates. The geometric shape naturally causes periodic changes in the flowing layer as a function of the instantaneous orientation of the triangle. Multiple experiments were conducted in which the parameters of tumbler dimension, particle size, fill level and rotation rate were varied in all combinations. The free surface properties of angle of repose and flowing layer length, position, and curvature are reported. Results show that the arithmetic difference between the angle of repose and the tumbler orientation has a functional relationship with the instantaneous flowing layer length in the form of a catenary indicating a minimization of energy in the granular flow. Furthermore, the oscillation of the flowing layer position appears to affect the free surface curvature in the upstream regions. This is likely due to the rapidly increasing and decreasing length of the free surface limiting the space where particles can enter or exit the flowing layer. Ultimately, the unsteady macroscopic properties of the free surface flowing layer in the triangular tumblers provide some indication of the complexities of granular velocity and acceleration that contribute to the mixing and segregation in this unique tumbler shape.
Access options
Buy single article
Instant access to the full article PDF.
USD 39.95
Price excludes VAT (USA)
Tax calculation will be finalised during checkout.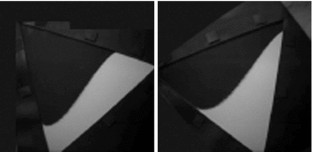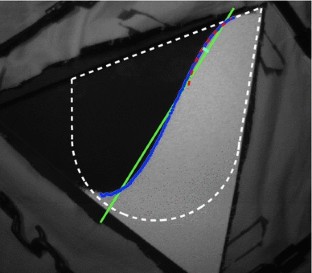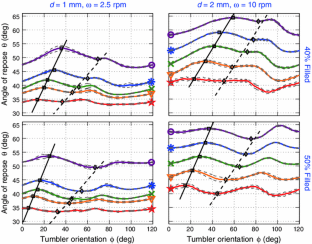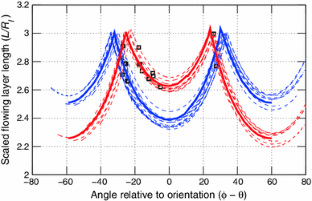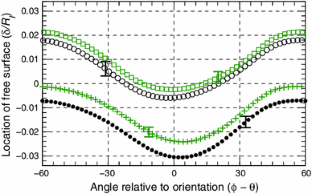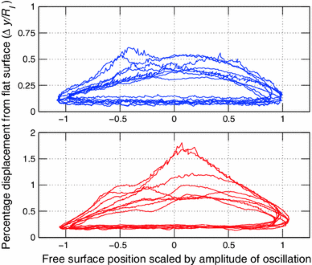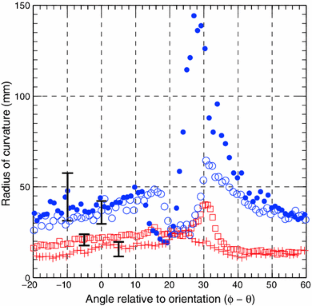 References
Meier, S.W., Lueptow, R.M., Ottino, J.M.: A dynamical systems approach to mixing and segregation of granular materials in tumblers. Adv. Phys. 56(5), 757–827 (2007)

Bridgwater, J.: Particle technology. Chem. Eng. Sci. 50(24), 4081–4089 (1995)

Aranson, I.S., Tsimring, L.S.: Patterns and collective behavior in granular media: theoretical concepts. Rev. Mod. Phys. 78, 641–692 (2006)

MiDi, G.D.R.: On dense granular flows. Eur. Phys. J. E 14, 341–365 (2004)

Liu, A.J., Nagel, S.R. (eds.): Jamming and Rheology. Taylor & Francis, UK (2001)

Rajagopal, K.R., Gupta, G., Yalamanchili, R.C.: A rheometer for measuring the properties of granular materials. Paticulate Sci. Technol. 18(1), 39–55 (2000)

Jop, P., Forterre, Y., Pouliquen, O.: Crucial role of side walls for granular surface flows: consequences for the rheology. J. Fluid Mech. 541, 167–192 (2005)

Henein, H., Brimacombe, J.K., Watkinson, A.P.: Experimental study of transverse bed motion in rotary kilns. Metall. Trans. B 14B(2), 191–205 (2005)

Boateng, A.A., Barr, P.V.: Granular flow behaviour in the transverse plane of a partially filled rotating cylinder. J. Fluid Mech. 330, 233–249 (1997)

Watanabe, H.: Critical rotation speed for ball-milling. Powder Technol. 104, 95–99 (1999)

Elperin, T., Vikhansky, A.: Chaotic mixing of granular material in slowing rotating containers as a discrete mapping. Chaos 9(4), 910–915 (1999)

Orpe, A.V., Khakhar, D.V.: Scaling relations for granular flow in quasi-two-dimensional rotating cylinders. Phys. Rev. E 64(3), 031302 (2001)

Bonamy, D., Daviaud, F., Laurent, L.: Scaling relations for granular flow in quasi-two-dimensional rotating cylinders. Phys. Fluids 14(5), 1666–1673 (2002)

Alexander, A., Shinbrot, T., Muzzio, F.J.: Scaling surface velocities in rotating cylinders as a function of vessel radius, rotation rate, and particle size. Powder Technol. 126, 174–190 (2002)

Ottino, J.M., Khakhar, D.V.: Scaling of granular flow processes: from surface flows to design rules. AIChE J. 48(10), 2157–2166 (2002)

Juarez, G., Chen, P., Lueptow, R.M.: Transition to centrifuging granular flow in rotating tumblers: a modified froude number. New J. Phys. 13, 053055 (2011)

Chou, H.T., Lee, C.F.: Cross-sectional and axial flow characteristics of dry granular material in rotating drums. Granul. Matter 11, 12–32 (2009)

Ding, Y.L., Forster, R.N., Seville, J.P.K., Parker, D.J.: Scaling relationships for rotating drums. Chem. Eng. Sci. 56, 3737–3750 (2001)

Mellmann, J.: The transverse motion of solids in rotating cylinders-forms of motion and transition behavior. Powder Technol. 118, 251–270 (2001)

Hill, K.M., Khakhar, D.V., Gilchrist, J.F., McCarthy, J.J., Ottino, J.M.: Segregation-driven organization in chaotic granular flows. Proc. Natl. Acad. Sci. USA 96(21), 11701–11706 (1999)

Jain, N., Ottino, J.M., Lueptow, R.M.: Combined size and density segregation and mixing in noncircular tumblers. Phys. Rev. E 71, 051301 (2005)

Cisar, S.E., Umbanhowar, P.B., Ottino, J.M.: Radial granular segregation under chaotic flow in twodimensional tumblers. Phys. Rev. E 74, 051305 (2006)

Prasad, D.V.N., Khakhar, D.V.: Mixing of granular material in rotating cylinders with noncircular cross-sections. Phys. Fluids 22(10), 103302 (2010)

Fiedor, S.J., Ottino, J.M.: Mixing and segregation of granular matter: multi-lobe formation in timeperiodic flows. J. Fluid Mech. 533, 223–236 (2005)

Meier, S.W., Cisar, S.E., Lueptow, R.M., Ottino, J.M.: Capturing patterns and symmetries in chaotic granular flow. Phys. Rev. E 74, 031310 (2006)

McCarthy, J.J., Shinbrot, T., Metcalfe, G., Wolf, J.E., Ottino, J.M.: Mixing of granular materials in slowly rotated containers. AIChE J. 42(12), 3351–3363 (1996)

Prasad, D.V.N., Khakhar, D.V. (2008) Granular flow in rotating cylinders with noncircular cross sections. Phys. Rev. E 77, 041301

Pohlman, N.A., Ottino, J.M., Lueptow, R.M.: End wall effects in granular tumblers: from quasi-2D flow to three-dimensional flow. Phys. Rev. E 74, 031305 (2006)
Acknowledgments
This work was supported primarily by Northern Illinois University's Undergraduate Special Opportunities in Artistry and Research (USOAR) Program operated through the Office of Student Engagement and Experiential Learning.
About this article
Cite this article
Pohlman, N.A., Paprocki, D.F. Transient behavior of granular materials as result of tumbler shape and orientation effects. Granular Matter 15, 39–47 (2013). https://doi.org/10.1007/s10035-012-0385-5
Received:

Published:

Issue Date:

DOI: https://doi.org/10.1007/s10035-012-0385-5
Keywords
Transient granular flow

Triangular tumbler