Abstract
As the overall population ages, driving-related accidents and injuries, associated with elderly drivers, have risen. Existing research about elderly drivers mainly focuses on factual data collection and analysis, indicating the elderly's growing fatal accident rates and their different behaviours compared to younger drivers. However, few research has focused on design-led practical solutions to mitigate the elderly's growing fatal accidents, by considering their usability and body conditions, afflicting the elderly, such as decreased vision, hearing, and reaction times. In this paper, first, current worldwide situations on growing fatal accident rates for elderly drivers is reviewed and the key impact factors are identified and discussed with regarding to usability and design trend in the automotive technology for elderly. Second, existing smart vehicle technology-based solutions to promote safe driving are explored and their pros and cons are discussed and analysed. Most of solutions are not created by people with driving difficulties, which are caused by health problems most commonly afflicting the elderly. Thirdly, diverse design-led research activities are taken, such as a survey, observation, and interviews to gain new understanding of what kinds of driving problems elderly drivers have and demonstrate how new system concepts could be developed for the elderly's benefits. Finally, it is found that the elderly's low vision and late reaction are main factors causing their driving difficulties. Based on this finding, usable vehicle system design ideas have been proposed, by utilising facial expression sensing technology as a solution. The proposed solutions would ensure reducing both the elderly's driving problems and high fatal accident rates and provide a more enjoyable driving environment for the elderly population.
Access options
Buy single article
Instant access to the full article PDF.
US$ 39.95
Tax calculation will be finalised during checkout.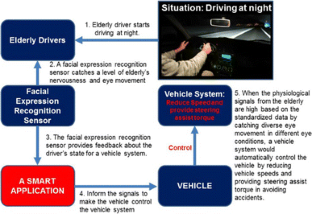 References
1.

World Population United Nations Ageing. Economic and Social Affairs, 2013, 7: 66−71.

2.

National Highway Traffic Safety Administration. Traffic safety facts: older population. Washington (DC): NHTSA, 2014.

3.

Institute for Traffic Accident Research and Data Analysis. Annual report of statistics on traffic accidents 2011. Institute for Traffic Accident Research and Data Analysis, 2012.

4.

National Highway Traffic Safety ADMINISTRATION. Traffic Safety Facts: Older Population. Washington (DC): NHTSA, 2015.

5.

NATIONAL HIGHWAY TRAFFIC SAFETY ADMINISTRATION. Traffic Safety Facts: Older Population. Washington (DC): NHTSA, 2010.

6.

Transport Canada. Canadian motor vehicle traffic collision statistics. [Retrieved 2005-02]. http://www.tc.gc.ca/roadsafety/tp/tp3322/2003/menu.htm.

7.

M Johnson, E Howard. Road safety vision 2010 mid-term review. Canadian Traffic Safety Institute, 2007.

8.

Department for Transport. Strategic Framework for Road Safety. [Retrieved 2011]. http://www.dft.gov.uk/topics/road-safety.

9.

D Otte, B Wiese. Injury rates for older and younger belted drivers in traffic accidents. SAE International, 2012, 5(1): 506−516.

10.

S W Hong, W Park, S Hong. Thoracic injury characteristics of elderly drivers in real world car accidents. ESV Conference, 2013, 13: 337−347.

11.

K Morita, M Sekine. Characteristics of accidents and violations caused by elderly drivers in Japan. SAE International, 2013, 2: 14−20.

12.

M Jie, M Horie. Self-driving car demand seen boosted by Japan's aging population. [Retrieved 2013] http://www.bloomberg.com/news/2013-10-20/elderly-dying-in-crashes-seen-spurring-self-driving-car-demand.html.

13.

J Saisan, M White, L Robinson. Older driver safety. [Retrieved 2013]. http://www.helpguide.org/elder/senior_citizen_driving.htm.

14.

S J Park, H K Lim. Characteristics of elderly driver's driving behaviour and cognition under unexpected event using driving simulator. SAE International, 2011, 1: 552−556. doi:10.4271/2011-01-0552.

15.

A Iwase, Y Suzuki, M Araie, et al. The prevalence of primary open-angle glaucoma in Japanese TheTajimi Study. Ophthalmology, 2004, 111(9): 1641−1648.

16.

Roaddriver. Driving with a hearing impairment. [Retrieved 2010]. http://www.roaddriver.co.uk/safety-tips/driving-with-a-hearing-impairment/.

17.

F Alvarez, I Fierro. Older drivers, medical condition, medical impairment and crash risk. Accident Analysis and Prevention, 2008, 40: 55−60.

18.

A Hiroko, M Hiroyuki. Usability research for the elderly people. Oki Technical Review, 2004, 71(3): 54−57.

19.

A W Guo, J F Brake, S Edwards, et al. The application of in-vehicle systems for elderly drivers. European Transport Research Review, 2010, 2(3): 165−174.

20.

B Prazak, A Hochgatterer, T Holthe, et al. User requirements as crucial determinants for the development of new technological solutions in elderly care – Exemplified in an European Project. Assistive Technology Research Series, 2007, 20: 826−830.

21.

M Hermann, T Pentek, B Otto. Design principles for Industrie 4.0 scenarios. System Sciences (HICSS), 2016 49th Hawaii International Conference.

22.

S Matsuoka, H Ogawa, H Maki. A new safety support system for wandering elderly persons. 33rd Annual International Conference of the IEEE EMBS. Boston, Massachusetts USA, 2011.

23.

V Charisis, G Vlachos, S Arafat. On the impact of elderly warning collision avoidance information through prototype head-up display for older drivers. SAE International, 2011-01-1033.

24.

R G Fairchild, J F Brake, N Thorpe, et al. Using on-board driver feedback systems to encourage safe, ecological and efficient driving: The Foot-LITE Project. AISB 2009 Convention. Edinburgh, UK, 2009.

25.

L Mitchell, N Stamatiadis. Traffic maneuvers of elderly: Their viewpoint and perspective. SAE International, 2002, 1: 81−89.

26.

S Koppel, M Bohensky, J Langford, et al. Older drivers, crashes and injuries. Traffic International Journal Prev., 2011, 12(5): 459−467.

27.

J M Lyman, G McGwin, R V Sims. Factors related to driving difficulty and habits in older drivers. Accident Analysis and Prevention, 2001, 33(3): 413−421.

28.

H Middleton, D Westwood. Specification of older driver requirements for technologies to enhance capability. SAE International, 2001-01-3350.

29.

D Parker, L McDonald, P Rabbitt, et al. Elderly drivers and their accidents: The Aging Driver Questionnaire. Elsevier, 2000, 32(6), 751−759.

30.

J A Healey, R W Picard. Detecting stress during real world driving tasks using physiological sensors. IEEE Transactions on Intelligent Transportation Systems, 2005, 6(2): 156−166.

31.

A Lott, M Scheneck, J A Brabyn. Face recognition in the elderly. Optometry and Vision Science, 2005, 82: 10−18.

32.

E Schmidt, R Decke, R Rasshofer. Correlation between subjective driver state measures and psychophysiological and vehicular data in simulated driving. 2016 IEEE Intelligent Vehicles Symposium, Gothernburg, Sweden.

33.

Y Linwang, J Hong, C Hong. EEG-based emotion recognition in music listening. IEEE Transactions on Biomedical Engineering, 2010, 57: 1798−1806.

34.

R Khosrowabadi. Affective computation on EEG correlates of emotion from musical and voal stimuli. Proceedings of International Joint Conference on Neural Networks, Atlanta, 2009.

35.

C Owsley, R Sekuler, C Boldt. Aging and low-contrast vision: face perception. Invest Ophthalmol Vis. Sci., 1981, 21: 362−365.

36.

T Lassa. The beginning of the end of driving. [Retrieved 2013-10]. http://www.motortrend.com/features/auto_news/2012/1301_the_beginning_of_the_end_of_driving/.

37.

W Zhu, J Miao, B Jiang, et al. Vehicle detection in driving simulation using extreme learning machine. Neurocomputing, 2014, 128: 160-165.

38.

B Howard. Tesla records its first Autopilot fatal crash; NHTSA opens investigation. [Retrieved 2016-05]. http://www.extremetech.com/extreme/231097-tesla-records-its-first-autopilot-fatal-crash-nhtsa-opens-investigation.

39.

A Hern. Car hacking is the future – and sooner or later you'll be hit, [Retrieved 2016-03]. https://www.theguardian.com/technology/2016/aug/28/car-hacking-future-self-driving-security.

40.

H Sharp, Y Rogers, J Preece. Interaction design: beyond human computer interaction. 2nd ed. Chichester: John Wiley, 2007.
About this article
Cite this article
Jung, S., Meng, HY. & Qin, SF. Exploring Challenges in Developing a Smart and Effective Assistive System for Improving the Experience of the Elderly Drivers. Chin. J. Mech. Eng. 30, 1133–1149 (2017). https://doi.org/10.1007/s10033-017-0165-6
Received:

Revised:

Accepted:

Published:

Issue Date:
Keywords
Elderly drivers

Aging health conditions

Driving behaviours

Vision impairment

Cognitive impairment

Hearing loss

Reflexes

Fatal collision