Abstract
Purpose
Hernia repair remains one of the most common surgical procedures. Surgical mesh usage has been highlighted in the media due to recent lawsuits and recalls. Patients can read potentially biased information on the Internet and this can influence a patient's healthcare decisions. The purpose of this study is to evaluate search engine listings and respective website content of surgical mesh for hernia repair.
Methods
Websites evaluated were derived from four keyword searches targeting surgical mesh with Google, Yahoo, and Bing. Websites from the first two pages of each search were evaluated for content comprehensiveness.
Results
The largest category of websites from search engine results was legal advertisements, accounting for 20% of all results. These websites also held the first position on every results page. Legal advertisements and blog/forum websites were the most skewed toward surgical mesh risks and complications vs. benefits. There was a reduction in advertisements in 2020 vs. 2018. The most comprehensive non-advertisement websites were found more frequently. Overall, only 44% of websites presented references and 50% cited supporting data. Finally, 46% of 'recommended search terms' displayed on the search engine results page had a risk, complication, or legal bias.
Conclusions
These results emphasize the challenges of using an Internet search engine to find comprehensive and appropriate information regarding surgical mesh. This manuscript underscores the importance for physicians to direct patients toward specific websites to mitigate their exposure to websites that are biased and not appropriate for patients searching for an accurate and comprehensive overview of surgical mesh.
Access options
Buy single article
Instant access to the full article PDF.
USD 39.95
Price includes VAT (USA)
Tax calculation will be finalised during checkout.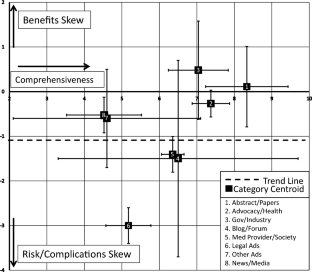 Data availability
Available on request from Corresponding Author.
References
1.

Baylón K, Rodríguez-Camarillo P, Elías-Zúñiga A, Díaz-Elizondo JA, Gilkerson R, Lozano K (2017) Past, present and future of surgical meshes: a review. Membranes (Basel) 7(3):1–23. https://doi.org/10.3390/membranes7030047

2.

Kulaçoğlu H (2015) Current options in umbilical hernia repair in adult patients. Turk J Surg 31(3):157–161

3.

General Surgery News (2018). To mesh or not to mesh, that is the question. https://www.generalsurgerynews.com/The-Great-Debates/Article/01-18/To-Mesh-or-Not-to-Mesh-That-Is-the-Question/46624?sub=3518DEAE395E322F12EFAFD253BD61AD6FFA66F89E4D27182DDAB90146CE6A&enl=true. Accessed 5 May 2020

4.

Turner T (2020) Hernia Mesh. DrugWatch. https://www.drugwatch.com/hernia-mesh/. Accessed 5 May 2020

5.

Perriello B (2016) J&J's Ethicon recalls Physiomesh flexible composite hernia mesh. Mass Device, 20 June 2016. https://www.massdevice.com/jjs-ethicon-recalls-physiomesh-flexible-composite-hernia-mesh/. Accessed 5 May 2020

6.

Novitsky YW (2016) Hernia surgery. Curr Princ. https://doi.org/10.1007/978-3-319-27470-6

7.

Miller MP, Arefanian S, Blatnik JA (2019) The impact of Internet-based patient self—education of surgical mesh on patient attitudes and healthcare decisions prior to hernia surgery. Surg Endosc. https://doi.org/10.1007/s00464-019-07300-0

8.

Market Share Statistics for Internet Technologies (2018) Net Market Share. https://netmarketshare.com. Accessed 4 May 2020

9.

Townsend CM, Sabiston DC (2004) Sabiston textbook of surgery: the biological basis of modern surgical practice. Saunders, Philadelphia

10.

United States Food and Drug Administration (2018). Hernia surgical mesh implants. https://www.fda.gov/MedicalDevices/ProductsandMedicalProcedures/ImplantsandProsthetics/HerniaSurgicalMesh/default.htm. Assessed 5 May 2020

11.

Lauckner C, Hsieh G (2013) The presentation of health-related search results and its impact on negative emotional outcomes. Conf Hum Factors Comput Syst Proc. https://doi.org/10.1145/2470654.2470702

12.

Mco S, Everard A, Galletta DF, Moody GD (2017) Here we go again. The impact of website ad repetition on recall, intrusiveness, attitudes, and site revisit intentions. Inf Manag 54(1):14–24. https://doi.org/10.1016/j.im.2016.03.005

13.

Madden T, Cortez S, Kuzemchak M, Kaphingst KA, Politi MC (2016) Accuracy of information about the intrauterine device on the Internet. Am J Obstet Gynecol 214(4):499.e1-499.e6. https://doi.org/10.1016/j.ajog.2015.10.928

14.

Mobile Vs. Desktop Internet Usage (Latest 2020 Data) (2020). Broadband search. https://www.broadbandsearch.net/blog/mobile-desktop-internet-usage-statistics#post-navigation-3. Accessed 13 Dec 2020

15.

Enge E (2019). Perficient. Mobile vs. desktop usage in 2019. https://www.perficient.com/insights/research-hub/mobile-vs-desktop-usage-study. Accessed 13 Dec 2020

16.

Anderson GO (2018) Getting connected: Older Americans embrace technology to enhance their lives. AARP Res. https://doi.org/10.26419/res.00210.001

17.

Search Engine Journal (2020) History of google algorithm updates. https://www.searchenginejournal.com/google-algorithm-history/. Accessed 5 May 2020

18.

Montti, R (2019). Search engine journal. Google broad core updates and why some health sites affected. https://www.searchenginejournal.com/google-broad-core-updates-ranking-loss/316115/. Accessed 5 May 2020
Ethics declarations
Conflict of interest
Mr. Miller has no conflicts of interest or financial ties to disclose. Dr. Blatnik reports grants from Ethicon, personal fees from Medtronic, personal fees from BD (Formerly Bard Davol), and personal fees from Intuitive Surgical, outside the submitted work.
Additional information
Publisher's Note
Springer Nature remains neutral with regard to jurisdictional claims in published maps and institutional affiliations.
Supplementary Information
Below is the link to the electronic supplementary material.
About this article
Cite this article
Miller, M.P., Blatnik, J.A. Evaluation of information on the Internet regarding surgical mesh for hernia repair: analysis of websites found through three popular search engines. Hernia (2021). https://doi.org/10.1007/s10029-021-02375-y
Received:

Accepted:

Published:
Keywords
Surgical mesh

Patient education

Internet research

Search engine results page