Abstract
Introduction
Evidence has demonstrated that biosynthetic glue for laparoscopic inguinal hernia repair results in decreased pain. However, the two glue sub-types (biologic—fibrin based; synthetic—cyanoacrylate based) have never been compared. This study aims to assess the outcomes of those subtypes.
Method and procedures
A systematic review of the MEDLINE database was undertaken. Randomized trials assessing the outcomes of laparoscopic inguinal hernia repair with penetrating and glue fixation methods were considered for inclusion and data analysis. Thirteen trials involving 1947 laparoscopic inguinal hernia repairs were identified with eight trials utilizing fibrin and five trials utilizing cyanoacrylate.
Results
There were no differences in recurrence or wound infection between the glue subtypes when compared individually to penetrating fixation alone or indirectly to each other. There were non-significant trends in reduction of hematoma and seroma for both glue subtypes when compared to penetrating fixation (OR 0.73, 95% CI 0.39–1.40). There was a significant reduction in urinary retention with glue fixation (pooled results of both sub-types) when compared to penetrating fixation (OR 0.33, 95% CI 0.13–0.83).
Conclusions
Glue fixation in laparoscopic inguinal hernia repair reduces the incidence of urinary retention and may reduce the rate of hematoma or seroma formation. As there are no differences in outcomes when comparing fibrin or cyanoacrylate glue, surgeons should choose the glue that is available at the lowest cost at their respective institutions.
Access options
Buy single article
Instant access to the full article PDF.
US$ 39.95
Tax calculation will be finalised during checkout.
Subscribe to journal
Immediate online access to all issues from 2019. Subscription will auto renew annually.
US$ 79
Tax calculation will be finalised during checkout.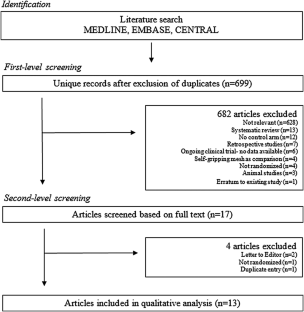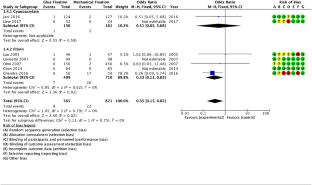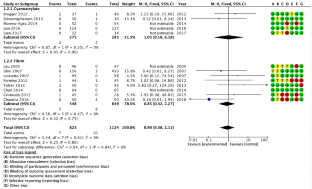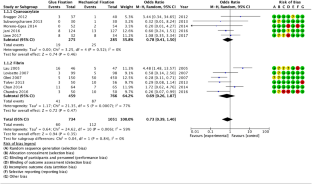 References
1.

Rutkow IM (2003) Demographic and socioeconomic aspects of hernia repair in the United States in 2003. Surg Clin N Am 83(1045–1051):v–vi

2.

Nguyen DK, Amid PK, Chen DC (2016) Groin pain after inguinal hernia repair. Adv Surg 50:203–220

3.

Bobo Z, Nan W, Qin Q, Tao W, Jianguo L, Xianli H (2014) Meta-analysis of randomized controlled trials comparing Lichtenstein and totally extraperitoneal laparoscopic hernioplasty in treatment of inguinal hernias. J Surg Res 192:409–420

4.

Li J, Ji Z, Li Y (2014) Comparison of laparoscopic versus open procedure in the treatment of recurrent inguinal hernia: a meta-analysis of the results. Am J Surg 207:602–612

5.

Antoniou SA, Kohler G, Antoniou GA, Muysoms FE, Pointner R, Granderath FA (2016) Meta-analysis of randomized trials comparing nonpenetrating vs mechanical mesh fixation in laparoscopic inguinal hernia repair. Am J Surg 211:239–249.e232

6.

Spotnitz WD (2012) Hemostats, sealants, and adhesives: a practical guide for the surgeon. Am Surg 78:1305–1321

7.

Robinson KA, Dickersin K (2002) Development of a highly sensitive search strategy for the retrieval of reports of controlled trials using PubMed. Int J Epidemiol 31:150–153

8.

Higgins JP, Altman DG, Gotzsche PC, Juni P, Moher D, Oxman AD, Savovic J, Schulz KF, Weeks L, Sterne JA (2011) The Cochrane Collaboration's tool for assessing risk of bias in randomised trials. BMJ (Clin Res ed) 343:d5928

9.

Kiefer C, Sturtz S, Bender R (2015) Indirect comparisons and network meta-analyses. Deutsches Arzteblatt Int 112:803–808

10.

DerSimonian R, Laird N (1986) Meta-analysis in clinical trials. Control Clin Trials 7:177–188

11.

DerSimonian R, Laird N (2015) Meta-analysis in clinical trials revisited. Contemp Clin Trials 45:139–145

12.

Brugger L, Bloesch M, Ipaktchi R, Kurmann A, Candinas D, Beldi G (2012) Objective hypoesthesia and pain after transabdominal preperitoneal hernioplasty: a prospective, randomized study comparing tissue adhesive versus spiral tacks. Surg Endosc 26:1079–1085

13.

Chandra P, Phalgune D, Shah S (2016) Comparison of the clinical outcome and complications in laparoscopic hernia repair of inguinal hernia with mesh fixation using fibrin glue vs tacker. Indian J Surg 78:464–470

14.

Cristaudo A, Nayak A, Martin S, Adib R, Martin I (2015) A prospective randomised trial comparing mesh types and fixation in totally extraperitoneal inguinal hernia repairs. Int J Surg (London, England) 17:79–82

15.

Fortelny RH, Petter-Puchner AH, May C, Jaksch W, Benesch T, Khakpour Z, Redl H, Glaser KS (2012) The impact of atraumatic fibrin sealant vs. staple mesh fixation in TAPP hernia repair on chronic pain and quality of life: results of a randomized controlled study. Surg Endosc 26:249–254

16.

Jani K (2016) Randomised controlled trial of n-butyl cyanoacrylate glue fixation versus suture fixation of mesh in laparoscopic totally extraperitoneal hernia repair. J Minim Access Surg 12:118–123

17.

Lau H (2005) Fibrin sealant versus mechanical stapling for mesh fixation during endoscopic extraperitoneal inguinal hernioplasty: a randomized prospective trial. Ann Surg 242:670–675

18.

Liew W, Wai YY, Kosai NR, Gendeh HS (2017) Tackers versus glue mesh fixation: an objective assessment of postoperative acute and chronic pain using inflammatory markers. Hernia J Hernias Abdom Wall Surg 21:549–554

19.

Lovisetto F, Zonta S, Rota E, Mazzilli M, Bardone M, Bottero L, Faillace G, Longoni M (2007) Use of human fibrin glue (Tissucol) versus staples for mesh fixation in laparoscopic transabdominal preperitoneal hernioplasty: a prospective, randomized study. Ann Surg 245:222–231

20.

Melissa CS, Bun TAY, Wing CK, Chung TY, Wai NEK, Tat LH (2014) Randomized double-blinded prospective trial of fibrin sealant spray versus mechanical stapling in laparoscopic total extraperitoneal hernioplasty. Ann Surg 259:432–437

21.

Moreno-Egea A (2014) Is it possible to eliminate sutures in open (Lichtenstein technique) and laparoscopic (totally extraperitoneal endoscopic) inguinal hernia repair? A randomized controlled trial with tissue adhesive (n-hexyl-alpha-cyanoacrylate). Surg Innov 21:590–599

22.

Olmi S, Scaini A, Erba L, Guaglio M, Croce E (2007) Quantification of pain in laparoscopic transabdominal preperitoneal (TAPP) inguinal hernioplasty identifies marked differences between prosthesis fixation systems. Surgery 142:40–46

23.

Subwongcharoen S, Ruksakul K (2013) A randomized controlled trial of staple fixation versus N-butyl-2-cyanoacrylate fixation in laparoscopic inguinal hernia repair. J Med Assoc Thailand 96 Suppl 3:S8–13

24.

Tolver MA, Rosenberg J, Juul P, Bisgaard T (2013) Randomized clinical trial of fibrin glue versus tacked fixation in laparoscopic groin hernia repair. Surg Endosc 27:2727–2733

25.

Roadman D, Helm M, Goldblatt MI, Kastenmeier A, Kindel TL, Gould JC, Higgins RM (2018) Postoperative urinary retention after laparoscopic total extraperitoneal inguinal hernia repair. J Surg Res 231:309–315

26.

Jensen P, Mikkelsen T, Kehlet H (2002) Postherniorrhaphy urinary retention—effect of local, regional, and general anesthesia: a review. Reg Anesth Pain Med 27:612–617

27.

Koch CA, Greenlee SM, Larson DR, Harrington JR, Farley DR (2006) Randomized prospective study of totally extraperitoneal inguinal hernia repair: fixation versus no fixation of mesh. J Soc Laparoendosc Surg 10:457–460

28.

Patel JA, Kaufman AS, Howard RS, Rodriguez CJ, Jessie EM (2015) Risk factors for urinary retention after laparoscopic inguinal hernia repairs. Surg Endosc 29:3140–3145

29.

Sivasankaran MV, Pham T, Divino CM (2014) Incidence and risk factors for urinary retention following laparoscopic inguinal hernia repair. Am J Surg 207:288–292

30.

Sajid MS, Ladwa N, Kalra L, McFall M, Baig MK, Sains P (2013) A meta-analysis examining the use of tacker mesh fixation versus glue mesh fixation in laparoscopic inguinal hernia repair. Am J Surg 206:103–111
Ethics declarations
Conflict of interest
All authors declare that they have no conflict of interest.
Ethical approval
Institutional review board approval was not required.
Human and animal rights
As this was a systematic review of the literature, no human rights, animal rights were involved.
Informed consent
None.
Additional information
Publisher's Note
Springer Nature remains neutral with regard to jurisdictional claims in published maps and institutional affiliations.
Electronic supplementary material
Below is the link to the electronic supplementary material.
About this article
Cite this article
Tavares, K., Mayo, J., Bogenberger, K. et al. Fibrin versus cyanoacrylate glue for fixation in laparoscopic inguinal hernia repair: a network meta-analysis and indirect comparison. Hernia 24, 927–935 (2020). https://doi.org/10.1007/s10029-019-02072-x
Received:

Accepted:

Published:

Issue Date:
Keywords
Fibrin glue

Cyanoacrylate glue

Laparoscopic inguinal hernia repair

Fixation