Abstract
Background
Intended open abdomen is an option in cases of trauma and non-trauma patients. Nevertheless, after primary closure, incisional hernia rate is high. We describe a novel method, called COmbined and MOdified Definitive Abdominal closure (COMODA), a delayed primary closure which prevents incisional hernia.
Methods
A negative pressure wound therapy system is combined with a condensed polytetrafluoroethylene (cPTFE) mesh. Trial registration: ISRCTN72678033.
Results
Ten male patients with a median age of 68.8 (43–87) years were included. Primary closure rate was 100% per protocol. The median number of procedures per patient was 5.7 (5–9). Primary closure was obtained in 20.8 (10–32) days and median hospital stay was 36.3 (18–52) days. Only one patient developed incisional hernia during a median follow-up of 27 (8–60) months.
Conclusion
COMODA method allows for a high rate of delayed primary closure. It is safe and decreases the risk for developing an incisional hernia. However, a large number of patients are needed to support this conclusion.
This is a preview of subscription content, log in to check access.
Access options
Buy single article
Instant access to the full article PDF.
US$ 39.95
Price includes VAT for USA
Subscribe to journal
Immediate online access to all issues from 2019. Subscription will auto renew annually.
US$ 99
This is the net price. Taxes to be calculated in checkout.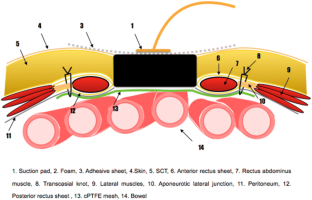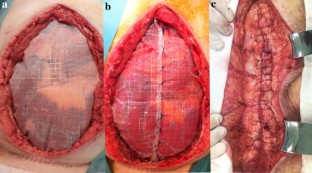 References
1.

Tsuei BJ, Skinner JC, Bernard AC et al (2004) The open peritoneal cavity: etiology correlates with the likelihood of fascial closure. Am Surg 70:652–656

2.

Jansen JO, Loudon MA (2007) Damage control surgery in a non-trauma setting. Br J Surg 94(7):789–790

3.

Kreis BE, de Mol van OJA, Kreis RW (2013) Open abdomen management: a review of its history and proposed management algorithm. Med Sci Monit 19:524–533

4.

Bruhin A, Ferreira F, Chariker M, Smith J, Runkel N (2014) Systematic review and evidence based recommendations for the use of negative pressure wound therapy in the open abdomen. Int J Surg 12(10):1105–1114

5.

Perez D, Wildi S, Demartines N, Bramkamp M, Koehler C, Clvien PA (2007) Prospective evaluation of vacuum-assisted closure in abdominal compartment syndrome and severe abdominal sepsis. J Am Coll Surg 205(4):586–592

6.

Acosta S, Bjarnason T, Petersson U, Palsson B, Whanhainen A, Björck M et al (2011) Multicenter prospective study of fascial closure rate after open abdomen with vacuum and mesh-mediated fascial traction. Br J Surg 98:735–743

7.

DuBose JJ, Scalea TM, Holcomb JB, Shrestha B, Okoye O, Inaba K et al (2013) Open abdomen management after damage-control laparotomy for trauma: a prospective observational American Association for the Surgery of Trauma multicenter study. J Trauma Acute care Surg 74:113–122

8.

Carlson G, Patrick H, Amin A, McPherson G, MacLennan G, Afolabi E et al (2013) Management of the open abdomen: a national study of clinical outcome and safety of negative pressure wound therapy. Ann Surg 257(6):1154–1159

9.

Adkins AL, Robbins J, Villalba M, Bendick P, Shanley CJ (2004) Open abdomen management of intraabdominal sepsis. Am Surg 70:137–140

10.

van Hensbroek PB, Wind J, Dijkraaf M, Busch R, Gosling JC (2009) Temporary closure of the open abdomen: a systematic review on delayed primary fascial closure in patients with open abdomen. World J Surg 33:199–207

11.

Björck M, Bruhin A, Chealtham M, Hinck D, Kaplan M, Manca G et al (2009) Classification–important step to improve management of patients with open abdomen. World J Surg 33(6):1154–1157

12.

Kirkpatrick A, Roberts D, De Waele J, Jaeschke R, Malbrain M, De Keulenaer B et al (2013) Intra-abdominal hypertension and the abdominal compartment syndrome: updated consensus definitions and clinical practice guidelines from the world society of the abdominal compartment syndrome. Intensive Care Med 39(7):1190–1206

13.

Paladino P, Dionigi G, Minoja G, Carcano G, Rovera F, Boni L et al (2010) Fascia-to-fascia closure with abdominal topical negative pressure for severe abdominal infections: preliminary results in a department of general surgery and intensive care unit. Surg Infect (Larchmt) 11:523–528

14.

Wondberg D, Larusson HJ, Metzger U, Platz A, Zingg U (2008) Treatment of the open abdomen with the commercially available vacuum- assisted closure system in patients with abdominal sepsis: low primary closure rate. World J Surg 32:2724–2729

15.

Atema JJ, Gans SL, Boermeester MA (2015) Systematic review and meta-analysis of the open abdomen and temporary abdominal closure techniques in non-trauma patients. World J Surg 39:912–925

16.

Kiewiet JJ, van Ruler O, Boermeester MA, Reitsma JB (2013) A decision rule to aid selection of patients with abdominal sepsis requiring a relaparotomy. BMC Surg 13:28

17.

Yuan Y, Ren J, He Y (2013) Current status of the open abdomen treatment for intra-abdominal infection. Gastroenterol Res Pract 2013:532013

18.

Quyn AJ, Johnson C, Hall D, Chambers A, Arapova N, Ogston S et al (2012) The open abdomen and temporary abdominal closure systems—historical evolution and systematic review. Colorectal Dis 14(8):429–438

19.

Wittmann DH, Aprahamian C, Bergstein JM (1990) Etappenlavage: advanced diffuse peritonitis managed by planned multiple laparotomies utilizing zippers, slide fastener, and Velcro analogue for temporary abdominal closure. World J Surg 14:218–226

20.

Brock WB, Barker DE, Burns RP (1995) Temporary closure of open abdominal wounds: the vacuum-pack. Am Surg 61:30–35

21.

Barker DE, Kaufman HJ, Smith LA, Ciraulo DL, Richart CL, Burns RP (2000) Vacuum-pack technique of temporary abdominal closure: a 7-year experience with 112 patients. J Trauma 48:201–206

22.

Barker DE, Green JM, Maxwell R (2007) Experience with vacuum-pack temporary abdominal wound closure in 258 trauma and general and vascular surgical patients. J Am Coll Surg 204(5):784–792

23.

Cheatham ML, Demetrides D, Fabian TC, Kaplan MJ, Miles WS, Schreiber MA et al (2013) Prospective study examining clinical outcomes associated with negative pressure wound therapy system and Barker´s vacuum packing technique. World J Surg 37:2018–2030

24.

Navsaria P, Nicol A, Hudson D, Cockwill J, Smith J (2013) Negative pressure wound therapy management of the "open abdomen" following trauma: a prospective study and systematic review. WJES 8(1):4

25.

Ozguc H, Paksoy E, Ozturk E (2008) Temporary abdominal closure with the Vacuum pack technique: a 5-year experience. Acta Chir Belg 108:414–419

26.

Petersson U, Acosta S, Björck M (2007) Vacuum-assisted wound closure and mesh-mediated fascial traction: a novel technique for late closure of the open abdomen. World J Surg 31:2133–2137

27.

Dennis A, Vizinas TA, Joseph K, Kinsley S, Bokhari F, Starr F et al (2013) Not so fast to skin graft: transabdominal wall traction closes most "domain loss" abdomens in the acute setting. J Trauma Acute Care Surg 74(6):1486–1492

28.

Burlew CC, Moore EE, Biffl WL, Bensard DD, Johnson JL, Barnett CC (2012) One hundred percent fascial approximation can be achieved in the post injury open abdomen with a sequential closure protocol. J Trauma Acute Care Surg 72(1):235–241

29.

Bjorsum-Meyer T, Skarbye M, Hojsgaard Jensen K (2013) Vacuum with mesh is a feasible temporary closure device after fascial dehiscence. Dan Med J 60(11):A4719

30.

Van'T Riet M, De Vos Van Steenwijk PJ, Bonjer HJ, Steyerberg EW, Jeekel J (2004) Incisional hernia after repair of wound dehiscence: Incidence and risk factors. Am J Surg 70:281–286

31.

Howdieshell TR, Proctor CD, Sternberg E, Cué JI, Mondy JS, Hawkins ML (2004) Temporary abdominal closure followed by definitive abdominal wall reconstruction of the open abdomen. Am J Surg 188:301–306

32.

Verdam F, Dolmans D, Loos M, Raber M, de Wit R, Charbon J et al (2011) Delayed primary closure of the septic open abdomen with a dynamic closure system. World J Surg 35:2348–2355

33.

Mingoli A, Puggioni A, Sgarzini G, Luciani G, Corzani F, Ciccarone F et al (1999) Incicednce of incisional hernia following emergency abdominal surgery. Ital J Gastroenterol Hepatol 31:449–453

34.

Patel NY, Cogbill TH, Kallies KJ, Mathiason MA (2011) Temporary abdominal closure: long-term outcomes. J Trauma 70:769

35.

Reimer MW, Yelle JD, Reitsma B, Doumit G, Allen MA, Bell MS (2008) Management of open abdominal wounds with a dynamic fascial closure system. Can J Surg 51(3):209–214

36.

Coccolini F, Biffl W, Catena F, Ceresoli M, Chiara O, Cimbanassi S et al (2015) The open abdomen, indications, management and definitive closure. World J Emerg Surg 10:32

37.

Halaweish I, Harth K, Broome AM, Voskerician G, Jacobs MR, Rosen MJ (2010) Novel in vitro model for assessing susceptibility of synthetic hernia repair meshes to staphylococcus aureus infection using green fluorescent protein-labeled bacteria and modern imaging techniques. Surg Infect (Larchmt) 11(5):449–454

38.

Voskerician G, Gingras PH, Anderson JM (2006) Macroporous condensed poly(tetra fluoro-ethylene). I. In vivo inflammatory response and healing characteristics. J Biomed Mater Res A 76(2):234–242

39.

Voskerician G, Rodriguez A, Gingras PH (2007) Macroporous condensed poly(tetra fluoro-ethylene)II In vivo effect on adhesion formation and tissue integration. J Biomed Mater Res A 82(2):426–436

40.

Snyder CW, Graham LA, Gray SH, Vick CC, Hawn MT (2011) Effect of mesh type and position on subsequent abdominal operations after incisional hernia repair. J Am Coll Surg 212(4):496–502

41.

Cheesborough JE, Liu J, Hsu D, Dumanian GA (2016) Prospective repair of ventral hernia working group type 3 and 4 abdominal wall defects with condensed polytetrafluoroethylene)MotiMESH) mesh. AM J Surg 211(1):1–10
Ethics declarations
Conflict of interest
The authors of this manuscript have no conflicts of interest to disclose. RV declares no conflict of interest. YM declares no conflict of interest. MM declares no conflict of interest. CG declares no conflict of interest. GP declares no conflict of interest. AE declares no conflict of interest. JO declares no conflict of interest.
Ethical statement
All procedures performed in studies involving human participants were in accordance with the ethical standards of the institutional and/or national research committee and with the 1964 Helsinki Declaration and its later amendments or comparable ethical standards.
Statements of human and animal rights
This article does not contain any studies with animals performed by any of the authors.
Informed consent
Informed consent was obtained from all individual participants included in the study.
Additional information
Publisher's Note
Springer Nature remains neutral with regard to jurisdictional claims in published maps and institutional affiliations.
About this article
Cite this article
Villalobos Mori, R., Maestre González, Y., Mias Carballal, M. et al. Novel method for delayed primary closure and incisional hernia prevention in open abdomen: COmbined and MOdified Definitive Abdominal wall closure (COMODA). Hernia 24, 395–401 (2020). https://doi.org/10.1007/s10029-019-01948-2
Received:

Accepted:

Published:

Issue Date:
Keywords
Open abdomen

Incisional hernia

Primary closure

Intra-abdominal pressure