Abstract
Purpose
Repair of giant paraoesophageal herniae (GPEH) is technically challenging and requires significant experience in advanced foregut surgery. Controversy continues on suture versus mesh cruroplasty with the most recent systematic review and meta-analysis putting the onus on the operating surgeon. Study aim was to review whether the biological prosthesis (non-cross-linked bovine pericardium and porcine dermis) and the technique adopted for patients with GPEH had an influence on clinical and radiological recurrences.
Method
A retrospective analysis of a prospectively collected data of 60 consecutive patients with confirmed 5 cm hiatus hernia and ≥ 30% stomach displacement in the thorax that were operated in the upper gastrointestinal unit of a large district general hospital between September 2010 and August 2017. Pre and post-surgery Gastro-Oesophageal Reflux Disease Questionnaire [(GORD-HRQOL)] and a follow up contrast study were completed.
Results
60 included 2 (3%) and 58 (97%) emergency and elective procedures respectively with a male: female ratio of 1:3, age 71* (Median) (42–89) years, BMI 29* (19–42) and 26 (43%) with ASA III/IV. Investigations confirmed 46* (37–88) mm and 42* (34–77) mm transverse and antero-posterior hiatal defect respectively with 60* (30–100)% displacement of stomach into chest. Operative time and length of stay was 180* (120–510) minutes and 2* (1–30) days respectively. One (2%) converted for bleeding and 2 (3%) peri-operative deaths. Five (8%), 5 (8%) and 4 (7%) have dysphagia, symptomatic and radiological recurrences respectively. GORD-HRQOL recorded preoperatively was 27* (10–39) dropping significantly postoperatively to 0* (0–21) (P < 0.005) with 95% patient satisfaction at a follow up of 60* (36–84) months.
Conclusions
Our technique of laparoscopic GPEH repair with biological prosthesis is safe with a reduced symptomatic and radiological recurrence and an acceptable morbidity and mortality.
This is a preview of subscription content, log in to check access.
Access options
Buy single article
Instant access to the full article PDF.
US$ 39.95
Price includes VAT for USA
Subscribe to journal
Immediate online access to all issues from 2019. Subscription will auto renew annually.
US$ 99
This is the net price. Taxes to be calculated in checkout.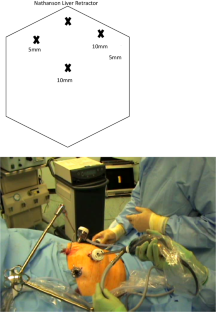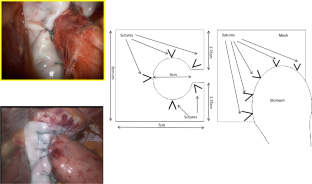 References
1.

Hashemi M, Peters JH, DeMeester TR, Huprich JE, Quek M, Hagen JA, Crookes PF, Theisen J, DeMeester SR, Sillin LF, Bremner CG (2000) Laparoscopic repair of large type III hiatal hernia: objective followup reveals high recurrence rate. J Am Coll Surg 190(5):553–560 (discussion 560–551)

2.

Mitiek MO, Andrade RS (2010) Giant hiatal hernia. Ann Thorac Surg 89(6):S2168–S2173. https://doi.org/10.1016/j.athoracsur.2010.03.022

3.

Sheff SR, Kothari SN (2010) Repair of the giant hiatal hernia. J Long-term Effects Med Implants 20(2):139–148

4.

Mori T, Nagao G, Sugiyama M (2012) Paraesophageal hernia repair. Ann Thorac Cardiovasc Surg 18(4):297–305. https://doi.org/10.5761/atcs.ra.12.01882

5.

Cuschieri A, Shimi S, Nathanson LK (1992) Laparoscopic reduction, crural repair, and fundoplication of large hiatal hernia. Am J Surg 163(4):425–430

6.

Engstrom C, Cai W, Irvine T, Devitt PG, Thompson SK, Game PA, Bessell JR, Jamieson GG, Watson DI (2012) Twenty years of experience with laparoscopic antireflux surgery. Br J Surg 99(10):1415–1421. https://doi.org/10.1002/bjs.8870

7.

Luketich JD, Nason KS, Christie NA, Pennathur A, Jobe BA, Landreneau RJ, Schuchert MJ (2010) Outcomes after a decade of laparoscopic giant paraesophageal hernia repair. J Thorac Cardiovasc Surg 139(2):395–404. https://doi.org/10.1016/j.jtcvs.2009.10.005 (404 e391)

8.

Hazebroek EJ, Leibman S, Smith GS (2009) Erosion of a composite PTFE/ePTFE mesh after hiatal hernia repair. Surg Laparosc Endosc Percutaneous Tech 19(2):175–177. https://doi.org/10.1097/SLE.0b013e3181a11926

9.

Oelschlager BK, Pellegrini CA, Hunter JG, Brunt ML, Soper NJ, Sheppard BC, Polissar NL, Neradilek MB, Mitsumori LM, Rohrmann CA, Swanstrom LL (2011) Biologic prosthesis to prevent recurrence after laparoscopic paraesophageal hernia repair: long-term follow-up from a multicenter, prospective, randomized trial. J Am Coll Surg 213(4):461–468. https://doi.org/10.1016/j.jamcollsurg.2011.05.017

10.

Watson DI, Thompson SK, Devitt PG, Smith L, Woods SD, Aly A, Gan S, Game PA, Jamieson GG (2015) Laparoscopic repair of very large hiatus hernia with sutures versus absorbable mesh versus nonabsorbable mesh. Ann Surg 261(2):282–289

11.

Tam V, Winger DG, Nason KS (2016) A systematic review and meta-analysis of mesh vs suture cruroplasty in laparoscopic large hiatal hernia repair. Am J Surg 211(1):226–238. https://doi.org/10.1016/j.amjsurg.2015.07.007

12.

Sun WQ, Xu H, Sandor M et al (2013) Process-induced extracellular matrix alterations affect the mechanisms of soft tissue repair and regeneration. J Tissue Eng 4:2041731413505305

13.

Velanovich V, Vallance SR, Gusz JR, Tapia FV, Harkabus MA (1996) Quality of life scale for gastroesophageal reflux disease. J Am Coll Surg 183(3):217–224

14.

Oelschlager BK, Pellegrini CA, Hunter J, Soper N, Brunt M, Sheppard B, Jobe B, Polissar N, Mitsumori L, Nelson J, Swanstrom L (2006) Biologic prosthesis reduces recurrence after laparoscopic paraesophageal hernia repair: a multicenter, prospective, randomized trial. Ann Surg 244(4):481–490. https://doi.org/10.1097/01.sla.0000237759.42831.03

15.

Shrestha A, Kumar R, Yusuf M, Abbey Y, Basu S (2013) Repair of type III/IV giant para-oesophageal herniae with biological prosthesis: a 5-year single centre experience. Br J Surg 100(S7):32–33

16.

Alubaidi K, Shrestha A, Joshi M, Basu S (2016) Type III/type IV giant para-oesophageal herniae: our technique of gastropexy with biological prosthesis. Surg Sci 7(5):226–229. https://doi.org/10.4236/ss.2016.75031. doi

17.

Antoniou SA, Pointner R, Granderath FA (2011) Hiatal hernia repair with the use of biologic meshes: a literature review. Surg Laparosc Endosc Percutaneous Tech 21(1):1–9. https://doi.org/10.1097/SLE.0b013e31820ad56c

18.

Rathore MA, Andrabi SIH, Bhatti MI, Najfi SMH, McMurray A (2007) Metaanalysis of recurrence after laparoscopic repair of paraesophageal hernia. JSLS J Soc Laparoendosc Surg Soc Laparoendosc Surg 11(4):456–460

19.

Pfluke JM, Parker M, Bowers SP, Asbun HJ, Daniel Smith C (2012) Use of mesh for hiatal hernia repair: a survey of SAGES members. Surg Endosc 26(7):1843–1848. https://doi.org/10.1007/s00464-012-2150-6

20.

Granderath FA, Schweiger UM, Kamolz T, Asche KU, Pointner R (2005) Laparoscopic Nissen fundoplication with prosthetic hiatal closure reduces postoperative intrathoracic wrap herniation: preliminary results of a prospective randomized functional and clinical study. Arch Surg (Chicago, Ill: 1960) 140(1):40–48. https://doi.org/10.1001/archsurg.140.1.40

21.

Soricelli E, Basso N, Genco A, Cipriano M (2009) Long-term results of hiatal hernia mesh repair and antireflux laparoscopic surgery. Surg Endosc 23(11):2499–2504. https://doi.org/10.1007/s00464-009-0425-3

22.

Chrysos E, Prokopakis G, Athanasakis E, Pechlivadides G, Tsiaoussis J, Mantides A, Xynos E (2003) Factors affecting esophageal motility in gastroesophageal reflux disease. Arch Surg 138(3):241–246

23.

Watson DI, Jamieson GG, Devitt PG, Kennedy JA, Ellis T, Ackroyd R, Lafullarde TA (2001) A prospective randomised trial of laparoscopic Nissen fundoplication with anterior vs posterior hiatal repair. Arch Surg 136(7):745–751

24.

Oddsdottir M (2000) Paraesophageal hernia. Surg Clin N Am 80(4):1243–1252

25.

Madan AK, Frantzides CT, Patsavas KL (2004) The myth of the short esophagus. Surg Endosc 18(1):31–34. https://doi.org/10.1007/s00464-002-8611-6

26.

Martin TR, Ferguson MK, Naunheim KS (1997) Management of giant paraesophageal hernia. Dis Esophagus 10(1):47–50

27.

Ponsky J, Rosen M, Fanning A, Malm J (2003) Anterior gastropexy may reduce the recurrence rate after laparoscopic paraesophageal hernia repair. Surg Endosc 17(7):1036–1041. https://doi.org/10.1007/s00464-002-8765-2

28.

Schauer PR, Ikramuddin S, McLaughlin RH, Graham TO, Slivka A, Lee KK, Schraut WH, Luketich JD (1998) Comparison of laparoscopic versus open repair of paraesophageal hernia. Am J Surg 176(6):659–665

29.

Larusson HJ, Zingg U, Hahnloser D, Delport K, Seifert B, Oertli D (2009) Predictive factors for morbidity and mortality in patients undergoing laparoscopic paraesophageal hernia repair: age, ASA score and operation type influence morbidity. World J Surg 33(5):980–985. https://doi.org/10.1007/s00268-009-9958-9

30.

Maziac D, Pearson F Massive (paraesophageal) hiatal hernia. Pearson's thoracic and esophageal surgery, 3rd edn. Churchill Livingstone, Philadelphia
Ethics declarations
Conflict of interest
Authors would like to confirm here that there is no conflict of interest.
Ethical approval
The study received approval from the local institutional review board. The meshes used were approved for use in the United Kingdom.
Human and animal rights
All procedures performed in studies involving human participants were in accordance with the ethical standards of the institutional and/or national research committee and with the 1964 Helsinki declaration and its later amendments or comparable ethical standards.
Informed consent
Permission were obtained from patients for use in the article.
Additional information
Publisher's Note
Springer Nature remains neutral with regard to jurisdictional claims in published maps and institutional affiliations.
Electronic supplementary material
Below is the link to the electronic supplementary material.
Supplementary material 1 (MP4 448820 KB)
About this article
Cite this article
Shrestha, A.K., Joshi, M., DeBono, L. et al. Laparoscopic repair of type III/IV giant para-oesophageal herniae with biological prosthesis: a single centre experience. Hernia 23, 387–396 (2019). https://doi.org/10.1007/s10029-019-01888-x
Received:

Accepted:

Published:

Issue Date:
Keywords
Giant paraoesophageal herniae

Cruroplasty

Anti-reflux procedure

Biological prosthesis

GORD-HRQOL score