Abstract
Purpose
As more mesh is implanted for hernia repairs, mesh-related complications may increase, with some requiring mesh removal. We describe our experience as to indications and perioperative factors that surround hernia mesh removal.
Methods
All patients who underwent hernia mesh removal from the abdomen (ventral, flank) and pelvis (inguinal, femoral, obturator, perineal) were captured from a single hernia center database.
Results
Over 4.5 years, we removed 105 mesh. Most were in males (58%), average age 53 years, with average pain score 5/10. Males most commonly had mesh removed from the pelvis (65%), and females from the abdomen (63%, P = 0.009). Pain score was significantly higher prior to removal of hernia mesh from the pelvis (5.7 vs 4.5, P = 0.047). Type of mesh implanted and positioning of mesh showed no difference in pain (P > 0.05). Indications for hernia mesh removal significantly varied between the abdomen (infection, 43%) and the pelvis (pain, 91%, P < 0.0001). Mesh reaction became a more frequent indication for mesh removal in the pelvis, reaching 1/3 of patients by 2017. Most required general anesthesia (87%), with inpatient stay (53%, mode 1 day). Open technique decreased with time (82–17%), laparoscopic decreased (20–10%), and robotic increased (0–70%).
Conclusions
This is the largest and most comprehensive study detailing why we remove mesh. We provide awareness of indications and operative options to help guide physicians as they encounter patients who may require hernia mesh removal.
This is a preview of subscription content, log in to check access.
Access options
Buy single article
Instant access to the full article PDF.
US$ 39.95
Price includes VAT for USA
Subscribe to journal
Immediate online access to all issues from 2019. Subscription will auto renew annually.
US$ 99
This is the net price. Taxes to be calculated in checkout.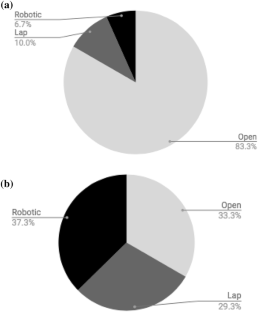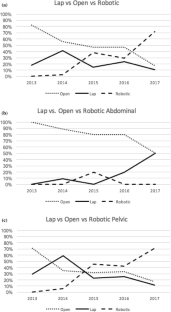 References
1.

Simons MP, Aufenacker T, Bay-Nielsen M et al (2009) European Hernia Society guidelines on the treatment of inguinal hernia in adult patients. Hernia 13(4):343–403

2.

Liang MK, Holihan JL, Itani K et al (2017) Ventral Hernia Management: expert consensus guided by systematic review. Ann Surg 265:80–89

3.

Kokotovic D, Bisgaard T, Helgstrand F (2016) Long-term recurrence and complications associated with elective incisional hernia repair. JAMA 316(15):1575–1582

4.

Allied Market Research (2018) Global opportunity analysis and industry, forecast, 2013–2020. https://www.alliedmarketresearch.com/hernia-repair-devices-market. Accessed 23 Jan 2018

5.

Cunningham LA, Ramshaw B (2016) Mesh removal for chronic pain: a review of laparoscopic and open techniques. In: Jacob B, Chen D, Ramshaw B, Towfigh S (eds) The SAGES manual of groin pain. Springer, Cham, pp 301–317

6.

Arlt GD, Lamm T, Klosterhalfen B (2003) Mesh removal in inguinal hernia repair. Eur Surg 35(1):42–44

7.

Bueno-Lledo J, Torregrosa-Gallud A, Carreno-Saenz O et al (2017) Partial versus complete removal of the infected mesh after abdominal wall hernia repair. Am J Surg 214(1):47–52

8.

Johanet H, Contival N (2011) Mesh infection after inguinal hernia mesh repair. J Visc Surg 148(5):e392–e394

9.

Jacob BP, Chen DC, Ramshaw B et al (2016) The SAGES manual of groin pain. Springer, Cham

10.

The HerniaSurge Group Hernia (2018) International guidelines for Groin Hernia Management. Hernia 22(1):1–65

11.

Reinpold W (2017) Risk factor of chronic pain after inguinal hernia repair: a systemic review. Innov Surg Sci 2(2):61–68

12.

Slooter GD, Zwaans WAR, Perquin CW et al (2018) Laparoscopic mesh removal for otherwise intractable inguinal pain following endoscopic hernia repair is feasible, safe and may be effective in selected patients. Surg Endosc 32(3):1613–1619

13.

Burcharth J, Pedersen M, Bisgaard T, et al. (2013) Nationwide prevalence of groin hernia repair. Burney RE, ed. PLoS One. 8(1):e54367

14.

Dabbas N, Adams K, Pearson K, Royle G (2011) Frequency of abdominal wall hernias: is classical teaching out of date? JRSM Short Reports 2(1):1–6

15.

Amid PK (2004) Radiologic images of meshoma a new phenomenon causing chronic pain after prosthetic repair of abdominal wall hernias. Arch Surg 139(12):1297–1298

16.

Society of American Gastrointestinal and Endoscopic Surgeons (2018) Risks of laparoscopic versus robotic-assisted mesh removal after inguinal hernia repair. https://www.sages.org/meetings/annual-meeting/abstracts-archive/risks-of-laparoscopic-versus-robotic-assisted-mesh-removal-after-inguinal-hernia-repair/. Accessed 23 Jan 2018

17.

NHS England (2017) Mesh Oversight Group report. Leeds: NHS England. https://www.england.nhs.uk/wp-content/uploads/2017/07/mesh-oversight-group-report.pdf
Ethics declarations
Conflict of interest
Authors RS, NF, EZ declare no conflict of interest. Author ST declares conflict of interest not directly related to this work but is broadly relevant to hernia mesh and hernia repair. This includes role as Principal Investigator with research grant funding by Bard/Davol, Inc. and Intuitive Surgical, Inc. Author ST also has a patent pending that is not directly related to this work but is broadly relevant to hernia mesh.
Ethical approval
This study was reviewed and approved by the Cedars-Sinai Institutional Review Board.
Human and animal rights
This article does not contain any studies directly involving human participants, as it is a review of data already collected in a hernia database.
Informed consent
Written informed consent was obtained by all patients enrolled prospectively in our hernia database.
About this article
Cite this article
Sharma, R., Fadaee, N., Zarrinkhoo, E. et al. Why we remove mesh. Hernia 22, 953–959 (2018). https://doi.org/10.1007/s10029-018-1839-4
Received:

Accepted:

Published:

Issue Date:
Keywords
Mesh removal

Chronic pain

Laparoscopy

Robotic surgery

Mesh reaction

Mesh