Abstract
Purpose
To compare the perioperative outcomes of initial, consecutive robotic-assisted transabdominal preperitoneal (R-TAPP) inguinal hernia repair (IHR) cases with consecutive open cases completed by the same surgeons.
Methods
Multicenter, retrospective, comparative study of perioperative results from open and robotic IHR using standard univariate and multivariate regression analyses for propensity score matched (1:1) cohorts.
Results
Seven general surgeons at six institutions contributed 602 consecutive open IHR and 652 consecutive R-TAPP IHR cases. Baseline patient characteristics in the unmatched groups were similar with the exception of previous abdominal surgery and all baseline characteristics were comparable in the matched cohorts. In matched analyses, postoperative complications prior to discharge were comparable. However, from post discharge through 30 days, fewer patients experienced complications in the R-TAPP group than in the open group [4.3% vs 7.7% (p = 0.047)]. The R-TAPP group had no reoperations post discharge through 30 days of follow-up compared with five patients (1.1%) in the open group (p = 0.062), respectively. Multivariate logistic regression analysis which demonstrated patient age > 65 years and the open approach were risk factors for complications within 30 days post discharge in the matched group [age > 65 years: odds ratio (OR) = 3.33 (95% CI 1.89, 5.87; p < 0.0001); open approach: OR = 1.89 (95% CI 1.05, 3.38; p = 0.031)].
Conclusions
In this matched analysis, R-TAPP provides similar postoperative complications prior to discharge and a lower rate of postoperative complications through 30 days compared to open repair. R-TAPP is a promising and reproducible approach, and may facilitate adoption of minimally invasive repairs of inguinal hernias.
Access options
Buy single article
Instant access to the full article PDF.
USD 39.95
Price excludes VAT (USA)
Tax calculation will be finalised during checkout.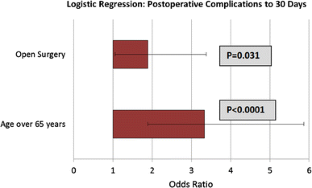 References
Kingsnorth A, LeBlanc K (2003) Hernias: inguinal and incisional. Lancet 362(9395):1561–1571. https://doi.org/10.1016/S0140-6736(03)14746-0

Trevisonno M, Kaneva P, Watanabe Y, Fried GM, Feldman LS, Lebedeva E, Vassiliou MC (2015) A survey of general surgeons regarding laparoscopic inguinal hernia repair: practice patterns, barriers, and educational needs. Hernia 19(5):719–724. https://doi.org/10.1007/s10029-014-1287-8

McCormack K, Scott NW, Go PM, Ross S, Grant AM, Hernia Trialists Collaboration EU (2003) Laparoscopic techniques versus open techniques for inguinal hernia repair. Cochrane Database Syst Rev 1:CD001785. https://doi.org/10.1002/14651858.cd001785

Bittner R, Arregui MD, Bisgaard T, Dudai M, Ferzli GS, Fitzgibbons RJ, Fortelny RH, Klinge U, Kockerling F, Kuhry E, Kukleta J, Lomanto D, Misra MC, Montgomery A, Morales-Conde S, Reinpold W, Rosenberg J, Sauerland S, Schug-Pass C, Singh K, Timoney M, Weyhe D, Chowbey P (2011) Guidelines for laparoscopic (TAPP) and endoscopic (TEP) treatment of inguinal hernia [International Endohernia Society (IEHS)] 2011. Surg Endosc 25(9):2773–2843. https://doi.org/10.1007/s00464-011-1799-6

Zendejas B, Onkendi EO, Brahmbhatt RD, Lohse CM, Greenlee SM, Farley DR (2011) Long-term outcomes of laparoscopic totally extraperitoneal inguinal hernia repairs performed by surgical trainees. Am J Surg 201(3):379–383. https://doi.org/10.1016/j.amsurg.2010.08.019 (discussion 383–384)

Neumayer L, Globbie-Hurder A, Johasson O, Fitzgibbons R Jr, Dunlop D, Gibbs J, Reda D, Henderson W, Veterans Affairs Cooperative Studies Program 456 Investigators (2004) Open mesh versus laparoscopic mesh repair of inguinal hernia. N Engl J Med 350(18):1819–1827. https://doi.org/10.1056/NEJM040093

Kenngott HG, Fischer L, Nickel F, Rom J, Rassweiler J, Müller-Stich BP (2012) Status of robotic assistance—a less traumatic and more accurate minimally invasive surgery? Langenbecks Arch Surg 397(3):333–341. https://doi.org/10.1007/s00423-011-0859-7

Waite KE, Herman MA, Doyle PJ (2016) Comparison of robotic versus laparoscopic transabdominal preperitoneal (TAPP) inguinal hernia repair. J Robot Surg 10(3):239–244. https://doi.org/10.1007/s11701-016-0580-1

Escobar Dominguez JE, Ramos MG, Seetharamaiah R, Donkor C, Rabaza J, Gonzalez A (2016) Feasibility of robotic inguinal hernia repair, a single institution experience. Surg Endosc 30(9):4042–4048. https://doi.org/10.1007/s00464-015-4717-5

Engan C, Engan M, Bonilla V, Dyer DC, Randall BR (2015) Description of robotically assisted single-site transabdominal preperitoneal (RAAS-TAPP) inguinal hernia repair and presentation of clinical outcomes. Hernia 19(3):423–428. https://doi.org/10.1007/s10029-014-1311-z

Vironen J, Nieminen J, Eklund A, Paavolainen P (2006) Randomized clinical trial of Lichtenstein patch or Prolene Hernia System® for inguinal hernia repair. Br J Surg 93(1):33–39. https://doi.org/10.1002/bjs.5235

Gilbert AI, Graham MF, Voigt WJ (1999) A bilayer patch device for inguinal hernia repair. Hernia 3(3):161–166. https://doi.org/10.1007/BF01195319

Lichtenstein IL, Shulman AG, Amid PK, Montilor MM (1989) The tension-free hernioplasty. Am J Surg 157(2):188–193

Magnusson J, Nygren J, Gustafsson UO, Thorell A (2016) UltraPro Hernia System, Prolene Hernia System and Lichtenstein for primary inguinal hernia repair: 3-year outcomes of a prospective randomized controlled trial. Hernia 20(5):641–648. https://doi.org/10.1007/s10029-016-1507-5

Chatzimavroudis G, Papaziogas B, Koutelidakis I, Galanis I, Atmatzidis S, Christopoulos P, Doulias T, Atmatzidis K, Makris J (2014) Lichtenstein technique for inguinal hernia repair using polypropylene mesh fixed with sutures vs. self-fixating polypropylene mesh: a prospective randomized comparative study. Hernia 18(2):193–198. https://doi.org/10.1007/s10029-013-1211-7

Köckerling F, Schug-Pass C (2014) Tailored approach in inguinal hernia repair—decision tree based on the guidelines. Front Surg 1:20. https://doi.org/10.3389/fsurg.2014.00020

Rosenbaum PR, Rubin DB (1983) The central role of the propensity score in observational studies for causal effects. Biometrika 70:41–55

http://www2.sas.com/proceedings/forum2007/185-2007.pdf. Accessed 2 Oct 2017

Kleinbaum DG, Kupper LL, Muller KE (1998) Applied regression analysis and other multivariable methods, 2nd edn. PWS-Kent Publishing Co., Boston

The MRC Laparoscopic Groin Hernia Trial Group (1999) Laparoscopic versus open repair of groin hernia: a randomised comparison. Lancet 354:185–190. https://doi.org/10.1016/S0140-6736(98)10010-7

Kouhia S, Vironen J, Hakala T, Paajanen H (2015) Open mesh repair for inguinal hernia is safer than laparoscopic repair or open non-mesh repair: a nationwide registry study of complications. World J Surg 39(8):1878–1884

Hussain A, Malik A, Halim MU, Ali AM (2014) The use of robotics in surgery: a review. Int J Clin Pract 68(11):1376–1382. https://doi.org/10.1111/jcp.12492

Marecik SJ, Chaudhry V, Jan A, Pearl RK, Park JJ, Prasad LM (2007) A comparison of robotic, laparoscopic, and hand-sewn intestinal sutured anastomoses performed by residents. Am J Surg 193(3):349–355. https://doi.org/10.1016/j.amsurg.2006.09.018

Griffin KJ, Harris S, Yang TY, Skelton N, Reed JB, Harris AM (2010) Incidence of contralateral occult inguinal hernia found at the time of laparoscopic trans-abdominal pre-peritoneal (TAPP) repair. Hernia 14:345–349

Bökeler U, Schwartz J, Bittner R, Zacheja S, Smaxwil C (2013) Teaching and training in laparoscopic inguinal hernia repair (TAPP): impact of the learning curve on patient outcome. Surg Endosc 27(8):2886–2893. https://doi.org/10.1007/s00464-013-2849-z

Ozmen J, Choi V, Hepburn K, Hawkins W, Loi K (2015) Laparoscopic totally extraperitoneal groin hernia repair using a self-gripping mesh: clinical results of 235 primary and recurrent groin hernias. J Laparoendosc Adv Surg Tech A 25(11):915–919. https://doi.org/10.1089/lap.2015.0056

Novitsky YW, Czerniach DR, Kercher KW, Kaban GK, Gallagher KA, Kelly JJ, Heniford BT, Litwin DE (2007) Advantages of laparoscopic transabdominal preperitoneal herniorrhaphy in the evaluation and management of inguinal hernias. Am J Surg 193(4):466–470

Mayer F, Lechner M, Adolf D, Öfner D, Köhler G, Fortelny R, Bittner R, Köckerling F (2016) Is the age of > 65 years a risk factor for endoscopic treatment of primary inguinal hernia? Analysis of 24,571 patients from the Herniamed Registry. Surg Endosc 30:296–306. https://doi.org/10.1007/s00464-015-4209-7

Lundström K-J, Sandblom G, Smedberg S, Nordin P (2012) Risk factors for complications in groin hernia surgery; a national register study. Ann Surg 255(4):784–788. https://doi.org/10.1097/SLA.0b013e31824b7cb3
Acknowledgements
The authors express gratitude to our nurses and physician assistants for their diligence regarding this study and for their care of our patients. The authors would like to thank Usha Kreaden, Principal Biostatistician (Intuitive Surgical) and Dongjing Guo, Senior Biostatistician (Intuitive Surgical) for their statistical review and revision. We thank our patients for giving us the opportunity to provide for their surgical care.
Funding
Study sponsored by Intuitive Surgical, Inc. for data collection, statistical analysis, and editorial support.
Ethics declarations
Conflict of interest
Drs. Gamagami, Dickens, Gonzalez, D'Amico, Richardson, Rabaza, and Kolachalam received clinical research grants from Intuitive Surgical. Drs. Gamagami, Dickens, Gonzalez, and D'Amico receive personal fees for consulting and education from Intuitive. Dr. Dickens receives personal fees for consulting and education from Covidien and is an advisor (with ownership) to GibLab. Dr. D'Amico receives consulting fees from Ethicon. The authors have no other conflicts of interest or disclosures.
Ethical approval
All procedures performed in studies involving human participants were in accordance with the ethical standards of the institutional and/or national research committee and with the 1964 Helsinki declaration and its later amendments or comparable ethical standards. For this type of study (Retrospective) formal consent is not required.
Human and animal rights
This article does not contain any studies with animals performed by any of the authors.
Informed consent
For this type of study (Retrospective) formal consent is not required.
About this article
Cite this article
Gamagami, R., Dickens, E., Gonzalez, A. et al. Open versus robotic-assisted transabdominal preperitoneal (R-TAPP) inguinal hernia repair: a multicenter matched analysis of clinical outcomes. Hernia 22, 827–836 (2018). https://doi.org/10.1007/s10029-018-1769-1
Received:

Accepted:

Published:

Issue Date:

DOI: https://doi.org/10.1007/s10029-018-1769-1
Keywords
Robotic

Open

Inguinal hernia repair

TAPP