Abstract
Purpose
Little is known regarding the magnitude and timing of the risk of VTE following inguinal hernia surgery. We aimed to determine the absolute and relative rates of venous thromboembolism (VTE) following planned inguinal hernia repair.
Methods
We analysed male adults with a first inguinal hernia repair with no prior record of VTE from the Clinical Practice Research Datalink, linked to the Hospital Episode Statistics (2001–2011). Crude rates and adjusted hazard ratios (HR) of the first VTE were calculated using Cox regression analysis to compare specific time periods following the surgery compared to the general population.
Results
We identified 28,782 men who underwent an inguinal hernia repair with 53 (0.18%) having a first VTE in the 90 days following surgery. The overall rate of VTE in the first 90 days following surgery was 7.61 per 1000 person years (pyrs) (95% CI 5.82–9.96). Increasing age, a body mass index > 30 kg/m2 and an in-patient procedure were associated with an increased risk of VTE, when compared to the general population. The risk of VTE was highest in the 1st month following the surgery with a 2.3- (aHR 2.33; 95% CI 1.09–4.99) and 3.5- (aHR 3.47; 95% CI 2.07–5.83) fold increased risk compared to the general population for both day case and planned in-patient procedures, respectively.
Conclusions
Reassuringly, the absolute rates of VTE following inguinal hernia repair are low. Patients should be informed that their peak risk of VTE is during the 1st month following the surgery. Further studies on the optimum duration of thromboprophylaxis following surgery are required in high-risk patients undergoing hernia repair.
Access options
Buy single article
Instant access to the full article PDF.
US$ 39.95
Tax calculation will be finalised during checkout.
Subscribe to journal
Immediate online access to all issues from 2019. Subscription will auto renew annually.
US$ 79
Tax calculation will be finalised during checkout.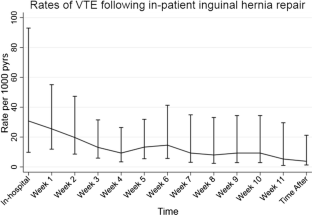 References
1.

SSAT (2013) SSAT Patient care guidelines. Surgical repair of groin hernias. http://www.ssat.com/cgi-bin/hernia6.cgi. Accessed 30 Aug 2016

2.

Hospital episode statistics (2014) http://www.hscic.gov.uk. Accessed 30 Aug 2016

3.

Groin Hernia Guidelines (2013) British hernia society and association of surgeons of Great Britain and Ireland

4.

Begin GF (1993) Laparoscopic extraperitoneal treatment of inguinal hernias in adults. A series of 200 cases. Endosc Surg Allied Technol 1(4):204–206

5.

Meyer A, Blanc P, Balique JG et al (2013) Laparoscopic totally extraperitoneal inguinal hernia repair: twenty-seven serious complications after 4565 consecutive operations. Rev Col Bras Cir 40(1):32–36

6.

Catheline JM, Capelluto E, Gaillard JL et al (2000) Thromboembolism prophylaxis and incidence of thromboembolic complications after laparoscopic surgery. Int J Surg Investig 2(1):41–47

7.

Enoch S, Woon E, Blair SD (2003) Thromboprophylaxis can be omitted in selected patients undergoing varicose vein surgery and hernia repair. Br J Surg 90(7):818–820

8.

Gass M, Banz VM, Rosella L et al (2012) TAPP or TEP? Population-based analysis of prospective data on 4,552 patients undergoing endoscopic inguinal hernia repair. World J Surg 36(12):2782–2786

9.

Lundstrom KJ, Sandblom G, Smedberg S et al (2012) Risk factors for complications in groin hernia surgery: a national register study. Ann Surg 255(4):784–788

10.

Nilsson H, Nilsson E, Angeras U et al (2011) Mortality after groin hernia surgery: delay of treatment and cause of death. Hernia 15(3):301–307

11.

White RH, Zhou H, Romano PS (2003) Incidence of symptomatic venous thromboembolism after different elective or urgent surgical procedures. Thromb Haemost 90(3):446–455

12.

Humes DJ, Walker AJ, Blackwell J et al (2015) Variation in the risk of venous thromboembolism following colectomy. Br J Surg 102(13):1629–1638

13.

Humes DJ, Walker AJ, Hunt BJ et al (2016) Risk of symptomatic venous thromboembolism following emergency appendicectomy in adults. Br J Surg 103(4):443–450

14.

Benson T (2011) The history of the read codes: the inaugural James read memorial lecture 2011. Inform Prim Care 19(3):173–182

15.

Crooks C (2013) Epidemiology of upper gastrointestinal bleeding studying its causes and outcomes using case control studies and survival analyses. Ph.D. Thesis, University of Nottingham

16.

Lawrenson R, Todd JC, Leydon GM et al (2000) Validation of the diagnosis of venous thromboembolism in general practice database studies. Br J Clin Pharmacol 49(6):591–596

17.

Abdul Sultan A, Tata LJ, Grainge MJ et al (2013) The incidence of first venous thromboembolism in and around pregnancy using linked primary and secondary care data: a population based cohort study from England and comparative meta-analysis. PLoS ONE 8(7):e70310

18.

Walker AJ, Card TR, West J et al (2013) Incidence of venous thromboembolism in patients with cancer—a cohort study using linked United Kingdom databases. Eur J Cancer 49(6):1404–1413

19.

Charlson ME, Pompei P, Ales KL et al (1987) A new method of classifying prognostic comorbidity in longitudinal studies: development and validation. J Chronic Dis 40(5):373–383

20.

Sweetland S, Green J, Liu B et al (2009) Duration and magnitude of the postoperative risk of venous thromboembolism in middle aged women: prospective cohort study. BMJ 339:b4583

21.

Kehlet H, Bay-Nielsen M (2008) Nationwide quality improvement of groin hernia repair from the Danish Hernia Database of 87,840 patients from 1998 to 2005. Hernia 12(1):1–7

22.

Heit JA, Melton LJ 3rd, Lohse CM et al (2001) Incidence of venous thromboembolism in hospitalized patients vs community residents. Mayo Clin Proc 76(11):1102–1110

23.

Kakkar AK, Cohen AT, Tapson VF et al (2010) Venous thromboembolism risk and prophylaxis in the acute care hospital setting (ENDORSE survey): findings in surgical patients. Ann Surg 251(2):330–338

24.

Anwar S, Scott P (2003) Current practice for anticoagulation prophylaxis in inguinal hernia surgery: a questionnaire survey. N Z Med J 116(1181):U583

25.

Venous thromboembolism-reducing the risk (CG92), National Institute for Health and Clinical Excellence. 2010
Funding
The work was funded by an National Institute for Health Research Post-Doctoral Fellowship awarded to DJH.
Ethics declarations
Conflict of interest
The authors declare that they have no competing interest.
Ethical approval
The Independent Scientific Advisory Committee approval board which provides scientific advice to the Medicines and Healthcare products Regulatory Agency (MHRA) approved the study (Protocol 11-051R).
Human and animal rights
This article does not contain any studies with animals performed by any of the authors.
Informed consent
Considering the design of our study, patient consent was not required.
About this article
Cite this article
Humes, D.J., Abdul-Sultan, A., Walker, A.J. et al. Duration and magnitude of postoperative risk of venous thromboembolism after planned inguinal hernia repair in men: a population-based cohort study. Hernia 22, 447–453 (2018). https://doi.org/10.1007/s10029-017-1716-6
Received:

Accepted:

Published:

Issue Date:
Keywords
Venous thrombosis

Inguinal hernia

Surgery