Abstract
Purpose
Open abdominal wall reconstruction is often a complex endeavor, usually performed on patients with multiple risk factors and co-morbidities.
Methods
In this article, we review soft tissue management techniques that can optimize the skin and subcutaneous tissue, with the goal of reducing surgical-site occurrences.
Results
Regardless of the hernia repair technique used, outcomes can be highly dependent on the appropriate management of the skin and subcutaneous tissue. Indeed, dehiscence and surgical-site infection can jeopardize the entire reconstruction, especially in cases where synthetic mesh might become exposed and/or infected, setting up a "vicious cycle" (Holihan et al. in J Am Coll Surg 221:478–485, 2015).
Conclusion
Multidisciplinary cooperation between the general and plastic surgeon is useful in cases of tenuous blood supply to the abdominal skin, in cases of redundant, marginal or excessive skin, and in cases of deficient skin.
Access options
Buy single article
Instant access to the full article PDF.
USD 39.95
Price excludes VAT (USA)
Tax calculation will be finalised during checkout.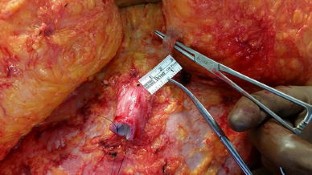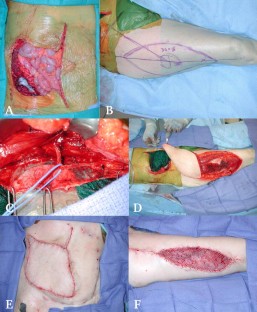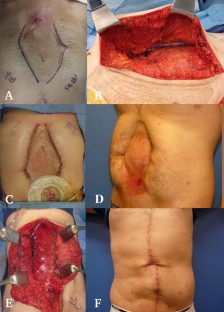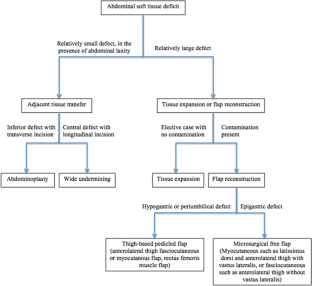 References
Holihan JL, Alawadi Z, Martindale RG, Roth JS, Wray CJ, Ko TC, Kao LS, Liang MK (2015) Adverse events after ventral hernia repair: the vicious cycle of complications. J Am Coll Surg 221:478–485

Moon HK, Taylor GI (1988) The vascular anatomy of rectus abdominis musculocutaneous flaps based on the deep superior epigastric system. Plast Reconstr Surg 82:815–829

Schaverien M, Saint-Cyr M, Arbique G, Brown SA (2008) Arterial and venous anatomies of the deep inferior epigastric perforator and superficial inferior epigastric artery flaps. Plast Reconstr Surg 121:1909–1919

LeBlanc KA, Whitaker JM, Bellanger DE, Rhynes VK (2003) Laparoscopic incision and ventral hernioplasty: lessons learned from 200 patients. Hernia 7:118–124

Butler CE, Baumann DP, Janis JE, Rosen MJ (2013) Abdominal wall reconstruction. Curr Probl Surg 50:549–588

Breuing K, Butler CE, Ferzoco S, Franz M, Hultman CS, Kilbridge JF, Rosen M, Silverman RP, Vargo D (2010) Incisional ventral hernias: review of the literature and recommendations regarding the grading and technique of repair. Surgery 148:544–558

Berger RL, Li LT, Liang MK et al (2013) Development and validation of a risk-stratification score for surgical site occurrence and surgical site infection after open ventral hernia repair. J Am Coll Surg 217:974–982

Albino FP, Patel KM, Nahabedian MY, Sosin M, Attinger CE, Bhanot P (2013) Does mesh location matter in abdominal wall reconstruction? A systematic review of the literature and a summary of recommendations. Plast Reconstr Surg 132:1295–1304

Janis JE, Khansa I (2015) Evidence-based abdominal wall reconstruction: the maxi-mini approach. Plast Reconstr Surg 136:1312–1323

Girotto JA, Ko MJ, Redett R, Muehlberger T, Talamini M, Chang B (1999) Closure of chronic abdominal wall defects: a long-term evaluation of the components separation method. Ann Plast Surg 42:385–394

Lowe JB, Garza JR, Bowman JL, Rohrich RJ, Strodel WE (2000) Endoscopically assisted "components separation" for closure of abdominal wall defects. Plast Reconstr Surg 105:720–729

Saulis AS, Dumanian GA (2002) Periumbilical rectus abdominis perforator preservation significantly reduces superficial wound complications in "separation of parts" hernia repairs. Plast Reconstr Surg 109:2275–2280

Butler CE, Campbell KT (2011) Minimally invasive component separation with inlay bioprosthetic mesh (MICSIB) for complex abdominal wall reconstruction. Plast Reconstr Surg 128:698–709

Novitsky YW, Elliott HL, Orenstein SB, Rosen MJ (2012) Transversus abdominis muscle release: a novel approach to posterior component separation during abdominal wall reconstruction. Am J Surg 204:709–716

Espinosa-de-los-Monteros A, Avendan˜o-Peza H, Go´mez-Arcive Z, Martin-del-Campo LA, Navarro-Navarro JA (2016) Total abdominal wall reconstruction with component separation, reinforcement, and vertical abdominoplasty in patients with complex ventral hernias. Aesthet Plast Surg 40:387–394

Grauhan O, Navasardyan A, Hofmann M, Muller P, Stein J, Hetzer R (2013) Prevention of poststernotomy wound infection in obese patients by negative pressure wound therapy. J Thorac Cardiovasc Surg 145:387–1392

Zolfaghari S, Gauthier JC, Jarmuske B, Boushey RP (2011) Panniculectomy: an alternative approach to the revision of a difficult stoma. Colorectal Dis 13:e176–e177

Butler CE, Reis SM (2010) Mercedes panniculectomy with simultaneous component separation ventral hernia repair. Plast Reconstr Surg 125:94e–98e

Fischer JP et al (2014) Concurrent panniculectomy with open ventral hernia repair has added risk versus ventral hernia repair: an analysis of the ACS-NSQIP database. J Plast Reconstr Aesthet Surg 67:693–701

Harrison B, Khansa I, Janis JE (2016) Evidence-based strategies to reduce postoperative complications in plastic surgery. Plast Reconstr Surg 137:351–360

Harth KC et al (2011) Optimum repair for massive ventral hernias in the morbidly obese patient—is panniculectomy helpful? Am J Surg 201:396–400

Zomerlei T, Janis JE (2015) Negative pressure wound therapy. In: Novitsky YW (ed) Hernia surgery: current principles. Springer Publishing, Berlin, pp 337–349

Scaglioni MF, Di Giuseppe A, Chang EI (2015) Propeller flap reconstruction of abdominal defects: review of the literature and case report. Microsurgery 35:72–78

Ger R, Duboys E (1983) The prevention and repair of large abdominal-wall defects by muscle transposition: a preliminary communication. Plast Reconstr Surg 72:170–175

Lin SJ, Butler CE (2010) Subtotal thigh flap and bioprosthetic mesh reconstruction for large, composite abdominal wall defects. Plast Reconstr Surg 125:1146–1156

Lannon DA, Ross GL, Addison PD, Novak CB, Lipa JE, Neligan PC (2011) Versatility of the proximally pedicled anterolateral thigh flap and its use in complex abdominal and pelvic reconstruction. Plast Reconstr Surg 127:677–688

Coriddi M, Janis JE (2016) Tissue and fascial expansion of the abdominal wall. In: Rosen MJ (ed) Atlas of abdominal wall reconstruction, 2nd edn. Elsevier, Amsterdam, pp 195–213

Sasaki GH, Pang CY (1984) Pathophysiology of flaps raised on expanded pig skin. Plast Reconstr Surg 74:59–67

Janis JE, Khansa L, Khansa I (2016) Strategies for postoperative seroma prevention: a systematic review. Plast Reconstr Surg 138:240–252

Kaafarani HMA, Hur K, Itani KMF et al (2009) Seroma in ventral incisional herniorrhaphy: incidence, predictors and outcome. Am J Surg 198:639–644

Andrades P, Prado A, De Carolis V et al (2007) Progressive tension sutures in the prevention of postabdominoplasty seroma: a prospective, randomized, double-blind clinical trial. Plast Reconstr Surg 120:935–946

Carruthers KH, Eisemann BS, Lamp S, Kocak E (2013) Optimizing the closed suction surgical drainage system. Plast Surg Nurs 33:38–42

Barton A, Blitz M, Dabbs K et al (2006) Early removal of postmastectomy drains in not beneficial: results from a halted randomized controlled trial. Am J Surg 191:652–656

Janis JE (2012) Use of progressive tension sutures in components separation: merging cosmetic surgery techniques with reconstructive surgery outcomes. Plast Reconstr Surg 130:851–855

Colavita PD, Wormer BA, Augenstein VA et al (2016) Intraoperative indocyanine green fluorescence angiography to predict wound complications in complex ventral hernia repair. Hernia 20:139–149

Weinzweig J, Weinzweig N (2009) Plastic surgery techniques. In: Guyuron B, Eriksson E, Persing JA (eds) Plastic surgery: indications and practice, vol I. Saunders, Philadelphia, pp 37–44

Moody BR, McCarthy JE, Linder J, Hruza GJ (2005) Enhanced cosmetic outcome with running horizontal mattress sutures. Dermatol Surg 31:1313–1316

Zide MF (1996) Scar revision with hypereversion. J Oral Maxillofac Surg 54:1061–1067

Endara M, Masden D, Goldstein J, Gondek S, Steinberg J, Attinger C (2013) The role of chronic and perioperative glucose management in high-risk surgical closures: a case for tighter glycemic control. Plast Reconstr Surg 132:996–1004

Ramos M, Khalpey Z, Lipsitz S, Steinberg J, Panizales MT, Zinner M, Rogers SO (2008) Relationship of perioperative hyperglycemia and postoperative infections in patients who undergo general and vascular surgery. Ann Surg 248:585–591

Sorensen LT (2012) Wound healing and infection in surgery: the pathophysiological impact of smoking, smoking cessation, and nicotine replacement therapy: a systematic review. Ann Surg 255:1069–1079

Finan KR, Vick CC, Kiefe CI, Neumayer L, Hawn MT (2005) Predictors of wound infection in ventral hernia repair. Am J Surg 190:676–681

Conde-Green A, Chung TL, Holton LH et al (2013) Incisional negative-pressure wound therapy versus conventional dressings following abdominal wall reconstruction: a comparative study. Ann Plast Surg 71:394–397

Swanson EW, Susarla SM, Kumar A et al (2015) Incisional negative pressure wound therapy following ventral hernia repair reduces wound complications and hernia recurrence: a meta-analysis. Plast Reconstr Surg 136:12S

Matatov T, Reddy KN, Doucet LD, Zhao CX, Zhang WW (2013) Experience with a new negative pressure incision management system in prevention of groin wound infection in vascular surgery patients. J Vasc Surg 57:791–795

Stannard JP, Volgas DA, McGwin G et al (2012) Incisional negative pressure wound therapy after high-risk lower extremity fractures. J Orthop Trauma 26:37–42

Scalise A, Calamita R, di Benedetto G et al (2016) Improving wound healing and preventing surgical site complications of closed surgical incisions: a possible role of Incisional negative pressure wound therapy. A systematic review of the literature. Int Wound J 13:1260–1281

Kilpadi DV, Cunningham MR (2011) Evaluation of closed incision management with negative pressure wound therapy (CIM): hematoma/seroma and involvement of the lymphatic system. Wound Repair Regen 19:588–596

Kuroki LM, Mullen MM, Novetsky AP et al (2017) Wound complications rates after staples or suture for midline vertical skin closure in obese women: a randomized-controlled trial. Obstet Gynecol 130:91–99

Morykwas MJ, Argenta LC, Shelton-Brown EI, McGuirt W (1997) Vacuum-assisted closure: a new method for wound control and treatment: animal studies and basic foundation. Ann Plast Surg 38:553–562

Lopez-Cano M, Armengol-Carrasco M (2013) Use of vacuum-assisted closure in open incisional hernia repair: a novel approach to prevent seroma formation. Hernia 17:129–131

Robertson SA, Jeevaratnamn JA, Agrawal A, Cutress RI (2017) Mastectomy skin flap necrosis: challenges and solutions. Breast Cancer 9:141
Ethics declarations
Conflict of interest
IK declares no conflict of interest. JJ is a consultant for LifeCell, Bard, Daiichi Sankyo, and Pacira. He has received a prior honorarium from KCI. He receives royalties from Thieme Publishing.
Financial disclosure statement
Dr. Janis is a consultant for LifeCell, Bard, Daiichi Sankyo, and Pacira. He has received a prior honorarium from KCI. He receives royalties from Thieme Publishing. Dr. Khansa has no financial disclosures.
Ethical approval
All experiments in this article comply with the current laws of the country in which they were performed.
Research involving human participants and/or animals
This article does not contain any studies with human participants or animals performed by any of the authors.
Informed consent
Informed consent was obtained from all individual participants included in the study.
Electronic supplementary material
Below is the link to the electronic supplementary material.
The placement of percutaneous transfascial sutures for wide intraperitoneal mesh fixation. Supplementary material 1 (MP4 22206 kb)
Minimally-invasive anterior components separation performed through a single 5-cm subcutaneous tunnel, preserving vascular perforators to the skin. Supplementary material 2 (MP4 24062 kb)
Tailor-tacking of excessive, undermined or marginal skin to determine the safe amount of skin excision. Supplementary material 3 (MP4 14066 kb)
The Mercedes panniculectomy, a modification of the fleur-de-lis panniculectomy, involves short, non-undermined upper triangular flaps with obtuse tips, and a high T-junction. Supplementary material 4 (MP4 6717 kb)
The placement of central suspension sutures. These sutures are placed after intraperitoneal mesh inset, and before fascial closure. They are placed into each side of the fascia, lateral to the anticipated fascial closure line, and into the midline of the mesh. The sutures are tied after fascial closure. The purpose of these sutures is obliteration of dead space between the intraperitoneal mesh and the fascia, to prevent fluid accumulation that may impair biologic mesh incorporation. Supplementary material 5 (MP4 15608 kb)
"String of pearls, French fry" technique for wound closure. The skin is closed intermittently. Traditional negative pressure wound therapy is applied into the open sections, and incisional negative pressure wound therapy is applied onto the closed sections. Supplementary material 6 (MPG 11752 kb)
About this article
Cite this article
Khansa, I., Janis, J.E. Management of skin and subcutaneous tissue in complex open abdominal wall reconstruction. Hernia 22, 293–301 (2018). https://doi.org/10.1007/s10029-017-1662-3
Received:

Accepted:

Published:

Issue Date:

DOI: https://doi.org/10.1007/s10029-017-1662-3
Keywords
Abdominal wall reconstruction

Perforator preservation

Panniculectomy

Wound healing

Incisional negative pressure wound therapy

Progressive tension sutures