Abstract
Purpose
In the postoperative phase after colorectal surgery, restrictions on physical activity are often recommended for patients to prevent incisional hernias. However, evidence does not support that restrictions may prevent such hernias. The purpose of this study was to evaluate the extent of restrictions on physical activity recommended for patients operated for colorectal cancer and to evaluate the agreement among surgical specialists.
Methods
A questionnaire was sent to 60 general surgeons (specialists) in Denmark and Sweden working in academic departments of surgery with a high volume of colorectal cancer resections. The questionnaire was case based and contained questions regarding possible restrictions on physical activity recommended for patients 0–2, 2–6 and >6 weeks after resection for colorectal cancer. Agreement among the surgeon on whether restrictions should be recommended was analyzed.
Results
Forty-one surgeons answered the questionnaire (68.3 %). The probability that two randomly chosen specialists agreed on whether restrictions should be given was generally low for the first two time periods (0–2 and 2–6 weeks); however, at >6 weeks there was a high level of agreement. Moreover, the number of restrictions recommended was different between the 41 surgeons (p < 0.0005) and more restrictions were recommended for open compared with laparoscopic surgery (p < 0.0005).
Conclusions
Major disagreements exist on the degree of restrictions on physical activity that should be recommended for patients after colorectal surgery. As there is no evidence to support that specific restrictions prevent hernia formation, these are merely based on personal preferences. Clinical studies in this area are therefore highly warranted.
This is a preview of subscription content, log in to check access.
Access options
Buy single article
Instant access to the full article PDF.
US$ 39.95
Price includes VAT for USA
Subscribe to journal
Immediate online access to all issues from 2019. Subscription will auto renew annually.
US$ 99
This is the net price. Taxes to be calculated in checkout.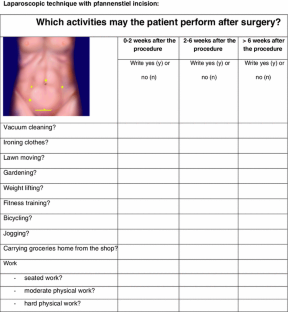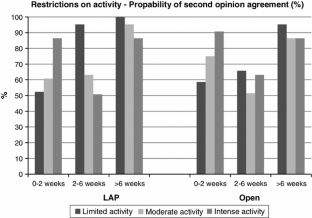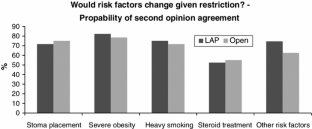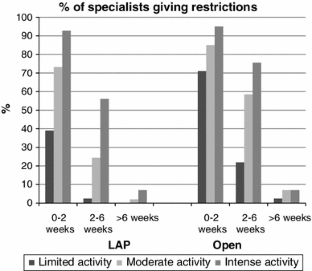 References
1.

Franz MG (2008) The biology of hernia formation. Surg Clin North Am 88(1):1–15. doi:10.1016/j.suc.2007.10.007

2.

Robson MC, Hill DP, Woodske ME, Steed DL (2000) Wound healing trajectories as predictors of effectiveness of therapeutic agents. Arch Surg 135(7):773–777. doi:10.1001/archsurg.135.7.773

3.

Clark JL (2001) Ventral incisional hernia recurrence. J Surg Res 99(1):33–39. doi:10.1006/jsre.2001.6093

4.

Pathak S, Poston GJ (2006) It is highly unlikely that the development of an abdominal wall hernia can be attributable to a single strenuous event. Ann R Coll Surg Engl 88(2):168–171. doi:10.1308/003588406X95093

5.

Sanjay P, Woodward A (2007) Single strenuous event: does it predispose to inguinal herniation? Hernia 11(6):493–496. doi:10.1007/s10029-007-0253-0

6.

Smith GD, Crosby DL, Lewis PA (1996) Inguinal hernia and a single strenuous event. Ann R Coll Surg Engl 78(4):367–368

7.

Haglind E, Angenete E, Rosenberg J (2011) Scandinavian Surgical Outcomes Research Group (SSORG)—a new device for clinical studies. Lakartidningen 108(48):2518

8.

Park SW, Kim TN, Nam JK, Ha HK, Shin DG, Lee W, Kim MS, Chung MK (2012) Recovery of overall exercise ability, quality of life, and continence after 12-week combined exercise intervention in elderly patients who underwent radical prostatectomy: a randomized controlled study. Urology 80(2):299–305. doi:10.1016/j.urology.2011.12.060

9.

Carlson MA (1997) Acute wound failure. Surg Clin North Am 77(3):607–636

10.

Williams B (2008) Supporting self-care of patients following general abdominal surgery. J Clin Nurs 17(5):584–592. doi:10.1111/j.1365-2702.2006.01857.x

11.

Bay-Nielsen M, Knudsen MS, Christensen JK, Kehlet H (1999) Cost analysis of inguinal hernia surgery in Denmark. Ugeskr Laeger 161(38):5317–5321

12.

Kald A, Anderberg B, Carlsson P, Park PO, Smedh K (1997) Surgical outcome and cost-minimisation-analyses of laparoscopic and open hernia repair: a randomised prospective trial with 1 year follow up. Eur J Surg 163(7):505–510

13.

Kehlet H, Callesen T (1998) Recommendations for convalescence after hernia surgery. A questionnaire study. Ugeskr Laeger 160(7):1008–1009

14.

Bisgaard T, Kehlet H, Rosenberg J (2001) Pain and convalescence after laparoscopic cholecystectomy. Eur J Surg 167(2):84–96. doi:10.1080/110241501750070510

15.

Bisgaard T, Klarskov B, Rosenberg J, Kehlet H (2001) Factors determining convalescence after uncomplicated laparoscopic cholecystectomy. Arch Surg 136(8):917–921

16.

Bay-Nielsen M, Thomsen H, Andersen FH, Bendix JH, Sorensen OK, Skovgaard N, Kehlet H (2004) Convalescence after inguinal herniorrhaphy. Br J Surg 91(3):362–367. doi:10.1002/bjs.4437

17.

DeSouza A, Domajnko B, Park J, Marecik S, Prasad L, Abcarian H (2011) Incisional hernia, midline versus low transverse incision: what is the ideal incision for specimen extraction and hand-assisted laparoscopy? Surg Endosc 25(4):1031–1036. doi:10.1007/s00464-010-1309-2

18.

Luijendijk RW, Jeekel J, Storm RK, Schutte PJ, Hop WC, Drogendijk AC, Huikeshoven FJ (1997) The low transverse Pfannenstiel incision and the prevalence of incisional hernia and nerve entrapment. Ann Surg 225(4):365–369

19.

Ihedioha U, Mackay G, Leung E, Molloy RG, O'Dwyer PJ (2008) Laparoscopic colorectal resection does not reduce incisional hernia rates when compared with open colorectal resection. Surg Endosc 22(3):689–692. doi:10.1007/s00464-007-9462-y

20.

Burns EM, Currie A, Bottle A, Aylin P, Darzi A, Faiz O (2013) Minimal-access colorectal surgery is associated with fewer adhesion-related admissions than open surgery. Br J Surg 100(1):152–159. doi:10.1002/bjs.8964
Acknowledgments
We wish to thank Martin Gellerstedt and Torben Martinussen for statistical help.
Conflict of interest
None.
About this article
Cite this article
Pommergaard, H., Burcharth, J., Danielsen, A. et al. No consensus on restrictions on physical activity to prevent incisional hernias after surgery. Hernia 18, 495–500 (2014). https://doi.org/10.1007/s10029-013-1113-8
Received:

Accepted:

Published:

Issue Date:
Keywords
Incisional hernia

Colorectal surgery

Physical activity

Restrictions

Prevention of hernia

Ventral hernia