Abstract
Purpose
Female gender is a risk factor for early pain after several specific surgical procedures but has not been studied in detail after laparoscopic groin hernia repair. The aim of this study was to compare early postoperative pain, discomfort, fatigue, and nausea and vomiting between genders undergoing laparoscopic groin hernia repair.
Methods
Prospective consecutive enrollment of women and age-matched (±1 year) and uni-/bilateral hernia-matched male patients undergoing elective transabdominal preperitoneal hernia repair (TAPP). Patients in the two groups received a similar anesthetic, surgical, and analgesic treatment protocol.
Results
Between August 2009 and August 2010, 25 women and 25 men undergoing elective TAPP were prospectively included in the analysis (n = 50) with no significant difference between groups in psychological status regarding anxiety, depression, and catastrophizing. On day 0, women had significantly more pain during rest (p = 0.015) and coughing (p = 0.012), discomfort (p = 0.001), and fatigue (0.020) compared with men. Additionally, cumulative overall postoperative pain during coughing, discomfort, and fatigue on day 0–3 was significantly higher in women compared with men (all p values < 0.05). Women required significantly more opioids (p = 0.015) and had a significantly higher incidence of vomiting on days 0 and 1 (p = 0.002).
Conclusions
Women experienced more pain, discomfort, and fatigue compared with men after laparoscopic groin hernia repair.
Trial registration
Registration number NCT00962338 (www.clinicaltrials.gov).
Access options
Buy single article
Instant access to the full article PDF.
US$ 39.95
Tax calculation will be finalised during checkout.
Subscribe to journal
Immediate online access to all issues from 2019. Subscription will auto renew annually.
US$ 79
Tax calculation will be finalised during checkout.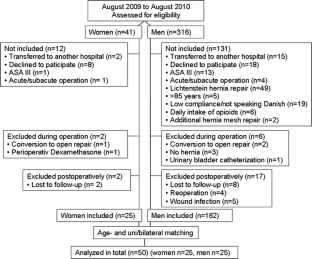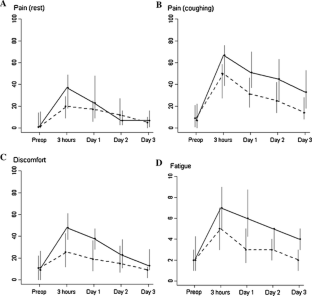 References
1.

Greenspan JD, Craft RM, LeResche L, Arendt-Nielsen L, Berkley KJ, Fillingim RB, Gold MS, Holdcroft A, Lautenbacher S, Mayer EA, Mogil JS, Murphy AZ, Traub RJ (2007) Studying sex and gender differences in pain and analgesia: a consensus report. Pain 132(Suppl 1):S26–S45

2.

Koch A, Edwards A, Haapaniemi S, Nordin P, Kald A (2005) Prospective evaluation of 6895 groin hernia repairs in women. Br J Surg 92:1553–1558

3.

Fillingim RB, King CD, Ribeiro-Dasilva MC, Rahim-Williams B, Riley JL III (2009) Sex, gender, and pain: a review of recent clinical and experimental findings. J Pain 10:447–485

4.

Bisgaard T, Klarskov B, Rosenberg J, Kehlet H (2001) Characteristics and prediction of early pain after laparoscopic cholecystectomy. Pain 90:261–269

5.

Caumo W, Schmidt AP, Schneider CN, Bergmann J, Iwamoto CW, Adamatti LC, Bandeira D, Ferreira MB (2002) Preoperative predictors of moderate to intense acute postoperative pain in patients undergoing abdominal surgery. Acta Anaesthesiol Scand 46:1265–1271

6.

Tolver MA, Rosenberg J, Bisgaard T (2012) Early pain after laparoscopic inguinal hernia repair. A qualitative systematic review. Acta Anaesthesiol Scand 56:549–557

7.

Tolver MA, Strandfelt P, Rosenberg J, Bisgaard T (2011) Pain characteristics after laparoscopic inguinal hernia repair. Surg Endosc 25:3859–3864

8.

Tolver MA, Strandfelt P, Forsberg G, Hjorne FP, Rosenberg J, Bisgaard T (2012) Determinants of a short convalescence after laparoscopic transabdominal preperitoneal inguinal hernia repair. Surgery 151:556–563

9.

Zigmond AS, Snaith RP (1983) The hospital anxiety and depression scale. Acta Psychiatr Scand 67:361–370

10.

Sullivan MJL, Bishop SR, Pivik J (1995) The pain catastrophizing scale: development and validation. Psychol Assess 7:524–532

11.

Kehlet H (2008) Chronic pain after groin hernia repair. Br J Surg 95:135–136

12.

Holte K, Klarskov B, Christensen DS, Lund C, Nielsen KG, Bie P, Kehlet H (2004) Liberal versus restrictive fluid administration to improve recovery after laparoscopic cholecystectomy: a randomized, double-blind study. Ann Surg 240:892–899

13.

Bittner R, Schmedt CG, Schwarz J, Kraft K, Leibl BJ (2002) Laparoscopic transperitoneal procedure for routine repair of groin hernia. Br J Surg 89:1062–1066

14.

Miserez M, Alexandre JH, Campanelli G, Corcione F, Cuccurullo D, Pascual MH, Hoeferlin A, Kingsnorth AN, Mandala V, Palot JP, Schumpelick V, Simmermacher RK, Stoppa R, Flament JB (2007) The European hernia society groin hernia classification: simple and easy to remember. Hernia 11:113–116

15.

Manson JE (2010) Pain: sex differences and implications for treatment. Metabolism 59(Suppl 1):S16–S20

16.

Hurley RW, Adams MC (2008) Sex, gender, and pain: an overview of a complex field. Anesth Analg 107:309–317

17.

Craft RM (2003) Sex differences in opioid analgesia: "from mouse to man". Clin J Pain 19:175–186

18.

Lau H, Patil NG (2004) Acute pain after endoscopic totally extraperitoneal (TEP) inguinal hernioplasty: multivariate analysis of predictive factors. Surg Endosc 18:92–96

19.

Niesters M, Dahan A, Kest B, Zacny J, Stijnen T, Aarts L, Sarton E (2010) Do sex differences exist in opioid analgesia? A systematic review and meta-analysis of human experimental and clinical studies. Pain 151:61–68

20.

De Oliveira GSJ, Almeida MD, Benzon HT, McCarthy RJ (2011) Perioperative single dose systemic dexamethasone for postoperative pain: a meta-analysis of randomized controlled trials. Anesthesiology 115:575–588

21.

Zhang J, Ho KY, Wang Y (2011) Efficacy of pregabalin in acute postoperative pain: a meta-analysis. Br J Anaesth 106:454–462

22.

Eriksen JR, Poornoroozy P, Jorgensen LN, Jacobsen B, Friis-Andersen HU, Rosenberg J (2009) Pain, quality of life and recovery after laparoscopic ventral hernia repair. Hernia 13:13–21
Additional information
Trial Funding: Region Zealand′s Health Research Fund (RESUS) and Department of Surgery, Køge Hospital.
About this article
Cite this article
Tolver, M.A., Strandfelt, P., Rosenberg, J. et al. Female gender is a risk factor for pain, discomfort, and fatigue after laparoscopic groin hernia repair. Hernia 17, 321–327 (2013). https://doi.org/10.1007/s10029-012-0956-8
Received:

Accepted:

Published:

Issue Date:
Keywords
Laparoscopic inguinal hernia repair

TAPP

Pain

Sex

Women

Men