Abstract
Herniation and incarceration of a Meckel's diverticulum in a hernial sac—Littre hernia—is a relatively uncommon surgical emergency. Segmental stenosis of small intestine after hernia reduction and consecutive intestinal obstruction is a similarly rare emergency. The combination of both these disorders is extremely uncommon at any age and especially during infancy. The obvious rarity of the condition, its subtle diagnostic features, the potentially ominous course of events and the age of patient indicate early surgery as a life-saving solution.
Access options
Buy single article
Instant access to the full article PDF.
US$ 39.95
Tax calculation will be finalised during checkout.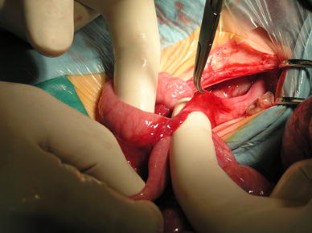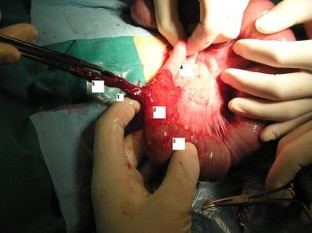 References
1.

Mishalany HG, Pereyra R, Longerbeam JK (1982) Littre's Hernia in infancy presenting as undescended testicle. J Pediatr Surg 17(1):67–69

2.

Messina M, Ferrucci E, Meucci D, Di Maggio G, Molinaro F, Buonocore G (2005) Littre's hernia in newborn infants: report of two cases. Pediatr Surg Int 21(6):485–487

3.

Galinier P, Bouali O, Juricic M, Smail N (2007) Focusing of inguinal hernia in children. Arch Pediatr 14(4):399–403

4.

Steinke W, Zellweger R (2000) Richter's hernia and Sir Frederick Treves: original clinical experience, review, and historical overview. Ann Surg 232(5):710–718

5.

Citgez B, Yetkin G, Uludag M, Karakoc S, Akgun I, Ozsahin H (2011) Littre's hernia, an incarcerated ventral incisional hernia containing a strangulated Meckel diverticulum: report of a case. Surg Today 41(4):576–578

6.

Skandalakis PN, Zoras O, Skandalakis JE, Mirilas P (2006) Littre hernia: surgical anatomy, embryology, and technique of repair. Am Surg 72(3):238–243

7.

Narci A, Korkmaz M, Albayrak R, Sözübir S, Güvenç BH, Köken R, Demir T, Doğru O (2008) Preoperative sonography of nonreducible inguinal masses. J Clin Ultrasound 36(7):409–412

8.

Sinha R (2005) Bowel obstruction due to Littre hernia: CT diagnosis. Abdominal Imag 30(6):682–684. doi:10.1007/s00261-005-0318-4

9.

Cherney LS (1958) Intestinal stenosis following strangulated hernia review of the literature and report of a case. Ann Surg 148(6):991–994

10.

Hernanz-Schulman M (1999) Imaging of neonatal intestinal obstruction. Radiol Clin North Am 37(6):118–1163

11.

Olson DE, Kim YW, Donnelly LF (2009) CT findings in children with Meckel diverticulum. Pediatr Radiol 39(7):659–663

12.

Muakkassa FF, Abouchedid C (1987) Littre's hernia. N J Med 84:653–655

13.

Park JJ, Wolff BG, Tollefson MK, Walsh EE, Larson DR (2005) Meckel diverticulum: the mayo clinic experience with 1476 patients (1950–2002). Ann Surg 241(3):529–533

14.

Sharma RK, Jain VK (2008) Emergency surgery for Meckel's diverticulum. World J Emerg Surg 13(3):27–32

15.

Smart N, Immanuel A, Mercer-Jones M (2007) Laparoscopic repair of a Littre's hernia with porcine dermal collagen implant (Permacol). Hernia 11(4):373–376

16.

Comman A, Brunner SM, Gaetzschman P, Kipf B, Baierl W, Behrend M (2008) Incarcerated femoral Littre's hernia-transperitoneal preperitoneal hernia repair (TAPP) and laparoscopic resection of the necrotic diverticulum. Surg Laparosc Endosc Percutan Tech 18(4):409–413
About this article
Cite this article
Višnjić, S., Car, A. & Kralj, R. Stenosis of the small intestine after reduction of strangulated Littre hernia in an infant. Hernia 17, 285–288 (2013). https://doi.org/10.1007/s10029-011-0861-6
Received:

Accepted:

Published:

Issue Date:
Keywords
Littre hernia

Intestinal stenosis

Infant