Abstract
Purpose
Diastasis or divarication of the rectus abdominus muscles describes the separation of the recti, usually as a result of the linea alba thinning and stretching. This review examines whether divaricated recti should be repaired and tries to establish if the inherent co-morbidity associated with surgical correction outweighs the benefits derived.
Methods
EMBASE, MEDLINE and the Cochrane library were searched for ('divarication' OR 'diastasis') AND ('recti' OR 'rectus'). A standard data extraction form was used to extract data from each text. Due to the lack of randomised control trials, meta-analysis was not possible.
Results
Seven studies report that patient satisfaction was high following surgery. The most common complication seen was the development of a seroma. Other common complications included haematomas, minor skin necrosis, wound infections, dehiscence, post-operative pain, nerve damage and recurrence, the rate of which may be as high as 40%.
Conclusions
Further studies are required to compare laparoscopic and open abdominoplasty techniques. Patients and physicians should be advised that correction is largely cosmetic, and although divarications may be unsightly they do not carry the same risks of actual herniation. Progressive techniques have resulted in risk reduction with no associated surgical mortality. However, the outcomes may be imperfect, with unsightly scarring, local sepsis and the possibility of recurrence.
Access options
Buy single article
Instant access to the full article PDF.
USD 39.95
Price excludes VAT (USA)
Tax calculation will be finalised during checkout.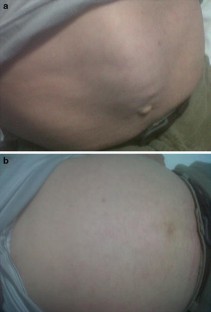 References
Moore KL, Dalley AF (eds) (2006) Clinically orientated anatomy, 5th edn. Lippincott Williams and Wilkins, Baltimore

Hsia M, Jones S (2000) Natural resolution of rectus abdominis diastasis. Two single case studies. Aust J Physiother 46(4):301–307

Palanivelu C, Rangarajan M, Jategaonkar PA, Amar V, Gokul KS, Srikanth B (2009) Laparoscopic repair of diastasis recti using the 'Venetian blinds' technique of plication with prosthetic reinforcement: a retrospective study. Hernia 13(3):287–292

Macpherson G (ed) (1999) Black's medical dictionary, 39th edn. Black, London

Nahas FX, Ferreira LM, De Arimateia Mendes J (2004) An efficient way to correct recurrent rectus diastasis. Aesthetic Plast Surg 28(4):189–196

Pollock H, Pollock T (2000) Progressive tension sutures: a technique to reduce local complications in abdominoplasty. Plast Reconstr Surg 105(7):2583–2586

Van Uchelen JH, Werker PM, Kon M (2001) Complications of abdominoplasty in 86 patients. Plast Reconstr Surg 107(7):1869–1873

Huang GJ, Bajaj AK, Gupta S, Petersen F, Miles DA (2007) Increased intraabdominal pressure in abdominoplasty: delineation of risk factors. Plast Reconstr Surg 119(4):1319–1325

Van Uchelen JH, Kon M, Werker PMN (2001) The long-term durability of plication of the anterior rectus sheath assessed by ultrasonography. Plast Reconstr Surg 107(6):1578–1584

Nahas FX, Augusto SM, Ghelfond C (2001) Nylon versus polydioxanone in the correction of rectus diastasis. Plast Reconstr Surg 107(3):700–706

Bhanot A (2009) Laparoscopic abdominoplasty for divarication of recti. J Chinese Clinical Med 4(12):703–705

Zukowski ML, Ash K, Spencer D, Malanoski M, Moore G (1998) Endoscopic intracorporal abdominoplasty: a review of 85 cases. Plast Reconstr Surg 102(2):516–527

Lockwood T (1998) Rectus muscle diastasis in males: primary indication for endoscopically assisted abdominoplasty. Plast Reconstr Surg 101(6):1685–1694

Williams TC, Hardaway M, Altuna B (2005) Ambulatory abdominoplasty tailored to patients with an appropriate body mass index. Aesthet Surg J 25(2):132–137

Ferreira LM, Castilho HT, Hochberg J, Ardenghy M, Toledo SR, Cruz R (2001) Triangular mattress suture in abdominal diastasis to prevent epigastric bulging. Ann Plast Surg 46(2):130–134

Nahas FX, Augusto SM, Ghelfond C (1997) Should diastasis recti be corrected? Aesthetic Plast Surg 21(4):285–289

Asaadi M, Haramis HT (1994) A simple technique for repair of rectus sheath defects. Ann Plast Surg 32(1):107–109

Brauman D, Capocci J (2009) Liposuction abdominoplasty: an advanced body contouring technique. Plast Reconstr Surg 124(5):1685–1695

Nahas FX, Ferreira LM, Augusto SM, Ghelfond C (2005) Long-term follow-up of correction of rectus diastasis. Plast Reconstr Surg 115(6):1736–1741

Dabb RW, Hall WW, Baroody M, Saba AA (2004) Circumferential suction lipectomy of the trunk with anterior rectus fascia plication through a periumbilical incision: an alternative to conventional abdominoplasty. Plast Reconstr Surg 113(2):727–732

Ramirez OM (2000) Abdominoplasty and abdominal wall rehabilitation: a comprehensive approach. Plast Reconstr Surg 105(1):425–435

Hsia M, Jones S (2000) Natural resolution of rectus abdominis diastasis. Two single case studies. Aust J Physiother 46(4):301–307

Nahas FX, Ferreira LM (2010) Concepts on correction of the musculoaponeurotic layer in abdominoplasty. Clin Plast Surg 37(3):527–538
Conflict of interest
None of the three authors have any financial interest in this work nor have they received any funds supporting the work. Further, the authors have no commercial associations or financial disclosures that might pose any conflict of interest with any information presented in the submitted document.
Appendix
Appendix
Data extraction form
Reference
Objective
Study design
Population
Intervention
Control
Outcome
Statistical analysis (type, P value)
Comments
About this article
Cite this article
Hickey, F., Finch, J.G. & Khanna, A. A systematic review on the outcomes of correction of diastasis of the recti. Hernia 15, 607–614 (2011). https://doi.org/10.1007/s10029-011-0839-4
Received:

Accepted:

Published:

Issue Date:

DOI: https://doi.org/10.1007/s10029-011-0839-4
Keywords
Divarication

Recti

Review

Outcome