Abstract
Erosion of the "Kugel" mesh into intraperitoneal organs has not been previously reported in the medical literature. We report such an occurrence in a 54-year-old male, 4 years following a "Kugel" preperitoneal repair of a left-sided inguinal hernia. The patient presented with septicaemia, pneumaturia and left iliac fossa pain. His computed tomography (CT) scan indicated the presence of gas in the bladder and a thickened loop of sigmoid colon attached to the region of the dome of the bladder. Colonoscopy showed some scattered diverticula in the sigmoid colon but no tumour. On surgical exploration, the "Kugel" mesh was found to erode the sigmoid colon and the bladder wall, leading to a colovesical fistula. An anterior resection of the rectum with removal of the mesh with closure of the bladder wall defect was performed.
Access options
Buy single article
Instant access to the full article PDF.
USD 39.95
Price excludes VAT (USA)
Tax calculation will be finalised during checkout.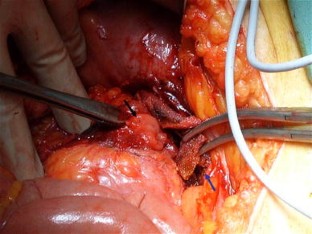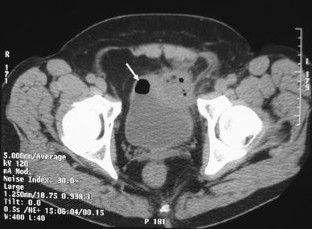 References
Kugel RD (1999) Minimally invasive, nonlaparoscopic, preperitoneal, and sutureless, inguinal herniorrhaphy. Am J Surg 178:298–302

Kugel RD (2003) The Kugel repair for groin hernias. Surg Clin North Am 83:1119–1139

Fenoglio ME, Bermas HR, Haun WE, Moore JT (2005) Inguinal hernia repair: results using an open preperitoneal approach. Hernia 9:160–161

Hompes R, Vansteenkiste F, Pottel H, Devriendt D, Van Rooy F (2008) Chronic pain after Kugel inguinal hernia repair. Hernia 12:127–132

Ceriani V, Faleschini E, Bignami P, Lodi T, Roncaglia O, Osio C, Sarli D (2005) Kugel hernia repair: open "mini-invasive" technique. Personal experience on 620 patients. Hernia 9:344–347

Li J, Zhang Y, Hu H, Tang W (2008) Early experience of performing a modified Kugel hernia repair with local anesthesia. Surg Today 38:603–608

Dogru O, Girgin M, Bulbuller N, Cetinkaya Z, Aygen E, Camci C (2006) Comparison of Kugel and Lichtenstein operations for inguinal hernia repair: results of a prospective randomized study. World J Surg 30:346–350

Van Nieuwenhove Y, Vansteenkiste F, Vierendeels T, Coenye K (2007) Open, preperitoneal hernia repair with the Kugel patch: a prospective, multicentre study of 450 repairs. Hernia 11:9–13

Misawa T, Sakurai M, Kanai H, Matsushima M, Yamazaki Y, Yanaga K (2005) Kugel herniorrhaphy: clinical results of 124 consecutive operations. Surg Today 35:639–644

Reddy KM, Humphreys W, Chew A, Toouli J (2005) Inguinal hernia repair with the Kugel patch. ANZ J Surg 75:43–47

Schroder DM, Lloyd LR, Boccaccio JE, Wesen CA (2004) Inguinal hernia recurrence following preperitoneal Kugel patch repair. Am Surg 70:132–136

Gray MR, Curtis JM, Elkington JS (1994) Colovesical fistula after laparoscopic inguinal hernia repair. Br J Surg 81:1213–1214

Rieger N, Brundell S (2002) Colovesical fistula secondary to laparoscopic transabdominal preperitoneal polypropylene (TAPP) mesh hernioplasty. Surg Endosc 16:218–219

Lange B, Langer C, Markus PM, Becker H (2003) Mesh penetration of the sigmoid colon following a transabdominal preperitoneal hernia repair. Surg Endosc 17:157

Celik A, Kutun S, Kockar C, Mengi N, Ulucanlar H, Cetin A (2005) Colonoscopic removal of inguinal hernia mesh: report of a case and literature review. J Laparoendosc Adv Surg Tech A 15:408–410

Goswami R, Babor M, Ojo A (2007) Mesh erosion into caecum following laparoscopic repair of inguinal hernia (TAPP): a case report and literature review. J Laparoendosc Adv Surg Tech A 17:669–672

U.S. Food and Drug Administration (FDA). Class 1 Recall: Bard Composix Kugel Mesh Patch—Expansion. Available online at: http://www.fda.gov/cdrh/recalls/recall-122205.html. Initiated 22 December 2005, updated 6 February 2007
About this article
Cite this article
Barreto, S.G., Schoemaker, D., Siddins, M. et al. Colovesical fistula following an open preperitoneal "Kugel" mesh repair of an inguinal hernia. Hernia 13, 647–649 (2009). https://doi.org/10.1007/s10029-009-0496-z
Received:

Accepted:

Published:

Issue Date:

DOI: https://doi.org/10.1007/s10029-009-0496-z
Keywords
Hernia

Complications

Long term