Abstract
Round ligament varicosities during pregnancy have not been reported extensively. The swelling mimics an inguinal hernia and should be considered in the differential diagnosis of a groin swelling during pregnancy. We report a case of a pregnant woman with bilateral round ligament varicosities. At 22 weeks of pregnancy she was operated on based on the clinical suspicion of a painful inguinal hernia on the right side. Surgical exploration revealed varicosities of the round ligament, and resection was performed. Four weeks later the same diagnosis was made by duplex sonography of a painful swelling in the left groin. Increased pain necessitated surgical exploration and resection of the varicosities on the left side. The postoperative course on both sides was uneventful and without pain during the rest of her pregnancy, during labor or post partum.
Access options
Buy single article
Instant access to the full article PDF.
US$ 39.95
Tax calculation will be finalised during checkout.
Subscribe to journal
Immediate online access to all issues from 2019. Subscription will auto renew annually.
US$ 79
Tax calculation will be finalised during checkout.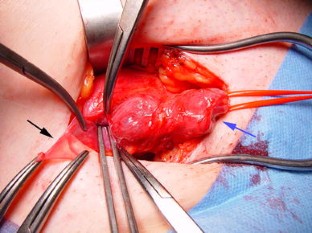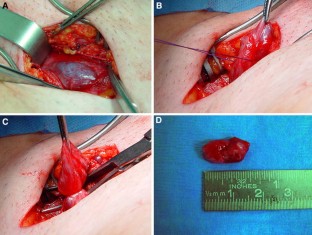 References
1.

Tomkinson JS, Winterton WR (1955) Varicoceles of the round ligament in pregnancy, simulating inguinal herniae. Br Med J 1:889–890

2.

Cheng D, Lam H, Lam C (1997) Round ligament varices in pregnancy mimicking inguinal hernia: an ultrasound diagnosis. Ultrasound Obstet Gynecol 9:198–199

3.

Guillem P, Bounoua F, Duval G (2001) Round ligament varicosities mimicking inguinal hernia: a diagnostic challenge during pregnancy. Acta Chir Belg 101:310–311

4.

Chi C, Taylor A, Munjuluri N, Abdul-Kadir R (2005) A diagnostic dilemma: round ligament varicosities in pregnancy. Acta Obstet Gynecol Scand 84:1126–1127

5.

Pilkington SA, Rees M, Jones O, Green I (2004) Ultrasound diagnosis of round ligament varicosities mimicking inguinal hernias in pregnancy. Ann R Coll Surg Engl 86:400

6.

Egan JJ (1967) Varicocele of the round ligament. J Ir Med Assoc 60:472–473

7.

Nguyen QH, Gruenewald SM (2007) Doppler sonography in the diagnosis of round ligament varicosities during pregnancy. J Clin Ultrasound doi:10.1002/jcu.20399.

8.

Al-Qudah MS (1993) Postpartum pain due to thrombosed varicose veins of the round ligament of the uterus. Postgrad Med J 69:820–821

9.

Buxton N, Boulougouris P, Pai KP, Morgan RH, Menon V (1994) Immediate post partum thrombosis of the veins of the round ligament imitating an irreducible inguinal hernia. Acta Obstet Gynecol Scand 73:514–515

10.

Blanda F (1969) Rupture of varicose veins of the round ligament in pregnancy, simulating a strangulated hernia. Minerva Ginecol 21:48–50

11.

Minchin E (1970) Varicose vein incompetence through the round ligaments. Med J Aust 2:177–179

12.

Barber HRK, Garber EA (1974) Editorial comments on Kesseler HJ. In: Barber HRK, Garber EA (eds) Hernias in pregnancy. Surgical disease in pregnancy. WB Saunders, Philadelphia, p 165

13.

Carpentier PH, Maricq HR, Biro C, Ponçot-Makinen CO, Franco A (2004) Prevalence, risk factors, and clinical patterns of chronic venous disorders of lower limbs: a population-based study in France. J Vasc Surg 40:650–659

14.

Callam MJ (1994) Epidemiology of varicose veins. Br J Surg 81:167–173

15.

van der Plas LG, van Vliet A, Bousema MT, Sanders CJ, Mali WP (2005) Women with pelvic complaints and atypical varicose veins, varicose veins of the vulva and insufficiency of the pelvic veins; treatment with embolisation. Ned Tijdschr Geneeskd 149:1364–1365

16.

Frede TE (1984) Ultrasonic visualisation of varicosities in the female genital tract. J Ultrasound Med 3:365–369
About this article
Cite this article
Ijpma, F.F.A., Boddeus, K.M., de Haan, H.H. et al. Bilateral round ligament varicosities mimicking inguinal hernia during pregnancy. Hernia 13, 85 (2009). https://doi.org/10.1007/s10029-008-0395-8
Received:

Accepted:

Published:
Keywords
Round ligament varicosities

Round ligament

Varicosities

Inguinal hernia

Pregnancy