Abstract
This is a case report of a 46-year-old man who presented with a painful perineal lump four months after abdominoperineal excision of the rectum (APER) with pre-operative radiotherapy and adjuvant chemotherapy. Perineal hernia (suspected clinically) was confirmed by magnetic resonance imaging, and the patient underwent open Permacol mesh repair via a perineal approach. Symptomatic perineal herniation after surgical resection is a rare phenomenon, and the approach to management remains challenging. Several different surgical approaches and techniques of repair have been described. In this report, we review the literature surrounding the presentation, aetiology and repair of this unusual post-operative complication. Furthermore, our case confirms that closure of the hernial orifice with mesh via a perineal approach is a satisfactory technique.
Access options
Buy single article
Instant access to the full article PDF.
US$ 39.95
Tax calculation will be finalised during checkout.
Subscribe to journal
Immediate online access to all issues from 2019. Subscription will auto renew annually.
US$ 79
Tax calculation will be finalised during checkout.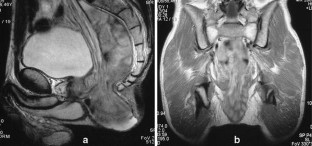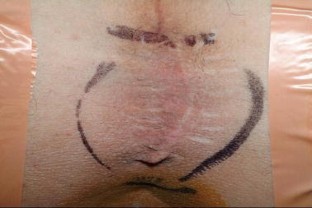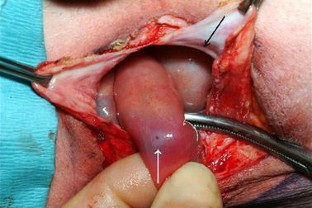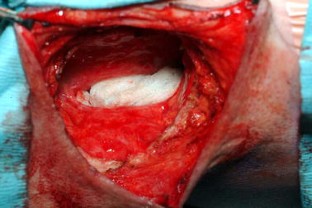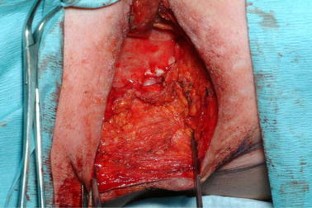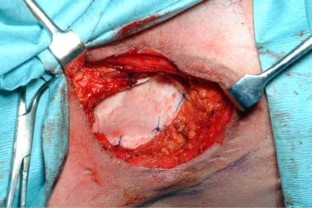 References
1.

Mohta A, Bhargava SK (2004) Congenital perineal hernia: report of a case. Surg Today 34:630–631

2.

Thomford NR, Sherman NJ (1969) Primary perineal hernia. Dis Colon Rectum 12:441–443

3.

Salum MR, Prado-Kobata MH, Saad SS, Matos D (2005) Primary perinea posterior hernia: an abdominoperineal approach for mesh repair of the pelvic floor. Clinics 60:71–74

4.

Preiss A, Herbig B, Dorner A (2006) Primary perineal hernia: a case report and review of the literature. Hernia 10:430–433

5.

Merchav R, Feuermann Y, Shamay A, Ranen E, Stein U, Johnston DE, Shahar R (2005) Expression of relaxin receptor LRG7, canine relaxin, and relaxin-like factor in the pelvic diaphragm musculature of dogs with and without perineal hernia. Vet Surg 34:476–481

6.

Niebauer GW, Shibly S, Seltenhammer M, Pirker A, Brandt S (2005) Relaxin of prostatic origin might be linked to perineal hernia formation in dogs. Ann N Y Acad Sci 1041:415–422

7.

Bell JG, Weiser EB, Metz P, Hoskins WJ (1980) Gracilis muscle repair of perineal hernia following pelvic exenteration. Obstet Gynecol 56:377–380

8.

Barnhill D, Hoskins W, Heller P, Repka M, Park R (1985) Repair of vaginal prolapse and perineal hernia after pelvic exenteration. Obstet Gynecol 65:764–766

9.

Santora TA, Kaplan LJ, Sherk HH (1998) Perineal hernia: an undescribed complication following sacrectomy. Orthopedics 21:203–205

10.

So JB, Palmer MT, Shellito PC (1997) Postoperative perineal hernia. Dis Colon Rectum 40:954–957

11.

de Campos FG, Habr-Gama A, Araujo SE, Sousa AH Jr, Nahas CR, Lupinacci RM, Nahas SC, Kiss DR, Gama-Rodrigues J (2005) Incidence and management of perineal hernia after laparoscopic proctectomy. Surg Laparosc Endosc Percutan Tech 15:366–370

12.

Ghellai AM, Islam S, Stoker ME (2002) Laparoscopic repair of postoperative perineal hernia. Surg Laparosc Endosc Percutan Tech 12:119–121

13.

Franklin ME Jr, Abrego D, Parra E (2002) Laparoscopic repair of postoperative perineal hernia. Hernia 6:42–44

14.

Delmore JE, Turner DA, Gershenson DM, Horbelt DV (1987) Perineal hernia repair using human dura. Obstet Gynecol 70:507–508

15.

Bell JG, Weiser EB, Metz P, Hoskins WJ (1980) Gracilis muscle repair of perineal hernia following pelvic exenteration. Obstet Gynecol 56:377–380

16.

Remzi FH, Oncel M, Wu JS (2005) Meshless repair of perineal hernia after abdominoperineal resection: case report. Tech Coloproctol 9:142–144

17.

Bongartz A, Carofiglio F, Balligand M, Heimann M, Hamaide A (2005) Use of autogenous fascia lata graft for perineal herniorrhaphy in dogs. Vet Surg 34:405–413

18.

Vnuk D, Babic T, Stejskal M, Capak D, Harapin I, Pirkic B (2005) Application of a semitendinosus muscle flap in the treatment of perineal hernia in a cat. Vet Rec 156:182–184

19.

Berrevoet F, Pattyn P (2005) Use of bone anchors in perineal hernia repair: a practical note. Langenbecks Arch Surg 390:255–258

20.

Hansen MT, Bell JL, Chun JT (1997) Perineal hernia repair using gracilis myocutaneous flap. South Med J 90:75–77
About this article
Cite this article
Skipworth, R.J.E., Smith, G.H.M. & Anderson, D.N. Secondary perineal hernia following open abdominoperineal excision of the rectum: report of a case and review of the literature. Hernia 11, 541–545 (2007). https://doi.org/10.1007/s10029-007-0234-3
Received:

Accepted:

Published:

Issue Date:
Keywords
Perineal hernia

Mesh

Pelvic floor

Abdominoperineal excision of rectum

Radiotherapy

Chemotherapy