Abstract
Food webs can be conceptualized as being powered by energy derived from living and dead vegetation, respectively. Most food web research has focused on "green food webs" which begin with the consumption of living vegetation by herbivores. However, "brown food webs" which stem from the consumption of senescent vegetation by detritivores are also an important channel of energy transfer. In theory, herbivores have the potential to disrupt brown food webs by consuming plant material before it can senesce and become available for detritivores. Here we investigate the effects that grazing by kangaroos, whose population had irrupted partly due to the absence of an apex predator, has on the brown food web in an arid environment. We compared the cover of living and dead vegetation, the abundances of detritivorous termites and their predators inside one ha herbivore exclosures and nearby control plots. Results show there was more cover of living and dead vegetation inside the exclosures. Similarly, abundances of termites and small vertebrate predators of termites were greater inside the exclosures. Our study provides evidence that consumption of plant material by irruptive herbivores can disrupt the functioning of the brown food web by reducing the flow of energy from plant biomass to termites which in turn translates to reduced abundances of termites and small vertebrates that feed on termites. Our findings have implications for conservation and management because they shed light on a previously unconsidered threat to the functioning of arid ecosystems, disruption of brown food webs by irruptive herbivores.
Access options
Buy single article
Instant access to the full article PDF.
USD 39.95
Price excludes VAT (USA)
Tax calculation will be finalised during checkout.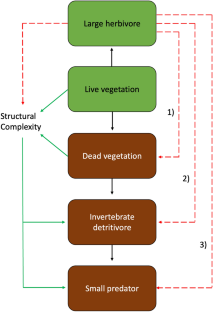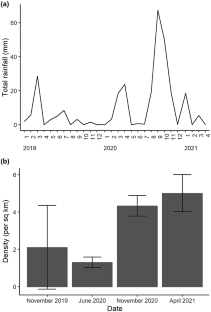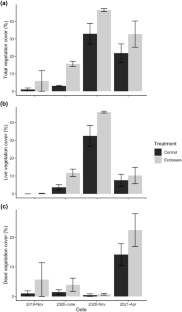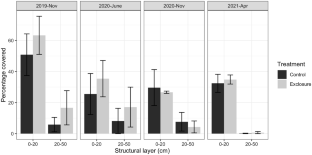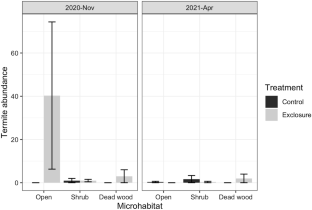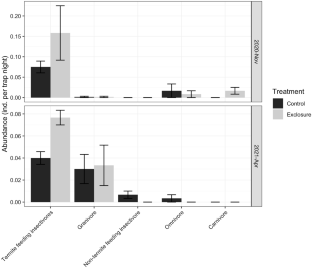 References
Abensperg-Traun M. 1994. The influence of climate on patterns of termite eating in Australian mammals and lizards. Aust J Ecol 19:65–71.

Andriuzzi WS, Wall DH. 2017. Responses of belowground communities to large aboveground herbivores: Meta-analysis reveals biome-dependent patterns and critical research gaps. Glob Change Biol 23:3857–68.

Attayde JL, Ripa J. 2008. The coupling between grazing and detritus food chains and the strength of trophic cascades across a gradient of nutrient enrichment. Ecosystems 11:980–90.

Ayal Y. 2007. Trophic structure and the role of predation in shaping hot desert communities. J Arid Environ 68:171–87.

Braden J, Mills CH, Cornwell WK, Waudby HP, Letnic M. 2021. Impacts of grazing by kangaroos and rabbits on vegetation and soils in a semi-arid conservation reserve. J Arid Environ 190:104526.

Braithwaite RW, Miller L, Wood JT. 1988. The structure of termite communities in the Australian tropics. Aust J Ecol 13:375–91.

Brown G. 1991. Ecological feeding analysis of south-eastern Australian scincids (Reptilia, Lacertilia). Aust J Zool 39:9–29.

Caughley G, Grigg GC, Caughley J, Hill GJE. 1980. Does dingo predation control the densities of kangaroos and emus. Aust Wildl Res 7:1–12.

Caughley G, Grigg GC, Smith L. 1985. The effect of drought on kangaroo populations. J Wildl Manag 49:679–685.

Caughley G, Shepherd N, Short J. 1987. Kangaroos: their ecology and management in the sheep rangelands of Australia. Cambridge University Press.

Caughley J, Bayliss P, Giles J. 1984. Trends in Kangaroo Numbers in Western New South Wales and their relation to Rainfall. Wildl Res 11:415–22.

Cebrian J. 1999. Patterns in the fate of production in plant communities. Am Nat 154:449–68.

Coggan NV, Gibb H. 2019. Digging mammal reintroductions reduce termite biomass and alter assemblage composition along an aridity gradient. Oecologia 191:645–56.

Collins MS. 1969. Water relations in termites. In: Krishna K, Ed. Biology of termites, . New York: Academic Press Inc. pp 433–458.

Collins SL, Belnap J, Grimm NB, Rudgers JA, Dahm CN, D'Odorico P, Litvak M, Natvig DO, Peters DC, Pockman WT, Sinsabaugh RL, Wolf BO. 2014. A multiscale, hierarchical model of pulse dynamics in arid-land ecosystems. Ann Rev Ecol Evol Syst 45:397–419.

Cornwell WK, Cornelissen JHC, Allison SD, Bauhus J, Eggleton P, Preston CM, Scarff F, Weedon JT, Wirth C, Zanne AE. 2009. Plant traits and wood fates across the globe: rotted, burned, or consumed? Glob Change Biol 15:2431–49.

Cyr H, Face ML. 1993. Magnitude and patterns of herbivory in aquatic and terrestrial ecosystems. Nature 361:148–50.

Dawson TJ. 2012. Kangaroos. Collingwood: CSIRO Publishing.

Ecosystems T. 2013. Funnel Trap.

Finlayson G, Tschirner K, McCann J, Appleby M. 2021. Kangaroo management in the South Australian rangelands: Impacts and challenges for conservation management. Ecol Manag Restor 22:24–34.

Fisher AG, Mills CH, Lyons M, Cornwell WK, Letnic M. 2021. Remote sensing of trophic cascades: multi-temporal landsat imagery reveals vegetation change driven by the removal of an apex predator. Landsc Ecol 36:1341–58.

Foster CN, Barton PS, Lindenmayer DB. 2014. Effects of large native herbivores on other animals. J Appl Ecol 51:929–38.

Frank ASK, Dickman CR, Wardle GM, Greenville AC. 2013. Interactions of grazing history, cattle removal and time since rain drive divergent short-term responses by desert biota. Plos One 8:e68466.

Hagen EM, McCluney KE, Wyant KA, Soykan CU, Keller AC, Luttermoser KC, Holmes EJ, Moore JC, Sabo JL. 2012. A meta-analysis of the effects of detritus on primary producers and consumers in marine, freshwater, and terrestrial ecosystems. Oikos 121:1507–15.

Hairston NG Jr, Hairston NG Sr. 1993. Cause-effect relationships in energy flow, trophic structure, and interspecific interactions. Am Nat 142:379–411.

Henle K. 1989. Ecological segregation in a subterranean reptile assemblage in arid Australia. Amphib Reptil 10:277–95.

Howland B, Stojanovic D, Gordon IJ, Manning AD, Fletcher D, Lindenmayer DB. 2014. Eaten out of house and home: impacts of grazing on ground-dwelling reptiles in Australian grasslands and grassy woodlands. Plos One 9:e105966.

Howland BWA, Stojanovic D, Gordon IJ, Fletcher D, Snape M, Stirnemann IA, Lindenmayer DB. 2016. Habitat preference of the striped legless lizard: Implications of grazing by native herbivores and livestock for conservation of grassland biota. Austral Ecol 41:455–64.

James C, Losos J. 1991. Diet and reproductive biology of the Australian sand-swimming lizards, Eremiascincus (Scincidae). Wildl Res 18:641–53.

James CD. 2003. Response of vertebrates to fenceline contrasts in grazing intensity in semi-arid woodlands of eastern Australia. Austral Ecol 28:137–51.

Jia S, Wang X, Yuan Z, Lin F, Ye J, Hao Z, Luskin MS. 2018. Global signal of top-down control of terrestrial plant communities by herbivores. Proc Natl Acad Sci 115:6237–6242.

Letnic M, Crowther MS. 2013. Patterns in the abundance of kangaroo populations in arid Australia are consistent with the exploitation ecosystems hypothesis. Oikos 122:761–69.

Letnic M, Feit A, Forsyth DM. 2018. Strength of a trophic cascade between an apex predator, mammalian herbivore and grasses in a desert ecosystem does not vary with temporal fluctuations in primary productivity. Ecosystems 21:153–65.

Letnic M, Ripple WJ. 2017. Large-scale responses of herbivore prey to canid predators and primary productivity. Glob Ecol Biogeog 26:860–66.

Maestre FT, Benito BM, Berdugo M, Concostrina-Zubiri L, Delgado-Baquerizo M, Eldridge DJ, Guirado E, Gross N, Kéfi S, Le Bagousse-Pinguet Y, Ochoa-Hueso R, Soliveres S. 2021. Biogeography of global drylands. New Phytol 231:540–558.

Manning AD, Cunningham RB, Lindenmayer DB. 2013. Bringing forward the benefits of coarse woody debris in ecosystem recovery under different levels of grazing and vegetation density. Biological Conservation 157:204–214.

Mikaelyan A, Dietrich C, Köhler T, Poulsen M, Sillam-Dussès D, Brune A. 2015. Diet is the primary determinant of bacterial community structure in the guts of higher termites. Mol Ecol 24:5284–95.

Miller DL, Rexstad E, Thomas L, Marshall L, Laake JL. 2019. Distance sampling in R. J Stat Softw 89:1–28.

Mills CH, Waudby H, Finlayson G, Parker D, Cameron M, Letnic M. 2020. Grazing by over-abundant native herbivores jeopardizes conservation goals in semi-arid reserves. Glob Ecol Conserv 24:e01384.

Moore JC, Berlow EL, Coleman DC, de Ruiter PC, Dong Q, Hastings A, Johnson NC, McCann KS, Melville K, Morin PJ, Nadelhoffer K, Rosemond AD, Post DM, Sabo JL, Scow KM, Vanni MJ, Wall DH. 2004. Detritus, trophic dynamics and biodiversity. Ecol Lett 7:584–600.

Morton S, Denny M, Read D. 1983. Habitat preferences and diets of sympatric Sminthopsis crassicaudata and S. macroura (Marsupialia: Dasyuridae). Aust Mammal 6:29–34.

Morton SR, James CD. 1988. The Diversity and abundance of lizards in arid Australia: a new hypothesis. Am Nat 132:237–56.

Murray BR, Dickman CR, Watts CHS, Morton SR. 1999. The dietary ecology of Australian rodents. Wildl Res 26:857–58.

Noy-Meir I. 1973. Desert ecosystems: environment and producers. Ann Rev Ecol Syst 4:25–51.

Okin GS. 2010. The contribution of brown vegetation to vegetation dynamics. Ecology 91:743–55.

Oonincx DGAB, van Leeuwen JP, Hendriks WH, van der Poel AFB. 2015. The diet of free-roaming Australian Central Bearded Dragons (Pogona vitticeps). Zoo Biol 34:271–77.

Patchell FC, Shine R. 1986. Food habits and reproductive biology of the Australian legless lizards (Pygopodidae). Copeia 1986:30–39.

Pianka ER. 1973. The structure of lizard communities. Ann Rev Ecol Syst 4:53–74.

Pianka ER. 1986. Ecology and natural history of desert lizards. Princeton University Press.

Pianka ER. 2013. Notes on the ecology and natural history of the rarely recorded gekkonid lizard Heteronotia binoei in the Great Victoria desert of Western Australia. Western Aust Nat (perth) 29:120–25.

Pinheiro J, Bates D, DebRoy S, Sarkar D, Heisterkamp S, Van Willigen B, Maintainer R. 2017. Package 'nlme'. Linear and nonlinear mixed effects models, version 3.

Polis GA, Lubin Y. 2005. How can high animal diversity be supported in low-productivity deserts?: The role of macrodetritivory and habitat physiognomy. Biodiversity in DrylandsToward a Unified Framework: Oxford University Press.

Polis GA, Strong DR. 1996. Food web complexity and community dynamics. The American Naturalist 147:813–46.

Pople AR, Grigg GC, Cairns SC, Beard LA, Alexander P. 2000. Trends in the numbers of red kangaroos and emus on either side of the South Australian dingo fence: evidence for predator regulation? Wildl Res 27:269–276.

Predavec M, Dickman CR. 1993. Ecology of desert frogs: a study from southwestern Queensland. In: Lunney D, Ayers D. Eds. Australian herpetology: a diverse discipline. Sydney, Australia: Royal Zoological Society of New South Wales. p. 159–69.

Prowse TA, O'Connor PJ, Collard SJ, Rogers DJ. 2019. Eating away at protected areas: Total grazing pressure is undermining public land conservation. Glob Ecol Conserv e00754.

Read J. 1992. Influence of habitats, climate, grazing and mining on terrestrial vertebrates at Olympic Dam, South Australia. Rangeland J 14:143–56.

Read JL. 1999. The ecology of sympatric scincid lizards (Ctenotus) in arid South Australia. Aust J Zool 46:617–29.

Read JL. 2002. Experimental trial of Australian arid zone reptiles as early warning indicators of overgrazing by cattle. Austral Ecol 27:55–66.

Read JL, Cunningham R. 2010. Relative impacts of cattle grazing and feral animals on an Australian arid zone reptile and small mammal assemblage. Austral Ecol 35:314–24.

Rees JD, Kingsford RT, Letnic M. 2017. In the absence of an apex predator, irruptive herbivores suppress grass seed production: implications for small granivores. Biol Conserv 213:13–18.

Sagi N, Hawlena D. 2021. Arthropods as the engine of nutrient cycling in arid ecosystems. InSects 12:726.

Shine R. 1988. Food habits and reproductive biology of small Australian snakes of the genera Unechis and Suta (Elapidae). J Herpetol 22:307–15.

Shurin JB, Borer ET, Seabloom EW, Anderson K, Blanchette CA, Broitman B, Cooper SD, Halpern BS. 2002. A cross-ecosystem comparison of the strength of trophic cascades. Ecol Lett 5:785–91.

Shurin JB, Gruner DS, Hillebrand H. 2006. All wet or dried up? Real differences between aquatic and terrestrial food webs. Proc R Soc B Biol Sci 273:1–9.

Spiller DA, Piovia-Scott J, Wright AN, Yang LH, Takimoto G, Schoener TW, Iwata T. 2010. Marine subsidies have multiple effects on coastal food webs. Ecology 91:1424–34.

Tann C, Singleton G, Coman B. 1991. Diet of the house mouse, Mus domesticus, in the mallee wheatlands of north-western Victoria. Wildl Res 18:1–12.

Thompson GG, Thompson SA. 2007. Usefulness of funnel traps in catching small reptiles and mammals, with comments on the effectiveness of the alternatives. Wildl Res 34:491–97.

Travers SK, Eldridge DJ, Koen TB, Val J, Oliver I. 2020. Livestock and kangaroo grazing have little effect on biomass and fuel hazard in semi-arid woodlands. For Ecol Manag 467:118165.

Tuomi M, Stark S, Hoset KS, Väisänen M, Oksanen L, Murguzur FJA, Tuomisto H, Dahlgren J, Bråthen KA. 2019. Herbivore effects on ecosystem process rates in a low-productive system. Ecosystems 22:827–843.

Waudby HP, Petit S. 2015. Small Australian desert vertebrate responses to grazing intensity during La Niña. Ecol Res 30:715–722.

Whitford WG, Ludwig JA, Noble JC. 1992. The importance of subterranean termites in semi-arid ecosystems in south-eastern Australia. J Arid Environ 22:87–91.

Wijas B, Letnic M. 2021. Top-down effects have primacy over bottom-up effects on the population dynamics of a flightless desert bird. J Arid Environ 195:104611.

Wright DG, van der Wal R, Wanless S, Bardgett RD. 2010. The influence of seabird nutrient enrichment and grazing on the structure and function of island soil food webs. Soil Biol Biochem 42:592–600.

Yang LH, Bastow JL, Spence KO, Wright AN. 2008. What can we learn from resource pulses. Ecology 89:621–34.

Zhang W, Mao W, Jiang F, Stuecker MF, Jin F-F, Qi L. 2021. Tropical indo-pacific compounding thermal conditions drive the 2019 Australian extreme drought. Geophys Res Lett 48:23.

Zou K, Thébault E, Lacroix G, Barot S. 2016. Interactions between the green and brown food web determine ecosystem functioning. Funct Ecol 30:1454–65.
Acknowledgements
This study was funded by Nature Foundation SA and the Australian Research Council (DP180101477, LP210100300). We acknowledge the Adnyamathanha and Wilyakali people as the Traditional Owners of Boolcoomatta. We thank the manager of Boolcoomatta reserve, Kurt Tschirner, for facilitating our stays on the reserve. We also thank Matthew Brun and Emma Snare for help with the data collection. This research was conducted under the scientific permit number M27045-1 provided by Department of Environment and Water of the South Australia Government. Ethics approval (20/145A) was obtained through the Animal Care and Ethics Committee at the University of New South Wales.
Supplementary Information
Below is the link to the electronic supplementary material.
Rights and permissions
Springer Nature or its licensor (e.g. a society or other partner) holds exclusive rights to this article under a publishing agreement with the author(s) or other rightsholder(s); author self-archiving of the accepted manuscript version of this article is solely governed by the terms of such publishing agreement and applicable law.
About this article
Cite this article
Wijas, B.J., Finlayson, G. & Letnic, M. Herbivores' Impacts Cascade Through the Brown Food Web in a Dryland. Ecosystems (2022). https://doi.org/10.1007/s10021-022-00810-4
Received:

Accepted:

Published:

DOI: https://doi.org/10.1007/s10021-022-00810-4
Keywords
arid land function

Australia

brown food web

detritivore

overabundant herbivore

reptile

termite