Abstract
At a global scale, mean air or soil temperatures appear to be drivers of treeline position. However, at finer scales, seed availability and microsite conditions may limit the germination, establishment, and growth of tree seedlings—and therefore the position of treeline. Tree islands are features of many treelines, and they can alter microsite conditions by producing seed, providing shelter, and redistributing snow. Near Churchill, Manitoba, Canada, tree islands have higher seedling establishment than nearby forest and treeline sites and could be hot spots for treeline expansion. However, seedling establishment and tree recruitment events may be stochastic, making predictions based on the relationship between seedling counts and microsite conditions difficult. We asked whether current tree island seedling establishment can be predicted by (1) historical recruitment and/or (2) tree and snowpack characteristics. To answer these questions, we measured tree island tree characteristics and monitored seedling establishment and snowpack in five tree islands at latitudinal treeline near Churchill, Manitoba. We fit hierarchical, generalized linear mixed effect models to assess the influence of our hypothesized predictors. We found that tree recruitment in the past was strongly positively associated with current seedling density. Mean basal area and age of trees were also positively associated with seedling density, whereas tree density was negatively associated with seedling density. We found weak positive effects of snowpack snow water equivalent. Our results provide evidence for positive feedbacks within tree islands and suggest useful factors to include in models for predicting future treeline change.
Access options
Buy single article
Instant access to the full article PDF.
US$ 39.95
Tax calculation will be finalised during checkout.
Subscribe to journal
Immediate online access to all issues from 2019. Subscription will auto renew annually.
US$ 79
Tax calculation will be finalised during checkout.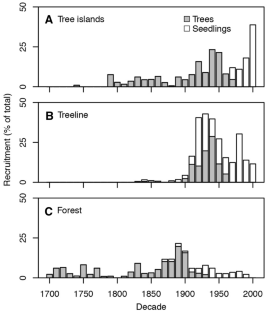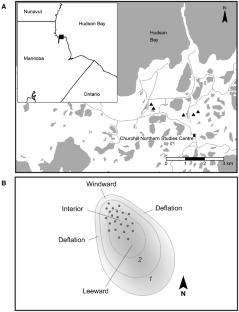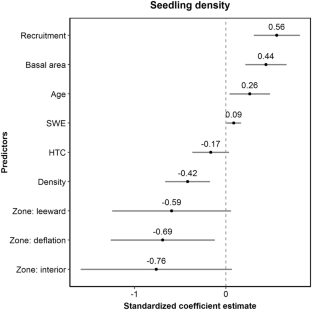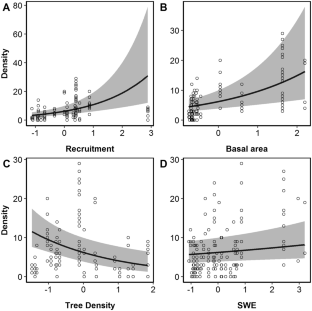 References
Bates D, Mächler M, Bolker B, Walker S. 2015. Fitting linear mixed-effects models using lme4. Journal of Statistical Software 67:1–48.

Bertness MD, Callaway R. 1994. Positive interactions in communities. Trends in Ecology & Evolution 9:191–3.

Billings WD, Bliss LC. 1959. An alpine snowbank environment and its effects on vegetation, plant development, and productivity. Ecology 40:388–97.

Bonham CD. 2013. Measurements for terrestrial vegetation. 2nd ed. Wiley Blackwell

Brodersen CR, Germino MJ, Johnson DM, Reinhardt K, Smith WK, Resler LM, Bader MY, Sala A, Kueppers LM, Broll G, Cairns DM, Holtmeier F-K, Wieser G. 2019. Seedling survival at timberline is critical to conifer mountain forest elevation and extent. Frontiers in Forests and Global Change 2:9.

Dahlgren JP. 2010. Alternative regression methods are not considered in Murtaugh (2009) or by ecologists in general. Ecology Letters 13:9–11.

Elzinga CL, Salzer DW, Willoughby JW, Gibbs JP. 2001. Monitoring plant and animal populations: a handbook for field biologists. Wiley-Blackwell

Environment and Climate Change Canada. 2019. 1981–2010 Climate Normals & Averages. http://climate.weather.gc.ca/climate_normals/index_e.html

Gärtner SM, Lieffers VJ, Macdonald SE. 2011. Ecology and management of natural regeneration of white spruce in the boreal forest. Environmental Reviews 19:461–78.

Germino MJ, Smith WK. 1999. Sky exposure, crown architecture, and low-temperature photoinhibition in conifer seedlings at alpine treeline. Plant, Cell and Environment 22:407–15.

Grissino-Mayer HD. 2001. Evaluating crossdating accuracy: A manual and tutorial for the computer program COFECHA. Tree-Ring Research 57:205–21.

Harsch MA, Bader MY. 2011. Treeline form - a potential key to understanding treeline dynamics. Global Ecology and Biogeography 20:582–96.

Harsch MA, Hulme PE, McGlone MS, Duncan RP. 2009. Are treelines advancing? A global meta-analysis of treeline response to climate warming. Ecology Letters 12:1040–9.

Hättenschwiler S, Smith WK. 1999. Seedling occurrence in alpine treeline conifers: a case study from the central Rocky Mountains, USA. Acta Oecologica 20:219–24.

Hiemstra CA, Liston GE, Reiners WA. 2002. Snow redistribution by wind and interactions with vegetation at upper treeline in the Medicine Bow Mountains, Wyoming, U.S.A. Arctic, Antarctic, and Alpine Research 34:262–73.

Hofgaard A, Rees G. 2008. PPS Arctic Manual. Common protocols for field measurements and handling of collected material. http://ppsarctic.nina.no

Holtmeier F-K, Broll G. 1992. The influence of tree islands and microtopography on pedoecological conditions in the forest-alpine tundra ecotone on Niwot Ridge, Colorado Front Range, U.S.A. Arctic and Alpine Research 24:216.

Holtmeier F-K, Broll G. 2017a. Feedback effects of clonal groups and tree clusters on site conditions at the treeline: Implications for treeline dynamics. Climate Research 73:85–96.

Holtmeier F-K, Broll G. 2017b. Treelines-approaches at different scales. Sustainability (Switzerland) 9:1–19.

Kershaw GP. 1991. The influence of a simulated transport corridor on snowpack characteristics, Fort Norman, N.W.T., Canada. Arctic and Alpine Research 23:31–40.

Kershaw GP. 2001. Snowpack characteristics following wildfire on a simulated transport corridor and adjacent subarctic forest, Tulita, N.W.T., Canada. Arctic, Antarctic, and Alpine Research 33:131–9.

Kershaw GP, McCulloch J. 2007. Midwinter snowpack variation across the arctic treeline, Churchill, Manitoba, Canada. Arctic, Antarctic, and Alpine Research 39:9–15.

Kind R. 1981. Snow Drifting. In: Gray D, Male D, Eds. Handbook of snow: principles, processes, management and use. Victoria: Blackburn Press. p 338–59.

Körner C. 2016. When it gets cold, plant size matters - a comment on tree line. Journal of Vegetation Science 27:6–7.

Kullman L. 2007. Tree line population monitoring of Pinus sylvestris in the Swedish Scandes, 1973–2005: implications for tree line theory and climate change ecology. Journal of Ecology 95:41–52.

Lefcheck JS. 2016. piecewiseSEM: Piecewise structural equation modelling in R for ecology, evolution, and systematics. Freckleton R, editor. Methods in Ecology and Evolution 7:573–9.

Lesnoff M, Lancelot R. 2018. aods3: analysis of overdispersed data using S3 methods. aods3 package version 0.4-1.1.

Liptzin D, Seastedt TR. 2009. Patterns of snow, deposition, and soil nutrients at multiple spatial scales at a Rocky Mountain tree line ecotone. Journal of Geophysical Research: Biogeosciences 114:1–13.

Mamet SD, Cairns DM, Brook RK, Kershaw GP. 2015. Modeling the spatial distribution of subarctic forest in northern Manitoba using GIS-based terrain and climate data. Physical Geography 36:93–112.

Mamet SD, Kershaw GP. 2012. Subarctic and alpine tree line dynamics during the last 400 years in north-western and central Canada. Journal of Biogeography 39:855–68.

Mamet SD, Kershaw GP. 2013a. Environmental influences on winter desiccation of Picea glauca foliage at treeline, and implications for treeline dynamics in Northern Manitoba. Arctic, Antarctic, and Alpine Research 45:219–28.

Mamet SD, Kershaw GP. 2013b. Multi-scale analysis of environmental conditions and conifer seedling distribution across the treeline ecotone of Northern Manitoba, Canada. Ecosystems 16:295–309.

McClung D, Schaerer PA. 2006. The avalanche handbook. 3rd edn. Seattle, Washington: Mountaineers Books.

McIntire EJB, Piper FI, Fajardo A. 2016. Wind exposure and light exposure, more than elevation-related temperature, limit tree line seedling abundance on three continents. Journal of Ecology 104:1379–90.

Nakagawa S, Johnson PCD, Schielzeth H. 2017. The coefficient of determination R2 and intra-class correlation coefficient from generalized linear mixed-effects models revisited and expanded. Journal of The Royal Society Interface 14:20170213.

Pereg D, Payette S. 1998. Development of black spruce growth forms at treeline. Plant Ecology 138:137–47.

Pomeroy JW, Gray DM. 1995. Snowcover Accumulation, Relocation and Management. Saskatoon, Saskatchewan: National Hydrology Research Institute.

R Core Team. 2018. R: A language and environment for statistical computing. https://www.r-project.org/

Renard SM, Mcintire EJB, Fajardo A. 2016. Winter conditions - not summer temperature - influence establishment of seedlings at white spruce alpine treeline in Eastern Quebec. Journal of Vegetation Science 27:29–39.

Resler LM, Stine MB. 2009. Patterns and processes of tree islands in two transitional environments: Alpine treeline and bog forest-meadow ecotones. Geography Compass 3:1305–30.

Scott PA, Hansell RIC. 2002. Development of white spruce tree islands in the shrub zone of the Forest-Tundra. Arctic 55:238–46.

Scott PA, Hansell RIC, Erickson WR. 1993. Influences of wind and snow on northern tree-line environments at Churchill, Manitoba, Canada. ARCTIC 46:316–23.

Scott PA, Hansell RIC, Fayle DCF. 1987. Establishment of white spruce populations and responses to climatic change at the treeline, Churchill, Manitoba, Canada. Arctic and Alpine Research 19:45.

Villalba R, Veblen TT. 1997. Regional patterns of tree population age structures in Northern Patagonia: climatic and disturbance influences. The Journal of Ecology 85:113.

Walker X, Henry GHR, McLeod K, Hofgaard A. 2012. Reproduction and seedling establishment of Picea glauca across the northernmost forest-tundra region in Canada. Global Change Biology 18:3202–11.

Yamaguchi DK. 1991. A simple method for cross-dating increment cores from living trees. Canadian Journal of Forest Research 21:414–16.

Zuur AF, Ieno EN, Elphick CS. 2010. A protocol for data exploration to avoid common statistical problems. Methods in Ecology and Evolution 1:3–14.
Acknowledgements
This study was supported by grants from Earthwatch Institute, the Northern Scientific Training Program (NSTP) administered through Canadian Circumpolar Institute (CCI), Canadian Museum of Nature, S.M. Blair Family Foundation, the Garfield-Weston Foundation, Wapusk National Park, and the Churchill Northern Studies Centre (CNSC) – Northern Research Fund. We thank the staff and volunteers of the CNSC and Earthwatch International volunteers ("sub-zero heroes") for their contributions to this research. The efforts of C. Basler, S. Adam, E. Oakham, J. Pelton, and K. Harper were essential for completion of the fieldwork.
Additional information
Author Contributions
G.P.K and S.D.M. designed the field sampling design and lead the data collection with L.A.F., M.B., and J.M. O.F. led the data analysis and writing. All authors contributed to the writing and revision of the manuscript.
Electronic supplementary material
Below is the link to the electronic supplementary material.
About this article
Cite this article
Fitzpatrick, O.T., Blade, M., Fishback, L.A. et al. Snowpack, Tree Size, and Ecological Legacies Promote Seedling Establishment in Tree Islands at the Treeline. Ecosystems 23, 1714–1725 (2020). https://doi.org/10.1007/s10021-020-00499-3
Received:

Accepted:

Published:

Issue Date:
Keywords
Treeline

Seedling establishment

Tree island

Snowpack

Tree recruitment

Seedling density

Facilitation