Abstract
Considerable uncertainty remains regarding grazing-induced influences on soil organic carbon (SOC) sequestration in semiarid grassland ecosystems due to three important complications associated with studying such effects: (1) Ecologically meaningful shifts in SOC pools attributable to grazing are difficult to detect relative to inherently large grassland SOC pools, (2) a lack of baseline (pre-treatment) data, and (3) frequent lack of or limited replication of long-term grazing manipulations. SOC sequestration rates were determined in 74-year-old grazing exclosures and paired moderately grazed sites, established across a soil texture gradient, in the western North American shortgrass steppe in northeastern Colorado. We sampled soils (0–20 cm) from 12 exclosures and paired grazed sites to measure SOC concentration and soil radiocarbon ∆14C (‰); the latter allowed us to determine turnover of the SOC pool over a 7-decade period in the presence versus the absence of grazing. Removal of grazing for more than 7 decades substantially altered plant community composition but did not affect total soil C, SOC, soil ∆14C, SOC turnover rate, or total soil N. Grazing effect also did not interact with soil texture to influence any of those soil properties. Soil texture (silt + clay content) did influence total soil C and SOC, and total soil N, but not ∆14C or SOC turnover. Results provide evidence that long-term removal of grazing from semiarid grassland ecosystems in the western North American Great Plains does not enhance long-term SOC sequestration, despite changes in the relative dominance of C3 versus C4 grasses.
This is a preview of subscription content, log in to check access.
Access options
Buy single article
Instant access to the full article PDF.
US$ 39.95
Price includes VAT for USA
Subscribe to journal
Immediate online access to all issues from 2019. Subscription will auto renew annually.
US$ 99
This is the net price. Taxes to be calculated in checkout.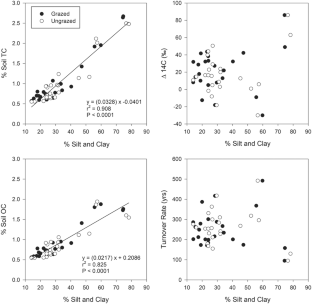 References
Abdalla M, Hastings A, Chadwick DR, Jones DL, Evans CD, Jones MB, Rees RM, Smith P. 2018. Critical review of the impacts of grazing intensity on soil organic carbon storage and other soil quality indicators in extensively managed grasslands. Agric Ecosyst Environ 253:62–81.

Augustine DJ, Derner JD, Milchunas D, Blumenthal D, Porensky LM. 2017. Grazing mediates increases in C3 grass abundance over seven decades across a soil texture gradient in shortgrass steppe. J Veg Sci. https://doi.org/10.1111/jvs.12508.

Bement RE. 1969. A stocking rate guide for beef production on blue-grama range. J Range Manag 22:83–6.

Bouyoucos GJ. 1962. Hydrometer method improved for making particle size analyses of soils. Agron J 54:464–5.

Burke IC, Lauenroth WK, Vinton MA, Hook PB, Kelly RH, Epstein HE, Aguiar MR, Robles MD, Aguilera MO, Murphy KL, Gill RA. 1998. Plant-soil interactions in temperate grasslands. Biogeochemistry 42:121–43.

Burke IC, Lauenroth WK, Riggle R, Brannen P, Madigan B, Beard S. 1999. Spatial variability of soil properties in the shortgrass steppe: the relative importance of topography, grazing, microclimate, and plant species in controlling spatial patterns. Ecosystems 2:422–38.

Chen M, Parton WJ, DelGrosso SJ, Hartman MD, Day KA, Tucker CJ, Derner JD, Knapp AK, Smith WK, Ojima DS, Gao W. 2017. The signature of sea surface temperature anomalies on the dynamics of semiarid grassland productivity. Ecosphere. https://doi.org/10.1002/ecs2.2069.

Derner JD, Schuman GE. 2007. Carbon sequestration and rangelands: a synthesis of land management and precipitation effects. J Soil Water Conserv 62:77–85.

Frank DA, Pontes AW, McFarlane KJ. 2012. Controls on soil organic carbon stocks and turnover among North American ecosystems. Ecosystems 15:604–15.

Frank DA, DePriest T, McLauchlan K, Risch AC. 2011. Topographic and ungulate regulation of soil C turnover in a temperate grassland ecosystem. Glob Change Biol 17:495–504.

Graven H. 2008. Advancing the use of radiocarbon in studies of global and regional carbon cycling with high precision measurements of 14C in CO2 from the Scripps CO2 Program. Scripps Institute of Oceanography. Ph.D. thesis. San Diego: University of California.

Hart RH, Ashby MM. 1998. Grazing intensities, vegetation and heifer gains: 55 years on shortgrass. J Range Manag 51:392–8.

Holechek JL. 2013. Global trends in population, energy use and climate: implications for policy development, rangeland management, and rangeland users. Rangel J 35:117–29.

Holechek JL, Pieper RD, Herbel CH. 2011. Range management: principles and practices. 6th edn. Upper Saddle River, NJ: Prentice-Hall/Person Inc.

Ihori T, Burke IC, Lauenroth WK, Coffin DP. 1995. Effects of cultivation and abandonment on soil organic matter in northeastern Colorado. Soil Sci Soc Am J 59:1112–19.

Ingram LJ, Stahl PD, Schuman GE, Buyer JS, Vance GF, Ganjegunte GK, Welker JM, Derner JD. 2008. Grazing impacts on soil carbon and microbial communities in a mixed-grass ecosystem. Soil Sci Soc Am J 72:939–46.

Irisarri JGN, Derner JD, Porensky LM, Augustine DJ, Reeves JL, Mueller KE. 2016. Grazing intensity differentially regulates ANPP response to precipitation in North American semiarid grasslands. Ecol Appl 26:1370–80.

Kelly EF, Blecker SW, Yonker CM, Olson CG, Wohl EE, Todd LC. 1998. Stable isotope composition of soil organic matter and phytoliths as paleoenvironmental indicators. Geoderma 82:59–81.

Lauenroth WL. 2008. Vegetation of the shortgrass steppe. Ecology of the shortgrass steppe: a long-term perspective. Lauenroth WK, Burke IC, Eds. New York, NY: Oxford University Press. pp 70–83.

Levin I, Kromer B. 2004. The tropospheric 14CO2 level in midlatitudes of the northern hemisphere (1959–2003). Radiocarbon 46:1261–72.

Liang Y, Hazlett DL, Lauenroth WK. 1989. Biomass dynamics and water use efficiencies of five plant communities in the shortgrass steppe. Oecologia 80:148–53.

McSherry ME, Ritchie ME. 2013. Effects of grazing on grassland soil carbon: a global review. Glob Change Biol 19:1347–57.

Milchunas DG, Forwood JR, Lauenroth WK. 1994. Productivity of long-term grazing treatments in response to seasonal precipitation. J Range Manag 47:133–9.

Morgan JA, Parton W, Derner JD, Gilmanov TG, Smith DP. 2016. Importance of early season conditions and grazing on carbon dioxide fluxes in Colorado shortgrass steppe. Rangel Ecol Manag 69:342–50.

Parton W, Schimel DS, Cole CV, Ojima DS. 1987. Analysis of factors controlling soil organic matter levels in Great Plains grasslands. Soil Sci Soc Am J 51:1173–9.

Pineiro G, Paruelo JM, Oesterheld M, Jobbagy EG. 2010. Pathways of grazing effects on soil organic carbon and nitrogen. Rangeland Ecology and Management 63:109–19.

Porensky LM, Derner JD, Augustine DJ, Milchunas DG. 2016. Plant community composition after 75 yr of sustained grazing intensity treatments in shortgrass steppe. Rangel Ecol Manag 70:456–64.

Reeder JD, Schuman GE. 2002. Influence of livestock grazing on C sequestration in semi-arid mixed-grass and short-grass rangelands. Environ Pollut 116:457–63.

Reeder JD, Schuman GE, Morgan JA, LeCain DR. 2004. Response of organic and inorganic carbon and nitrogen to long-term grazing of the shortgrass steppe. Environ Manag 33:485–95.

Schuman GE, Reeder JD, Manley JT, Hart RH, Manley WA. 1999. Impact of grazing management on the carbon and nitrogen balance of a mixed-grass rangeland. Ecol Appl 9:65–71.

Sokal RR, Rohlf FJ. 1995. Biometry. New York: WH Freeman and Company.

Svejcar T, Angell R, Bradford JA, Dugas W, Emmerich W, Frank AB, Gilmanov T, Johnson DA, Mayeux H, Mielnick P, Morgan J, Saliendra NZ, Schuman GE, Sims PL, Snyder K. 2008. Carbon fluxes on North American rangelands. Rangel Ecol Manag 61:465–74.

Torn MS, Vitousek PM, Trumbore SE. 2005. The influence of nutrient availability on soil organic matter turnover estimated by incubations and radiocarbon modeling. Ecosystems 8:352–72.

Trumbore SE. 1993. Comparison of the carbon dynamics in tropical and temperate soils using radiocarbon measurements. Glob Biogeochem Cycles 7:275–90.

Zhang L, Wylie BK, Ji L, Gilmanov TG, Tieszen LL. 2010. Climate-driven interannual variability in net ecosystem exchange in the Northern Great Plains grasslands. Rangel Ecol Manag 63:40–50.
Acknowledgements
We thank Nick Dufek and Matt Mortenson for leading the sampling and processing of soil samples, and Matt Mortenson for assistance with statistical analyses and developing the figures. We appreciate the provision of livestock for grazing by the Crow Valley Livestock Cooperative, Inc. Funding was provided by the USDA-Agricultural Research Service.
Additional information
USDA is an equal opportunity employer and provider.
Author contributions
JDD and DJA conceived and designed study. JDD and DJA performed research. JDD analyzed data. DAF contributed methods on calculating carbon turnover rate. JDD, DJA, and DAF all contributed to writing the paper.
About this article
Cite this article
Derner, J.D., Augustine, D.J. & Frank, D.A. Does Grazing Matter for Soil Organic Carbon Sequestration in the Western North American Great Plains?. Ecosystems 22, 1088–1094 (2019). https://doi.org/10.1007/s10021-018-0324-3
Received:

Accepted:

Published:

Issue Date:
Keywords
cattle grazing

semiarid rangeland

shortgrass steppe

soil carbon

soil radiocarbon

soil carbon turnover