Abstract
Ecosystem ecology, like all scientific disciplines, is often propelled forward by "classic" papers that identify key concepts within the field and define the core questions for generations of scientists. Here, we examine the legacy and sustained impact of a paper long considered a classic in ecology, E.P. (Gene) Odum's 1969 "The strategy of ecosystem development." Odum's paper presented testable predictions about species diversity, energy flow, and biogeochemical dynamics during ecosystem succession and provided guiding principles for environmental conservation and management. Odum's 24 predictions on "ecosystem development" were a key component of this paper's legacy: The framework was referenced in 62.0% and tested in 28.7% of 1598 citing papers we examined. Although we found that support for Odum's framework grew over time, support for any particular prediction was inconsistent, highlighting the unresolved nature of some of the framework's principles. Odum's conceptual framework for ecosystem studies—as well as his forward-thinking attempts to connect ecosystem ecology with humans and society—continues to be pertinent to current and future research frontiers. Simplicity of the framework was its strength, and major limitation, painting ecosystem functioning in broad strokes, with no acknowledgement about interactions among the predictions. Newer generations have their work cut out for them by bridging evolutionary biology and ecosystem science or metabolic theory and ecological stoichiometry. Similarly, newer generations are using Odum's multidisciplinary approach to address the most pressing global change issues and designing solutions that make the Earth life sustaining system compatible with growing human demands.
Access options
Buy single article
Instant access to the full article PDF.
US$ 39.95
Tax calculation will be finalised during checkout.
Subscribe to journal
Immediate online access to all issues from 2019. Subscription will auto renew annually.
US$ 79
Tax calculation will be finalised during checkout.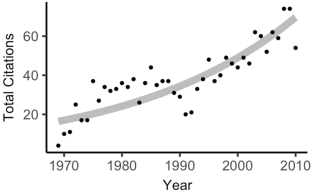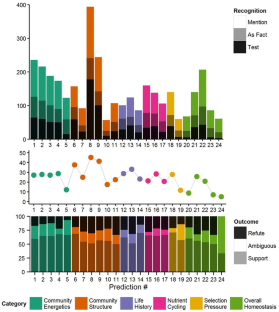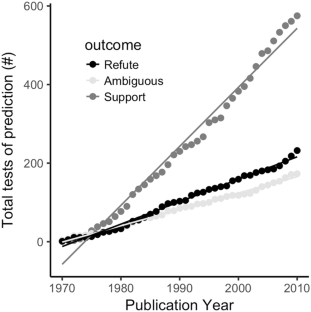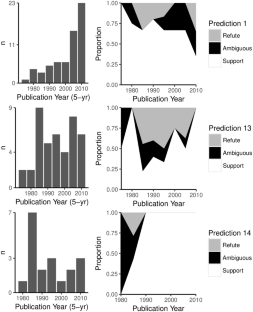 References
Abelson RP. 1995. Statistics as principled argument. Hillsdale (NJ): Elbaum.

Baldocchi D. 2014. Measuring fluxes of trace gases and energy between ecosystems and the atmosphere—the state and future of the eddy covariance method. Global Change Biology 20:3600–9.

Begon M, Harper JL, Townsend CR. 1986. Ecology: individuals, populations, and communities. 1st edn. Sunderland (MA): Sinauer Associates.

Begon M, Townsend CR, Harper JL. 2005. Ecology: from individuals to ecosystems. 4th edn. Hoboken (NJ): Wiley-Blackwell.

Berkes F, Colding J, Folke C, Eds. 2008. Navigating social-ecological systems: building resilience for complexity and change. Cambridge: Cambridge University Press.

Borer ET, Harpole WS, Adler PB, Lind EM, Orrock JL, Seabloom EW, Smith MD. 2014. Finding generality in ecology: a model for globally distributed experiments. Methods Ecol Evol 5:65–73.

Brown JH, Gillooly J, Allen AP, Savage VM, West G. 2004. Toward a metabolic theory of ecology. Ecology 85:1771–89.

Carpenter SR, Mooney HA, Agard J, Capistrano D, DeFries RS, Díaz S, Dietz T, Duraiappah AK, Oteng-Yeboah A, Miguel Pereira H, Perrings C, Reid WV, Sarukhan J, Scholes RJ, Whyte A. 2009. Science for managing ecosystem services: Beyond the Millenium Ecosystem Assessment. Proc Nat Acad Sci 106:1305–12.

Chapin FS, III, Carpenter SR, Kofinas GP, Folke C, Abel N, Clark WC, Olsson P, Stafford Smith DM, Walker B, Young OR, Berkes F, Biggs R, Grove JM, Naylor RL, Pinkerton E, Steffen W, Swanson FJ. 2010. Ecosystem stewardship: sustainability strategies for a rapidly changing planet. Trends in Ecology & Evolution 25:241–9.

Chapin FS, III, Power ME, Pickett STA, Freitag A, Reynolds JA, Jackson RB, Lodge DM, Duke C, Collins SL, Power AG, Bartuska A. 2011. Earth Stewardship: science for action to sustain the human-earth system. Ecosphere 2(8):art89. https://doi.org/10.1890/ES11-00166.1.

Chapin FS, III, Matson PA, Vitousek P. 2012. Principles of terrestrial ecosystem ecology. 2nd edn. New York (NY): Springer. p 529.

Clements FE. 1936. Nature and structure of the climax. J Ecol 24:252–84.

Collins SL, Carpenter SR, Swinton SM, Orenstein DE, Childers DL, Gragson TL, Grimm NB, Grove JM, Harlan SL, Kaye JP, Knapp AK, Kofinas GP, Magnuson JJ, McDowell WH, Melack JM, Ogden LA, Robertson GP, Smith MD, Whitmer AC. 2011. An integrated conceptual framework for long-term social–ecological research. Frontiers in Ecology and the Environment 9:351–7.

Connell JH, Slatyer RO. 1977. Mechanisms of succession in natural communities and their role in community stability and organization. American Naturalist 111:1119–44.

Eugster W, McFadden JP, Chapin FS. 2005. Differences in surface roughness, energy, and CO2 fluxes in two moist tundra vegetation types, Kuparuk Watershed, Alaska, U.S.A. Arctic, Antarctic, and Alpine Research 37:61–7.

Fisher SG, Likens GE. 1973. Energy flow in Bear Brook, New Hampshire: an integrative approach to stream ecosystem metabolism. Ecological Monographs 43:421–39.

Fraser LH, Henry HAL, Carlyle CN, White SR, Beierkuhnlein C, Cahill JF Jr, Casper BB, Cleland R, Collins SL, Dukes JS, Knapp AK, Lind E, Long R, Luo Y, Reich PB, Smith MD, Sternberg M, Turkington R. 2013. Coordinated distributed experiments: an emerging tool for testing global hypotheses in ecology and environmental science. Frontiers in Ecology and the Environment 11:147–55.

Gleason HA. 1926. The individual concept of the plant association. Bull Torrey Bot Club 53:7–26.

Golley FB. 1993. A history of the ecosystem concept in ecology: more than the sum of the parts. New Haven (CT): Yale University Press.

Gross M, Bucko DJ, Fabos JG, Foster JH. 1984. Landscape planning and evaluation—a combined goal-oriented and benefit loss approach of the metropolitan landscape planning model (METLAND). Massachusetts Agricultural Experiment Station Research Bulletin 692:1–99.

Guerry AD, Polasky S, Lubchenco J, Chaplin-Kramer R, Gaily GC, Griffin R, Ruckelshaus M, Bateman IJ, Duraiappah A, Elmqvist T, Feldman MW, Folke C, Hoekstra J, Kareiva PM, Keeler BL, Li C, McKenzie E, Ouyang Z, Reyers B, Ricketts TH, Rockstrom J, Tallis H, Vira B. 2016. Natural capital and ecosystem services informing decisions: From promise to practice. Proc Nat Acad Sci 112:7348–55.

Gunderson LH, Holling CS, Eds. 2001. Panarchy: understanding transformations in human and natural systems. Washington (DC): Island Press.

Groffman PM, Cadenasso ML, Cavender-Bares J, Childers DL, Grimm NB, Grove JM, Hobbie SE, Hutyra LR, Jenerette GD, McPhearson T, Pataki DE, Pickett STA, Pouyat RV, Rosi-Marshall E, Ruddell BL. 2017. Moving towards a new urban systems science. Ecosystems 20:38–43.

Hagen J. 1992. An Entangled Bank: the origins of ecosystem ecology. Rutgers (NJ): Rutgers University Press.

Halford A, Cheal AJ, Ryan D, Williams DM. 2004. Resilience to large-scale disturbance in coral and fish assemblages on the Great Barrier Reef. Ecology 85:1892–905.

Hobbs RJ, Arico S, Aronson J, Baron JS, Bridgewater P, Cramer VA, Epstein PR, Ewel JJ, Klink CA, Lugo AE, Norton D, Ojima D, Richardson DM, Sanderson EW, Valladares F, Vila M, Zamora R, Zobel M. 2006. Novel ecosystems: theoretical and management aspects of the new ecological world order. Global Ecology and Biogeography 15:1–7.

Holland MM, Burk CJ, McLain D. 2000. Long-term vegetation dynamics of the lower strata of a western Massachusetts oxbow swamp forest. Rhodora 102:154–74.

Holling CS. 2001. Understanding the complexity of economic, ecological, and social systems. Ecosystems 4:390–405.

Hutchinson GE. 1959. Homage to Santa Rosalia; or, Why are there so many kinds of animals? The American Naturalist 93:145–59.

Jordan N, Warner KD. 2010. Enhancing the multifunctionality of US agriculture. BioScience 60(1):60–6.

Kominoski JS, Gaiser EE, Baer SG. 2018. Advancing theories of ecosystem development through long-term ecological research. BioScience 68:554–62.

La Peyre MK, Nickens AD, Volety AK, Tolley GS, La Peyre JF. 2003. Environmental significance of freshets in reducing Perkinsus marinus infection in eastern oysters Crassostrea virginica: potential management applications. Marine Ecology-Progress Series 248:165–76.

LaMontagne I, Cardinal A, Fortier L. 1986. Intertidal microalgal production and the auxiliary energy of tides. Marine Biology 91:409–19.

Levin SA. 1992. The problem of pattern and scale in ecology. Ecology 73:1943–67.

Lindeman RL. 1942. The trophic-dynamic aspect of ecology. Ecology 23:399–417.

Liu JG, Dietz T, Carpenter SR, Folke C, Alberti M, Redman CL, Schneider SH, Ostrom E, Pell AN, Lubchenco J, Taylor WW, Ouyang ZY, Deadman P, Kratz T, Provencher W. 2007. Coupled human and natural systems. Ambio 36:639–49.

Lubchenco J. 1998. Entering the century of the environment: a new social contract for science. Science 279:491–7.

Margalef R. 1968. Perspectives in ecological theory. Chicago (IL): University of Chicago Press.

McIntosh RP. 1987. The continuum concept of vegetation. Bot Rev 33:130–87.

McIntosh RP. 1985. The background of ecology: concept and theory. Cambridge: Cambridge Univ Press.

McPhearson T, Pickett STA, Grimm NB, Niemela J, Alberti M, Elmqvist T, Weber C, Haase D, Breuste J, Qureshi S. 2016. Advancing urban ecology toward a science of cities. BioScience 66:198–212.

Menge BA, Chan F, Dudas S, Eerkes-Medrano D, Grorud-Colvert K, Heiman K, Hessing-Lewis M, Iles A, Milston-Clements R, Noble M, Page-Albins K, Richmond E, Rilov G, Rose J, Tyburczy J, Vinueza L, Zarnetske P. 2009. Terrestrial ecologists ignore aquatic literature: Asymmetry in citation breadth in ecological publications and implications for generality and progress in ecology. Journal of Experimental Marine Biology and Ecology 377:93–100.

Mitsch MJ, Gosselink JG. 2015. Wetlands. 5th edn. Hoboken (NJ): Wiley.

Murdoch WM. 1966. Community structure, population control, and competition—a critique. Am Nat 100:219–26.

Odum EP. 1969. The strategy of ecosystem development. Science 164:262–70.

Odum EP. 1977. The emergence of ecology as a new integrative discipline. Science 195:1289–93.

Odum EP. 1989. Input management of production systems. Science 243:177–82.

Odum EP, Barrett GW. 2005. Fundamentals of ecology. 5th edn. Belmont (CA): Thomas Brooks/Cole.

Olsen GJ, Lane DJ, Giovannoni SJ, Pace NR, Stahl DA. 1986. Microbial ecology and evolution: A ribosomal RNA approach. Ann Rev Micro 40:337–65.

Ostrom E. 2009. A General framework for analyzing sustainability of social-ecological systems. Science 325:419–22.

Palmer M, Bernhardt E, Chornesky E, Collins S, Dobson A, Duke C, Gold B, Jackson R, Kingsland S, Kranz R, Mappin M, Martinez ML, Micheli F, Morse J, Pace M, Pascual M, Palumbi S, Reichman OJ, Simons A, Townsend A, Turner M. 2004. Ecology for a crowded planet. Science 304:1251–2.

Pickett STA, Cadenasso ML. 1995. Landscape ecology: Spatial heterogeneity in ecological systems. Science 269:331–4.

Pickett STA, Cadenasso ML, Grove JM, Boone CG, Groffman PM, Irwin R, Kaushal SS, Marshall V, McGrath BP, Nilon CH, Pouyat RV, Szlavecz K, Troy A, Warren P. 2011. Urban ecological systems: Scientific foundations and a decade of progress. Journal of Environmental Management 92:331–62.

R Core Team. 2017. R Foundation for Statistical Computing, Vienna, Austria. http://www.R-project.org/.

Real L, Brown JH. 1991. Foundations of ecology: classic papers with commentaries. Chicago (IL): University of Chicago Press.

Robertson GP, Allen VG, Boody G, Boose ER, Creamer NG, Drinkwater LE, Gosz JR, Lynch L, Havlin JL, Jackson LE, Pickett STA, Pitelka L, Randall A, Reed AS, Seastedt TR, Waide RB, Wall DH. 2008. Long-term agricultural research: a research, education, and extension imperative. BioScience 58:640.

Scheffer M, Carpenter SR, Foley JA, Folke C, Walker B. 2001. Catastrophic shifts in ecosystems. Nature 413:591–6.

Slocombe DS. 1993. Environmental planning, ecosystem science, and ecosystem approaches for integrating environment and development. Environmental Management 17:289–303.

Slobodkin LB. 1992. Foundations of ecology: classic papers with commentaries. Leslie A. Real, James H. Brown. The Quarterly Review of Biology 67:227–227.

Sternberg RJ, Gordeeva T. 1996. The anatomy of impact: what makes an article influential? Psychological Science 7:69–75.

Sterner RW, Elser JJ. 2002. Ecological stoichiometry: the biology of elements from molecules to the biosphere. Princeton (NJ): Princeton University Press. p 584.

Stottlemeyer R. 1987. External threats to ecosystems of United States National Parks. Environmental Management 11:87–9.

Sutherland WJ, Freckleton RP, Godfray CJ, Beissinger SR, Benton T, Cameron DD, Carmel Y, Coomes DA, Coulson T, Emmerson MC, Hails RS, Hays GC, Hodgson DJ, Hutchings MJ, Johnson D, Jones JPG, Keeling MJ, Kokko H, Kunin WE, Lambin X, Lewis OT, Malhi Y, Mieszkowska N, Milner-Gulland EJ, Norris K, Phillimore AB, Purves DW, Reid JM, Reuman DC, Thompson K, Travis JMJ, Turnbull LA, Wardle DA, Wiegand T. 2013. Identification of 100 fundamental ecological questions. J Ecol 101:58–67.

Tilman D, Isbell I, Cowles JM. 2014. Biodiversity and ecosystem functioning. Ann Rev Ecol Evol Syst 45:493–741.

Turner MG. 1989. Landscape ecology: the effect of pattern on process. Ann Rev Ecol Evol Syst 20:171–97.

Ulanowitz R. 1997. Ecology, the ascendent perspective. New York (NY): Columbia University Press.

Walker B, Holling CS, Carpenter SR, Kinzig A. 2004. Resilience, adaptability and transformability in social-ecological systems. Ecology and Society 9:5.

Wardle DA, Nicholson KS, Rahman A. 1995. Ecological effects of the invasive weed species Senecio jacobaea L (ragwort) in a New Zealand pasture. Agriculture Ecosystems & Environment 56:19–28.

Weathers KC, Groffman PM, Van Dolah E, Bernhardt E, Grimm NB, McMahon K, Schimel J, Paolisso M, Maranger R, Baer S, Brauman K, Hinckley E. 2016. Frontiers in ecosystem ecology from a community perspective: The future is boundless and bright. Ecosystems 19:753–70.

Williams GC. 1966. Adaptation and natural selection: a critique of some current evolutionary thought. Princeton (NJ): Princeton University Press. p 307.

Zweig CL, Kitchens WM. 2009. Multi-state succession in wetlands: a novel use of state and transition models. Ecology 90:1900–9.
Acknowledgements
The authors thank the Sevilleta Long-Term Ecological Research Program for hosting our workshop retreat and Chelsea Crenshaw for assisting with the bibliographic analysis. This research was funded by Grants from the National Science Foundation to Arizona State University, New Mexico State University, and the University of New Mexico for Long-Term Ecological Research (DEB-1235828, DEB-1026865, DEB-1637590).
Additional information
Author Contributions
All authors helped to design the study and perform the research. JRC analyzed the data with methodological inputs from LAG. JRC wrote the paper with substantial contributions from SLC and NBG. All authors edited the manuscript.
Electronic Supplementary Material
Below is the link to the electronic supplementary material.
About this article
Cite this article
Corman, J.R., Collins, S.L., Cook, E.M. et al. Foundations and Frontiers of Ecosystem Science: Legacy of a Classic Paper (Odum 1969). Ecosystems 22, 1160–1172 (2019). https://doi.org/10.1007/s10021-018-0316-3
Received:

Accepted:

Published:

Issue Date:
Keywords
Odum

ecological systems

ecosystem science

classic papers

bibliographic analysis

human dimensions

succession

research frontiers