Abstract
Ecosystems are increasingly disturbed by natural disturbances and human stressors. Understanding how a disturbance can propagate through an entire ecosystem and how induced changes can last after apparent recovery is key to guide management and ecosystem restoration strategies. Monitoring programs and impact assessment studies rely mostly on indicators based only on species relative abundance and biomass, potentially misinforming management efforts. Impacts on ecosystem structure and functioning, and subsequent delivery of ecosystem services, are too often overlooked. Here we use an ecosystem network approach to assess the recovery pathway and potential recovery debts of a coral reef ecosystem, following a pulse disturbance. We show that although species abundance and biomass indicators recovered in a decade after the perturbation, the ecosystem as a whole presented a recovery debt. The ecosystem structure lost complexity (became "food chain like") and lost about 29% of its overall cycling efficiency and 9% of its transfer efficiency. Although the ecosystem trophic network in the fore reef may have maintained its general functioning, the ecosystem network in the lagoon, not directly exposed to the disturbance, presented a stronger recovery debt. Our results give new insights on how ecosystem network approaches can help identify ecosystem impacts and recovery pathways.
This is a preview of subscription content, log in to check access.
Access options
Buy single article
Instant access to the full article PDF.
US$ 39.95
Price includes VAT for USA
Subscribe to journal
Immediate online access to all issues from 2019. Subscription will auto renew annually.
US$ 99
This is the net price. Taxes to be calculated in checkout.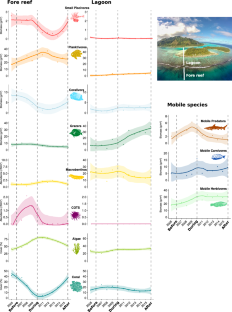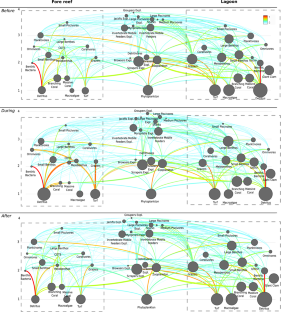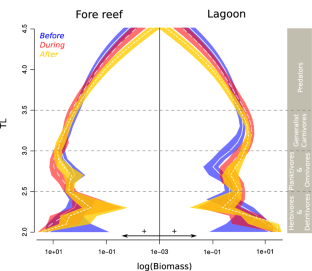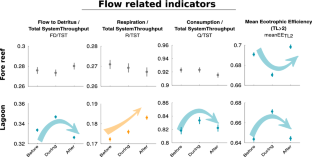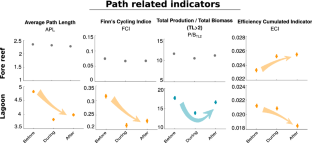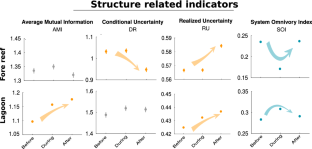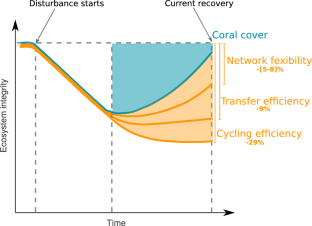 References
Adam TC, Schmitt RJ, Holbrook SJ, Brooks AJ, Edmunds PJ, Carpenter RC, Bernardi G. 2011. Herbivory, connectivity, and ecosystem resilience: response of a coral reef to a large-scale perturbation. PLoS ONE 6(8):e23717.

Adam TC, Brooks AJ, Holbrook SJ, Schmitt RJ, Washburn L, Bernardi G. 2014. How will coral reef fish communities respond to climate-driven disturbances? Insight from landscape-scale perturbations. Oecologia 176(1):285–96.

Adjeroud M, Michonneau F, Edmunds P, Chancerelle Y, De Loma TL, Penin L, Thibaut L, Vidal-Dupiol J, Salvat B, Galzin R. 2009. Recurrent disturbances, recovery trajectories, and resilience of coral assemblages on a south central pacific reef. Coral Reefs 28(3):775–80.

Ainsworth CH, Mumby P et al. 2015. Coral–algal phase shifts alter fish communities and reduce fisheries production. Global Change Biol 21(1):165–72.

Alter SE, Rynes E, Palumbi SR. 2007. Dna evidence for historic population size and past ecosystem impacts of gray whales. Proc Nat Acad Sci 104(38):15162–7.

Anderson MJ. 2001. A new method for non-parametric multivariate analysis of variance. Austral Ecol 26(1):32–46.

Arias-González JE, Nuñez-Lara E, González-Salas C, Galzin R. 2004. Trophic models for investigation of fishing effect on coral reef ecosystems. Ecol Model 172(2):197–212.

Balvanera P, Siddique I, Dee L, Paquette A, Isbell F, Gonzalez A, Byrnes J, O'Connor MI, Hungate BA, Griffin JN. 2013. Linking biodiversity and ecosystem services: current uncertainties and the necessary next steps. Bioscience 64(1):49–57.

Ban SS, Graham NA, Connolly SR. 2014. Evidence for multiple stressor interactions and effects on coral reefs. Global Change Biol 20(3):681–97.

Baum JK, Worm B. 2009. Cascading top-down effects of changing oceanic predator abundances. J Anim Ecol 78(4):699–714.

Bellwood DR, Hoey AS, Choat JH. 2003. Limited functional redundancy in high diversity systems: resilience and ecosystem function on coral reefs. Ecol Lett 6(4):281–5.

Bourdaud P, Gascuel D, Bentorcha A, Brind'Amour A. 2016. New trophic indicators and target values for an ecosystem-based management of fisheries. Ecol Indic 61:588–601.

Bozec Y-M, Mumby PJ. 2015. Synergistic impacts of global warming on the resilience of coral reefs. Philos Trans R Soc B Biol Sci 370(1659):20130267.

Bruno JF, Selig ER. 2007. Regional decline of coral cover in the indo-pacific: timing, extent, and subregional comparisons. PLoS ONE 2(8):e711.

Casey JM, Baird AH, Brandl SJ, Hoogenboom MO, Rizzari JR, Frisch AJ, Mirbach CE, Connolly SR. 2016. A test of trophic cascade theory: fish and benthic assemblages across a predator density gradient on coral reefs. Oecologia 183:1–15.

Cebrian J. 1999. Patterns in the fate of production in plant communities. Am Nat 154(4):449–68.

Cebrian J. 2002. Variability and control of carbon consumption, export, and accumulation in marine communities. Limnol Oceanogr 47(1):11–22.

Chaalali A, Beaugrand G, Raybaud V, Lassalle G, Saint-Béat B, Le F, Loc'h LB, Safi G, Chifflet M et al. 2016. From species distributions to ecosystem structure and function: a methodological perspective. Ecol Model 334:78–90.

Christensen V, Pauly D. 1992. Ecopath ii—a software for balancing steady-state ecosystem models and calculating network characteristics. Ecol Model 61(3–4):169–85.

Christensen V, Walters CJ, Pauly D et al. 2005. Ecopath with ecosim: a user's guide. Vancouver: Fisheries Centre, University of British Columbia. p 154.

Cole LE, Bhagwat SA, Willis KJ. 2014. Recovery and resilience of tropical forests after disturbance. Nat Commun 5:3906.

Coll M, Steenbeek J. 2017. Standardized ecological indicators to assess aquatic food webs: the ecoind software plug-in for ecopath with ecosim models. Environ Model Softw 89:120–30.

Coll M, Palomera I, Tudela S. 2009. Decadal changes in a nw mediterranean sea food web in relation to fishing exploitation. Ecol Model 220(17):2088–102.

Colléter M, Guitton J, Gascuel D. 2013. An introduction to the ecotroph r package: analyzing aquatic ecosystem trophic networks. R J 5(1):98–107.

Corrales X, Coll M, Ofir E, Piroddi C, Goren M, Edelist D, Heymans J, Steenbeek J, Christensen V, Gal G. 2017. Hindcasting the dynamics of an eastern mediterranean marine ecosystem under the impacts of multiple stressors. Mar Ecol Prog Ser 580:17–36.

Crowther TW, Glick H, Covey K, Bettigole C, Maynard D, Thomas S, Smith J, Hintler G, Duguid M, Amatulli G et al. 2015. Mapping tree density at a global scale. Nature 525(7568):201.

Dullinger S, Essl F, Rabitsch W, Erb K-H, Gingrich S, Haberl H, Hülber K, Jarošík V, Krausmann F, Kühn I et al. 2013. Europe's other debt crisis caused by the long legacy of future extinctions. Proc Nat Acad Sci 110(18):7342–7.

Dulvy NK, Sadovy Y, Reynolds JD. 2003. Extinction vulnerability in marine populations. Fish Fish 4(1):25–64.

Dulvy NK, Freckleton RP, Polunin NV. 2004. Coral reef cascades and the indirect effects of predator removal by exploitation. Ecol Lett 7(5):410–16.

Estes JA, Tinker MT, Williams TM, Doak DF. 1998. Killer whale predation on sea otters linking oceanic and nearshore ecosystems. Science 282(5388):473–6.

Fabre P, Thiault L, Morin E, Dubois M, Bambridge T, Claudet J (2018) Understanding human and marine resource interactions through small-scale sociocultural context: the case of moorea, french polynesia. (In prep)

Fath BD, Scharler UM, Ulanowicz RE, Hannon B. 2007. Ecological network analysis: network construction. Ecol Model 208(1):49–55.

Finn JT. 1976. Measures of ecosystem structure and function derived from analysis of flows. J Theor Biol 56(2):363–80.

Finn JT. 1980. Flow analysis of models of the hubbard brook ecosystem. Ecology 61(3):562–71.

Fulton EA. 2010. Approaches to end-to-end ecosystem models. J Mar Syst 81(1):171–83.

Funtowicz SO, Ravetz JR. 1990. Uncertainty and quality in science for policy, Vol. 15Berlin: Springer.

Gardner TA, Côté IM, Gill JA, Grant A, Watkinson AR. 2003. Long-term region-wide declines in caribbean corals. Science 301(5635):958–60.

Gascuel D, Pauly D. 2009. Ecotroph: modelling marine ecosystem functioning and impact of fishing. Ecol Model 220(21):2885–98.

Gascuel D, Bozec Y-M, Chassot E, Colomb A, Laurans M. 2005. The trophic spectrum: theory and application as an ecosystem indicator. ICES J Mar Sci 62(3):443–52.

Gascuel D, Morissette L, Palomares MLD, Christensen V. 2008. Trophic flow kinetics in marine ecosystems: toward a theoretical approach to ecosystem functioning. Ecol Model 217(1):33–47.

Gerber LR, Heppell SS. 2004. The use of demographic sensitivity analysis in marine species conservation planning. Biol Cons 120(1):121–8.

Gilmour JP, Smith LD, Heyward AJ, Baird AH, Pratchett MS. 2013. Recovery of an isolated coral reef system following severe disturbance. Science 340(6128):69–71.

Graham NA, Jennings S, MacNeil MA, Mouillot D, Wilson SK. 2015. Predicting climate-driven regime shifts versus rebound potential in coral reefs. Nature 518(7537):94–7.

Graham NA, McClanahan TR, MacNeil MA, Wilson SK, Cinner JE, Huchery C, Holmes TH. 2017. Human disruption of coral reef trophic structure. Curr Biol 27:231–6.

Guénette S, Meissa B, Gascuel D. 2014. Assessing the contribution of marine protected areas to the trophic functioning of ecosystems: a model for the banc d'arguin and the mauritanian shelf. PLoS ONE 9(4):e94742.

Guesnet V, Lassalle G, Chaalali A, Kearney K, Saint-Béat B, Karimi B, Grami B, Tecchio S, Niquil N, Lobry J. 2015. Incorporating food-web parameter uncertainty into ecopath-derived ecological network indicators. Ecol Model 313:29–40.

Halpern BS, Selkoe KA, Micheli F, Kappel CV. 2007. Evaluating and ranking the vulnerability of global marine ecosystems to anthropogenic threats. Conserv Biol 21(5):1301–15.

Halpern BS, Frazier M, Potapenko J, Casey KS, Koenig K, Longo C, Lowndes JS, Rockwood RC, Selig ER, Selkoe KA et al. 2015. Spatial and temporal changes in cumulative human impacts on the world's ocean. Nat Commun 6:7615.

Hempson TN, Graham NA, MacNeil MA, Williamson DH, Jones GP, Almany GR. 2017. Coral reef mesopredators switch prey, shortening food chains, in response to habitat degradation. Ecol Evol 7(8):2626–35.

Hempson TN, Graham NA, MacNeil MA, Hoey AS, Wilson SK. 2018. Ecosystem regime shifts disrupt trophic structure. Ecol Appl 28(1):191–200.

Heymans JJ, Shannon LJ, Jarre A. 2004. Changes in the northern benguela ecosystem over three decades: 1970 s, 1980 s, and 1990s. Ecol Model 172(2):175–95.

Heymans JJ, Guénette S, Christensen V. 2007. Evaluating network analysis indicators of ecosystem status in the gulf of alaska. Ecosystems 10(3):488–502.

Heymans JJ, Coll M, Libralato S, Morissette L, Christensen V. 2014. Global patterns in ecological indicators of marine food webs: a modelling approach. PLoS ONE 9(4):e95845.

Holbrook SJ, Schmitt RJ, Messmer V, Brooks AJ, Srinivasan M, Munday PL, Jones GP. 2015. Reef fishes in biodiversity hotspots are at greatest risk from loss of coral species. PLoS ONE 10(5):e0124054.

Hughes TP, Kerry JT, Álvarez-Noriega M, Álvarez-Romero JG, Anderson KD, Baird AH, Babcock RC, Beger M, Bellwood DR, Berkelmans R et al. 2017. Global warming and recurrent mass bleaching of corals. Nature 543(7645):373.

Hutchings JA, Reynolds JD. 2004. Marine fish population collapses: consequences for recovery and extinction risk. AIBS Bull 54(4):297–309.

Insee-ISPF (2007) Recensement de la population

Insee-ISPF (2012) Recensement de la population

Isbell F, Tilman D, Polasky S, Loreau M. 2015. The biodiversity-dependent ecosystem service debt. Ecol Lett 18(2):119–34.

Jackson JB. 1992. Pleistocene perspectives on coral reef community structure. Am Zool 32(6):719–31.

Jones HP, Schmitz OJ. 2009. Rapid recovery of damaged ecosystems. PLoS ONE 4(5):e5653.

Jones HP, Jones PC, Barbier EB, Blackburn RC, Benayas JMR, Holl KD, McCrackin M, Meli P, Montoya D, Mateos DM. 2018. Restoration and repair of earth's damaged ecosystems. Proc R Soc B 285(1873):20172577.

Kones JK, Soetaert K, van Oevelen D, Owino JO. 2009. Are network indices robust indicators of food web functioning? A monte carlo approach. Ecol Model 220(3):370–82.

Lafuite A-S, de Mazancourt C, Loreau M. 2017. Delayed behavioural shifts undermine the sustainability of social–ecological systems. Proc R Soc B 284(1868):20171192.

Lamy T, Legendre P, Chancerelle Y, Siu G, Claudet J. 2015. Understanding the spatio-temporal response of coral reef fish communities to natural disturbances: insights from beta-diversity decomposition. PLoS ONE 10(9):e0138696.

Lamy T, Galzin R, Kulbicki M, De Loma TL, Claudet J. 2016. Three decades of recurrent declines and recoveries in corals belie ongoing change in fish assemblages. Coral Reefs 35(1):293–302.

Latham LGII. 2006. Network flow analysis algorithms. Ecol Model 192(3–4):586–600.

Leenhardt P, Stelzenmüller V, Pascal N, Probst WN, Aubanel A, Bambridge T, Charles M, Clua E, Féral F, Quinquis B et al. 2017. Exploring social-ecological dynamics of a coral reef resource system using participatory modeling and empirical data. Mar Policy 78:90–7.

Lotze HK, Coll M, Magera AM, Ward-Paige C, Airoldi L. 2011. Recovery of marine animal populations and ecosystems. Trends Ecol Evol 26(11):595–605.

Maureaud A, Gascuel D, Colléter M, Palomares ML, Du Pontavice H, Pauly D, Cheung WW. 2017. Global change in the trophic functioning of marine food webs. PLoS ONE 12(8):e0182826.

Maxwell SL, Fuller RA, Brooks TM, Watson JE. 2016. Biodiversity: the ravages of guns, nets and bulldozers. Nature 536(7615):143–5.

Moberg F, Folke C. 1999. Ecological goods and services of coral reef ecosystems. Ecol Econ 29(2):215–33.

Moreno-Mateos D, Barbier EB, Jones PC, Jones HP, Aronson J, López-López JA, McCrackin ML, Meli P, Montoya D, Benayas JMR. 2017. Anthropogenic ecosystem disturbance and the recovery debt. Nat Commun 8:14163.

Mumby PJ. 2009. Phase shifts and the stability of macroalgal communities on caribbean coral reefs. Coral Reefs 28(3):761–73.

Osborne K, Thompson AA, Cheal AJ, Emslie MJ, Johns KA, Jonker MJ, Logan M, Miller IR, Sweatman H. 2017. Delayed coral recovery in a warming ocean. Glob Change Biol 23(9):3869–81.

Pauly D, Christensen V, Walters C. 2000. Ecopath, ecosim, and ecospace as tools for evaluating ecosystem impact of fisheries. ICES J Mar Sci J du Conseil 57(3):697–706.

Piroddi C, Coll M, Steenbeek J, Moy DM, Christensen V. 2015. Modelling the mediterranean marine ecosystem as a whole: addressing the challenge of complexity. Mar Ecol Prog Ser 533:47–65.

Piroddi C, Coll M, Liquete C, Macias D, Greer K, Buszowski J, Steenbeek J, Danovaro R, Christensen V. 2017. Historical changes of the mediterranean sea ecosystem: modelling the role and impact of primary productivity and fisheries changes over time. Sci Rep 7:44491.

Pratchett MS, Hoey AS, Wilson SK, Messmer V, Graham NA. 2011. Changes in biodiversity and functioning of reef fish assemblages following coral bleaching and coral loss. Diversity 3(3):424–52.

Ruppert JL, Travers MJ, Smith LL, Fortin M-J, Meekan MG. 2013. Caught in the middle: combined impacts of shark removal and coral loss on the fish communities of coral reefs. PLoS ONE 8(9):e74648.

Saint-Béat B, Baird D, Asmus H, Asmus R, Bacher C, Pacella SR, Johnson GA, David V, Vézina AF, Niquil N. 2015. Trophic networks: how do theories link ecosystem structure and functioning to stability properties? a review. Ecol Ind 52:458–71.

Scheffer M, Bascompte J, Brock WA, Brovkin V, Carpenter SR, Dakos V, Held H, Van Nes EH, Rietkerk M, Sugihara G. 2009. Early-warning signals for critical transitions. Nature 461(7260):53.

Thompson RM, Hemberg M, Starzomski BM, Shurin JB. 2007. Trophic levels and trophic tangles: the prevalence of omnivory in real food webs. Ecology 88(3):612–17.

Tilman D, May RM, Lehman CL, Nowak MA. 1994. Habitat destruction and the extinction debt. Nature 371(6492):65.

Tomczak MT, Heymans JJ, Yletyinen J, Niiranen S, Otto SA, Blenckner T. 2013. Ecological network indicators of ecosystem status and change in the baltic sea. PLoS ONE 8(10):e75439.

Trebilco R, Baum JK, Salomon AK, Dulvy NK. 2013. Ecosystem ecology: size-based constraints on the pyramids of life. Trends Ecol Evol 28(7):423–31.

Tukey JW (1949) Comparing individual means in the analysis of variance. Biometrics 5(2):99–114.

Ulanowicz RE. 2004. Quantitative methods for ecological network analysis. Comput Biol Chem 28(5–6):321–39.

Ulanowicz RE, Abarca-Arenas LG. 1997. An informational synthesis of ecosystem structure and function. Ecol Model 95(1):1–10.

Vanbergen AJ, Initiative IP et al. 2013. Threats to an ecosystem service: pressures on pollinators. Front Ecol Environ 11(5):251–9.

Wabnitz CC, Balazs G, Beavers S, Bjorndal KA, Bolten AB, Christensen V, Hargrove S, Pauly D. 2010. Ecosystem structure and processes at kaloko honokōhau, focusing on the role of herbivores, including the green sea turtle chelonia mydas, in reef resilience. Mar Ecol Prog Ser 420:27–44.

Weijerman M, Fulton EA, Parrish FA. 2013. Comparison of coral reef ecosystems along a fishing pressure gradient. PLoS ONE 8(5):e63797.

Williams GJ, Gove JM, Eynaud Y, Zgliczynski BJ, Sandin SA. 2015. Local human impacts decouple natural biophysical relationships on pacific coral reefs. Ecography 38(8):751–61.

Worm B, Barbier EB, Beaumont N, Duffy JE, Folke C, Halpern BS, Jackson JB, Lotze HK, Micheli F, Palumbi SR et al. 2006. Impacts of biodiversity loss on ocean ecosystem services. Science 314(5800):787–90.
Acknowledgements
Service d'Observation CORAIL from CRIOBE kindly provided the ecological monitoring data. This work was made possible through financial support from ANR (ANR-14-CE03-0001-01) and Fondation de France (INTHENSE). MC was partially funded by the European Unions Horizon research program grant agreement No 689518 for the MERCES project.
Additional information
Author's Contribution
MD and JC planned and designed the research. MD and DG built the models. MD and JC analysed the results. MD, DG, MC and JC wrote the paper.
Electronic supplementary material
Below is the link to the electronic supplementary material.
About this article
Cite this article
Dubois, M., Gascuel, D., Coll, M. et al. Recovery Debts Can Be Revealed by Ecosystem Network-Based Approaches. Ecosystems 22, 658–676 (2019). https://doi.org/10.1007/s10021-018-0294-5
Received:

Accepted:

Published:

Issue Date:
Keywords
ecological disturbance

coral reef

network analysis

trophic modelling

ecopath